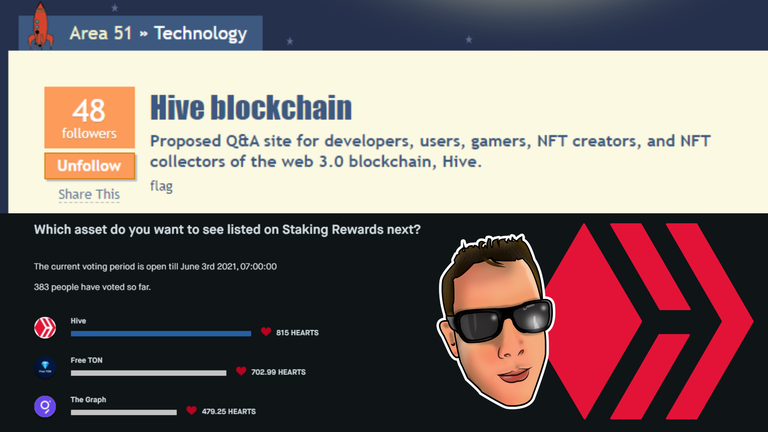 Hey Hivers!
Today I have a couple of tasks to help the growth of Hive. The first one is related to a listing in https://www.stakingrewards.com/. At this moment, we are already ahead in the community voting but let's continue pushing forward. You can learn more about this in @guiltyparties's latest post. The second task still needs help from the community, but I know we can do it. This task is to help Hive create a Q&A site in https://area51.stackexchange.com/. Blockchains like Ethereum already have their own.
---
By completing these tasks you can be eligible to earn an upvote in the comments below, but more importantly, you will be helping our blockchain. So it's a win-win scenario.
---
First task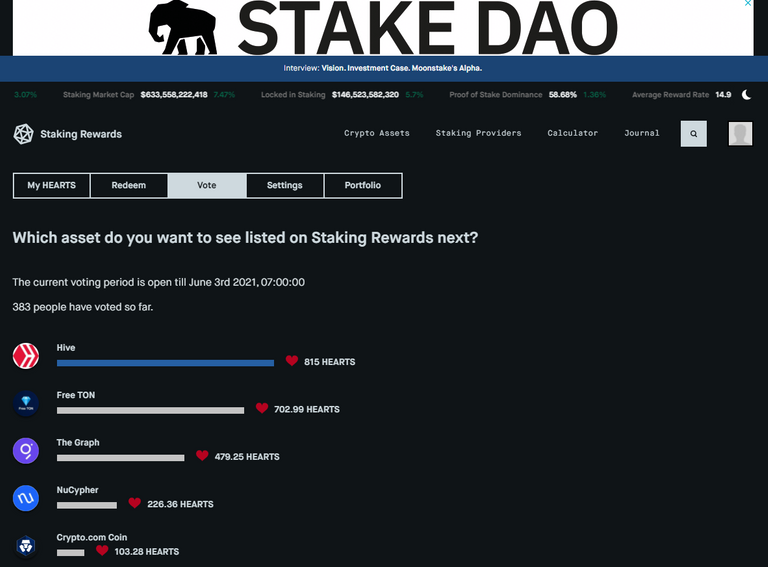 Create your account by clicking on the login option, then select "Create an account".
Wait a few seconds, and a pop-up will appear where you can claim your hearts ❤️.
Vote for Hive.
If you want more information, you can read @guiltyparties's post.
Share a screenshot as proof to be eligible to earn an upvote. Please read the whole post before sharing the screenshot of this task.
---
Second task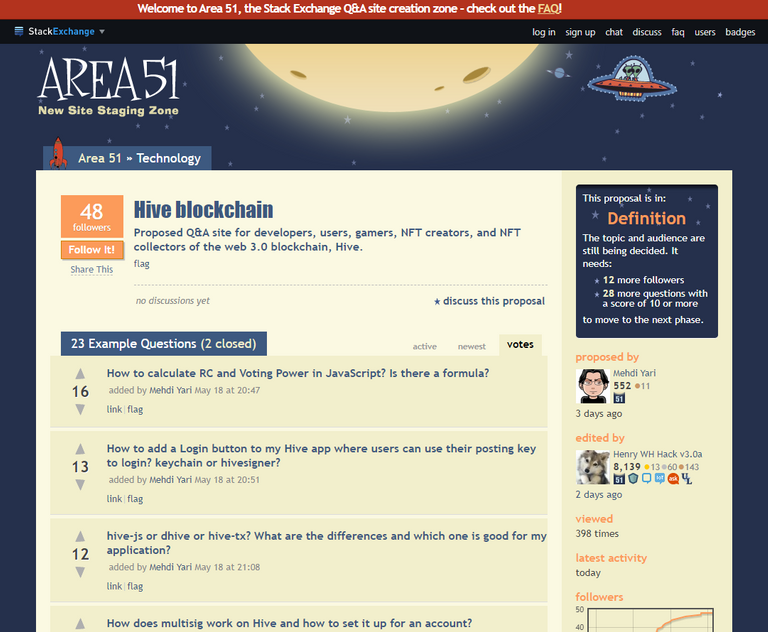 Create an account by clicking on the sign-up, you can use your Google or Facebook account to do this, or you can use any email supported on the site.
Click in "Follow It!"
The proposal needs 12 more followers and 28 more questions with at least ten upvotes. When you follow the Hive proposal on this site, you get five upvotes. Use them wisely.
You can also make up to 5 questions that can be upvoted by all the community that follows the Hive proposal. If you are going to make questions, please consider that they will be moderated, and only the best questions will stay, so use them wisely. Check out the rest of the questions before submitting your own.
Use your five votes and consider upvoting questions that have not reached ten votes and that, at the same time, have the potential to reach that number.

Share proof that you are following the proposal and that you have made your votes. Making questions is optional, but if you have good questions, please make them.
Thanks to @mahdiyari for taking the first step with this.
---
Important Note: I will upvote only one comment per user, so please attach the screenshots of both tasks in the same comment.