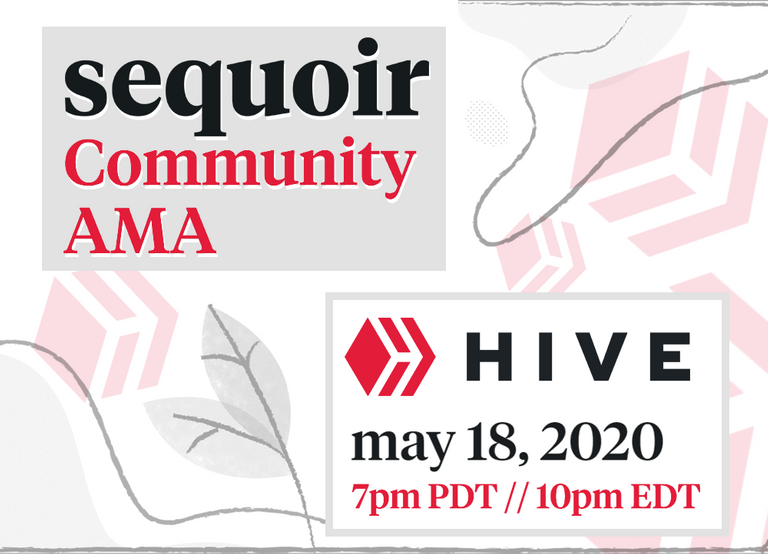 Tomorrow evening (May 18, 2020) at 7pm PDT/10pm EDT, there will be a live AMA with the founders of Sequoir (formerly Vertbase), Justin and Stuart.
@Crimsonclad and other Hive community members will be joining a live video and chat session. There will be lots of news to share and time for questions and comments! Everyone is invited to leave their questions here on this post; this will be the bulk of the AMA, with live questions also being taken from the Hive discord during the event.
Hey Hive! Join the Sequoir founders for a community AMA: What do YOU want to know?
Founded at the start of 2018, Sequoir is a blockchain-built exchange for buying and selling digital assets, currently available in 117 countries, and fiat trading pairs with the US Dollar, Pound Sterling, Euro, Australian Dollar, and Canadian Dollar.
Take the time to read other's questions in the comments below and support the ones you would most like to see asked: reply, add your own question, or add a vote to help create an interesting and valuable AMA for everyone! This is a great chance for members of the Hive community to discuss Sequoir's potential with their friends and colleagues in a fun live event, and to learn more about some of the available services.
Check out Sequoir's website here and get those questions ready! There will even be some HIVE prizes for participants to sweeten the deal and up the fun factor. 🎉
Sequoir Highlights

• Crypto to crypto swaps (lowest fees) in 117 countries
• Buy and sell crypto in the US, UK, and Europe with the USD, GBP, or Euro.
• Non-custodial exchange: Sequoir never holds user assets. Digital assets are transferred directly to the user's wallet of choice.
• Giving back: Sequoir was the first exchange to begin donating a portion of profits back to the volunteer communities of the assets listed on Sequoir's platform.
• Debit card processing in the US with UK, Australia, Canada, and Japan to come
Will you be joining us for the Hive x Sequoir AMA? Let everyone know in the comments below, ask your questions, and help share the news!
The video will be live streamed from this account on 3Speak, Vimm, and the HiveIO YouTube channel, so you'll be able to choose where you want to watch. If you haven't already joined, hop into the Hive community discord, where the live text chat will be taking place. See you tomorrow!
EDIT: 🐝🐝 Apparently one of the bees around here is a time traveler; this post originally said April, incorrectly. See you tomorrow... which is in May. Clearly. 😅😅