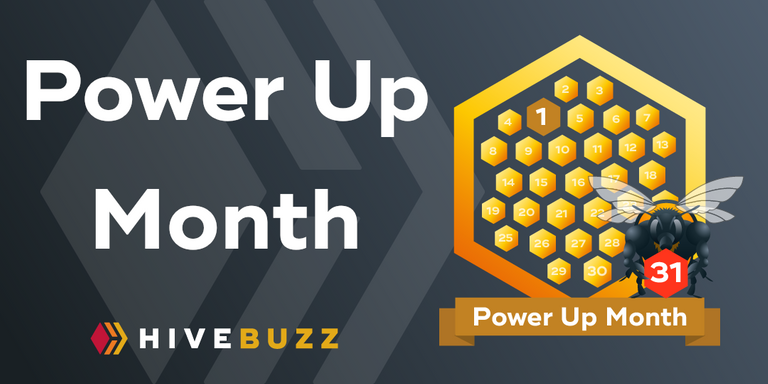 Last month, we initiated the first edition of Power Up Month. This new challenge was created to meet the demand of users who find it hard to collect enough HIVE to participate in Power Up Day at the end of the month and those who prefer to do regular power-ups in order to directly benefit from better curation.
The first edition had mixed success, with 594 first-day users, but only 28 who held on for a whole month (you read the challenge's feedback here).
However, we have to admit that we announced this new challenge late and that many of you were caught off guard and missed the start.
Let's go for another month
As announced in the challenge result post, the HiveBuzz team decided to take a break to think about the rules and the organization of the challenge.
After a long brainstorming, we decided to keep the same rules for the challenge. Indeed, these are simple and make participation in the challenge accessible to all. In addition, many already know them now and have organized themselves accordingly to succeed in the challenge.
How to get the Power Up Month badge?
This new PUM challenge will start on November 1st. It will last all month and here are the rules:
For each day of the month, you will have 2 options:
Option 1:
you publish a post and set the payout mode to 100% HIVE.
Your post must generate a payout to be eligible (i.e. get a few upvotes)
You cannot upvote yourself
Using this option is also a good way to get the Monthly Author badge as well. ;)
Option 2:
power up at least 1 HIVE.
You cannot powerdown during the month.
This option is useful if have no idea what to write about someday or just aren't a blogger at all.
You can use either option, or both, and can switch from one to the other as the days go by.
IMPORTANT:

HiveBuzz will use UTC date and time to validate post and powered-up dates. Therefore, check your timezone and convert your local time to UTC before doing so!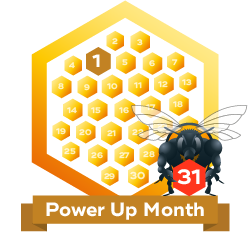 Strictly follow the above rules and this badge will be yours!
Badges will be distributed to the successful participants at the end of the Power Up Month.
Bee ready to Power Up!