Hello dog lovers! This is Guinevere. She is my beautiful Red Nose Pitbull.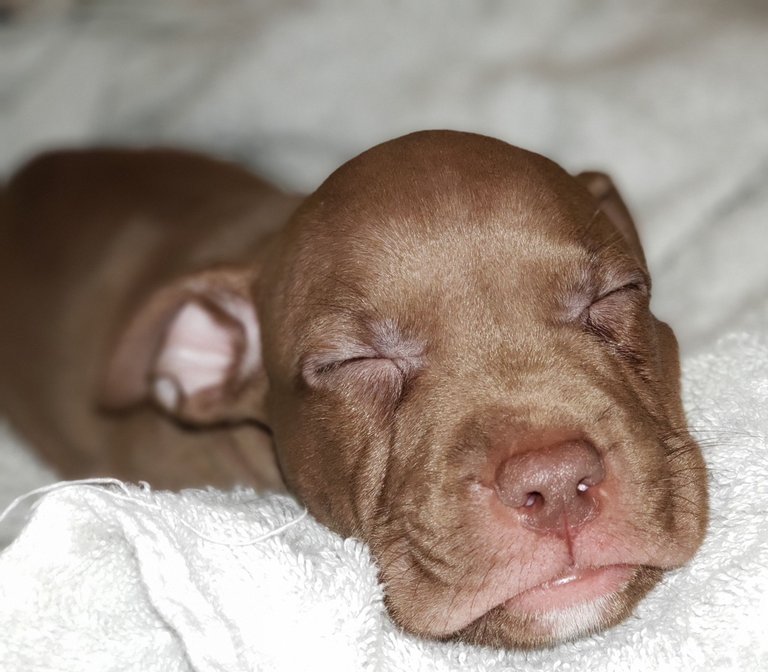 August 31, 2019, 7 weeks old
Guinevere was born on July 13, 2019.
My husband and I got married on July 14, 2019. We bought and moved into our house on July 15, 2019. When my husband and I met he had 2 adult cats, so when we bought our house I wanted to get a dog. We searched and searched for a dog. I wanted to get a pitbull because they are my favorite breed of dogs. My husband saw a post somewhere and seen that they had one puppy left. I told my husband to call them, I wanted that puppy!!! He called the people and they said she was the runt and nobody wanted her. They told us they were glad we called because they didn't want to have to take her to Animal Control. Anyway, they wanted $75.00 for her. So while my husband was still on the phone with them I scrapped up $50.00 worth of $2 bills, which I had been saving for a long time. They were willing to take what I had.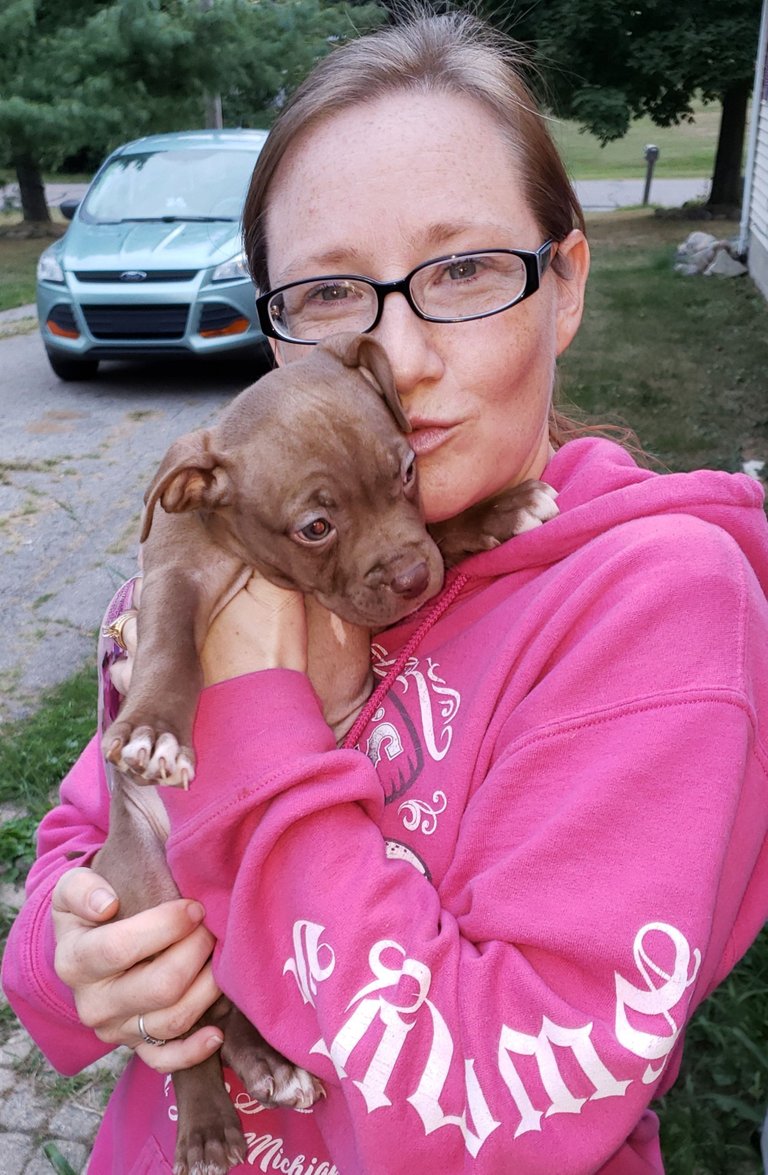 So, we went and got our baby girl Guinevere.
Guinevere is a Mama's Girl!!!
When we first saw her she was so cute, that I fell in love with her immediately. She was sitting on the porch and as soon as I got out of the car and started walking up to her she started wagging her tiny little body. I picked her up and she kissed me all over. I was in Heaven, with all the puppy breathe!! I asked the current owner at that time when she was born. She was born the day before my husband and I got married. She was meant to be with us. I thought that it was super awesome that her birthday is the day before my wedding anniversary. Days I will never forget!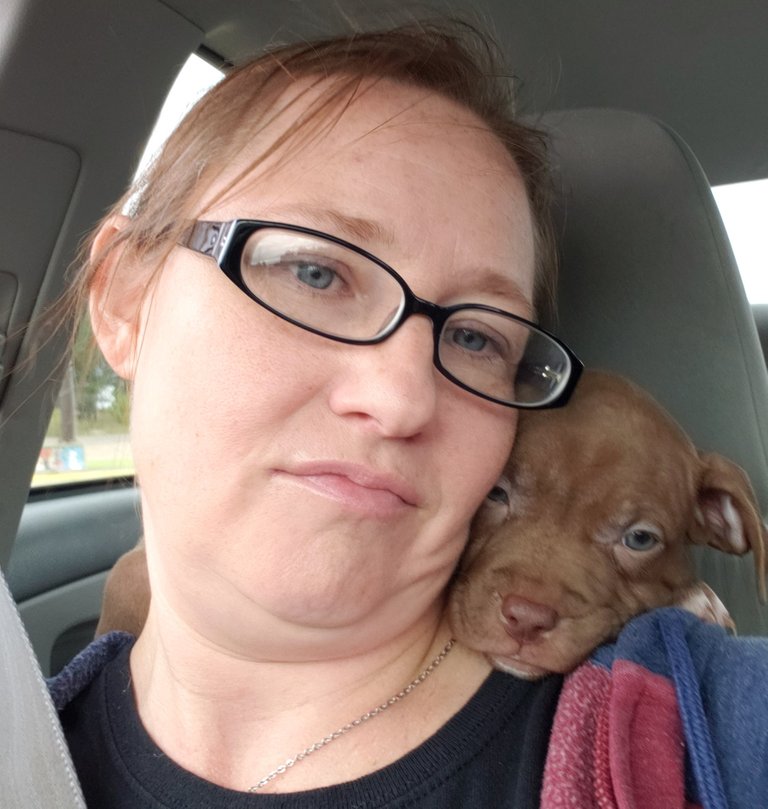 She loves car rides. In this photo, she is in her favorite spot.
Anytime we would take her for a ride in the car this is where she ended up every time!!! My little snuggle bug.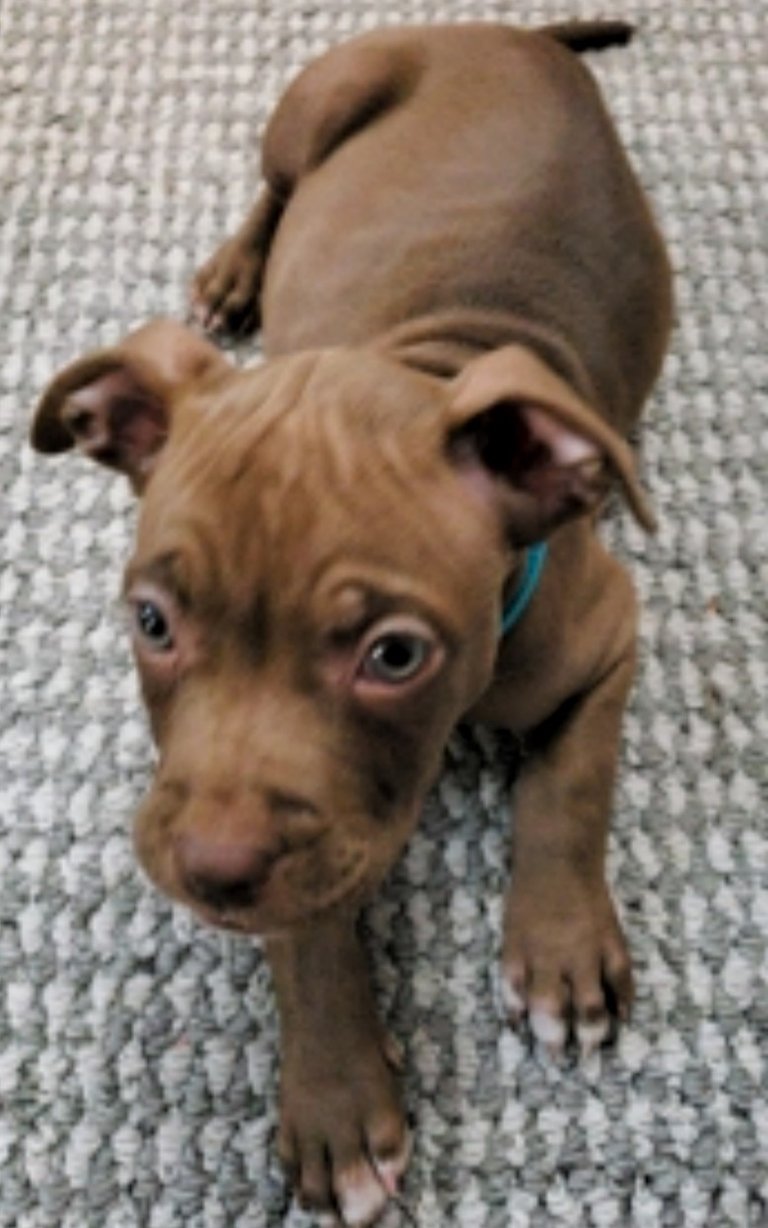 Look at me, aren't I just the cutest pup you have ever seen...
I just can't help but brag about Miss Guinevere. She is growing so fast. She is the smartest, most well-behaved dog I have ever had. She knows the difference between all of her things from her toy, to her bone, to her blanky, to her horn and she knows how to stand pretty, how to give a high five, and she even talks to us. She is just amazing.

March 2020, 8 months old
The photo above is one of my favorites. But then again I love every photo of her. I guess that is just a Dog Mom thing...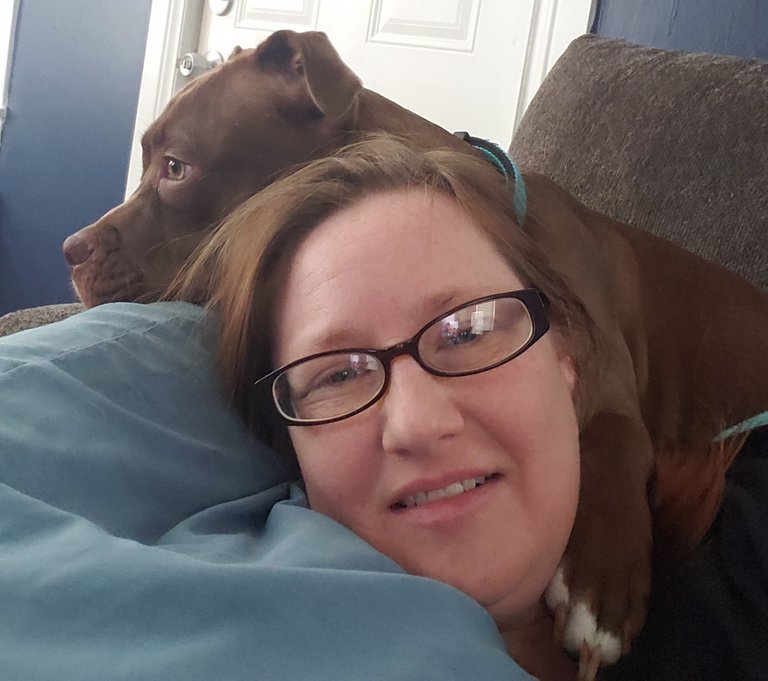 Laying on Mama like always.
Again her favorite spot. Still to this day.

Got stung by a BEE. Ouch!!! 1 year old.
Back story on the bee sting...
My husband @nobutsd1974 has always wanted honey bees. So for his birthday, I bought him a Honey Bee Hive. About a month later we drove out of town to get 5,000 honey bees. A few months later I let Guinevere out to go potty. She is sniffing around for the right spot to do her business. The next thing I know she is chewing on something. She comes to the door, looks up at me and her face is swollen. She wasn't chewing on anything she had gotten stung and it was bothering her and she was licking her face. My poor baby girl got her first bee sting! Ouch!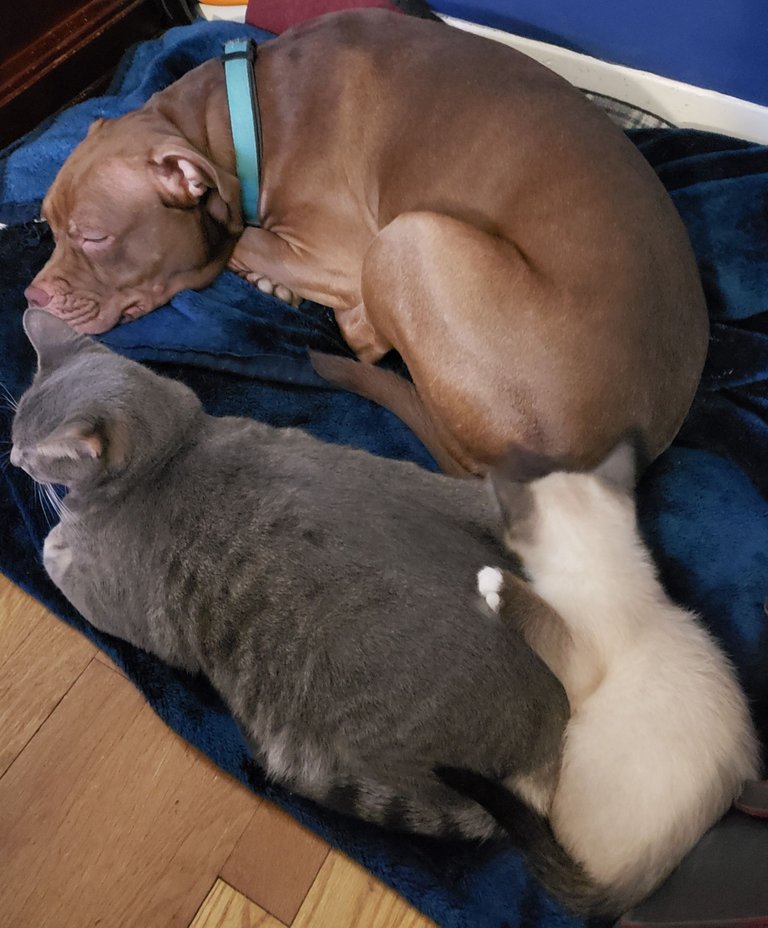 Guinevere loves her kitties. Merlin (grey), Caliea (white).
She has 2 adult cats, a teenage cat, and 2 Siamese kittens. Plus outside she has 2 chickens that like to run the fence when she goes out to go potty.
She had her first heat at 6 months old. My husband and I talked about breeding her one time so we could keep one of her puppies. Well her second heat came around and we decided to breed her. We found a beautiful stud for her.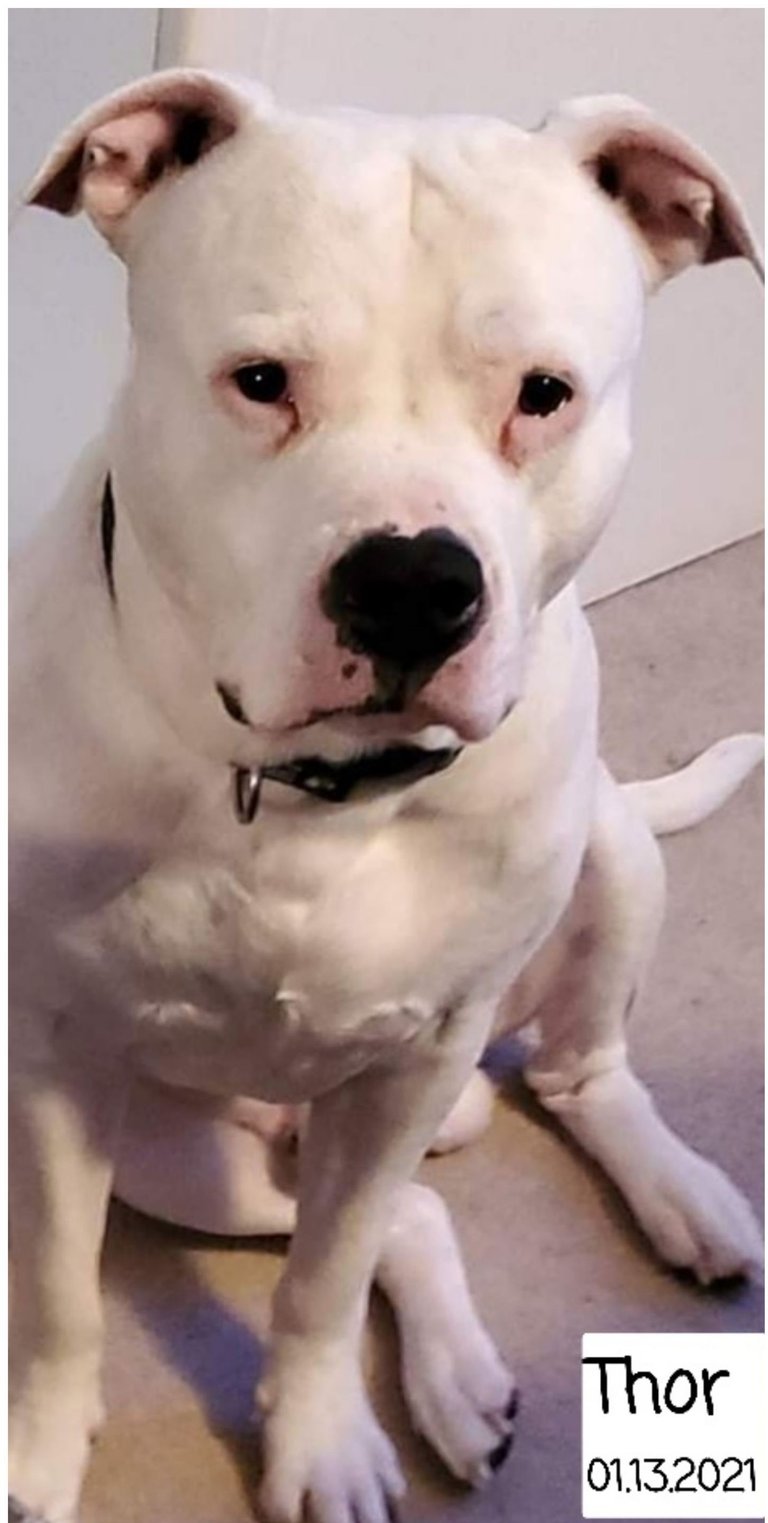 Meet Thor, Guinevere's STUD!!!
Then this happened...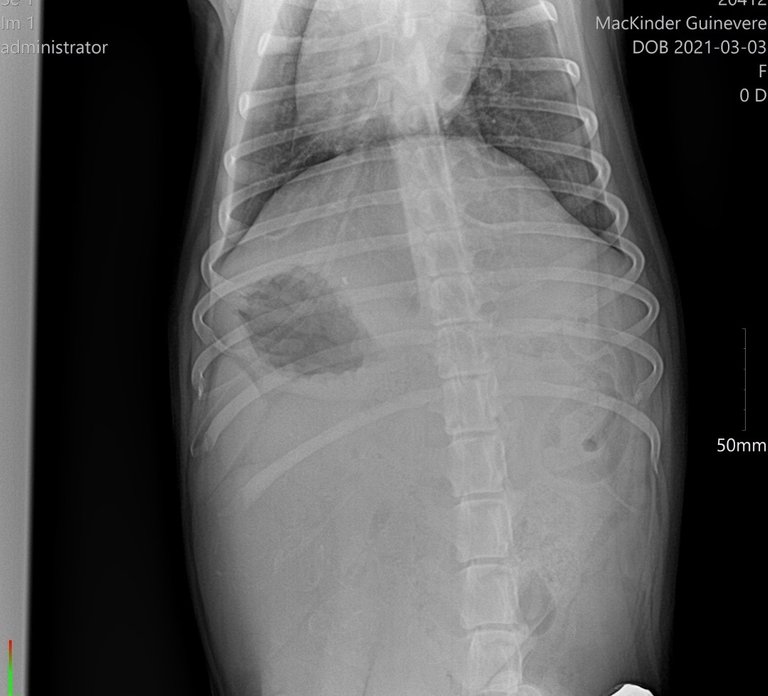 She is pregnant!
Not sure how many puppies she will be having, but in the X-Ray, above we are able to see 2 puppies. If my calculations are correct she will be having her puppies between March 15-25th.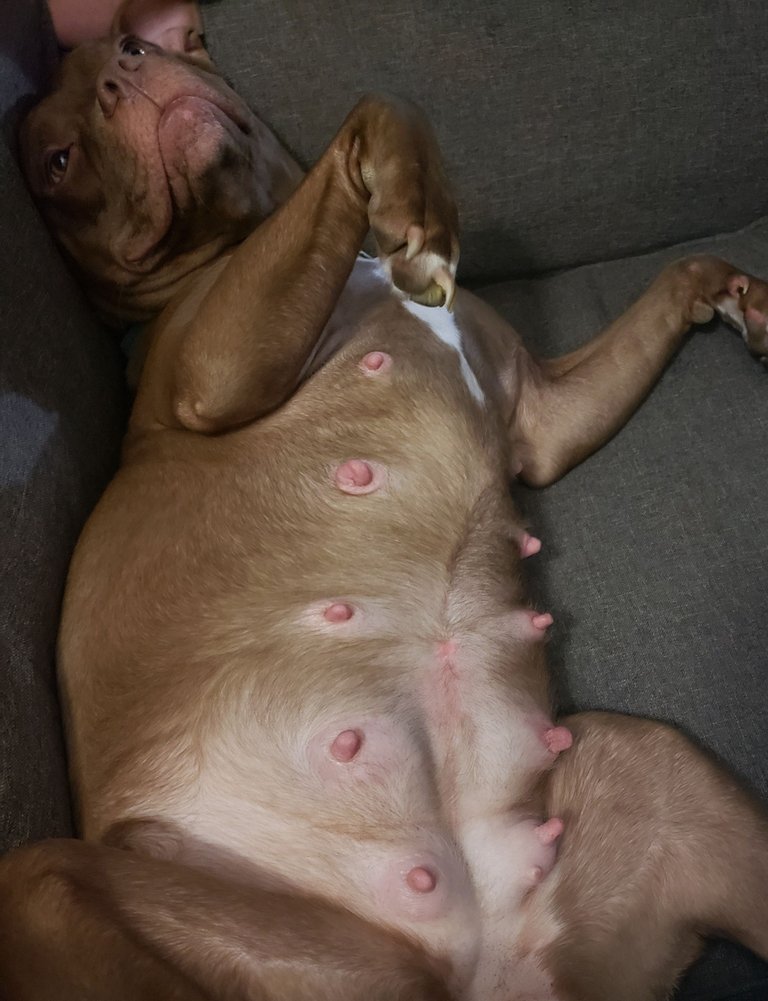 Big Ol' Pregnant Mama Dog
She is getting bigger and bigger by the day. I am so excited that I am going to have some grand pups. How many?? I have no idea! I just pray that Guinevere will deliver with no complications and that the puppies will all be healthy! Update to follow after puppies are born.
Stay tuned...