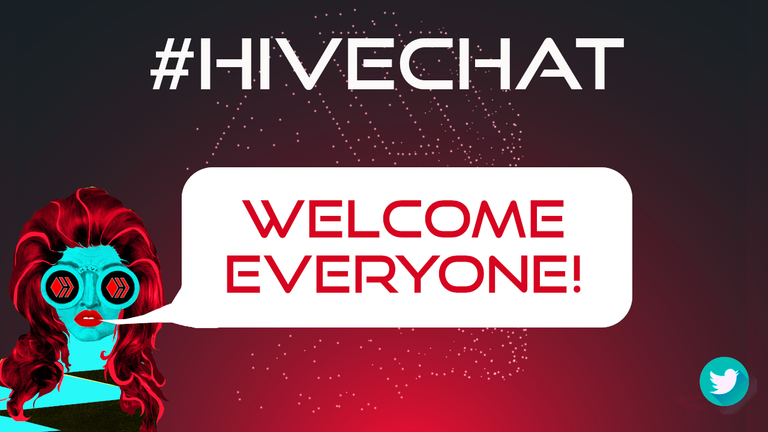 I'll be hosting #HiveChat #8 from my @stellabelle Twitter account on in 20 hours at 12 GMT, which is 7 AM Central USA time.
Most of the questions revolve around NFTs, so if you're cryptoartist, collector or just interested in learning about NFTs, make sure and join me tomorrow.
If you're new to #HiveChat, there are many posts that explain what it is, but @hivelift just wrote a really good explainer, so check it out here: https://peakd.com/hive-174578/@hivelift/hivechat-your-tough-questions-answered-by-it-s-founder-jeanlucsr
One question from this article that stood out is this:
"Why are we spending our time on Twitter when we have Hive? Isn't OnChain better & more important?
We need to get the word out. On chain, we only have the people we know. On Twitter, we have more people with similar interests whom might not have heard of Hive yet, but could be interested to join in."
#HiveChat now has two events, one in English and one in Spanish. The English HiveChat takes place on Tuesdays usually at 12 GMT, while the Spanish HiveChat occurs on Thursdays. Follow the @hivelatino Twitter account to stay informed.
#HiveChat was founded by @jeanlucsr and the community just ran with it. Different people in Hive and also in the larger CryptoTwitter community host it each week. If you would like to host a HiveChat, reach out to either me (@stellabelle on Twitter) or @jeanlucsr. We had a slight change in hosts for September 29. The new host will be @the-bitcoin-dood, so mark your calendars!
Here's the updated calendar: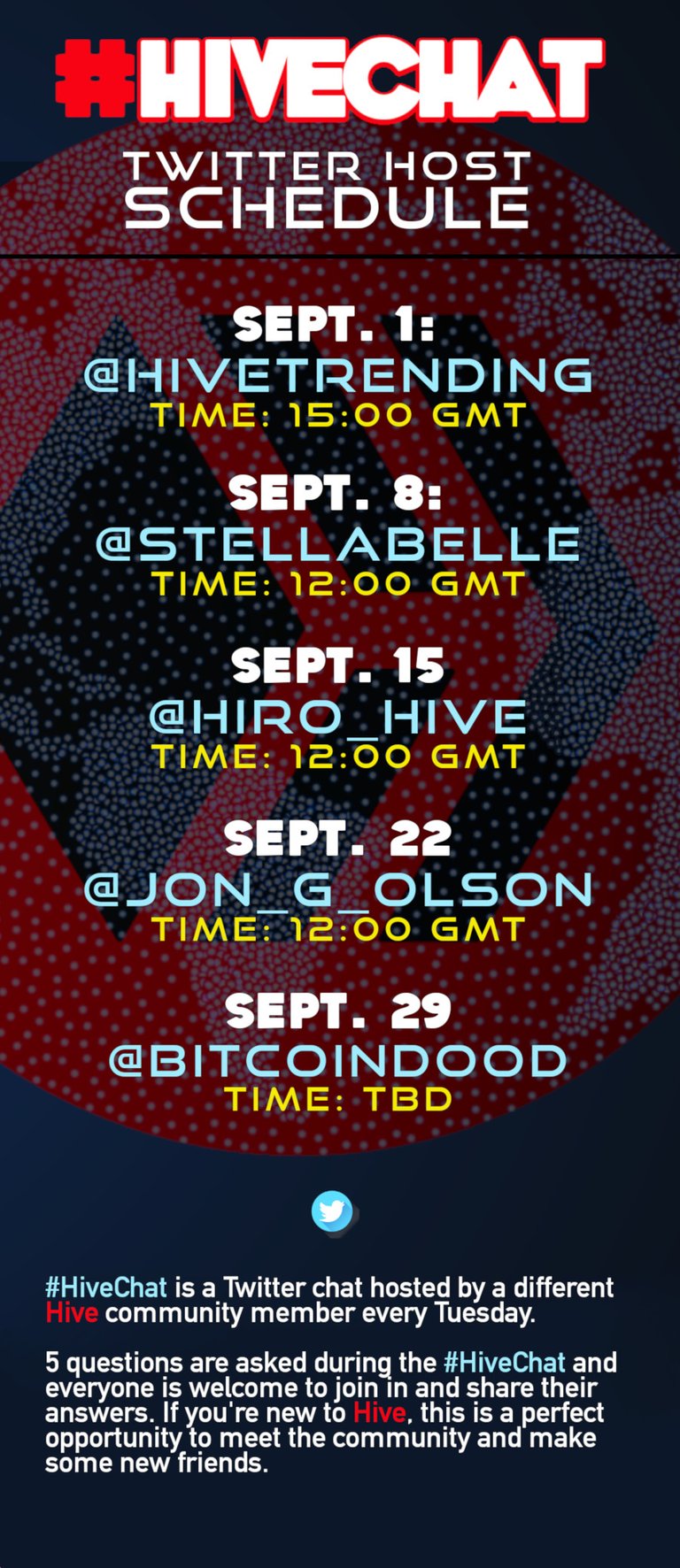 The host of HiveChat can set the time and create the 5 questions. I usually create the graphic cards for the hosts. We are also going to rotate the organizing of #HiveChat, and @jeanlucsr will be organizing it starting in October for 3 months. This will further decentralize #HiveChat and make it more valuable, as each person has different strengths and skills to add. This will allow me more time to spend on creating cryptoart as that has become my main focus over the last few months. Right now I am in the middle of building a Treasure Hunt which is going to be released once the #JoinHive contest is over. If you have not heard about the #JoinHive contest, this post explains it. It runs until the end of September, and there are some great prizes to be won for the people who refer the most users to Hive (and who have verified referrals).
There is going to be a fun activity during #HiveChat tomorrow and I'll be gifting one of my NFTs, shown below, to a lucky participant at the end, so stick around for that!
Here's my NFT, Hive Queen, which will be gifted to someone at #HiveChat. This is from my cryptoart gallery on @nftshowroom: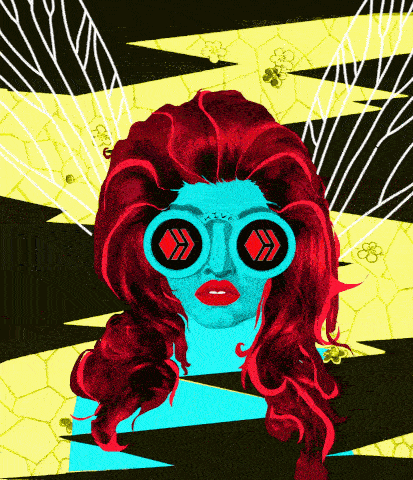 Hive Queen
7 Editions
https://nftshowroom.com/stellabelle/gallery/stellabelle_hive_hive-queen
See you at #HiveChat #8 tomorrow morning,
Stellabelle

Check out my NFTs and connect with me:
https://linktr.ee/stellabelle
NFT Showroom / Makersplace / Rarible / Twitter / Website