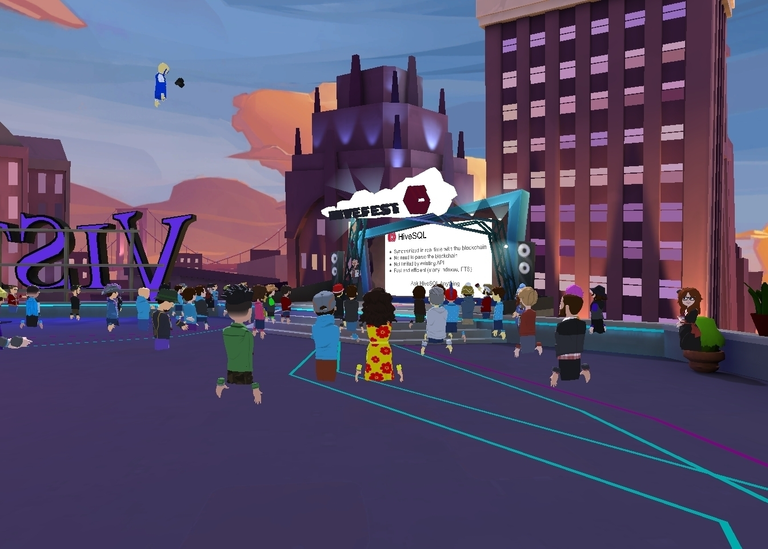 Mainstage Fun
First of all thank you very much to @roelandp for all of his hard work. You did an amazing job hosting and dealing with the hurdles experienced with the various bugs. You sir, are a patient individual! Also many thanks to everyone else that volunteered to make this a wonderful experience.
That being said, I was completely blown away by the number of excellent speakers at the festival! All of the projects new and old that I was able to see have left me with utter amazement. The sheer amount of dedication to the HIVE blockchain is something that I have not witnessed in my 9 years in the crypto space! Hats off to every single one of you! The presentations were very thorough and informative, I can't wait for the new developments in 2021! Thank you to the following presenters for taking the time out of your busy schedules and taking the time to learn how to use altspace in order to tell us about your projects.
*list taken from the @roelandp Hive Fest post
@poezio, @blocktrades, @howo, @themarkymark, @stoodkev, @yabapmatt, @good-karma, @getblock, @jarvie, @fbslo, @aggroed, @andrarchy, @cryptomancer, @jacobgadikian, @arcange, @crimsonclad, @theycallmedan, @starkerz, @khaleelkazi, @enginewitty, @martibis, @scrooger, @rollie1212, @lukeStokes, @hellomsq, @tyhran, @detlev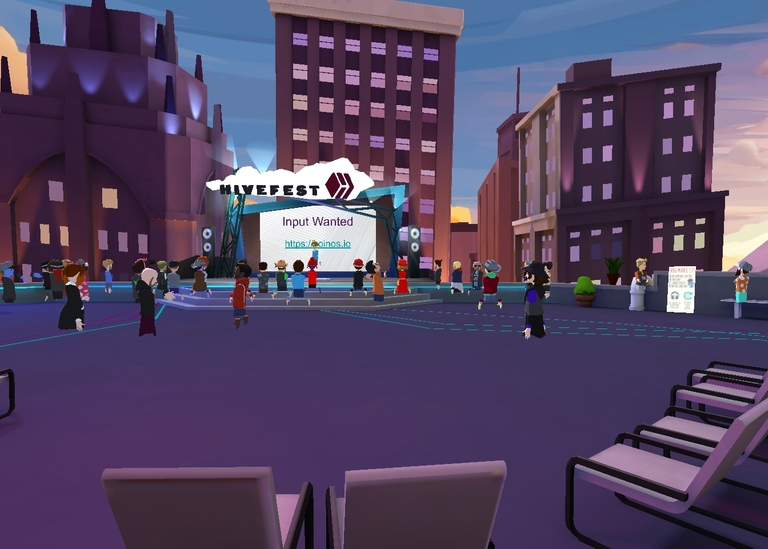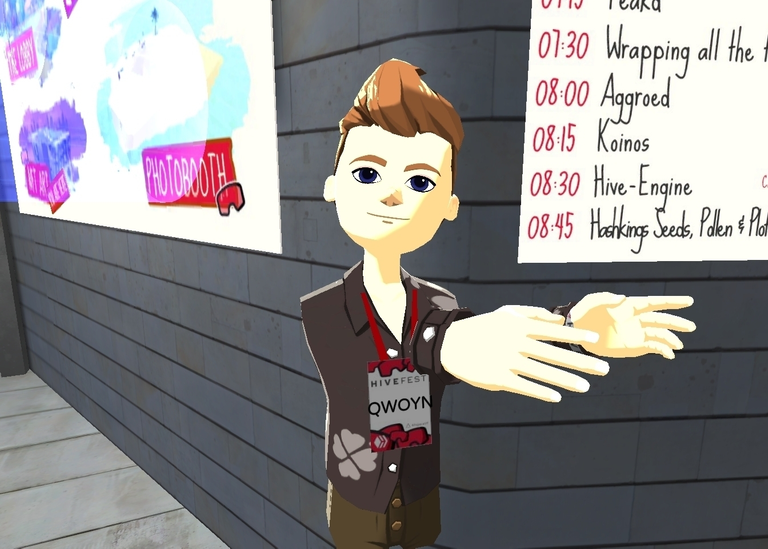 ---
Practice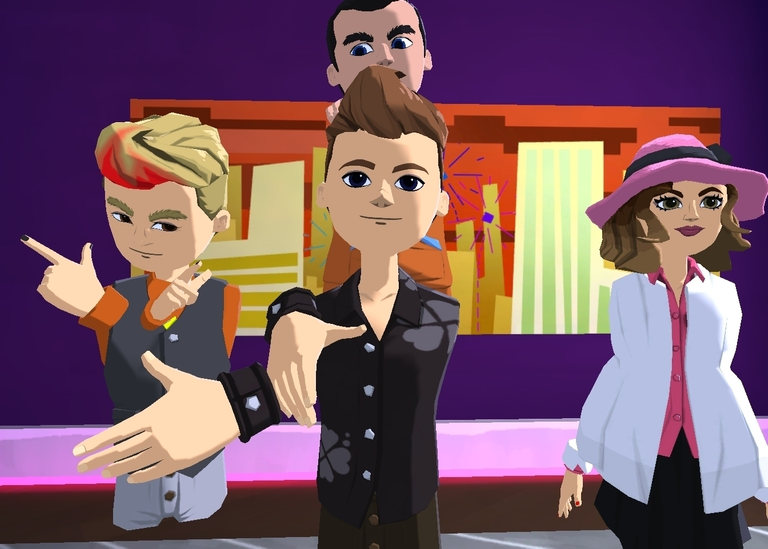 Roeland gave the speakers an opportunity to practice our talks a couple of days before the festival as a sort of dress rehearsal. I took this opportunity to learn how to use the slideshow functionality even though I biffed it during my presentation! I did however get this cool selfie with @roelandp, @carlagonz and @cadawg.
---
Getting lost in the Maze with new friends
In the Hivefest lobby were a few different portals and when I saw the maze I just had to give it a try. I'm sorry that I can't remember everyone I was with, names are just not my thing so if you are in these photos please tag yourself in the comments.
The maze was actually really cool and exactly what I had hoped it would be. There was a skeleton in one part of it (I assume a lost maze goer) and a bunch of dead ends. I don't know if it was the years of playing first person shooters or the fact that I was using the ladders but our group was able to navigate the maze pretty easily. Here's a few photos from the maze set in front of a Mayan temple somewhere deep in the jungles of AltspaceVR. Pictured below are @cadawg, @eddiespino and ...(sorry I'm a terrible friend). We also had @sgt-dan with us but sadly he got lost at one point.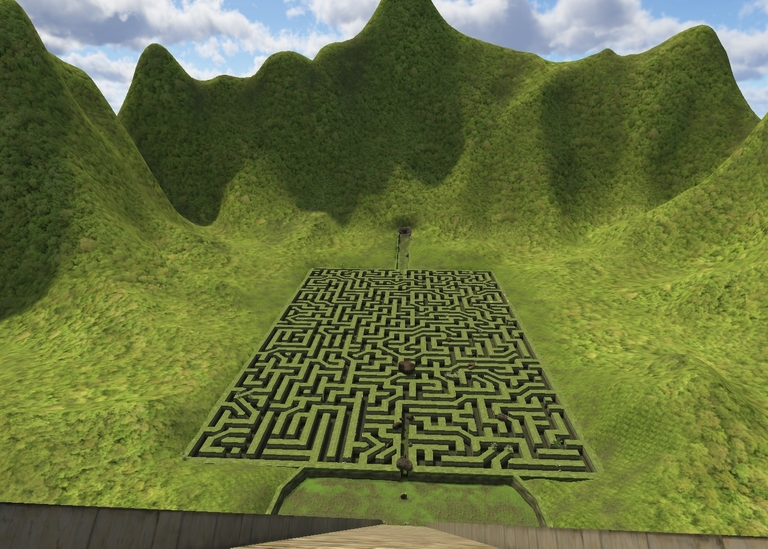 maze from the top of the temple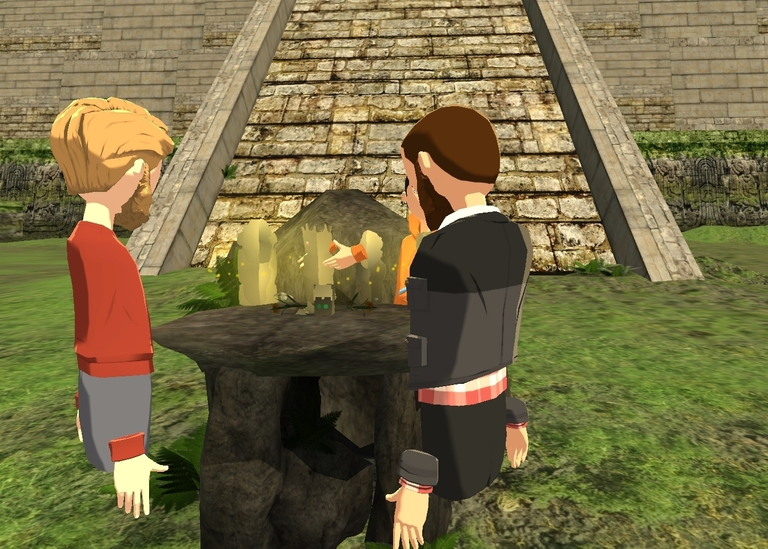 admiring the treasure at the bottom of the temple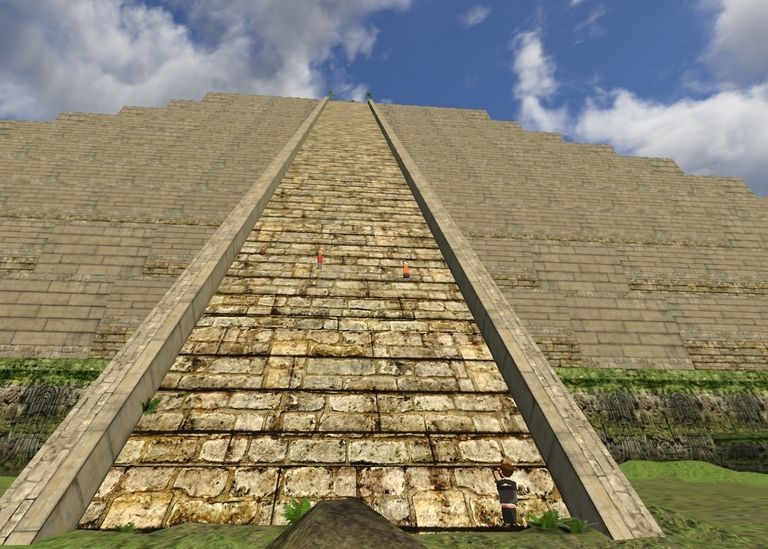 view to the top of the temple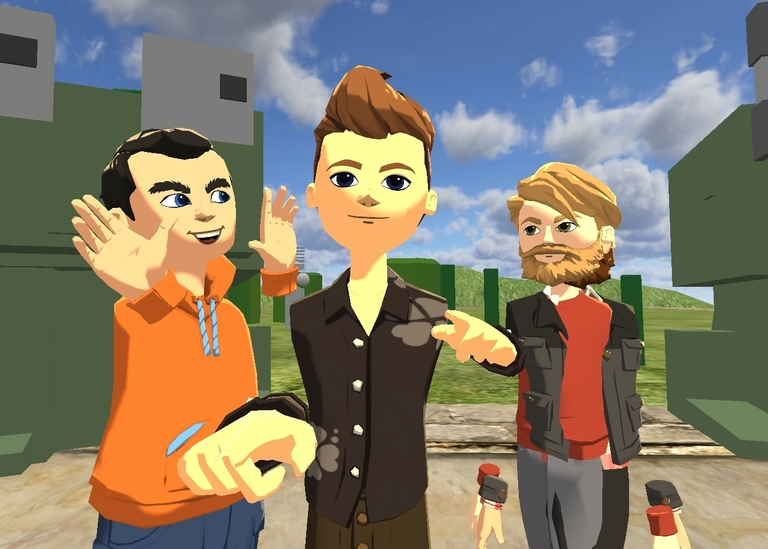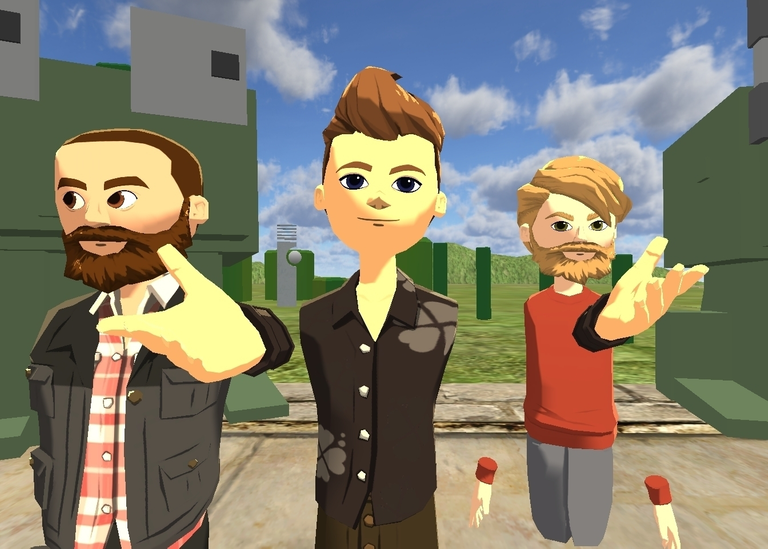 ---
Paying homage to Andy
Another one of the Portals and one of my favorite shrines to visit in Altspace was Andy's Cave. When I first started in Altspace a few weeks ago someone was kind enough to show me around and this was one of the places they took me. Andy in the second image is at the end of the cave. I highly recommend grabbing heading in to this world and paying homage to Andy. For those of you who don't know what the strange robot at the end is, what you are seeing is the original AltspaceVR avatar. I think at the time the only thing you could do was change the color of your avatar. Pretty cool! I promised to tag everyone that came with me and of course my terrible memory for names is failing me again. I do remember @r0nd0n was there (do you remember who else?)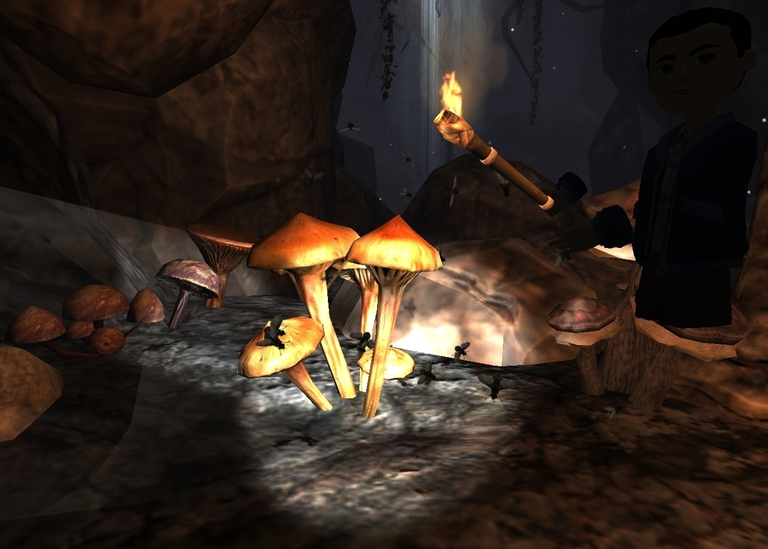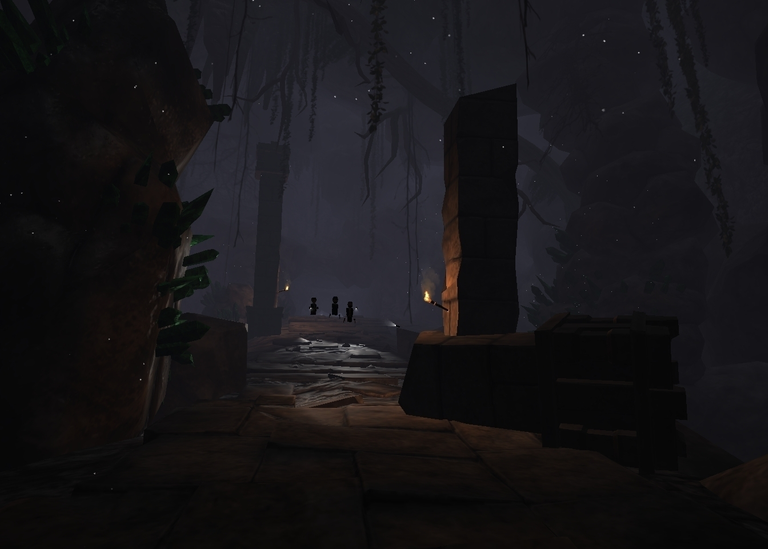 ---
Hive Art Gallery - NFT Showroom
Sadly I only got this one photo but the Art Gallery was one of my favorite spots to visit. Besides all of the cool art and photography there was a live telegram feed displayed behind the working piano. Yes, there was a working piano!! There was also a 3D chess board that I had the pleasure of using which was right near the fireplace inside of the gallery. Great job @crimsonclad and @juliakponsford!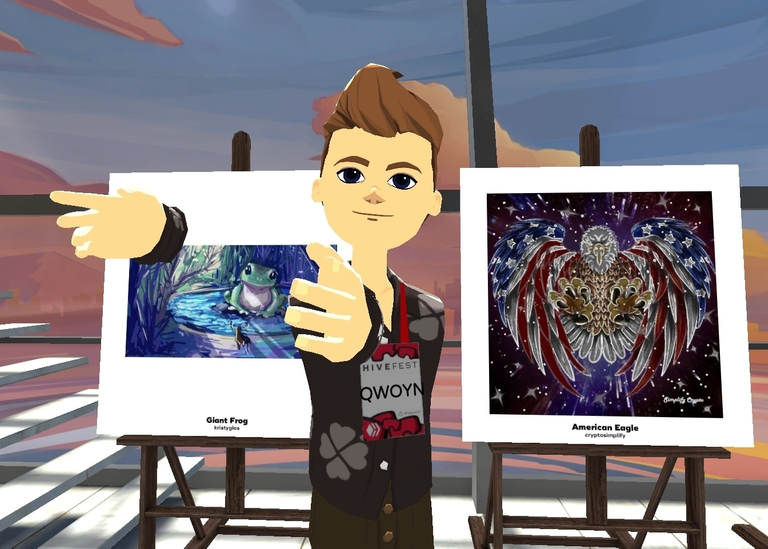 ---
A few other random photos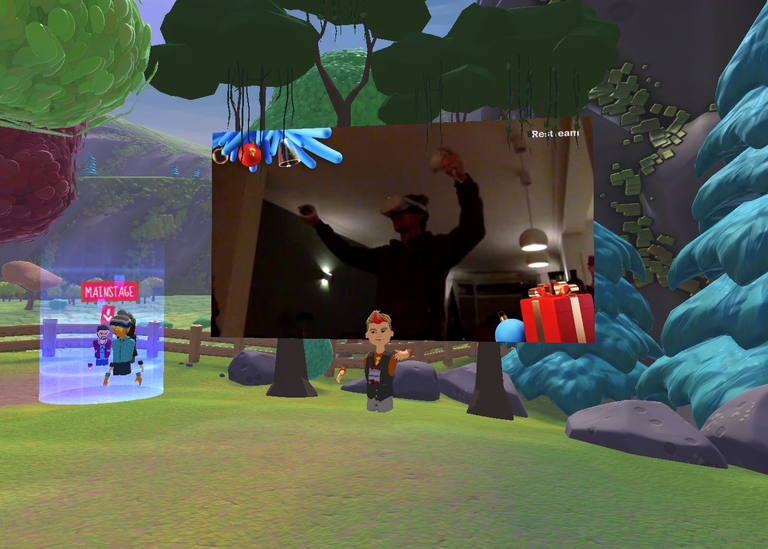 @roelandp IRL in VR..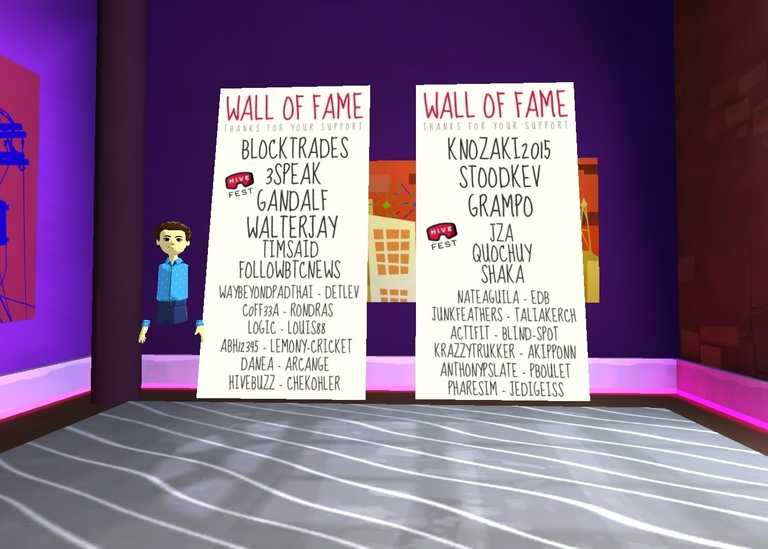 @disregardfiat before he changed his avatar in the lobby behind the mainstage next to the wall of fame with HIVE celebs such as @blocktrades listed
Many Thanks to my Hive Family
It was truly an honor and a pleasure to get to meet all of you outside of Discord. It was really nice to hear all of your voices and get to learn a little bit more about you! I can't wait to do it again someday! I was able to earn myself a @hivebuzz and of course picked up some fantastic merch. Which I will show you when I receive it!
Thank you Hive Family!
A couple people not found in my pictures are @wicker and @abztraxxx brand new Hive users. Please give them a warm welcome!