One more week till HiveFest! VR World building and finetuning is in full effect. AltspaceVR upgraded their software, leaving many worlds and 3D objects rendered useless. Virtual E-waste. I first thought this would be a simple re-iteration of last year, but no no no. Everything had to be redone. Totally fine because it's a great practice for next week, getting re-acquainted with the software and battling motion-sickness :)
I recommend you to upgrade your AltspaceVR software, (or install it) right away and also RSVP for HiveFest on the AltspaceVR website to get it to trending ASAP:
Register for HiveFe.st so you will be able to get a shiny conference badge during the event
RSVP for HiveFest Day 1 on AltspaceVR
RSVP for HiveFest Day 2 on AltspaceVR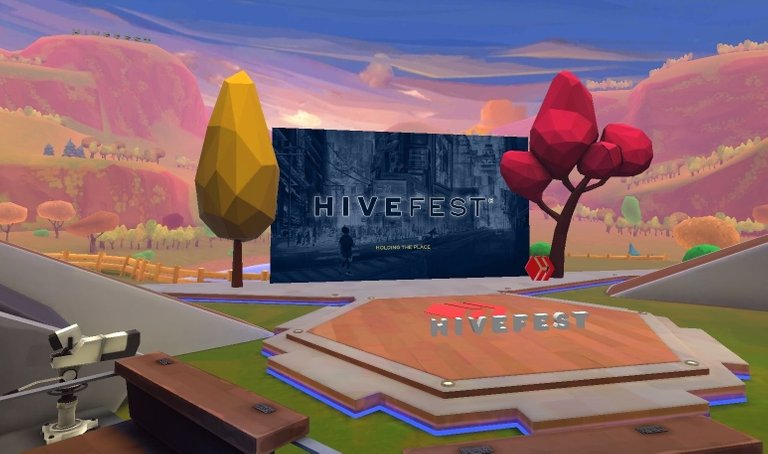 Did you see some HiveFest ads on Twitter yet? Thanks to some of the Hive marketing fund, we can run some ads! Pretty epic, 100,000 impressions each day!
HiveFe.st site is updated with new names taking the stage next weekend:
Expect more than 30 people and projects taking the stage, with newly added: @themarkymark, @detlev, @qwoyn, @rollie1212, @brianoflondon, @eddiespino, @uwelang, @smooms, @risingstargame, @howweroll, @jacuzzi, @ddrfr33k, @thebeardflex, @hivetrending and @jeanlucsr! Stay tuned for the final schedule early next week.
HiveFest Hive.Fund Proposal is live (Prop. No. 195)
Yes HiveFest is, just like last year, lean & mean. No food, no venues, not so much tech and transport. Yet we still spend time getting things ready, next to some, very real (?) fiat expenditures :P. We rent tech in the cloud, a place to physical be connected to the internets, even pay for some virtual venue templates, next to quite some time to prepare all this.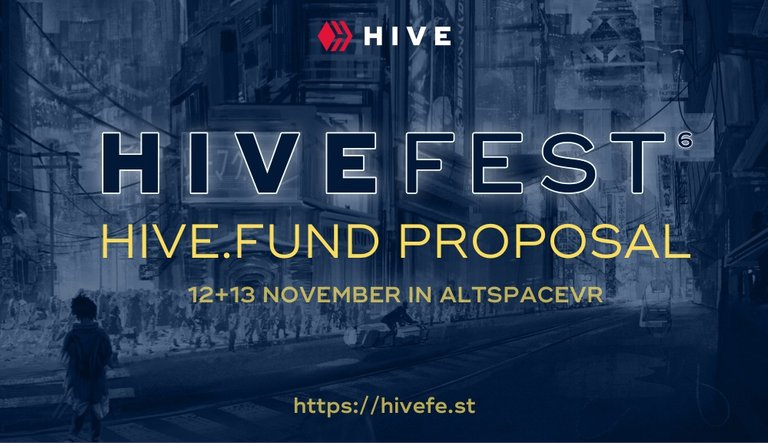 A proposal for the amount of 10,000 HBD is awaiting your review right here, containing the full budget and explanation. It would be great if you can find time to weigh your opinion about it. Potential payout starts already next week during HiveFest and only runs for 4 days for a simple & quick pay-out. Checkout proposal 195 for HiveFe.st 2021.
Splinterlands is sponsoring HiveFest with a significant donation!
Number one dApp of the world, which casually happens to be hosted on Hive, almost since it's inception, gave a serious donation for this years event. Thank you team Splinterlands! Also Blocktrades an 3Speak are continued major supporters next to countless individuals, whom will be on the wall of fame at the event, and you will easily spot them wearing a different badge of honour :P
Win (part of) 1,000 HIVE!
Help promote HiveFest! And win some Hive while you are doing the noble job. Also: it helps getting you setup already on AltspaceVR instead of next week. Here is how to become eligible:
Customise your avatar so you don't look like a noob.
Make a screenshot of your avatar, or take a selfie
Show off your style using your cropped avatar on https://hivefe.st/attendeecard/index.html
Share the generated image on socials, using a link back to https://hivefe.st #hivefest
Post a link to your social-shares in the comments below!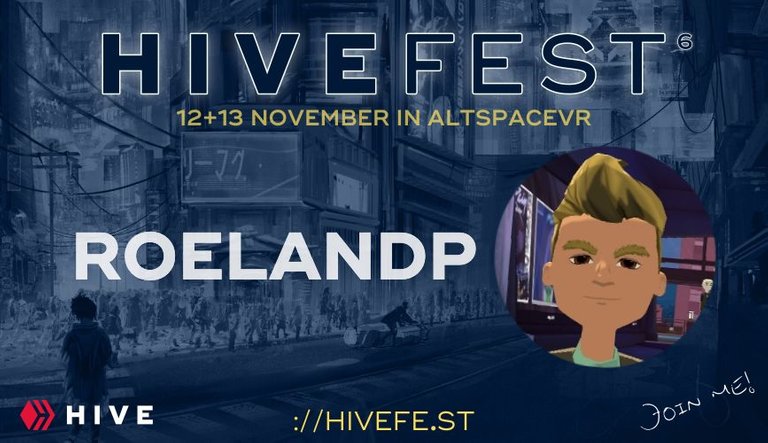 ---
---
---
Ok, that's it for now.
Next week final updates with schedule, livestream details and VR worldmap.
have a wonderful weekend,
take care,
@roelandp
100% of these funds are benificiarised (?) to @hivefest :)