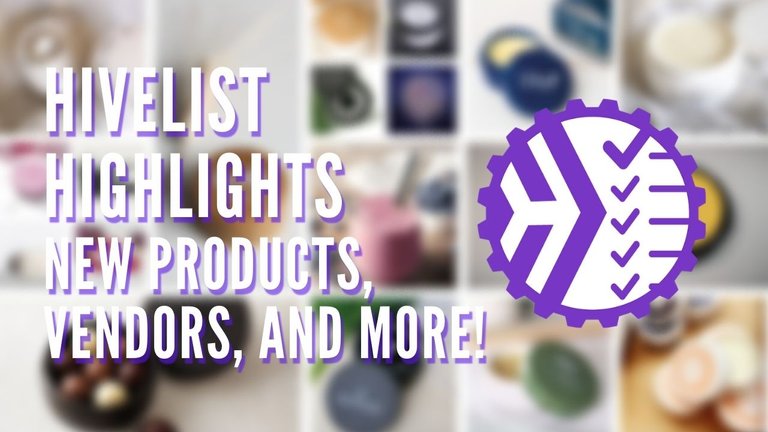 Bear markets are meant to shake out weak hands and weak projects. Well that is NOT Hivelist! In fact, we are working hard on expanding our product line daily for our store, and trying to find new vendors to come onboard to start their own journey in building an e-commerce business with us!
New Vendors
I want to welcome a couple of new vendors to the store!
We have @selfhelp4trolls coming onboard and getting up a couple of ebooks for sale! He actually made his own store introduction post that you can see here!
https://www.hivelist.org/@selfhelp4trolls/use-hbd-or-btc-to-pick-up-my-books-anywhere-in-the-world-finally
You can get to his store here!
https://hivelist.store/shop/selfhelp4trolls/
We also have @hivediver that has been jumping into the LIST ecosystem and trying to make some waves on the NFT side of things! He got his store all set up and looks like is using it to try and link his NFTs.
You can get to his store here:
https://hivelist.store/shop/get_fractalized/
You can also see allot of his work on the Hivelist NFT marketplace where you can purchase NFTs with LIST tokens!
So we want to say welcome officially to you both as well as jumping in and giving critical feedback that has helped up fix a few things with the store as we have gone along.
New Products!
We have procured a new goods supplier and are now starting to add some cool consumer electronics products on the store! We are a bit limited on some things, but once we start getting more revenue built up and going that I can justify the purchase of the full plan, that's when we will get the good stock and be able to customize our purchase and shipping orders and such!
You can come and check out the items we currently have listed, and will be adding more daily, well, at least Monday-Friday...
HBD Payments on the Hivelist Store
We have written a couple of posts at this point talking about our payment issues with Hive and HBD. We had to disable it for a bit due to some upgrade issues for the Hivepay and the old WooCommerce payemnt plugins that are not upgraded with the new version of WooCommerce which causes them to break the site.
We have found a bit of a work around for now until we can get a dev to look into upgrading one of these plugins. But, funds are an issue at this point. It has been suggested that we put up a Hive DHF proposal to try and get it funded. What do you think about that? Would you support the proposal? It would really help drive more use case to the HBD stablecoin and ecosystem. We just need a stable payment plugin for WooCommerce. Again for now, we have a work around that will still process the order in our system, it's just a bit of a manual process.
To read about that, check out this post from @thelogicaldude:
https://www.hivelist.org/@thelogicaldude/i-love-the-smell-of-solutions-in-the-morning-hbd-is-back-on-the-hivelist-store
Promoted Classifieds Posts
We have been a bit behind on curating the community lately. Looks like contests is the dominant category! There is no shortage of different contests and giveaways that you can find.
Here is an example of a great contest we found in the classifieds:
🍀🍕 RISING STAR GIVEAWAY DAILY - 3x Rising Star NFT - JUNE 21, 2022 🍕🍀
by @aweee
https://www.hivelist.org/@aweee/rising-star-giveaway-daily-3x-4594ff2da1ac3
We also have some cool things popping up on the ForSale category!
@swearngin is back with another NES classic with 'Dick Tracey' up for sale:
https://www.hivelist.org/@swearngin/yard-sale-nes-game-dick-tracey
As well as we have seen some new cool items popping up from @cabalcoffers, here are a couple of examples:
https://www.hivelist.org/@cabalcoffers/warhammer-fantasy-aos-soulblight-gravelord-undead-bits-lots-pick-games-workshop
https://www.hivelist.org/@cabalcoffers/pick-one-common-assassins-strike-as-warlord-saga-of-the-storm-ccgtcg-card-aeb
We just want to thank everyone for using the Hivelist classifieds! If you have something like a contest, event, service, or selling something, think about posting it on our blockchain classifieds!
Get more information on proper tag use and all things LIST token at:
https://hivelist.io/list-token
Checking the LIST Token
The LIST token has taken a bit of a hit in the bear market but is being held up at current levels for a while thanks to some project loyals and traders.
Here is the current shot from Tribaldex:

Marketcap is back under a million and there hasn't been much volume happening in the last day or so, but that's to be expected in these crazy times. But here's the thing... token price isn't a true indication of the actual value of the project. We are working hard at building a project with true value and actual use case. Something real and tangible. And because of that, it's not always the most sexy as far as getting the hype, but know that we are not going anywhere but up from here! But this is a community, so it will take everyone's help!
Diesel Pool Numbers
Here is a screenshot from our Diesel pool that you can get to right on our own front end!

And according to Beeswap, we are still rocking an 85% APR for providing liquidity to our LIST/SWAP.HIVE pool!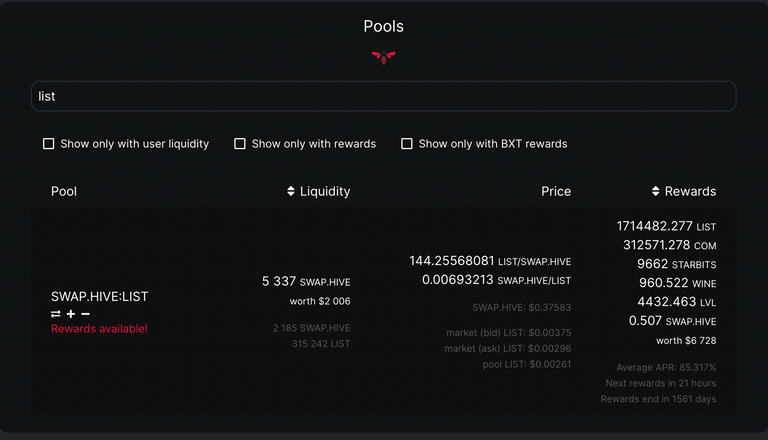 BURNED LIST Tokens
LIST tokens get burned when they are used for Hivelist store fees vendor fees, NFT whitelisting and minting fees, as well as post promotion. When you promote your post on Hivelist, or we do it for you if we discover and like your post, then the LIST used to promote the post is automatically burned and sent to the @null account.
This was our most recent LIST burn for NFT whitelist and miniting fees: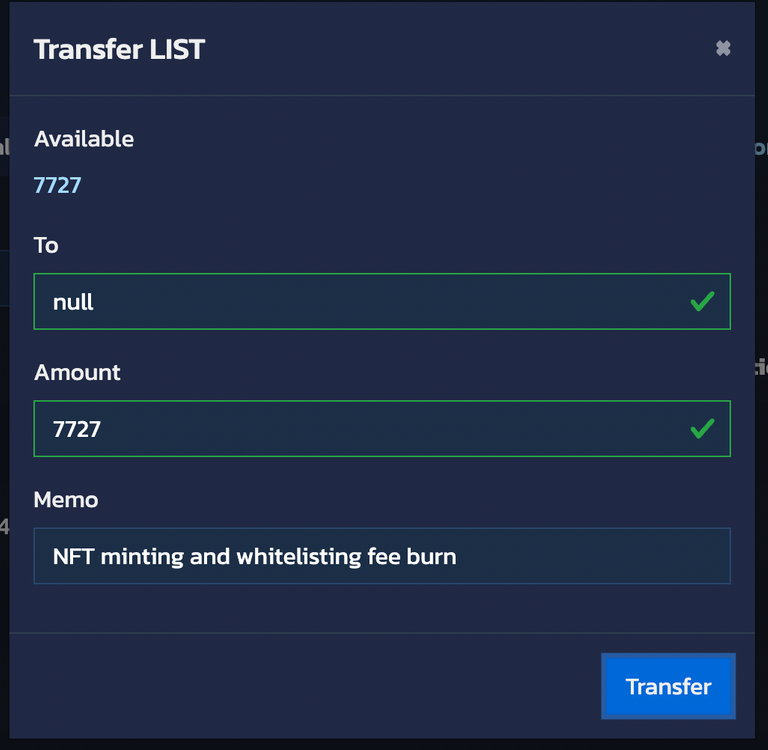 Here is the total amount of LIST that have been burned to date:

So far that is over 4 million LIST tokens that have been taken out of circulation!
Hivelist Is For Everyone!
Hivelist was built as our gift to the Hive community to give a place for the community to share their events and contests, list items they have for sale, services they offer, etc. It's a free place to come and advertise your business and even earn rewards for doing so! So don't forget us over at https://hivelist.io!
Do you have designs or products you want to put up for sale and earn crypto?

Come and take a look at becoming a vendor on our store! We pay in HBD for all of your sales and commission! We handle all payments and exchanges so you don't have to worry about all of that! Sell your own products or submit your designs to our print on demand service!
If you are interested in starting your own ecommerce business in the crypto world, then click here to learn more about becoming a Hivelist Store vendor!
Don't forget, we have Hivelist Store gift cards!!!

Need to get a special gift for someone, but don't know what to get them? Have you tried introducing someone to the crypto currency world, but want to make it an easy introduction, then try out one of our in store gift cards! You can purchase them with any number of our accepted cryptocurrencies!
https://hivelist.store/product-category/gift-cards/
Want to make some extra HBD? Become and Affiliate!

Come and sign up to be an affiliate and get paid monthly for any sales you refer to the store! Affiliate commissions are 5% of the profit from any sale! Get started as a Hivelist Store Affiliate Partner today!
Keep calm and Hive on!
https://hivelist.io - main info site
https://hivelist.org - blockchain classifieds/NFTs/DEFI Pool
https://hivelist.store - multi-vendor e-commerce retail store and professional services marketplace
Vote for @hivelist.witness on Tribaldex