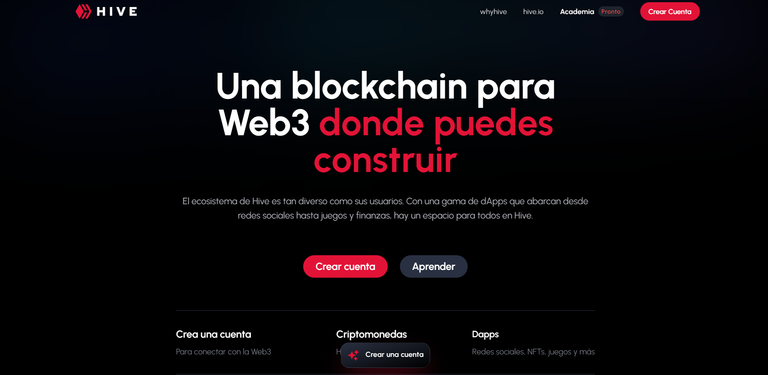 Visit: https://holahive.com/
Our journey with Hive is an ever-evolving one, inspired by the lived experiences and the voices of our global community. Today, we reflect on the challenges faced and celebrate the innovative solutions that are paving the way towards a better future in Web3.
🔍 Facing the Challenge: Making Hive Accessible to Everyone
Adopting any new technology comes with its challenges. At Hive, we've listened carefully and understood that the key is not just to attract content creators but to be a welcoming space for everyone interested in Web3. Our response: simplify.
Practical Solutions: Support and Ease at Every Step
Each event, each interaction, has shown us the importance of real-time support. Therefore, we have implemented a robust online technical support system to accompany you at every live event, ensuring an uninterrupted and enriching experience. This is why we have these thoughts:
On Hive, we aim to improve the adoption approach, not just by attracting more content creators but by making it appealing to anyone who wants to be part of Web3 with Hive's blockchain. It's crucial to facilitate the account creation process.
Taking the first step in Hive can be challenging for those who have only used layer 1 blockchains and do not have a broad ecosystem of applications. We've noticed at events that, after creating an account, many people find it difficult to connect to a platform. A possible solution is to create different quick learning paths that facilitate interaction with the blockchain.
For each event, we consider it essential to have an online technical support team, which improves public service and reduces waiting times, especially at stands.
Ideas from Hive Creators for Latam and Beyond
We have a site called HolaHive, a basic space to understand the essentials of Hive, with a call to action to create a Hive account. Users can be redirected to the account creation app at: https://join.holahive.com/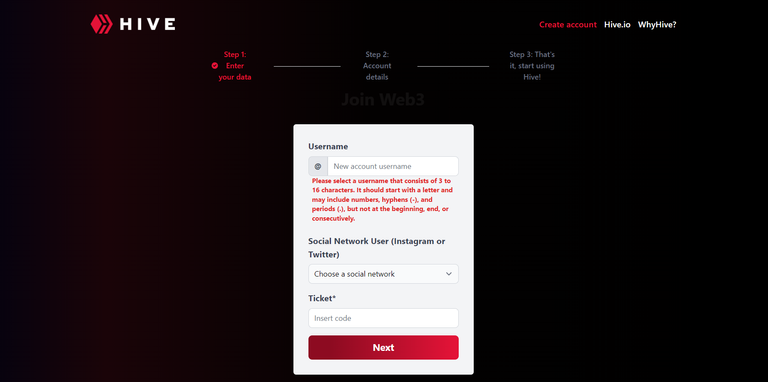 This tool, although basic, allows for the creation of Hive accounts, and we are working on these improvements:
Adapting Hive keys for easy reading via keychain and facilitating their import into the wallet.
Offering new users the option to create their first post using customizable templates (currently in development).
Implementing a ticket generator for creating accounts with QR codes, allowing any Hiver to show their QR code and the new user to scan it to go to the site and create their account, thus improving the account creation flow in Hive.
✨ Experience as a Source of Inspiration
The lessons learned at events across Latin America are the source of our innovation. Each challenge becomes an opportunity to improve and make Hive not just a platform for creating and investing, but a home for Web3 enthusiasts.
📣 Your Voice Matters
At Hive, every voice counts. Your experiences, ideas, and feedback are vital for our ongoing growth. Share your thoughts and help us build an even better Hive.
---
ESPAÑOL
Nuestro viaje en Hive es una constante evolución, inspirada por las experiencias vividas y las voces de nuestra comunidad global. Hoy, reflexionamos sobre los desafíos enfrentados y celebramos las soluciones innovadoras que están forjando el camino hacia un futuro mejor en la Web3.
🔍 Enfrentando el Desafío: Hacer Hive Accesible para Todos
La adopción de cualquier tecnología nueva viene con sus retos. En Hive, hemos escuchado atentamente y entendido que la clave no solo está en atraer a creadores de contenido, sino en ser un espacio acogedor para todos aquellos interesados en la Web3. Nuestra respuesta: simplificar.
Soluciones Prácticas: Apoyo y Facilidad en Cada Paso
Cada evento, cada interacción, nos ha mostrado la importancia del soporte en tiempo real. Por ello, hemos implementado un robusto sistema de soporte técnico online para acompañarte en cada evento presencial, asegurando una experiencia sin interrupciones y llena de aprendizaje. Es por ello que tenemos estos pensamientos:
En Hive, buscamos mejorar el enfoque de adopción, no solo atrayendo a más creadores de contenido, sino haciéndolo atractivo para cualquier persona que quiera ser parte de la Web3 con la blockchain de Hive. Es crucial facilitar el proceso de creación de cuentas.
Dar el primer paso en Hive puede ser complicado para quienes solo han usado blockchain de capa 1 y que no cuentan con un ecosistema amplio de aplicaciones. Hemos notado en los eventos que, tras crear una cuenta, a muchas personas les resulta difícil conectarse a una plataforma. Una posible solución es crear diferentes rutas de aprendizaje rápido que faciliten la interacción con la blockchain.
Para cada evento, consideramos esencial contar con un equipo online de soporte técnico, lo cual mejora la atención al público y reduce los tiempos de espera, especialmente en los stands.
Ideas de Hive Creators para Latam y que se pueden expandir
Tenemos un sitio llamado HolaHive, un espacio básico para entender lo esencial de Hive, con un llamado a la acción para crear una cuenta de Hive. Los usuarios pueden ser redirigidos a la app de creación de cuentas en: https://app.holahive.com/.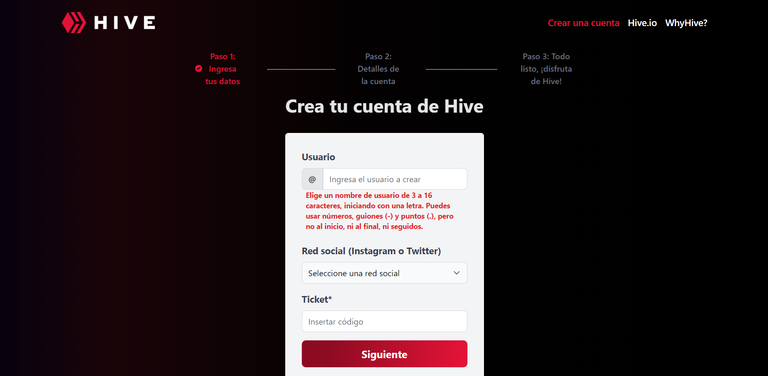 Esta herramienta, aunque básica, permite crear cuentas de Hive y estamos trabajando en estas mejoras:
Adaptar las claves de Hive para su fácil lectura vía keychain y facilitar su importación a la billetera.
Ofrecer a los nuevos usuarios la opción de crear su primer post utilizando plantillas personalizables (actualmente en desarrollo).
Implementar un generador de tickets para la creación de cuentas con código QR, permitiendo que cualquier Hiver muestre su código QR y que el nuevo usuario lo escanee para ir al sitio y crear su cuenta, mejorando así el flujo de creación de cuentas en Hive.
✨ La Experiencia como Fuente de Inspiración
Las lecciones aprendidas en eventos en toda Latinoamérica son la fuente de nuestra innovación. Cada desafío se convierte en una oportunidad para mejorar y hacer que Hive sea no solo una plataforma para crear e invertir, sino un hogar para los entusiastas de la Web3.
📣 Tu Voz Importa
En Hive, cada voz cuenta. Tus experiencias, ideas y comentarios son vitales para nuestro crecimiento continuo. Comparte tus pensamientos y ayúdanos a construir un Hive aún mejor.