Hey everyone!
We're gearing up for more exciting PIZZA adventures and getting hype as we enter Q4 here at the Pizza Shop! We have quite a few items to cover, so we're just going to jump right in!
---
Witness Update
Thank you everyone who has voted for us so far! We're currently ranked 74/69 and hoping to overcome a few more nodes running older versions! With your help, we can do it! Please consider voting for the pizza.witness account. We have an incredibly active project that is working every day to build more awareness, tools, and value here at HIVE and on the second-layer!




Special note: We've now surpassed 5,000 wallets without a single airdrop! Thank you all for what has and continues to be an amazing journey!


Hive Fest
We're excited to announce that not only will @hivetrending and I be attending Hive Fest this year, but we've also secured a spot where we can talk a bit about the PIZZA project, things we've accomplished, and stuff we have in-store! We're tremendously excited about this opportunity. Thank you to @roelandp for accommodating our request! We can't wait to see and speak with you all!



RSVP for HiveFest here!


Ad Deals
We've completed two ad deals this past month that not only generated revenue for the account, but also helped secure rewards for our Diesel Pools going forward. You'll begin to notice their ads popping up on various pages throughout the hive.pizza website! If you want to advertise your HIVE project, please get in touch! We're happy to discuss opportunities with you!
Pod Casts / Interviews
We are beginning to schedule out interviews for various podcast and interview opportunities! Stay tuned over the next couple of weeks and we lock in some dates! We're excited to discuss HIVE and the cool things we've got going on over here at PIZZA!
Token Burn
We've burned over $40,000 usd worth of PIZZA tokens in the past 4 weeks and still on pace to burn 1 million before January 1st! Farewell, ye tasty 'za!
Game Servers
7 Days to Die

7D2D has received some updates along with our first modlet set as we gear up for the month of October! If you'd like to play with us, just make sure you download the mod here, extract it, and drop the folder into your Mods folder in your 7 Days to Die root folder (where the exe is). If it doesn't exist, create the folder!



Our Hive Pizza Minecraft server is back up and running! Apologies, I did not see the reports indicating there was an error!


We're beginning to migrate the Dayz server over to some improved hardware. We're hoping this really improves your overall performance and allows us to crank up some of the settings we've been wanting to play with!


We've been reprovisioning our servers and preparing for the upcoming winter months of gaming! Let us know if there are any specific game servers you'd like to grind out on together this fall! We can accommodate most games as long as there is server software available!


Music Shop
Quick note here: We've made some pretty good progress but I've run into a few small issues for some of the larger features of the platform. For those who don't know, we're building a full music streaming/sales platform that will allow HIVE musicians to monetize their music and even build radio stations / playlists! We may end up rolling out just the store in a limited capacity first while we stagger out the rest of the releases!


Musician Opportunity
I'm putting together a cool project to help raise more HIVE awareness around our music culture. If you are a musician who actively records, we would like to talk to you! Let us know if you're interested in a fun upcoming project!


Hive dApp Browser Extension
Did you know we've built our own HIVE-based browser extension to help you navigate the HIVE ecosystem? Join a growing number of users and download it here!
Here is a sneak peak: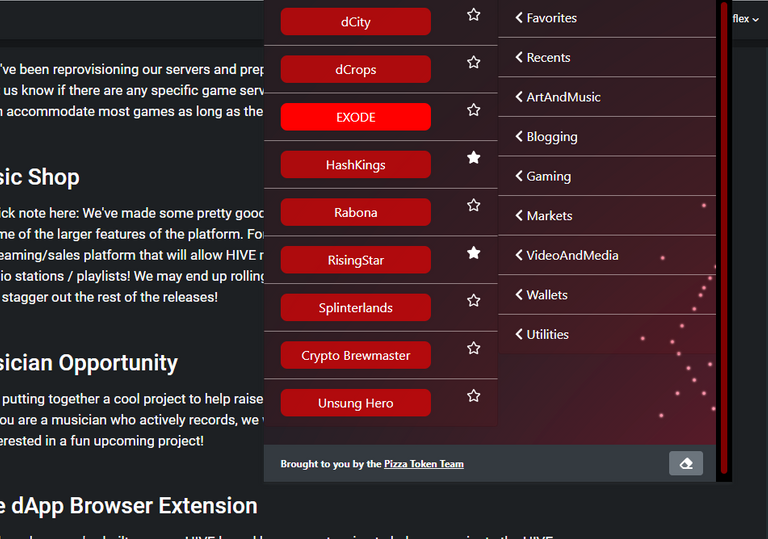 Misc
We're continuing to increase the rewards payouts for our Diesel Pools. The SWAP.HIVE:PIZZA pool has seen an increase in 30 APE tokens this week. Enjoy those extra rewards!
PIZZA is now an accepted currency over in the HiveList store! Thank you to @thelogicaldude for making that happen!

TOKENOMICS
| Circulating Supply | Staked | Burned | Max |
| --- | --- | --- | --- |
| 561,821.66 | 397,144 | 879,178.34 | 100,000,000.00 |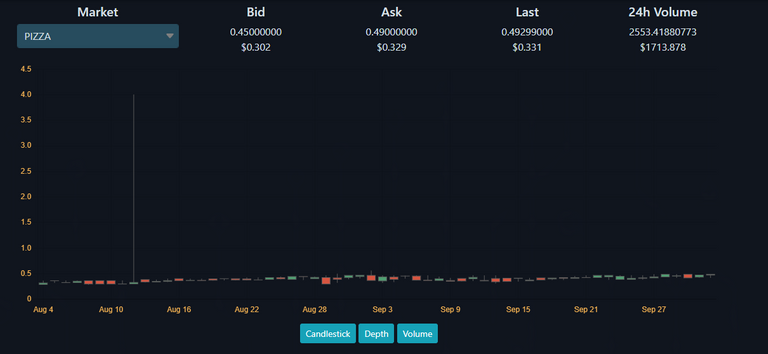 There has been some pretty interesting price action as folks fight to get into our pools or into the top 10 at the best price possible. Can you blame them?
---
Wallet Status


5046 wallets hold $PIZZA
0408 wallets hold >= 20 $PIZZA (bot access level 1)
0066 wallets hold >= 200 $PIZZA (bot access level 2)
0030 wallets hold >= 1000 $PIZZA (badass level)
0012 wallets hold >= 10,000 $PIZZA (baron level)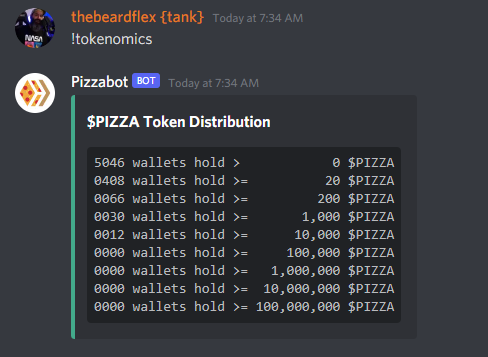 Discord Submission
We love Pizza, it's a fact! Pizza is the bond that brings us together. In the Discord we encourage our $PIZZA family to share photos of their pizza creations or of 'za they are trying throughout their day.
This week, we chose ZERO winners from the Discord! You guys better step your game up!

REWARDS
There will be another lottery later today to make up for the past two weekends I was traveling! Stay tuned!


Top 10 Staked Leaderboards


Date: 10/3/2021
Token: #PIZZA
This weeks bonus: 7%



Want to get in on the action and secure your own weekly bonus rewards?
You can buy $PIZZA on LeoDex, TribalDex, or Hive Engine!
You can earn up to 10% back in the form of $PIZZA and other tokens by knocking our current leaders out and claiming your spot among the top!
@pizzaconnection @cooperclub @stickupboys @dadspardan @dibblers.dabs @fireguardian @shauner @hykss @pockettrader @brofundholdings
Lucky 5 Weekly $PIZZA Holders
(randomly chosen weekly from all holders with >= 1 $PIZZA in their wallet)
These lucky winners have won 2% of their staked $PIZZA holdings value back!
Remember, the more you have staked the more you can increase your lottery winnings! You can also secure guaranteed weekly winnings by being in the top 10 staked holders list! The rewards are up to 10% back weekly for our top 10!
@miketr @donjaun @tawadak24 @harpreetjanda @vaipraonde
BONUS 5 Weekly 500 $PIZZA Holders
These 5 bonus winners are drawn from holders with >= 500 $PIZZA
Remember, the more you have staked the more you can increase your lottery winnings! You can also secure guaranteed weekly winnings by being in the top 10 staked holders list! The rewards are up to 10% back weekly for our top 10!
Congratulations and thank you for locking up your tasty za! Enjoy your bonus rewards of 2%!
@abh12345 @huzzah @jacuzzi @balte @ciderjunkie
Daily Winners
Congratulations! You have won 3% of your $PIZZA holdings back in additional $PIZZA!
@mightyrocklee @revise.leo @melinda010100 @junkfeathers @bokica80 @melbourneswest @offgridlife

DELEGATE TO PIZZA
You can also delegate your HP to our @hive.pizza curation account and farm your share of the daily $PIZZA rewards pool! The reward pool increases 10 tokens every 10k HP that is delegated to the account!



You can also check out the HIVE.PIZZA website here.
Buy $PIZZA
Leodex
Tribadex
Hive-Engine

Join the Discord and $PIZZA NATION

Join our curation trail here
Vote for us as Hive-Engine witness here
Vote for us as HIVE WITNESS HERE