Here is a very interesting tool that allows for private messaging directly on the Hive blockchain. It does this using the Memo Private Key to cryptographically lock and unlock a message in the form of a Hive memo. The minimum cost to send a Memo is 0.001 HIVE or 0.001 HBD, but in a typical conversation you could exchange back and forth the same 0.001 HIVE / HBD. This means it is free in most cases.
The website can be accessed here: https://hive.pm/
You can login via the Hive Keychain using your Posting Private Key: https://hive-keychain.com/
The screenshots below show a typical example of an encrypted message, which I sent to my second account @mestruth.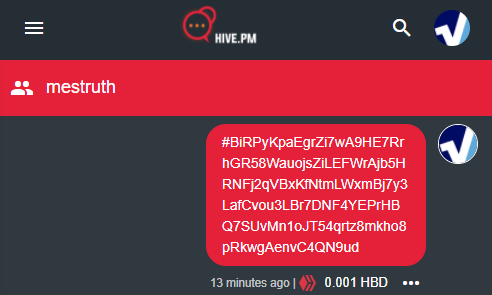 Pressing the "decrypt" option shows the message I sent, which is "testing".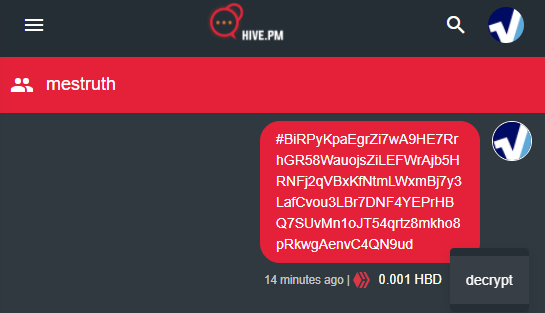 Interestingly, the PeakD wallet allows for seeing the encrypted / decrypted message directly in the list of recent transactions.
https://peakd.com/@mestruth/wallet


Pretty epic stuff!
For further information, you can view the following resources:
Hive.pm Video Tutorial: https://3speak.tv/watch?v=jacuzzi/zowrdpzm
Hive.pm Announcement Article by DBuzz: https://peakd.com/hive-139531/@dbuzz/announcing-hive-pm-private-messaging-on-hive-sneak-peek