With a little over a month now since I made my first post on HIVE, I joined the power-up day today. Thanks to the support of the community and the advice of great friends obtained in it, I reached a little more than necessary to participate.
I have high expectations of the activity, and I look forward to increasing my voting power in order to give more meaningful rewards to everyone I support. Many users in my country have found an economical solution in this community, and since they told me about it and I decided to include myself by contributing personal content, I have tried to be constant in order to grow every day.
I wanted to list some of the reasons why Hive is part of my current priorities:
It is a great economic source: I already know of several people who have achieved an economic dependence on the hive, in my case, I have only dedicated myself to re-investing my rewards, because in the future I hope to also achieve stability economical through it.
It is a projection platform: I see Hive as a good network where I can publicize my content, artistically I hope to achieve the highest possible projection, and I see Hive as my main promoter.
It is a culturalization platform: With the little time I have, I have had the opportunity to get to know other cultures, what they do and practice, it has even awakened in me the desire to one day go to those countries.
It is a social network of nice people: Hive helped me meet wonderful people, whom I consider my friends.
For these reasons, I am participating in this activity, as I want to grow immensely in the community. I show you a screenshot of my wallet, where I have almost everything achieved during this month of publications in my HP.
Ya con un poco más de un mes desde que realicé mi primera publicación en HIVE, hoy me uní al día del "Power UP". Gracias al apoyo de la comunidad y los consejos de grandes amigos obtenidos en la misma, alcancé un poco más de lo necesario para poder participar.
Tengo inmensas expectativas de la actividad, y espero aumentar mi poder de voto a fin de dar recompensa más significativa a todos a quienes apoyo. Muchos usuarios de mi país, han encontrado una solución económica en esta comunidad, y desde que me hablaron de ella y decidí incluirme aportando contenido personal, he intentando ser constante a fin de crecer cada día más.
Quise enumerar unas de las razones por la cuales Hive es parte de mis prioridades actualmente:
Es una gran fuente económica: Ya sé de varias personas que han conseguido una dependencia económica de la colmena, en mi caso, solo me he dedicado a re-invertir mis recompensas, pues en el futuro espero lograr también estabilidad económica a través de ella.
Es una plataforma de proyección: Veo a Hive, como una buena red donde puedo dar a conocer mis contenidos, artísticamente espero alcanzar la mayor proyección posible, y veo a Hive como mi principal impulsador.
Es una plataforma de culturización: Con el poco tiempo que tengo, he tenido la oportunidad de conocer otras culturas, lo que hacen y practican, incluso ha despertado en mí, deseos de ir algún día a esos países.
Es una red social de personas agradables: Hive me ayudado a conocer personas maravillosas, a las cuales considero mis amigos.
Por estas razones, estoy participando en esta actividad, pues deseo crecer inmensamente en la comunidad. Les muestro un capture de mi billetera, donde tengo casi todo lo logrado durante este mes de publicaciones en mi HP.
t_84.png](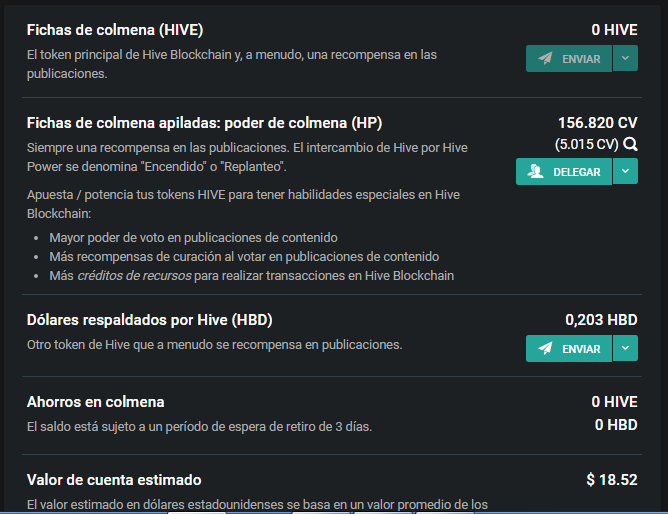 )