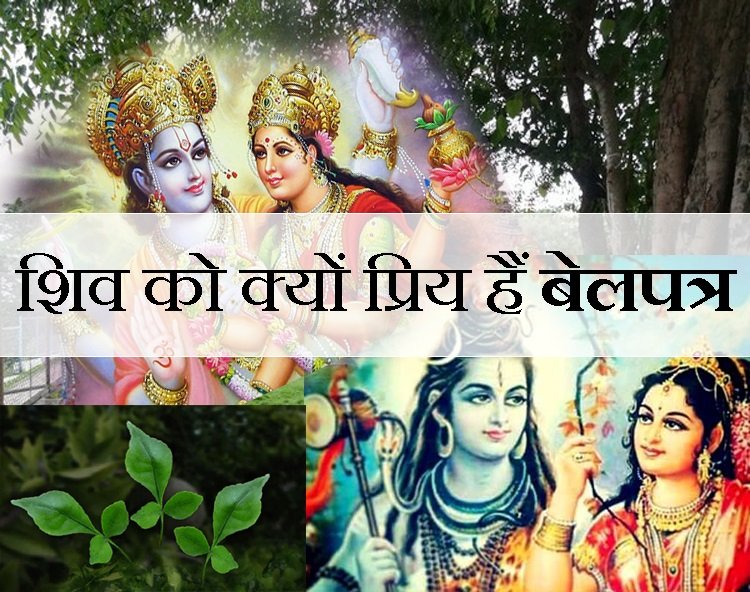 Naradaji once praised Bholenath and asked: Lord, what is the best and accessible means for you to please?
This is Trilokinath,
You are poker and innocent, you are easily pleased, but still I want to know what is your favorite?
Shivaji said - Naradji,
By the way, I am the most loved of the devotee, yet you have asked, then tell me. I have a lot of water as well as billpath. Those monotonous bill pays me with reverence, I place them in my people.
Naradji went to his people by prostrating Lord Shiva and mother Parvati. After his departure, Parvati asked Shivaji - 'Lord, I have a strong desire to know that why is the letter of the letter so dear to you? Please calm my curiosity.
Shivaji said - O Shiva, the leaves of Bilva are like my hair. His trinity is that 3 leaves are Rigveda, Yajurveda and Samaveda. Branches are the nature of all scriptures. You consider the Bilvriksha as Kalpaksha of the Earth, which is Brahma-Vishnu-Shiva form. Mahalaxmi himself was born on the Mount Shalal in Bilvakshakra form.
Upon listening to this, Parvatiji got into the curiosity. He asked- Why did Goddess Laxmi finally take the form of Bilvavriksha? You tell this story in detail.
Bholenath started listening to the story to Goddess Parvati.
Goddess Ritheesh Ling was my part in Jyotirupa in Satyuga. Goddess Brahma etc. had done his duties as a worshiper. In fact, Vagdevi was the favorite of all by my grace. They became dear to Lord Vishnu constantly.
As much as I loved for Lord Vishnu's love with my influence, Lakshmi did not own the brother, so Lakshmi Devi became worried and passionate and went to the ultimate best Shree Mount mountain. There they started the furious penance of my conscience.
O God! After some time, Mahalakshmiji took the form of a tree slightly upside down from my conscience and continued to worship me through his letters and flowers. In this way, they worshiped for a year (1 crore years). They finally got my favor. Mahalaxmi demanded that the love which has been done for Vagdevi by my influence in the heart of Shriharri, will end.
Shivaji said - I explained to Mahalaxmi that there is no love for anyone other than you in the heart of Shriharri. He is revered towards Vagdevi. Listening to this, Lakshmi was pleased and again she was staying in the heart of Shri Vishnu and continued to wander with them.
This is Parvati! A major disorder of Mahalaxmi's heart was thus far away. For this reason, HariPriya always worshiped me with great devotion in the same tree and worshiped diligently. Bilvah is very dear to me because of this and I keep taking shelter of Bilvriksha.
The bilva tree should always be considered as pilgrim and omnipresent. There is no doubt about it. The devotee who worshiped me is like my goddess Bilvapat, Bilvu flower, Bilv tree or sandalwood of Bilva wood. Treat the bilva tree as same as Shiva. She is my body.
Who gives me a name by sandalwood on Bilva and gives me a place, I place him in my own people by freeing him of all sins. Laxmiji also manages that person himself. The person who leaves life in Bilvamool gets Rudra Deh.
Thanks everyone