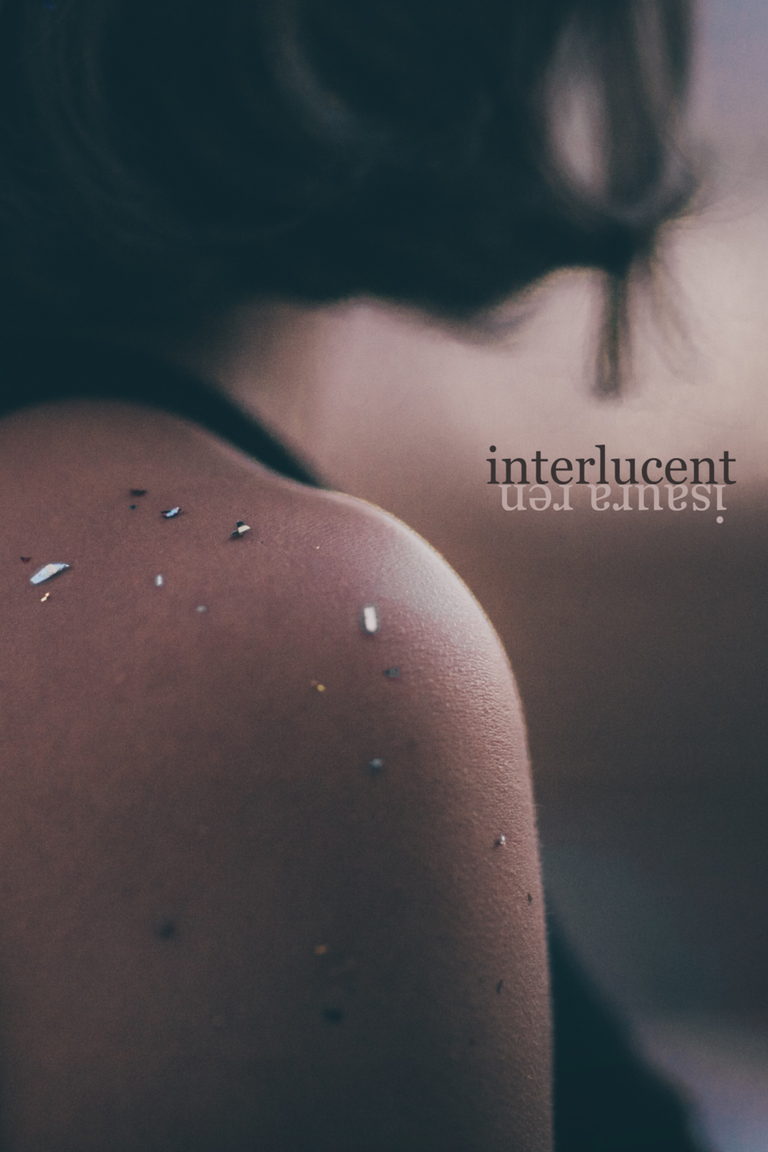 I recently reviewed Isaura Ren's debut poetry collection, "interlucent", but Ren was kind enough to answer some introspective questions and give us a glimpse into the beautiful world of their writing, that, if nothing else, will compel you to immediately purchase a copy for yourself and devour it cover to cover.
Where did "interlucent" start? What do you consider its origin story to be?
The genesis of interlucent was surprisingly organic! I only started writing poetry this year, and when I looked at my portfolio, I realized many of my poems centered around a few salient themes: light, heat, weather, and distances, both physical and figurative. All of them also incorporated an epistolary style, addressed to an ambiguous "I." I began asking myself, "Who is this for?," or "Why am I writing this?" I came to the conclusion I was writing for the people in my past, letting out what I wished I'd told them. Rather than rewriting my history, it was a catharsis, an acknowledgment that I'd made mistakes. Then it became clear I was writing for others who could derive meaning from these situations. Yes, my poems contain specific details of my own experiences, but specificity is not the enemy of relatability! I thought folks could draw parallels between what I had been through and what they were presently going through. Once I realized this, I felt compelled to publish a collection in the hope of lighting the way for others.
What poets inspire you?
Too many to count! However, I've been let down by some writers I previously idolized, and it's made me realize I was wrong to do so. Putting creators on a pedestal is not healthy, but a disservice to the subjectivity of our craft. Judging a work's merit by the name on it is a capitalist conception of art. Writers can and do fuck up; we should never stake our names on theirs. Many popular poets reinforce a patriarchal, white, cisheteronormative canon. I want to constantly challenge the landscape of lit and my own taste to be more inclusive, more radical, more now. Similarly, I'm hesitant to name specific poems that have inspired me, because one day I'll move beyond them. What moves me changes constantly. I find inspiration in work that leaves it all on the page and keeps pushing, that smashes my comfort zone to pieces. I never want to be satisfied.
What have your thoughts been on releasing your debut chapbook during a global pandemic? How would you say this year has impacted your writing?
Funnily enough, this pandemic was great for my writing, because I got laid off from my retail job and have been unemployed since! I'm fortunate enough to live with family and not be too financially insecure, and my chapbook payouts sustained me where benefits didn't. And like I said, I only began writing poems this year, so I'm not sure I experienced a style evolution so much as a genesis. This year made me decide I wanted to "get serious" as a writer, and this was the result! I'm quite pleased with how well interlucent was received. It was a unique rollout for unique times. There were no physical copies; the chap was entirely digital-exclusive. I think it's only fitting for a time when so many of us are confined to our homes, connecting only through the power of the Internet. It's also drastically reduced any overhead—I compiled, edited, and formatted the manuscript myself in Word, I marketed it via social media, and I set it up for sale on Gumroad. I didn't need to pay anyone and the platform doesn't take much, so sales were almost pure profit. Folks also pitched in for extra copies via Paypal and Venmo, which allowed me to give 25+ copies to those who wanted them! This year has been many things, most of them abysmal, but it's also shown me the buoying power of community. That's priceless.
Do you have a favorite poem from "interlucent"?
My favorite poem from interlucent is "binary system." I agonized over that piece. I hope readers picked up on the alternating left-right justification as a gradually realized POV shift, as if it's a conversation, but I'm not sure that came across! Nevertheless, I think it's some of my strongest work. I included the field at the end as an homage to Richard Siken, whose poem "The Dislocated Room" provided the epigraph for my chap. I know I just said I don't do idols anymore, but Siken... You understand. Writing "binary system" made me feel like a real poet, and it turned a painful part of me into a dialogue, a cathartic one at that. There's no greater feeling.
Has your work with perhappened inspired your writing, and if so, how?
Oh, 100 percent! Being an editor is an unbelievable privilege. I can't believe I get to read so much fantastic poetry and prose, and even publish some of it! It's the foremost blessing of my year to have witnessed perhappened flourish. After all, I just started the mag this spring. To see it grow so quickly is a testament to the lit community's support and love. I read and respond to every single piece we receive. I'd be lying if I said it didn't make me a stronger writer and broaden my literary horizons! I'd recommend everyone get a position at a lit mag, if not start their own. Reading such a diverse body of work is nothing short of transformative. To anyone that's ever submitted to perhappened, thank you so much for changing my life.
Is there anything else you want the world to know about this chapbook?
Haha, I worked very hard on it! If you're considering writing a collection of your own: it's arduous, but not impossible. If you love the work but it makes you want to scream, cry, or both, you're doing it right. Keep going! If you'd like a copy of interlucent but it's out of your means, drop me a line on Twitter. I'll send you one, no charge. And if you already have the chap, please give it love (and drop a review on Goodreads if you're so inclined). Thank you so much, Monica, and thank you to anyone who's reading this. Keep the faith, keep your light, and fight the system!
———————————
Ren is a queer poet, writer, & editor. In spring 2020, they founded the online literary magazine perhappened mag, of which they are the Editor-in-Chief & Poetry Editor.
Their poems have been internationally published online.
If you want to read "interlucent" for yourself, you can find it here