Greetings! I am a self-proclaimed Renaissance (wo)man with a love of life's curious oddities, plus an insatiable love of pastries. You could compare my life to a river: it's constantly changing, meandering, some parts have been placid, meanwhile other parts have been wild like rapids that led to some incredible waterfalls!
[Me at a beach in Mirissa, Sri Lanka]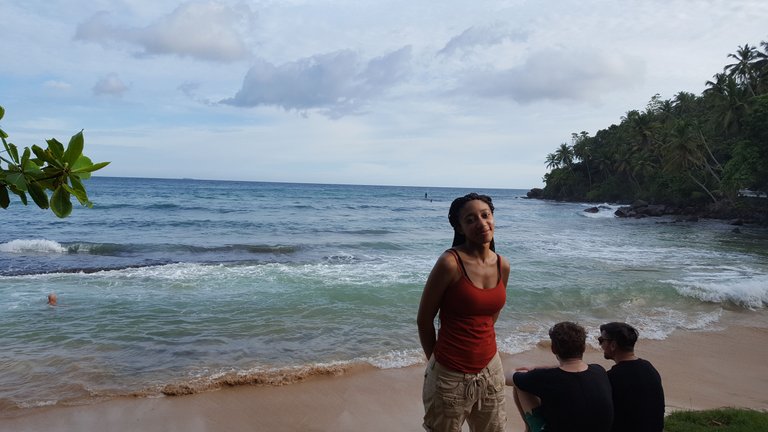 After high school I didn't quite follow the prescribed direction to ahem… adulthood. Yes, I went to college, my first degree was awesome: Professional Piloting. I also was enrolled at a different college for Broadcast Journalism. But like many of us money was an issue (as well as being diagnosed with a chronic illness) got in the way of me completing the degree. So even though that window of opportunity slammed shut on my hands I threw myself head first into Journalism and graduated in 2014 (yay!).
I then got a job living the dream as an international investigative reporter based primarily across East Asia. Well… that was the plan anyway. It took another year before I got a job at a news studio and another year before I ran away from it screaming. This was pre-Trump too. In fact, I resigned as producer literally two weeks before he got elected.
Needless to say— I am so not sorry for jumping ship. Steemit appeared before me like an oasis in a desert
Writing has been a passion since I was a grade schooler typing family newsletters for my parents. The media industry may have left a sour feeling in my stomach, but I realized, I don't need a media company to share stories. I only wanted to be a journalist so I could foster understanding between people all over the world.
I've always had a love affair with photography and travel—after all, the two go together like peanut butter and jelly or cats in boxes. My dream was (and still is) to combine my piloting skills with my love of photography and create some sort of superhuman Aerial Photojournalist/Travel blogger. I want to show people you can reinvent yourself at any age any time. It's my goal to educate, entertain, and bring people together with my experiences and insights to lesser known places in this beautifully chaotic world people, food and cultures.