On March 1st, 2021...
So after a long day at work, I wanted to go get dinner for my husband and me. First of all, you should know, I own a cleaning company. You can see my website -here-. I clean 2 to 4 houses a day. Anywhere from 2 to 4 hours per house depending on how bad it needs to be cleaned. For the most part, they are regular customers, who I see weekly or bi-weekly. Anyway, I was ready to just get dinner and go home.
I was driving through East Lansing, Michigan. Just driving along then all of a sudden...
This Happened!!!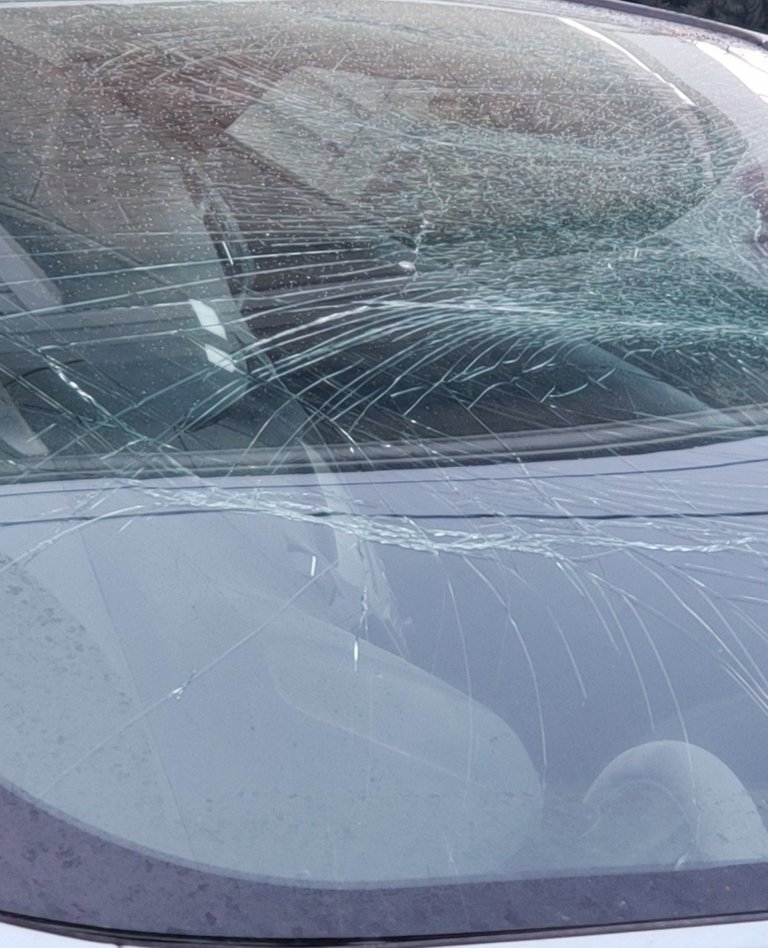 My hood flies up and smashes my entire windshield.
It scared you know what right out of me. I got out of my car and closed the hood as far as I could. Because now it doesn't close all the way or latches shut. I got back in my car and I decided at that moment I wasn't going to go get dinner, go figure right, I'm tired and hungry and now this... I was thinking about what else could go wrong today...
Then BAM!!!
It happened again, the wind had caught the hood just enough to smash into my windshield for the second time in less than 5 minutes.
At this point...
I was in tears and I called my husband. I told him what happened. I was so upset about this I could barely talk. He got the gist of what I said happened. He then said, "I'm glad you are okay. Just come home and we will figure it out when you get home. Drive slow and be safe." I was a mess at this point. I just wanted to get dinner, go home and see my husband after a long day.
I made it home safe, and completely shook up!!
When I got home I was still really upset and just hugged my husband for what felt like forever. I really needed that hug. It helped me to calm down a little bit. We got ahold of our insurance company and they filed the claim and scheduled a tow truck to come to get my vehicle and set up a rental car reservation for the next morning.
After calming down...
I decided to make dinner. While making dinner I just couldn't get the image replay of what happened to me out of my head. I just don't understand why that happened.
The insurance company is looking into what could have caused this to happen. The last time my hood was even opened was over a month ago. I had the clerk at Auto-Zone put in my windshield washer fluid. I have been on the highway doing 75-80 MPH, several times since then. I am all over the city daily because of my business, between cleaning and going to do estimates, and shopping for my supplies, and just everyday life outside of work!! Never did I expect this to happen to me...
But it did, and now, I am driving a rental car until they check out my car and can determine the damage. I have had my vehicle for almost 3 years now, I have a loan for this vehicle and I owe more than BlueBook Value. This vehicle has done nothing but Nickle and Dime me to death. After 6 months of owning it, I had to get a personal loan on it to get a few things fixed and to replace the original windshield due to previous chips in the window. Anyway, so I owe on this vehicle and a personal loan for this stupid car.
I have learned a valuable lesson about buying the first car I test drove and because it was pretty. Although, I did need a car at that time immediately because someone very close to me had passed away. I had to have a way to get to the funeral. So, this is what I got... A Big Ol' Pile of Nickles and Dimes!!!
So, that was my Monday!!! How was yours???