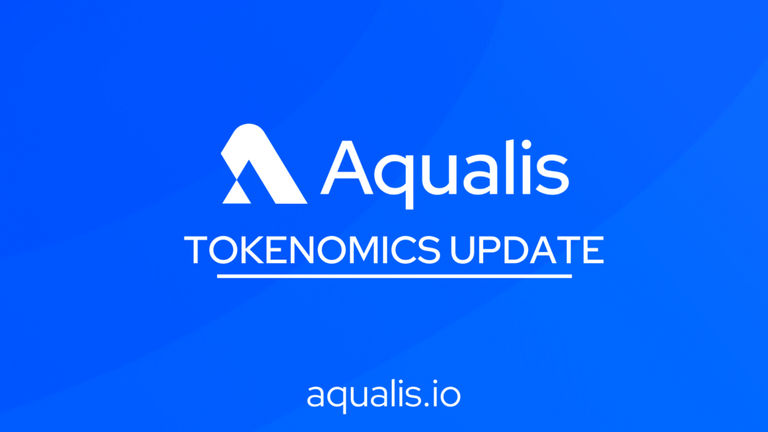 Dear Aqualiens,
Over the past six months, we have witnessed unprecedented uncertainty in our global financial markets with constant macroeconomic shocks affecting us at every turn and all financial markets, including the crypto markets have suffered substantially as a consequence.
Due to this, the team at Aqualis has decided to review our current AQL tokenomics model as this will affect every aspect of our project, below is a summary of the changes (TL;DR):
Lowered our initial valuation by 37.5%
Lowered our seed sale price by 33.3%
Reduced our whitelist token sale amount by 90%
Increased the internal yield farming rewards by 237% (from 5.9% of total supply to 19.9% of total supply)
Substantially reduced the Marketing, Partnership and DEX/CEX Listing Fee allocations
Changes to how our whitelist sale and public sale rounds are conducted
Mentality shift: bear market = build, position ourselves to take advantage of the next bull market
Why are Changes to the AQL Tokenomics Needed?
For Aqualis to succeed, we need liquidity. Our ethos of efficiency would not be achievable if we did not have sufficient capital to power both our trading module and lending module simultaneously. Due to this barrier, the team decided to issue a huge public sale, aiming to raise $48 million, with 100% of this going towards our protocol owned liquidity (PoL) thus filling up our initial liquidity pools. Our aim was to become self sufficient and efficient using our own PoL, with additional TVL delivering further improvements in protocol revenue and efficiency. However, due to the changing market conditions, this model needs to be updated.
Valuation Reduction
Back in February when we first designed our tokenomics, the markets were still quite hot despite a slight downturn and increased volatility. For a project of our size, we believed an initial circulating market cap of at most $58.8 million was quite reasonable and achievable, given that the protocol would be holding $48 million in protocol owned liquidity. However, due to the current market sentiment, we believe a 37.5% reduction in our planned public sale valuation and 33.3% reduction for our seed sale participants is reasonable.
What this means for participants is that you can now acquire more tokens with the same capital.
However, this change directly affects the protocol owned liquidity, thus reducing our initial liquidity pools. Nonetheless, given the TVL of most major projects have decreased over the past few months, we believe this will not have a large effect on the operational efficiencies of our protocol at launch.
Whitelist Sale
Our initial goal to sell 10 million tokens during our whitelist sale was ambitious. With the current market sentiment, we have decided to reduce the whitelist sale to 1 million tokens and conduct this in early October.
Due to the reduced seed sale price, our team's operation budget has also taken a direct hit (of $1 million to be exact if the seed sale is fully filled). Therefore, in order to supplement this, we have decided to redirect the whitelist funds into our operations budget instead of the protocol owned liquidity. Although we only expect to raise $100k to $200k from the whitelist sale, this will definitely help us on delivering a polished final product.
Increased Internal Yield Farming Rewards
With a reduced valuation, our protocol owned liquidity may be negatively impacted at launch and thus the initial liquidity for our MALP needs to be better planned and prepared for. This is where we will need our community to jump in and help out!
This is why we have significantly increased the rewards for our MALP liquidity providers by 237% from 5.9% to 19.9% of the total supply as an ongoing effort to incentivize deposits and keep Aqualis efficient.
As a consequence, more tokens will be held by those who are actively contributing to our ecosystem, but this will also create a constant stream of "free" tokens being distributed. We understand that logically, this will have a negative impact on the price of AQL tokens, but we believe the additional liquidity, exposure and thus protocol revenue we will benefit from outweighs the additional emissions.
Ultimately, as per our whitepaper, our vision is to create a platform with sustainably high yields through our efficiency, not our emissions, so once this is achieved, the DAO may vote to completely abolish the internal AQL yield farm rewards and the remaining tokens may be burned, distributed to the DAO or used for other purposes as per the community's vote.
Reduced Marketing, Partnership and DEX/CEX Listing Fee allocations
Previously, there was close to 20% of our total maximum supply reserved for these purposes. As a team, we had a look, and the numbers didn't add up. Therefore, we have decided to substantially reduce this to a total of 6% across all three allocations. We believe this is a "safe" figure, so it's unlikely we'll need the whole 6% as the DAO will eventually be responsible for these decisions. Once the DAO is fully operational and at a point where we believe it is mature and be self-governing, the DAO will ultimately absorb these funds.
Whitelist Sale
The Whitelist Sale is planned for October 2022 at a fixed price of tentatively $0.18 and a total token sale of 1,000,000 (one million) tokens. Further whitelisting information will be available prior to the launch date

Public Sale
With consultation from PrimeDAO, the team has decided to launch our public sale in multiple rounds and finish it off with an LBP. This decision was made to ensure our public sale performs well despite planning to raise a relatively large amount of funds.
After each round, 10% of the remaining tokens will be burned and prior to the following round opening, we will continue building the project, marketing and thus creating value for the protocol. This will justify us opening every subsequent round at a slightly higher price than the previous.
However, this means the team will not create a liquidity pool and the token will not be tradable until the full public sale is finished.
We will trigger our LBP event after we have enough collateral to guarantee a minimum price of $0.10 per token). So for example, if we had 50,000,000 tokens remaining, we would need $5,000,000 in collateral. With the help of increasing token prices and burning 10% after each round,
The logistics will look something like this (timeframes, public sale rounds and prices are entirely for demonstration purposes only):

Mentality Shift
Originally, we planned to conduct our sale rounds as soon as possible in order to capitalize on the bull market, secure enough funding to develop our project and continue building over the next market cycle. However, as the market sentiment changed so did our mentality.
As a result of this, we have had to adapt with the above tokenomics update, delay our funding rounds and bootstrap more of the development with the founder's funds.
Although this sounds like quite the set back for the project, it is actually entirely positive for potential seed and public sale participants. As a result of the above, we will have:
a stronger Aqualis community
a more complete project at each token sale round
a lower valuation which means higher percentage share of tokens with the same amount of funds
more partners and experience at launch
more team members working on the project at launch
Closing Remarks
With these updates, we hope our community can see this as a testament to our ability to adapt in changing circumstances, our commitment on launching a successful protocol despite the external environment and our philosophy to always put our community first.
For More Information
💬 Join our Discord
🦉 Follow our Twitter
🌐 Visit Aqualis.io
📄 Read our Docs