Binance is all over the internet, with some dodgy practices, Celsius filed Chapter 11 for reorganization, dYdX is moving from ETH to Cosmos and Coinflex allows users to withdraw 10% of their portfolio. What else? Check below: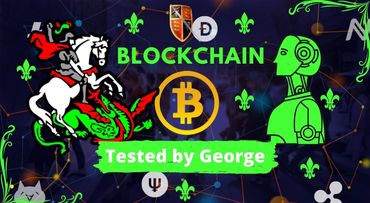 · Bitcoin: According to a recent survey, 46% of crypto credit card users aim to use their cards for every purchase and 80% believe that Bitcoin will replace traditional credit cards. Bitcoin price fell 37.4% in June, close to $19908, but Lightning Network capacity increased up to 4.96 BTC at the end of June. The fees level decreased 28.7%, from May $2.01 to last month's $1.54. Average daily volumes for BTC/USD dropped 23%, to $1.12B, with Binance and Coinbase being the top 2 exchanges. According to JP Morgan, the price of production for 1 Bitcoin dropped from $24K in June to $13K now, mainly because of the decline in electricity use.
· Ethereum: As the Merge is getting closer, the positivity around Ethereum increases, especially linked to the investors looking to switch from Bitcoin to some new less risky opportunities. The Merge is expected to happen in late August if everything goes well. Ethereum network average transaction fee has now dropped to $6.93, the lowest since July 2021. A good time to do a spring clean through your portfolio, even if it is summertime. dYdX decentralized exchange surprised everyone by moving from Ethereum L2 Starkware to its own Cosmos chain. dYdX was the biggest protocol by TVL on L2 at the time of announcement. This happened mostly because Starkware is now working on their new token, StarkNet, and many people are not happy with the token allocation (see photo below)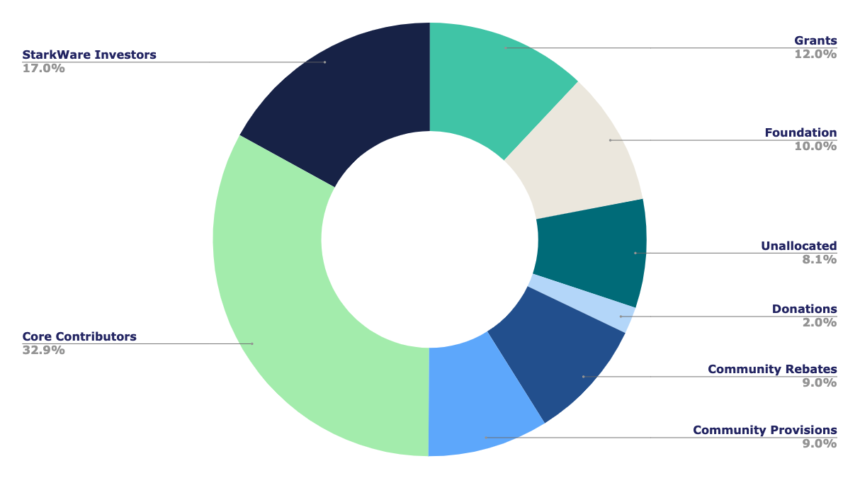 · Altcoins: Over 48 projects transferred from Terra (LUNA) TO Polygon network. Acala is offering 20.21% on DOT liquid staking, on their own relay chain. Polkadot (DOT) is doing quite well, with 435K users, 878M DOT transferred and 54% to 56% of total DOT tokens staked. The top 15 stablecoins lost almost 20% of their market cap ($33.9B). Binance just burned 1.96M of BNB ($447M). Circle is boasting about how USDC is backed by $13.58B in cash and another $55.7B in 3-month treasury securities, in a series of posts titled ''How to be Stable''. Celo PoS blockchain is up and running again after its first outage, since its launch on April 22, 2022. Aave is introducing GHO, a multi-collateral backed stablecoin, pegged to USD. Filecoin active storage deals are up 128%, with over 450 projects being built on Filecoin. And this is just the beginning of decentralized storage. Quant (QNT) seems an interesting project if they can deliver, aiming to connect blockchains and networks globally, without sacrificing efficiency.
· Blockchain games and NFTs: It seems that there is a Rick and Morty project getting attractive on Twitter, called Art Gobblers, with a logo inspired by the star-shaped pupil of Rick Sanchez, and it may be an official collection. Game Stop launched a non-custodial, Ethereum Layer 2-based application, creating their own NFT marketplace, where you can buy, sell and create NFTs on Monday. Stepn will use a portion of its Q2 earnings to buy back and burn GMT tokens, in an effort to reduce supply and drive up token prices. Gaming guild may offer some opportunities in 2022-2023, as Play2Earn is increasing its activity lately. Talking about this, Splinterlands launched their dual format – Modern and Wild, for the daily quests. And rumor has it that they are very close to launching the Riftwatchers collection, where you can buy all the packs using only SPS tokens. Another interesting NFT blockchain game, Mobox, is innovating at an impressive rate and is definitely worth a check. My biggest disappointment at the moment is Pegaxy, as they cannot keep up and the value of their token keeps going down. Even Alien Worlds is better than this one in terms of profit if you count the Binance missions.
· Good news: Brazil's largest private bank, Itau Unibanco, is set to launch an asset tokenization platform, that transforms traditional finance products into tokens, and this is quite a courageous move for them, given the current market position. People's Bank of China will get double the number of digital Yuan (e-CNY) test sites from 11 to 23. Coinflex exchange is now allowing users to withdraw 10% of their funds this Friday. ING Bank started their own crypto custody and post-trade infrastructure platform, called Pyctor, becoming a service offering with GMEX. Russia's largest bank is testing its first digital asset transaction on its own blockchain-based platform. California Department of Financial Protection launched an investigation into multiple crypto-lending firms, including BlockFi, Celsius, and Voyager Digital. Multicoin Capital launches $430M fund for crypto start-ups. Brazilian firm PicPay is setting up a crypto trading platform for its 65M users, allowing them to buy, sell and hold BTC, ETH, and Paxos USDP stablecoin. Decentralized VPN, now this is something that will be big in the future, but we are not there yet.
· Bad news: DEFI exploits surpassed $1.8B year to date, compared with $1.22B the previous year, with the worst of them being Ronin network and Wormhole hacks. Jason Stone (0xb1), CEO of KeiFi Inc., is suing Celsius for exploiting customer funds to manipulate the crypto-assets market, talking also on Twitter claiming that Celsius was lying about risk management practices such as hedging against impermanent loss from liquidity pools. On 14th on June, Celsius filed petitions for Chapter 11 of Bankruptcy, for reorganization, right after they paid a 400K sETH debt to Aave. After paying their debt to Compound, they may have only $167M in cash, used to 'support operations'. Tether said that they liquidated their Celsius Bitcoin Loan with no losses. Still, the filing for Chapter 11 shows a $1.2B hole in their balance sheet, so at the moment you may get 60 cents for every dollar you get there if they did not cover even more issues. Elon Musk said that he has no intention to pay $44B for Twitter, as they had false and misleading representations, not disclosing data about the auditing, identifying and suspending the spam and faker accounts and its monetizable daily users. Twitter said that they will take legal action to compel him to uphold his agreement. The 3AC founders' Zhu Su and Kyle Davies are nowhere to be found, with only a locked door and a pile of old mail found in what was once the might office of the Three Arrows Capital. Binance is saying that they ceased doing business with customers residing in Iran in November 2018, consequent of the US sanctions ban, but apparently anyone with a VPN can still access their accounts. OpenSea is laying off about 20% of its workforce, citing broad economic instability. Uniswap v3 liquidity pool was under attack, with hacker/hackers executing a phishing campaign, allowing them to get out with 3728 ETH worth of NFTs. Nearly all the stolen funds have been already laundered using Tornado Cash. Ukraine seized £3M from crypto-traders funneling Russian funds using crypto, along with $1.6M in cash, 830kg of silver, six plots of land, and three apartments. These brokers were converting cash and non-cash assets for citizens of Donetsk and Luhansk.
· Joke of the week: It seems funny now, even if it isn't, but Peter Schiff said that he will even accept Bitcoin to sell his bank after he was trying to bash BTC for years. In the moments of truth, convictions tend to disappear, especially when you are following your own interest. He is at the moment trying to sell his bank, as regulators of Puerto Rico want to shut him down for insolvency and lack of compliance.
And, as a bonus, a very interesting article from Reuters.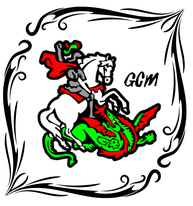 All the best,
George
​
Why not...
...have fun and win rewards on my favorite blockchain games (Splinterlands- Hearthstone-like card game) (Mobox - GamiFI NFT platform) and (Rising Star - Music creators game).
...get the higher rewards for your investments using Blockfi, Hodlnaut, and Celsius.network. Get crypto while writing on Publish0x blog, using Presearch search engine to maximize your income with PRE tokens. Use Torum instead of Twitter. I am also writing for crypto on Read.cash and Hive.
​