I haven't had much time to post lately, but I did want to share a quick overview of an interesting cryptocurrency that I believe it will have a massive growth in the future ( not my nickname @the-future or is it?).
Quick overview:
Binance coin is one of the top 10 coins (market rank #9) in the crypto space with a market cap of $1,964,131,382 USD. This coin has a lot of potential to grow and much more to offer in the coming future, so I decided to try to accumulate as much as possible until the price is so low. Believe it or not, here is a true evidence of what this coin is capable of doing ( Binance Coin ROI > 9000% for the 1s bull cycle)
Binance coin 2nd bull cycle:
For this analysis, I have used a weekly time frame (each bar represent 1 week)

The 1st bull cycle duration: 92 bars ( 644 days) +8641% growth 🧲
The 1st bear cycle duration: 47 bars (329 days) - 194% loss 👀
The 2nd bull cycle has just begun and we have a potential growth of 286%. 👍

Another interesting thing about $BNB is that the price is sitting above 0.618 fib.level since September 2019. (a very strong level)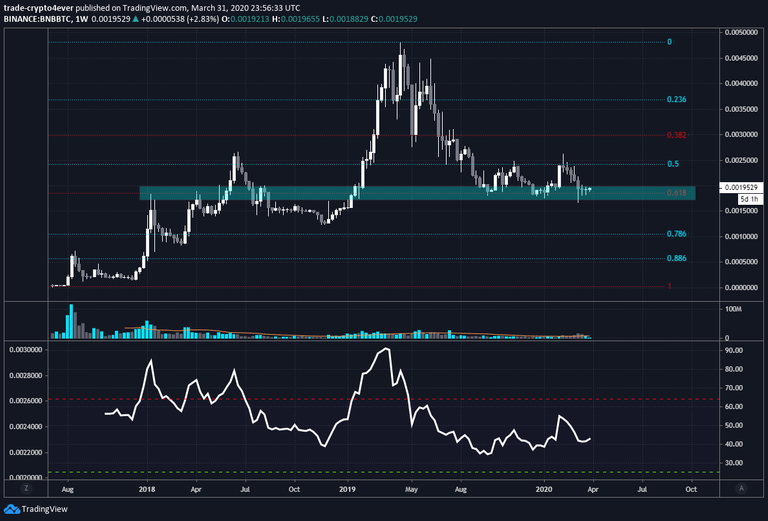 As you can see in the photo above the price was rejected from the 0.618 fib. level meaning that the buyers are jumping in at that level.

What I find more interesting is that the past will always tell us the true direction of the market, so I assume that the price will start to grow very soon. It has happened before, it will happen again and there is nothing you can do about it, except about one thing only: you take advance of it! 🎁
If you find this helpful, please don't hesitate to contact us or visit our website/social media below.

Website: https://oxy.biz
Telegram: https://t.me/oxy.biz
Get free signals from our telegram bot: @OxySignalsBot
Follow us on Twitter: https://twitter.com/OxyBiz

We have a free trial for seven days if you want to give it a try, plus the site has more exciting trading stuff that can help you improve your strategy.
Stay tuned for more tips and trading ideas!