Yes, you read it right, BTC can easily hit the price of 27739$ after this halving and there is no coming back after that! Before we jump to the why and how can BTC hit this price, let me tell you some of the reasons behind this massive move!

What is halving and why is it so important for traders and also for the miners?
Bitcoin Halving is the event where the number of generated Bitcoin rewards per block will be halved meaning that the total number of Bitcoin mined by miners per block will reduce from 12.5 to 6.25 BTC.
The importance of the halving for traders: Big volatility for this period
The importance of the halving for miners: Expect to earn lower mining rewards.

I am not going into many details about it, because this topic is long and I don't want to bore you!

When the moon for BTC?

I don't know what the moon means for many of you, but if you take a look at the chart above, you will see that the price went up after the previous halving and not before. What makes you think that this time will be any different from the previous one. Plus, if we go back and look way deeper in the past, we will definitely see that the price always went up after the halving. This is not something I came up with, those are real facts that the past showed us. Knowing the past, it is much more simple to predict the coming future.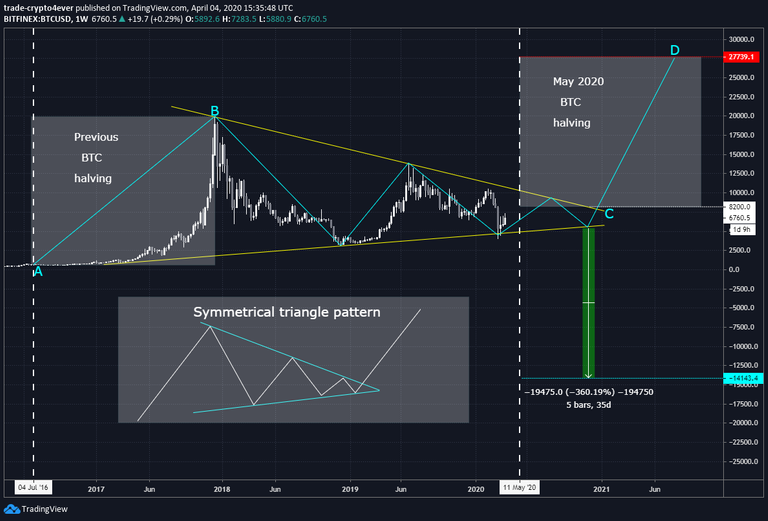 What makes me believe that BTC will break above the triangle?

Well, I will keep it simple and to the point: If the price break in the downside of the triangle, we will see the price of BTC going to - 14143$ meaning that BTC will disappear, or, people will give you money to buy their BTC: just LOL
So, in my opinion, BTC will break above the triangle and that will push the price to the all-time high reaching the price of 27739. AB=CD is just the projection of the previous move from point A to point B into the future!

If you find this helpful, please don't hesitate to contact us or visit our website/social media below.

Website: https://oxy.biz
Telegram: https://t.me/oxy.biz
Get free signals from our telegram bot: @OxySignalsBot
Follow us on Twitter: https://twitter.com/OxyBiz

We have a free trial for seven days if you want to give it a try, plus the site has more exciting trading stuff that can help you improve your strategy.
Stay tuned for more tips and trading ideas!
#cryptocurrency #btc #hive #steemleo #neoxian #markets #leofinance #gems #ocd