It is one thing to blog here on the Hive platform and to be active on the platform. But, if you want to get the best possible experience and understand what is going on, you might want to use some other tools as well.
For a long time, I have been missing the good old "SteemWorld" from the Hive platform. It lived for a while at beeme.icu, but then it turned black, and it has never returned.
However, you also have the tool hive-now.com which is created by @penguinpablo. It is a very nice tool and it will give you a nice overview presenting your curation income, who has been voting for you, and what kind of author rewards you can expect in the near future.
But, yesterday I stumbled upon hivestats.io, and I am already a big fan!

Hivestats.io - if you want to make the most of your Hive account!
The @LeoFinance community on Hive is a blossoming and awesome community. It has a strong community coin that is actually worth something, and it is most likely the most vibrant community on Hive seen from that perspective. There are developers working on developing tools for the community, and I recently discovered more about this after someone recommended me to actually check out the community.
So, as I visited LeoFinance.io (the LeoFinance interface of Hive), I also discovered the links to Hivestats.io. I checked it out, and I was very impressed by its looks and all the information it gave.
What can I find out on Hivestats.io?
As you can see on the first image in this article, you can see your voting power and also your curation rewards and author rewards from the last seven days. A very interesting thing is also the CURATION APR. This shows you how much "interest" you are having on your account based on the curation rewards you make. The curation apr is always changing, based on the actual curation rewards you get.
You can also see cool graphs showing the progress of your Hive account (the number of Hive tokens you have) and also the income for your account.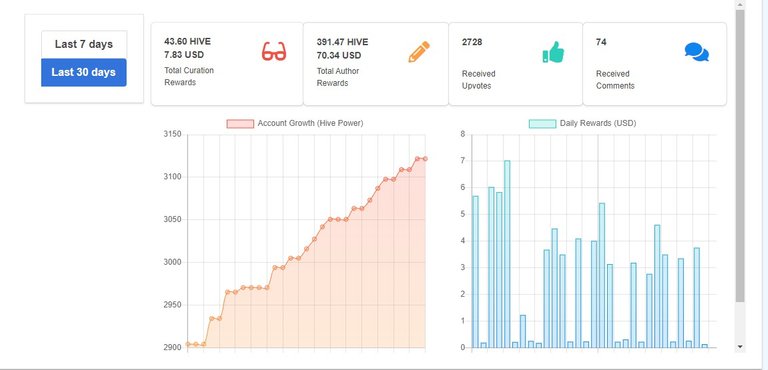 You can also see all the most recent operations done by your account, see an overview of your holdings for all other Hive Engine tokens, and so much more.
In other words, this is an awesome tool for everyone who uses Hive and who want to have an even better experience on the platform!
Haven't checked it out yet? Visit hivestats.io and give it a try! :)
Do you have other tools that you love and hold dear for your Hive experience? Please let me know about them :)