Been thinking about going to Miami for a while now and a conference is coming up there in just a couple of months!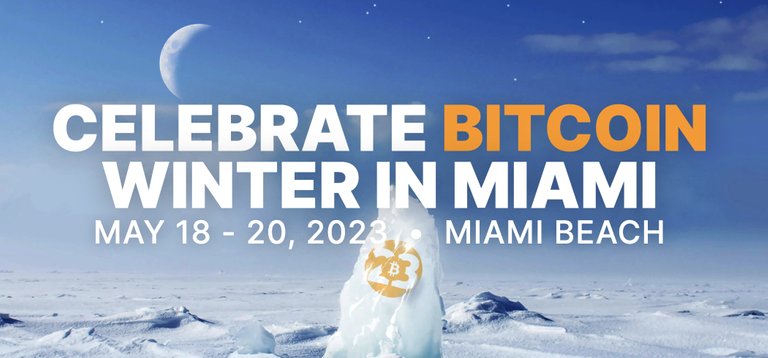 source
Unsure if I am going to go yet. Time to start thinking and planning though! Someone I met in crypto travels that I have stayed with and attended events with had asked me if I wanted to go and share a room with them. Part of me would love to. Part of me is not fully prepared to just yet. So thought to write about it and share some about the bitcoin conference in Miami that may be of interest.
An idea whose time has come cannot be stopped! Join your fellow Bitcoiners in Miami Beach for the biggest annual celebration of Bitcoin in the world. Don't miss out!
The event is May 18 to the 20 this year.
Tickets
General Admission Pass is about 2,769,801 sats
Good for GA Day 1 & 2
Industry Pass is about 6,652,700 sats
Get you access to "industry day" and the two GA days
On Site Networking Lounges
Whale Pass is about 35,127,289 sats
Industry Day, Pitch Day, and two GA Days
VIP Backstage Lounge
Whale Night Networking Reception
"Whale" sessions and networking
Preferred stage seating
Luxury Hotel Options
Bitcoin 2023 Experience(s)
Art Gallery will Feature 45 Artists
Since our 2019 event, The Bitcoin Conference has always sought to elevate artists and emerging trends within the bitcoin market. This year we are pleased to introduce Ordinal Alley, a new extension of the Bitcoin Art Gallery that will showcase the definitive inscriptions of 2023.
Casey Rodarmor who created Ordinals will be there, as well as leading an event and workshop during the conference.
Bitcoin Magazine discord channel is inviting those interested to learn about Inscriptions on bitcoin.
There will be a bitcoin bazaar as a peer to peer curated marketplace at the conference hosting over forty artisans, merchants, and small businesses. Will be powered by the bitcoin lightning network.
There is something called bitcoin games where local meetups will compete to win one whole bitcoin of 100,000,000 satoshis!
Games will include:
bitcornhole - 21 points to win
SpeedSigner - teams race to assemble
Chess
Pizza Eating Contest
Family Feud - top two teams in the final competition for one bitcoin for their meetup!
Bitcoin Week will consist of a whole bunch events around bitcoin, the conference, and Miami
You may also find bitcoinconference on discord instagram twitter & YouTube or Contact
Maybe I could do something for Hive and maybe Leofinance and others in some way. We'll think about it!