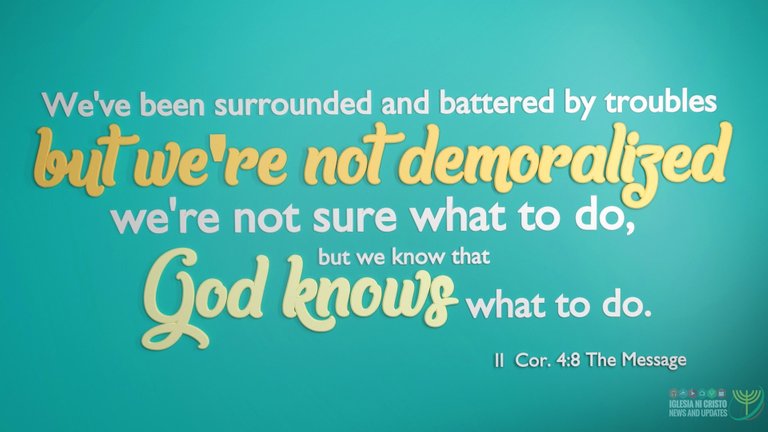 I am a living proof and I can definitely guarantee that this verse is utterly true.


With high hopes before this year 2020 starts it slowly diminished even before we reach the first half of this year.


Wild Fires, Tornados, Typhoons, Climate emergencies, Famine, Terrorism, Global economic crisis, Crimes against Humanity and a lot more has been incessantly happening as if these hardships and tribulations weren't enough to put as in very dark era and situation.


There were nights that we tend to question why things like this has to happen. We tend to question what our real purpose in living in this wicked world, we tend to question when will the pain and fear stops. We tend to question how we will be able to get by. We tend to question who will be our light and who will help us in this never ending misery.


With all the 'whys,''whats,' 'whens,' 'hows,' and 'whos' it great to be reminded with this verse:
8 As it is, there's not much chance of that. You know for yourselves that we're not much to look at. We've been surrounded and battered by troubles, but we're not demoralized; we're not sure what to do, 9 but we know that God knows what to do; -we've been spiritually terrorized, but God hasn't left our side; we've been thrown down, but we haven't broken.— II Corinthians 4:8-9 (The Message)
So hang in there! I know it feels like you're stuck and that the trials and hardships weren't worth the pain you're experiencing but stay firm, keep your head high this too will pass and it is definitely worth it.