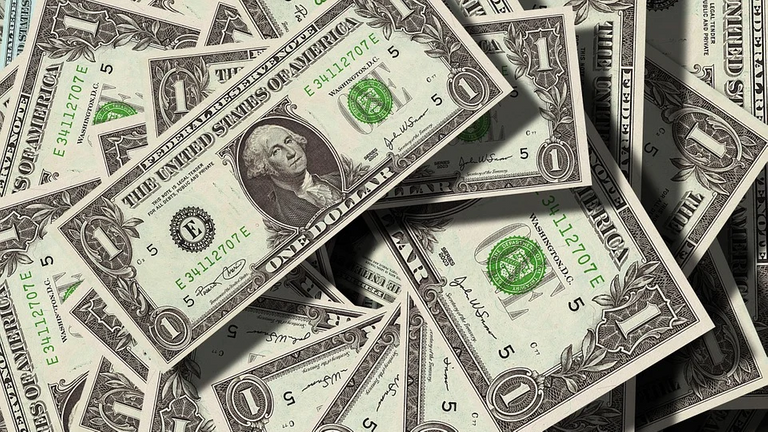 Mandala Madness
Mandala Madness is a monthly lottery that is run on the Mandala Exchange. The exchange takes 0.00005 of their total volume and puts it into their monthly "Mandala Madness" prize pool. At the end of each month they draw three winners, and the prize pool is split equally among those winners.
In the month of March, the exchange had $144M volume across all their trading pairs. That put $7,200 into their prize pool. I was one of the three lucky winners, so I got $2,400 :)
How to Enter - Locking MDX
In order to enter, users must lock MDX tokens (MDX = Mandala Exchange Token) on the Mandala Exchange. For every 1,000 tokens locked, users get one entry into the lottery. I had locked 320k tokens, so I had 320 entries.
Locking MDX tokens is somewhat similar to powering up HIVE tokens on the Hive blockchain. When you lock MDX tokens, they become non-liquid for 30 days, but the tokens are still yours. After the 30 days is up, you can unlock them to get your full balance back.
The current price of MDX tokens is around $0.03, so you can buy & lock 1,000 tokens for around $30.00 USD.
You can re-enter every month
Since the tokens are still yours to keep, every month you can unlock and relock the same tokens to keep re-entering the contest over and over again with. Think of it as a one-time purchase lottery ticket that you can keep replaying with :)
The window to be entered into each month's contest runs from the first day of the month at 0001 UTC until the last day of the month at 2359 UTC.
There are three actions you can take during the month's window to be entered:
Initial token locking.
Unlocking then relocking a previously locked balance.
Locking additional tokens.
Odds to Win
The total amount in the monthly prize pool is based on the exchange's total monthly volume, which will change every month. Mandala is still a new exchange and is in their early growth stage, so my expectation is that over the time size of the monthly pot will continue to grow. (NFI, just my opinion.) In the month of March the prize pool was $7,200.
There is a fixed supply of 400M tokens, so the maximum number of possible entries (if 100% of the tokens were locked) would be 400k. With 3 winners chosen each month, that would mean 1 ticket (for 1,000 MDX) would give you a ~1/133,333 chance of winning.
The total number of locked tokens is much less than 400k though, so your odds are actually better than that. Currently there are around 125M locked. With 125M locked, 1 ticket would give you a ~1/41,666 chance of winning.
Granted 1 ticket is not the greatest odds of winning, but the only limit on the number of entries is the amount of MDX you lock. So the more you lock, the greater your chances are to win.
With my 320k locked tokens (320 entries), if the total locked balance stays around 125M - my chance of winning each month is about 0.0076. Although I will likely continue to buy and add more, these are the odds for the tokens I have already 100% paid for. So I can just sit back and wait to see if I win :)
Other Benefits of Locking MDX
In addition to entries into the monthly Mandala Madness drawing, there are other benefits to using the Mandala exchange. Users receive a discount/rebate on their trading fees by locking a certain amount of MDX tokens for 30 days.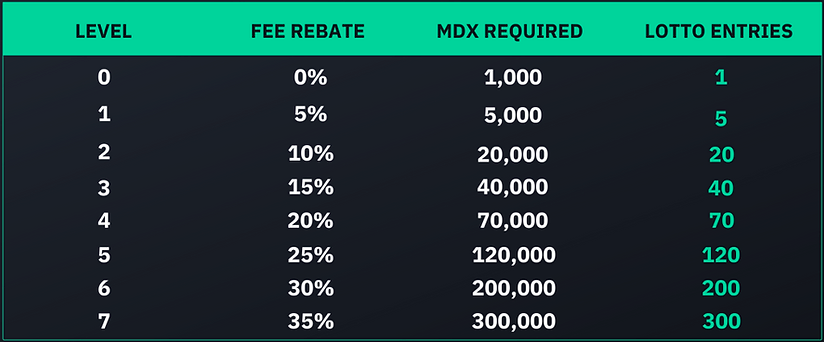 Mandala is a Binance Cloud exchange, so they offer the same trading pairs and liquidity as Binance. There are also no KYC requirements, which is nice!
You can read more about the Mandala Exchange in this article:
Why users are using Mandala Exchange to trade on Binance with lower fees, no KYC (up to 2 BTC daily), additional trading pairs, and more!
Referral Link
Mandala offers an affiliate program that benefits both parities for brining new users to their platform. If you are new to the exchange and signup using one of my referral links, we both receive a 5% rebate from all your trading fees.
All of the links within this article use one of these referral links. Signup for Mandala Here!