John McAfee didn't kill himself either.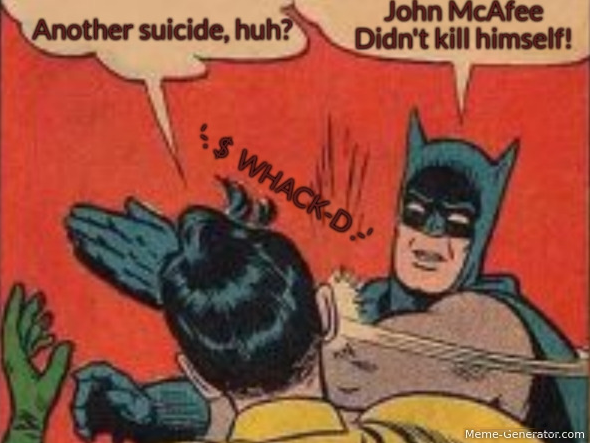 Since Vince Foster and on through Jeffery, I have seen it a lot but this takes the cake.
It takes giant brass balls to go and kill someone who has a note on his arm for the coroner - just in case there is a doubt as to cause of death. He knew what they would do and so do we.
Then there are rumors of a cache of dirt in a sort-of dead man's switch. You know, when a guy has pulled the pin and you can't shoot him because, uh, you go boom too! I really cannot wait to see how the release will go if that is so.
Dead men tell no idle threats!
I really don't want to speculate. I will let your mind swim in the pool of coincidences that are to come. I just had the idea to start making billboard trailers, burger shop signs, or cartoons of a whack and cartoon captions - stating the obvious.
As more and more of the truth comes out all at one time, be careful where you stand and be aware of your surroundings. We are deep into false flag season right now with 9/11 reports, audit preliminary reports on Saturday, Kamala's European border visit tomorrow (1000 miles off track), aliens, a new "safe" crypto (Trust us this time) from the government, and of course ongoing Covid-Flu virus switch-out.
Don't bust my balls. The meme is original, fresh off the brain and I did write a bit about it. If I was not the first to say it, don't blame me. I am not on twitter.