In my honest opinion, Berlin is a perfect city for meetups!
No wonder why this beautiful city is the 4th in Europe regarding the number of users and one of the few with the most dynamic growth. A wide variety of venues, ranging from cosy cafes and pubs to great halls with 1000+ capacity, located in almost every part of Berlin, allows finding the perfect place for any idea or budget. Moreover, people here are amazing! Every event I had attended always ended up with getting to know new interesting people with whom I exchanged not only business cards... but mainly ideas and vision. That what makes it unique in Berlin is how eager we are to learn new ways and collaborate to bring even more value.
So if you want to bring a great meetup to this community- I combined five key takeaways for the first part of this series and supplied them with the photos I took. Hope you will enjoy it ;)
‍
LIKEABLE HOST
It is not easy to run the community when no one wants to talk to you. People tend to feel more welcomed when they receive introduction messages and when the host seems to have their comfort on the top of his list. Of course- it not about nagging people to come every day and sending an unlimited amount of spam messages about your best-in-the-world meetup. Instead it is showing a friendly attitude towards group members and caring about their needs- ideally, you have this talent but if not, try to develop in this area when you want your meetup to succeed.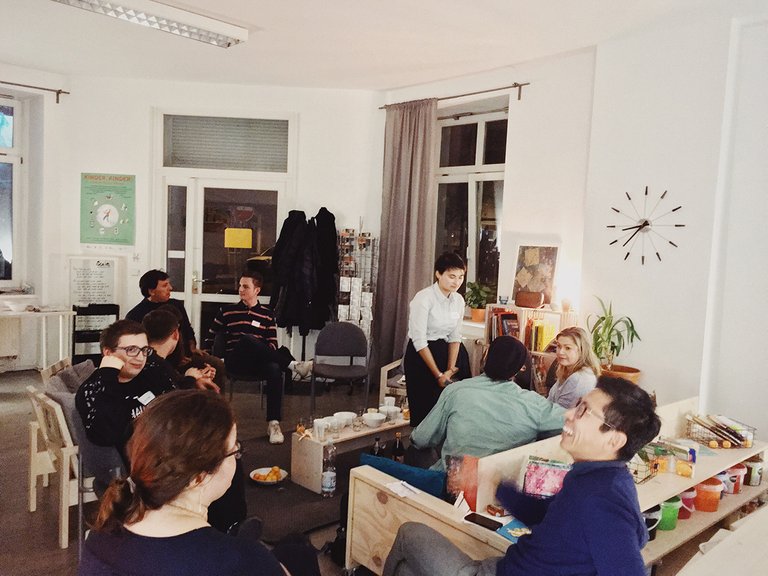 *30th of October, Kulturschöpfer, Berlin. "Inspire your members to get more involved!" *
This great meetup hosted by Lorenzo (thx for the pic) and Yumi was kind of inception- it was a meetup for meetup organizers. Nevertheless, due to the perfect cosiness of the venue, I spent quality time there and also got to know Jelle, organiser of Terrible Football- the meetup me and other CHAINWISE colleagues joined afterwards.
Venue is amazing- Kulturshoepfer
https://www.meetup.com/Organizer-Meetup-Berlin/
‍
INTRODUCTIONS
Almost every new meetup starts with some sort of introduction round. Especially when the group is smaller than 30 people it is possible for everyone to say a few words about themselves or at least a name and why they decided to come. For this activity, 25 minutes should be enough, as members are already engaging in conversations, but you should try to go through this without much delay- there will be more time for discussion. It is crucial for you as the organiser, to give attendees an excellent opening speech about yourself, the vision for your meetup and the goals that you will follow. Maybe there is a specific question that you want to answer with this event? Let the community know and try to remember what they say- it will be easier later to engage in conversations.
‍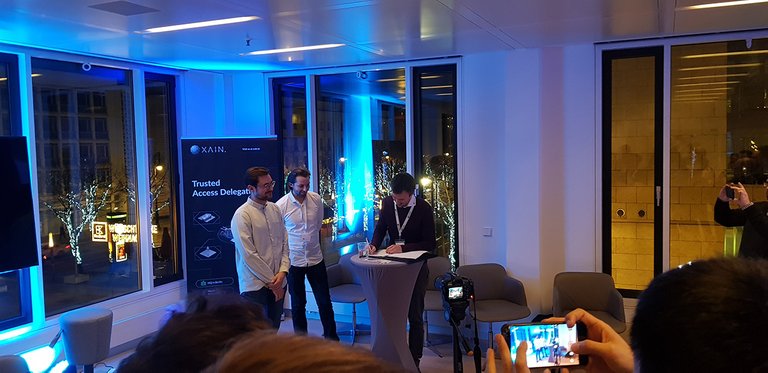 29th of November, XAIN HQ, Berlin. "Celebrate with XAIN!" (photo: me)
Lights aligned with FROST branding, amazing catering, great people and great news! That would be a summary of this event. What were we celebrating? Open-sourcing of FROST, launching of XAIN Foundation and transferring the IP from AG to Foundation- after an excellent introduction speech by
Leif-Nissen Lundbæk.
https://www.meetup.com/Innovation-and-Tech-Transfer-in-AI-DLT-and-Cybersecurity/
‍
LISTEN TO THE COMMUNITY
Sometimes it's not easy to keep up the high traction when doing the series of events. An important step is to make sure, that your community has their voice. Throwing unrelated polls will not help, although well-prepared questions about groups concerns could be a very engaging gesture that people will appreciate. To know where to go, you have to see where you are- for that you have to ask correct questions. Venue too small and people feel intimidated? No vegan options when the audience is 80% vegan? Nowadays, you can use one of those event-apps that allow you to ask the audience and collect answers online that you can present on the beamer. Other event-app features are also Q&As or quizes at the end of the event- here you can find a few tools like that:
https://www.bizzabo.com/event-surveys
‍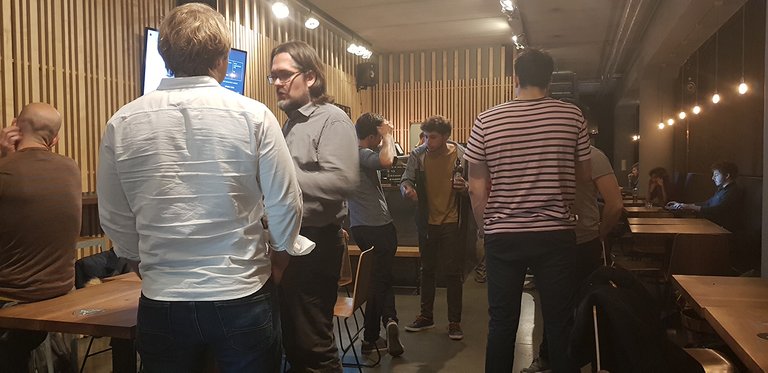 6th of October, R/D Coffee Bar, Berlin."BerChain Blockbeers - First Gathering!". (photo: me)
Around 30 blockchain professionals showed up to this event, making it possible to exchange ideas about the future of blockchain and other new technologies.
https://www.meetup.com/BerChain-Blockchain-professionals-in-Berlin/
‍
BEING REAL
Cut the bullshit! If your event doesn't mention certain subjects, don't pretend to cover them. There are many Meetup groups and events outside this platform- everyone will find the one they like or open the meetup group of his or her own. Misleading descriptions makes it worse for you and community-building- people hate being fooled no matter how big the giveaway is. Compulsory, your cover photo and group/event description should match and give the viewer an understanding of your project and what to expect from the event. Another striking example it is not showing business affiliations- Meetup as a platform makes it mandatory to highlight any business connections, and I think its fair. People lured with great social discussions opportunities will not sit patiently to hear three sales pitches and Q&A about these offers.
Try to be adequate but remember that description is marketing- show what could be achieved by attending the event and what you, as an organiser, would bring to the table.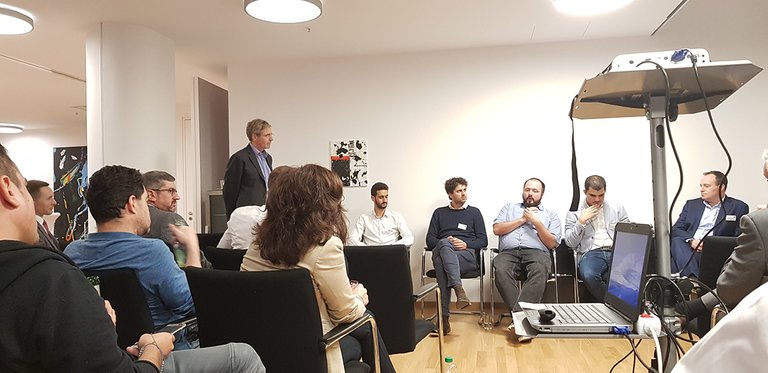 12th of November, DWF Office, Berlin."German-Israel Blockchain Ecosystem and Real Estate Projects".(photo: me)
We joined forces with DWF to co-host event about Berlin-Israeli links and how to increase this business collaboration. Our CEO, Adrian Krion, along with other blockchain experts, had explained the current market situation and later we were exploring possible future outcomes.
https://www.meetup.com/DWF-Blockchain-Meetup/
‍
NOTIFICATIONS & ABSENCE MANAGEMENT
Depending on the platform there are certain ways to remind members about the upcoming event. Mail-out or notification to every attendee? Maybe reminder post on the WhatsApp channel? Perhaps you have direct contact with them so you can send a friendly reminder? For the success of the meetup, use those tools smartly. Don't overuse those, but at the same time, don't forget to use them whenever there is an important announcement to make, or there are only a few days before the event. Changing the time or the venue are worth announcing at more than one channel to avoid a massive drop in attendance.
What I also learned is how essential it is to make sure that the group members understand the difference between "going" and "not going" buttons. Often members don't even have this idea, that when they tick "going" and doesn't show up, a place for someone else was taken this way. Ask them politely to always click "not going" when their will about going changes- and always appreciate it publicly when they do so in "discussions".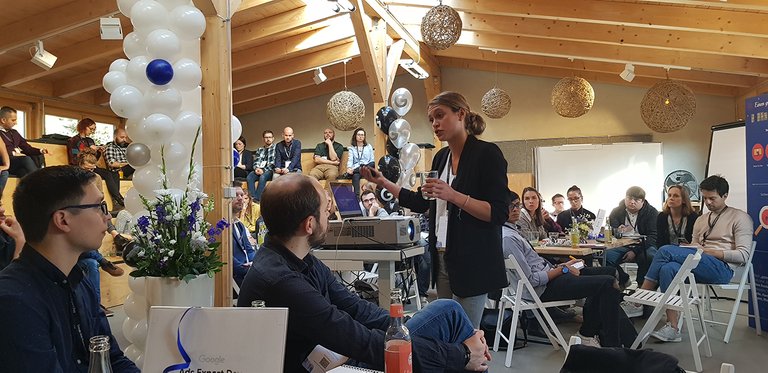 7th of November, Old Smithy's Dizzle, Berlin. "Google Ads Expert Day". (photo: me)
Our marketing Team and I spent a whole day at Google's event, having an in-depth look into ads automation, display and Youtube ads. The workshop was well-organised, with lots of networking brakes, filled with more delicious food and beverages that people could consume.
‍
OUR MEETUP
Thank you for your time, and I hope this article will be useful for your first steps. What do you think about the Meetup scene? Maybe you need proffesional help with your meetup? You can use the form below the article to contact me!
I am also very excited to invite you to our new Meetup group: HERE!
Our first CHAINWISE meetup from this series will be about real-world adoption and links between corporates and startups, featuring CEOs from XAIN AG and Share&Charge.
Location: DWF Office, Berlin
Time: 16th of January, 2019
‍
PHOTO BONUS
‍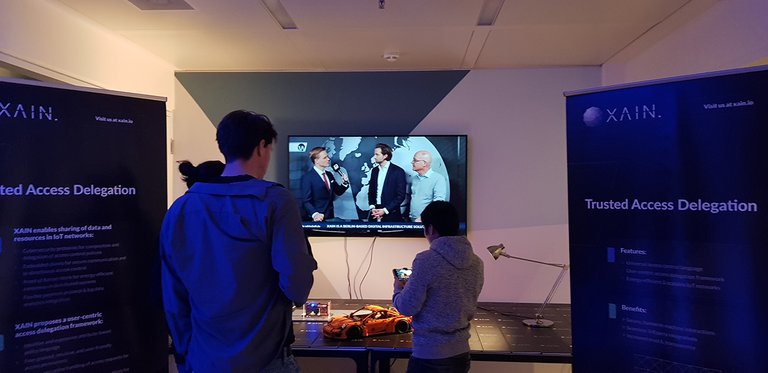 29th of November, XAIN HQ, Berlin. "Celebrate with XAIN!" (photo: me)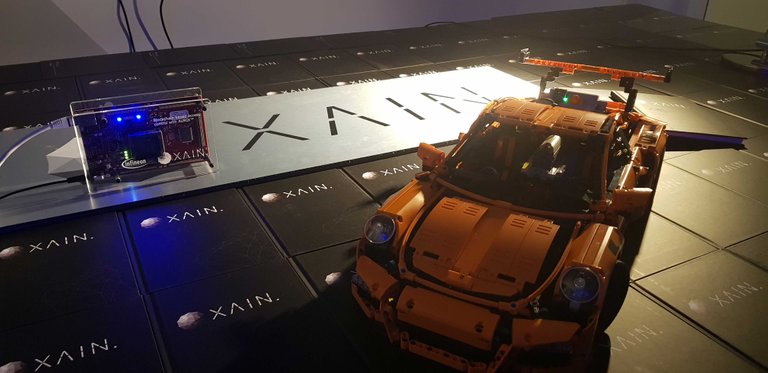 29th of November, XAIN HQ, Berlin. "Celebrate with XAIN!" (photo: me)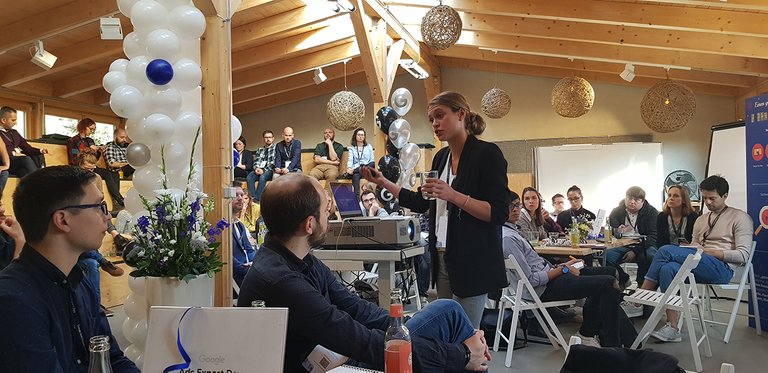 7th of November, Old Smithy's Dizzle, Berlin. "Google Ads Expert Day". (photo: me)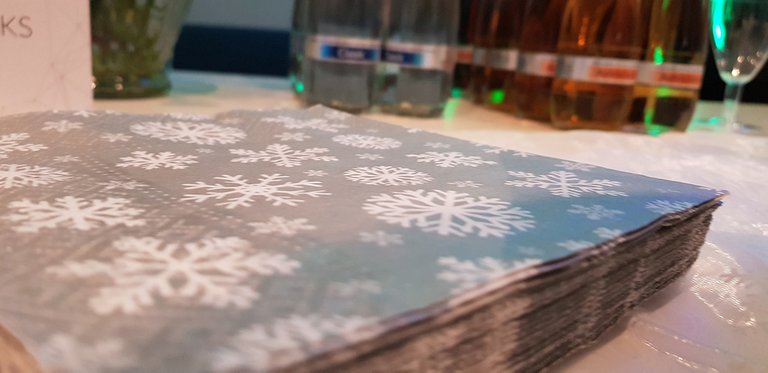 29th of November, XAIN HQ, Berlin. "Celebrate with XAIN!" (photo: me)*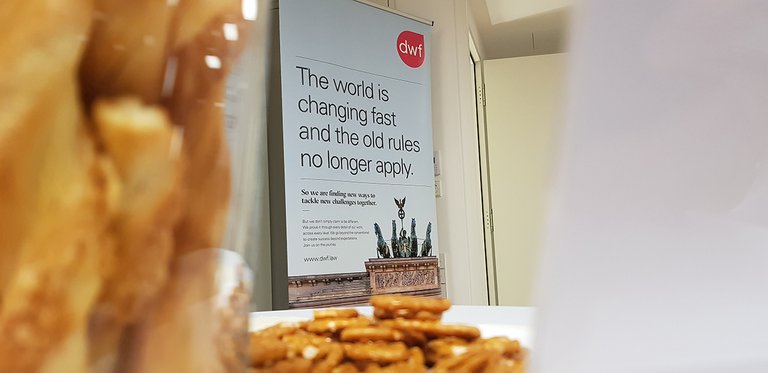 12th of November, DWF Office, Berlin. "German-Israel Blockchain Ecosystem and Real Estate Projects" (photo: me)