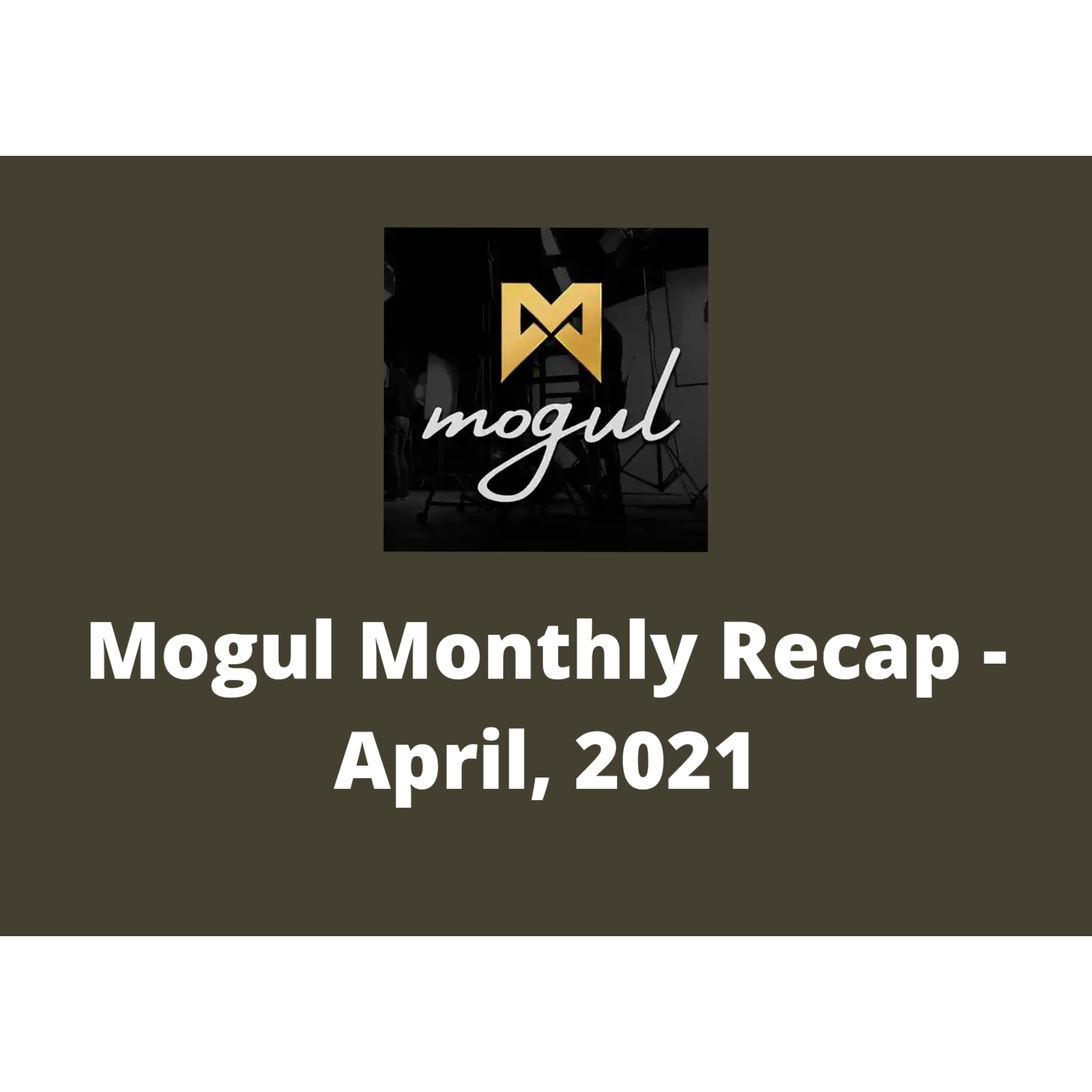 It's another new month for the Mogul Community, but before we dive into all the amazing experiences of this month, let's quickly have recap of April's activities and all that made the previous month awesome. Have a good read…
Partnerships
Partnership expansion with Chainlink
So April began on a partnership note. Mogul announced expansion of its bonds with Chainlink. The new partnership would help integrate Chainlink's VRF (Verifiable Randomness Solution) which would help ensure the security of Mogul's movie-based NFT market place when launched. Chainlink as we know is a leading oracle network in the crypto space. Recall mogul had earlier partnered with Chainlink to help in a fair distribution of rewards to its users.
Partnership with GD10 Ventures
Mogul also secured a strategic partnership with GD10 Ventures with the aim of boosting community building, marketing, and ecosystem development.
Partnership with Moonwhale Ventures
Another partnership worth mentioning was made with Moonwhale Ventures, a well-connected organization in the Web3 industries as well as DeFi and NFT projects. Moonwhalw will also help in building the mogul community and assist ecosystem development.
Miscellaneous Partnerships
Other partnerships were made with Blocksync Ventures, Avisa Ventures, and Bigcoin Capital to help Mogul grow its crowd power to a new and untapped market. Mogul also partnered with ChainGuardians to create mogul themed nfts in the ChainGuardin games.
AMAs With Movie Industry Experts
April was indeed a month of interactions movie industry experts at the mogul telegram community. Various talented script writers and movie producers were invited to the community to talk about their movies, thus giving our community members a firsthand glimpse into the world of movies. The likes of Drew Garcia, Philip Kalin-Hajdu, Reza Ghassemi, Hunter Adams, Lowell Dean, etc, graced the community with their presence, shared their view and insights on their works and the mogul project, and attended to queries by community members.
Mogul also had an AMA with an external community, Gem diggers, where the founder, Lisa Sun shared the visions of the project and enlightened the community of the prospects it entails.
New Advisors
The DeFiFi platform welcomed Dr Deeban Ratneswaran, the CEO and Founder of GD10 as its strategic advisor last month. Two other persons, Joel Comm and Travis Wright also joined the advisory board. They are both influential in the NFT space and would give Mogul nfts the best boost possible to attain its rightful place in the market.
End of Access pass sales and Introduction of Mogul Physical Nfts
Mogul access pass sale was eventually drawn to a close on 15th of April, after having been extended for a week. Although the sales were fairly successful, one thrilling innovation that came up in the course was the introduction of a Physical Access Pass NFT for every purchase of the Access Passes. This Nfts will be designed by Rob Prior and distributed to all eligible participants how apply for it hopefully sometime in June..
Rob Prior Proof of Origin Event (Rescheduled)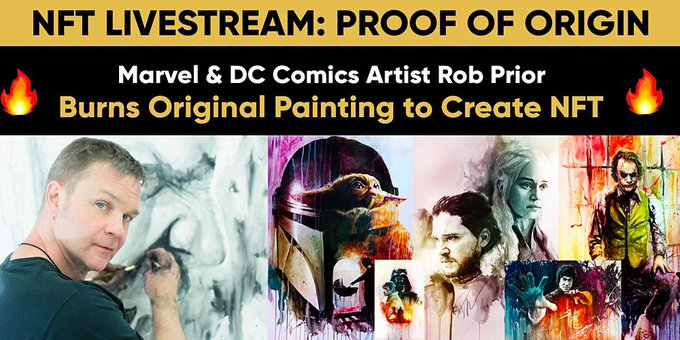 Plans were already put in place for Mogul's upcoming event, Proof of Origin, an NFT Livestream featuring digital artist, Rob Prior and others. Speakers at the event were to include Ross MacDonald, Michael Gallagher, Steve Wand, Shea Newkirk, Scott Melker amongst others. Sadly, this hasbeen put on hold due to unforeseen circumstances. Initially scheduled for April 28th, the even has been shifted to May 28th 2021.
Bonded, Mogul's First investment Unveiled
The first investment in film ever to be made by Mogul was announced last month, April. The movie which is titled Bonded is a drama about Human Trafficking and based on a true story written and directed by Mohit Ramchandani and starring talented actors like Jason Patric, Alfredo Castro, Paulina Gaitan, Francisco Denis, Samm Levine and Ari Lopez.
Competiton for Mogul All Access Pass Package.
Mogul, in conjunction with Coinmarketcap came up with a competition in which the winner will take home the star prize of an All Acess Pass package, which is made up of limited edition all access pass nft and 5000 stars token. This contest is still ongoing and you can participate. Read here for details
Mogul Growth Farming Campaign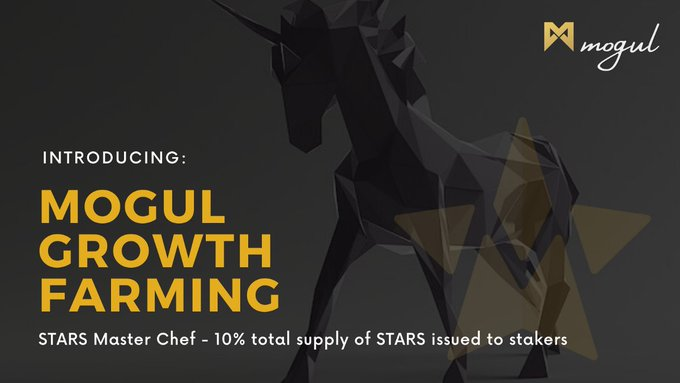 The long awaited Mogul Growth Farming campaign eventually kicked off last month after the token sales. This is essentially a staking program through which 10% of STARS tokens will be issued to stakers over a 4-month duration. The farming program is composed of two pools, the stars pool and stars-eth LP pool. Farmers in the STARS pool will collectively share 20 STARS every 15 seconds in the first phae of the farming campaign which last for two week, while those in the STARS-ETH pool will collectively share 180 STARS every 15 seconds in the first phase of the campaign. These rewards will gradually reduce in subsequent farming phases.
STARS Listings
Stars tokens ultimately got listed on Coingecko and Coinmarketcap last month, providing the general public with every data they need about the Mogul productions.
The Mogul team also secured for stars a listing on BitMart exchange, a centralized digital asset platform, making the token easily accessible to all who could not withstand the high ethereum fees on decentralized exchanges like uniswap and 1inch where the token was previously traded.
Mogul Opportunities
Opportunity to recruit more troopers into the Mogul troop was opened after a successful first month since the launch of the program. The second round had over 65 applications out of which privileged candidate where selected and admitted into the program.
In addition to this, Mogul opened her [doors of opportunities further to experienced and passionate product managers to apply for a chance to work with the mogul platform and team platform. You can find the post here and hopefully apply if you're qualified.


April was indeed busy and eventful month at mogul, and we couldn't have wished for anything less. We enthusiastically look forward to all that the month of May has to offer even as we also expect more industry adoption of everything Mogul!
See you in the next episode!