"I am a Down Syndrome person."
Response
"I don't give a shit."
After hearing that exchange during The Peanut Butter Falcon, it took all the strength in my body to keep from... standing up and cheering. Instead, I silently pumped my fist and nodded my head.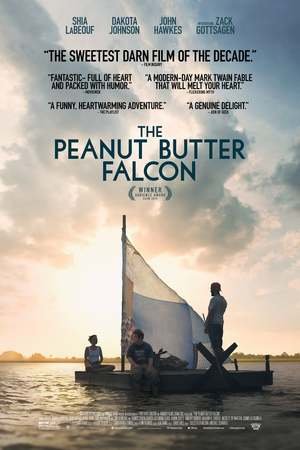 As a teacher of students with special needs, one might imagine I would be outraged by a scene in a movie that boldly displayed such an utter lack of concern for a person with Down Syndrome. But that is not what this scene was. Instead it was an illustration of what I hope for all of my students... and all people in general. This simple yet crass response made one thing very clear, Zak (a young man with Down Syndrome) was going to be treated exactly like everyone else in his new "friend" Tyler's world. No better. No worse. Exactly the same.
Tyler did not give a shit about what made Zak different from him. Instead he gave a shit about what they had in common: they were both on the run... and they could both use a little company.
Although the "I don't give a shit" exchange may be the most powerful and easiest to discuss, this movie is packed with examples of treating people with special needs with dignity and respect. One of the lasting messages of this film is that people with intellectual disabilities should not be called, or treated like, "retards".
Ok great. The movie has a wonderful message that I wish all people would heed. But that could be summed up in a public service announcement. Is it enough to carry a 90 minute movie?
Of course not. If all this movie had going for it was a cute puppy dogs and ice cream, Saturday morning cartoon, GI Joe "knowing is half the battle" message, it would have been incredibly boring. Instead, this movie is a rich modern day fairy tale about loss, despair, loneliness, redemption and hope.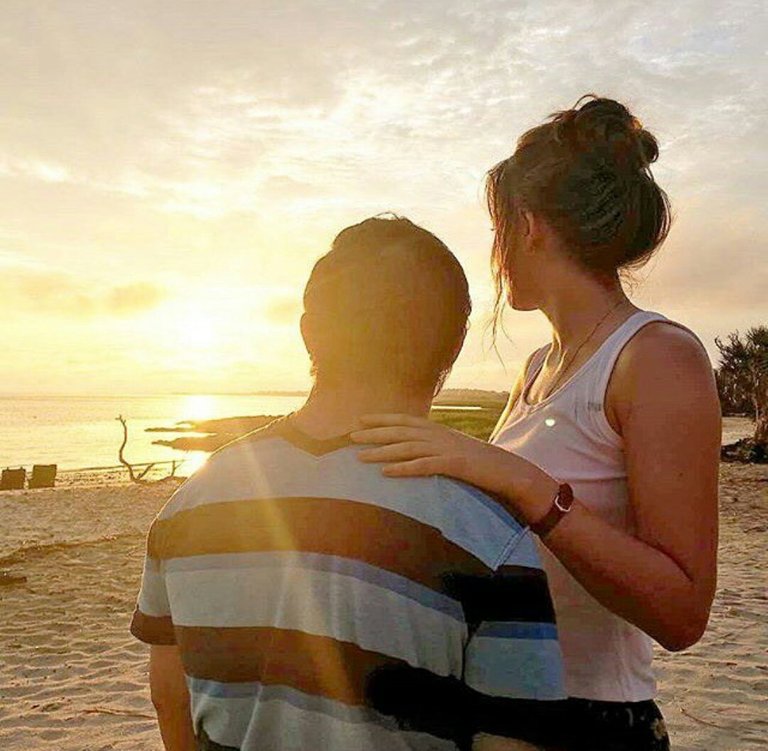 Actually, I think describing The Peanut Butter Falcon as a "fairy tale" comes up a little short. This movie is more of a fable. Fairy tale's have transformed into cutesie stories you tell your kids before they fall asleep. Fables are far deeper and more thought provoking. I can honestly say that I have thought about this movie each of the five days since I have seen it.
I simply cannot get the ending out of my head. The meaning of it seems to change several times each day... and I love it! Because I avoid spoilers the same way I avoid putting peanut butter on fish, I simply cannot discuss the ending here. At some point, after the Oscars have aired and this movie has lost to some nonsense, I will share my thoughts on the ending. But for now, I'll just say I loved the ending and the fact that not everyone will agree on it.
In addition to being a gripping fable, The Peanut Butter Falcon is incredibly entertaining and full of emotion. Perhaps my previous description gave the impression that you are in for a very heavy, lesson-filled, 90 minutes. Nothing could be further from the truth. The lessons and flashbacks to loss and guilt are brilliantly sprinkled in-between the many scenes filled with pure joy. Although it dealt with some heavy topics and could have been a 90 minute tear-fest, I spent most of the time with a grin on my face. From time to time, that grin turned into a full belly laugh. This is a buddy film about two guys on the run, having fun and living life. Even the periodic reminders of what they are really running from does not stop the momentum or fill the audience with melancholy.
Creating a film that on its surface appears incredibly simple yet is really deep and multi-faceted is no easy task. The only way the writing/directing team of Tyler Nilson and Michael Schwartz could pull it off is if the performances were absolutely perfect. And they were.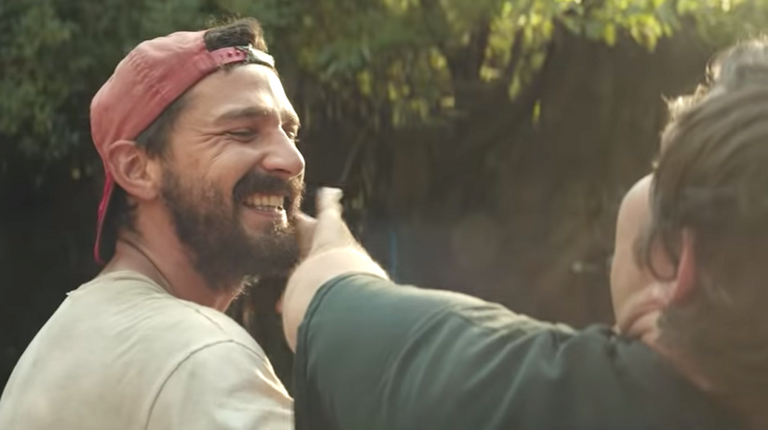 Because of his recent, ludicrous antics, it is easy to forget that Shia LeBeouf is a charming and talented actor. After approximately 10 minutes of screen time, I forgot exactly what nonsense LeBeouf has been up to for the past several years. Perhaps the fact that LeBeouf had purposely turned his back on success made his casting even more perfect. Just as LeBeouf attempted to burn down his career, his character Tyler, has also torched his old life. Although you may not like either Shia or Tyler at the start of this film, by the end, the audience is rooting for both the actor and his character.
And here is the part of the review where I might cause the reader to spit their drink all over the screen. I really like Dakota Johnson. Although many know her from her terrible decision to star in the Fifty Shades movies, she is really incredibly charming. I must admit I am biased by being one of the few fans of her short-lived Fox sitcom, Ben and Kate, but I truly enjoy her work. I thought her casting as Eleanor, the selfless good Samaritan who uses her fancy education to help people in a nursing home, was wonderful. Her character reminded me of many people who work in the "helping industry" (including myself). Because she is so young and inexperienced, she may mistake "helping" for "enabling". It is not her fault. She cares a lot. She just needs some time, experience, and an excellent teacher to help her to understand the difference. She finds that teacher in an uneducated, crass, disheveled, smelly, crab farmer named Tyler. After this adventure ends, I simply know her character will go out and make the world a better place.
And for the grand finale, I give you...
Zack Gottsagen as Zak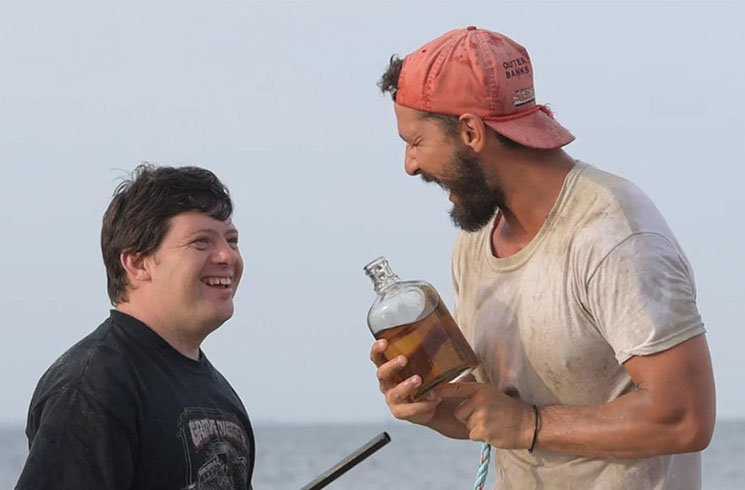 Hollywood has finally seen the value in the super novel idea of actually casting a person with Down Syndrome to play a person with Down Syndrome! What a concept! This movie would have been an absolute farce if the creators cast some big name actor to go for the Oscar by immersing himself in a character who has an intellectual disability. But just as Zak (The Peanut Butter Falcon himself) should not be defined by his disability, neither should Zak the actor. You could not simply pull someone with Down Syndrome off the street and say, "Here just play yourself". Acting takes, talent, skill, and effort. Clearly Gottsagen has the talent and put in the work to create one of my favorite characters in recent memory. He plays the role of a sassy little brother perfectly. His performance is what pushed this movie over the top.
Please do yourself a favor and go see The Peanut Butter Falcon. If you don't like it, you are not invited to my birthday party!