We will enter the mind of a woman who works as a stylist in a beauty salon, and hides a secret: she is a serial killer.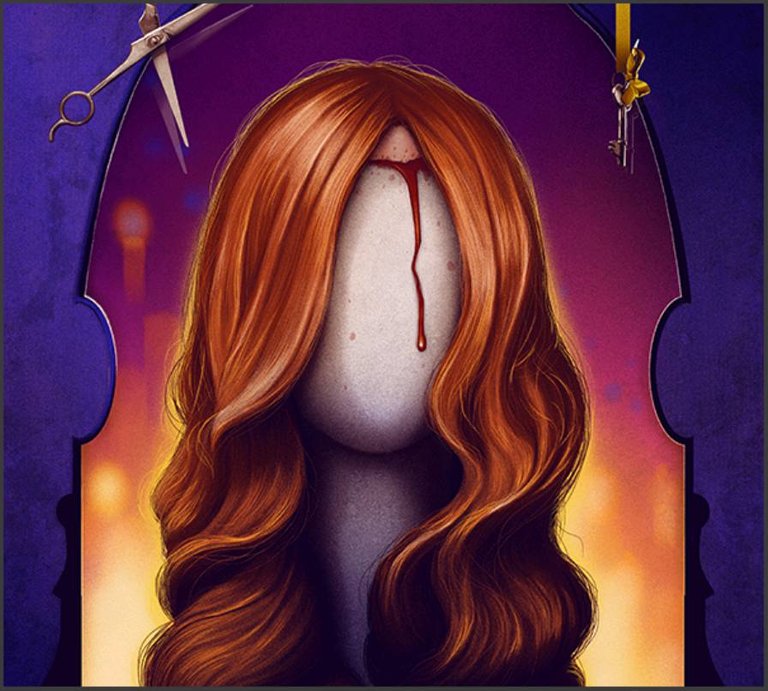 Source - Edited in photoshop

Several friends spoke badly about this movie, they didn't like it. That was a good sign for me. I am a lover of movies that many say are bad. Last night I was able to see it and I have been left with a strange feeling, and the best thing is that I liked it.
Who is the director?
Jill Gevargizian is a 37-year-old director who has focused her career on the horror genre. She has been producer, screenwriter and even actress in several projects, many of them short films in the horror genre.
With this film she debuts in feature film, being screenwriter and director. Although previously, in 2017 he was part of the group of directors of the film Dark Web, an anthology of horror stories that were related to technology and internet.
I think this female filmmaker has good style for horror films. His work left me with a good feeling. It is a low budget film, I hope that in his next project he will make a more solid script and surprise us.
Why do I say this? First let's explain what is the story that the film tells us.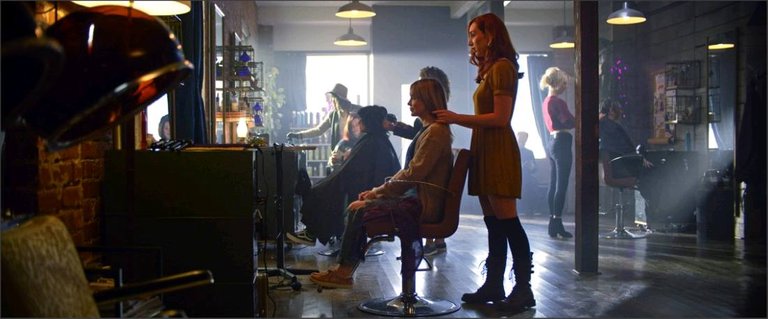 Source

What is the plot of The Stylist?
Claire is a girl who works in a hairdresser's, she is attractive, but a bit shy. Every day she sees many women who want to have their hair done. Strangers with whom she engages in banal conversations. Many of the clients even discuss secrets with her, because they know they will never see her again. Claire is a person who, at the end of the day, none of the women who have their hair done there will remember. But Claire also hides a dark secret, she is a deranged woman who commits murders and takes as a souvenir, the hair of her victims. One day Olivia, a former client, calls her to do her hair for her wedding. A friendship begins that will alter Claire even more, pushing her killer instinct to the limit.

In the movies we have seen many psychopaths from different professions, dentists, scientists, forensic scientists, etc. Now it is the turn of a psychopathic woman who is a hairdresser and has a normal job in a hairdressing salon.
Claire is a woman who grew up with a big trauma, her mother drank a lot and apparently died drunk. She was a teenager when that happened. Her mother was also a hairdresser and that incident has scarred her for life.
He is a typical serial killer who likes to take souvenirs from his victims. In this case he scalps them and collects them in the basement of his house.
Throughout the film we see how she tries to fight against this killer instinct, she is a sick woman, she is not well psychologically. She feels self-conscious, despite being attractive and dressing well, she seems to feel ugly. She wants to be someone else, she wants to be like one of those successful women who come to her to have their hair done.
The film tells us about Claire's loneliness and all the suffering of feeling less than others. That is why her outbursts of anger lead her to commit the murders. She has no control over what she does, from my point of view, Claire is totally crazy, only the people around her don't realize it.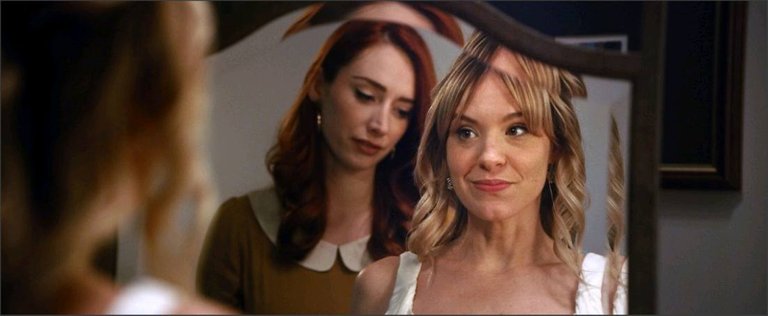 Source

The biggest flaw of the film is that the director constantly shows us Claire's internal battle, which makes certain scenes very repetitive. The film lasts approximately one hour and 44 minutes and there are sequences that become too long. This may tire some viewers who are eager to see more action and deaths.
Claire's insanity is quickly made clear to us, but there are scenes that show us Claire again, alone, either in her home or sneaking into Olivia's. Highlighting her obsession with the life Olivia has.
Olivia is the representation of what Claire dreams of. A confident woman who plays sports, has lots of friends, parties, has money and is about to marry a handsome man. Olivia has everything Claire doesn't.
This will trigger Claire's psychosis and she will commit a couple of brutal murders to vent all her rage.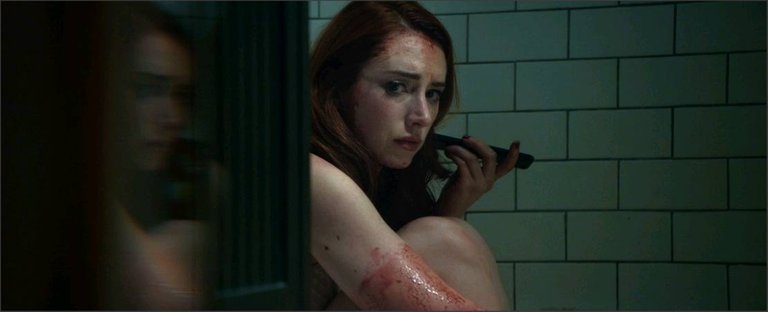 Source

She pulls out their hair to use it as a wig and pretend to be that person. Having the hair of her victims will relieve her, but only momentarily. The next day, the trauma and madness will come back to gnaw at her head.
The movie was a bit long for me, but it made up for it with its bloody scenes, I have already told you in other posts, that I love disturbing scenes, murder scenes and if they have a lot of blood, all the better.
And on this point, the movie does not disappoint me. I was satisfied with the dose of terror and to see how this serial killer acts. Although there are some crazy things, which the script doesn't explain, for example, we never see how he gets rid of the body of the first woman who is killed in the hairdresser's shop.
It's a story that is told slowly, don't expect a frenetic pace. No. It is a slow film, which wants to show us the motivations and madness of its protagonist.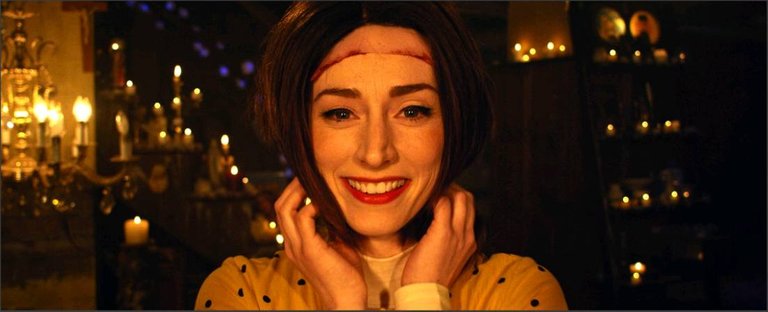 Source

Who is the main character?
Actress Najarra Townsend is in charge of playing Claire, the stylist who sometimes kills to take the hair of her successful clients. She is the main protagonist of the film and the one who has all the attention of the camera, the story will always be seen from her point of view.
I think she gives a solid performance, she has a long career doing supporting roles in many films and has starred in other horror films. I had seen her in Contracted, where she plays another disturbed character and I enjoyed a crazy movie called Wolf Mother, a B-movie, which I really like.
I also remember her from a movie I saw several years ago, in a very small role, the movie is called Me and You and Everyone We Know. I find her an attractive actress, and she does an excellent job. She has an instagram account, she currently has a little over 16 thousand followers. I leave you the link to her social network, in case you want to know more about this actress, who is also a model and also has a band: Link

Brea Grant plays Olivia, the other important character in the movie. The woman who has everything Claire desires. Her interpretation is very good, she is the opposite of Claire, and she will be the trigger for Claire to lose control. This actress is also a writer and has a podcast about books and reading. She has dabbled in directing and screenwriting. In addition, years ago she was in three great TV series - Heroes, Dexter and Friday Nights Lights. If you watched any of those series, you may remember her.


Do I recommend it?
I liked it, that's why I recommend it. I forget about the slow or repetitive scenes and stick with the moments of tension and that try to describe the madness of this woman, who is a serial killer difficult to catch, because she is practically invisible to society.
That's another message of the film, how some workers are totally invisible to successful people. For example, when you go to dinner at a fancy restaurant, you never remember the waiter's face. When you go to a hotel, you also don't remember the face of the guy who carries your luggage to your room.
That's what happens to Claire, she feels ignored by the world, by everyone around her, she's just the stylist girl who does her job well. That frustration will make her have these fits of rage and she wants to take the place of the other women.
For me it's a good psychological horror movie with some gory, disturbing and disturbing scenes.
If you have seen it, leave your opinion in the comments.

Trailer
Source

POSTER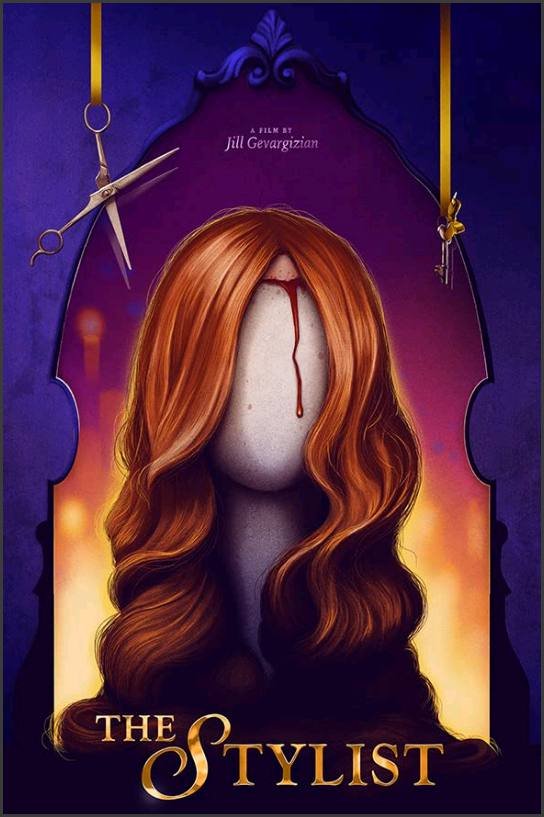 Source


Other recent film reviews