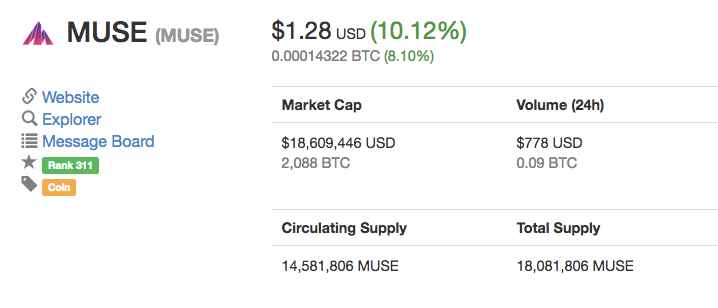 Alright people!
CoinMarketCap updated the rest of the numbers for Muse. The official website and block explorer still need to be changed but at least we have accurate numbers!
This also provides us with a real Ranking. Muse is currently ranked as the 311th coin on CMC. Woohoo!
Let's make it to first page (top 100) and that means our market cap need to increase six fold.
Not a small feat but we haven't even begun advertising yet!
Not to the artists, not to the crypto world, not to the music consumers, not to anyone.
Also, we have exchanges picking up interest in the project so I see Muse in the top 100 in the short term.
Until we get listed elsewhere, here is the current Muse market: https://openledger.io/market/OPEN.MUSEOL_BTS
Stay tuned!