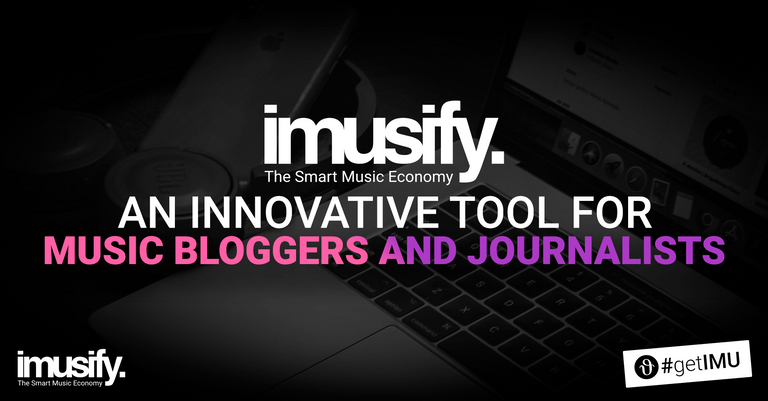 Music bloggers and journalists can benefit from using imusify to scout new talent and find great music.
Everyone knows the importance of "spreading the word" in the music business. Whenever an artist release a new album, drops a single, goes on tour, or works with other artists on a collab, music bloggers and journalists share the news. In fact, bloggers and journalists help musicians and record producers reach their ideal audience and help them build a loyal following. Bloggers and journalists are active collaborators of the music business, and as influencers, need to connect and lead their own followers to the best music. So how can blockchain help music bloggers and journalists finding greater music to talk about? For example, how can imusify make the life of music bloggers and journalists easier than before? Let's discuss.
Why musicians need bloggers and journalists?
Music PR and bloggers' job is tough as expressed by long-standing editors in the industry, such as Ted Kessler of Q, the world's greatest music magazine. Music magazines and bloggers can be contacted for various purposes, for artists, festivals, concerts, and album reviews. As their voice is trusted, the audience will follow, helping new musicians establish fame. The press truly gives credits to artists. In fact, the profession itself is on a steady peak as stated by The Guardian, with leading publications such as NME, Mojo, Mixmag, and Rolling Stone to quote a few — without forgetting traditional outlets having a music section, such as BBC Music. On top of it, thousands of blogs have emerged, giving a new voice to a young generation of bloggers, passionate and enthusiastic about the music they hear. DIY Musician exposes the importance of blogs today in the music business for independent musicians. As blogs have a more authentic voice, musicians trust and leverage their presence on blogs to share music news.
The problem of music bloggers and journalists yet is twofold. They should stay abreast of "what's cool" in the respective music genre they cover and to keep on discovering new music "on time" so it's worth talking about. As for musicians, getting press coverage and mentions is a key strategic marketing activity to build their brand. Alongside music managers and record labels, producers, songwriters, and recording artists need the voice of the blogs and press.
imusify helps music bloggers and journalists scout new talents
Bringing a cutting-edge platform for musicians and fans to engage with no intermediary — while leveraging the blockchain space to facilitate instant payment of royalties, for example — imusify solves music bloggers' problem. By incentivizing curators to engage to discover new content, music bloggers can spend more time discovering new music. Within the blockchain space powered by imusify, every actor is rewarded with IMU Tokens each time they help spread the word about new music. We can further imagine music journalists and bloggers to earn IMU Tokens even when they share the news about a crowdfunding project, for instance.
But the greatest implication for music bloggers and journalists is to identify new music and scout new talent at their fingertips, without spending days and nights looking for it. As musicians can share instantly their new work with fans, great music PRs can discover "the buzz" out there, and share the news accordingly. As influencers, music bloggers can furthermore help new talents to get discovered. As active members of the music business, they are encouraged to use the platform as a networking space too, leveraging their network on the platform itself.
For example, when an artist receives some support on imusify from fans (likes, shares, comments), music bloggers can support such acclaim and reshare to their network, receiving some compensation. They can also curate new music from the platform, and receive IMU tokens for their participation. But wait, how can we ensure such participation remains authentic and is the true voice of music bloggers? imusify is a platform for artists, for fans, for music curators, for record labels, and for everyone in the business to find a space to share new music and monitor anything related to music content songs in a digital world. Finally, with social media integration, sharing new content from imusify is made easy for bloggers.
Music bloggers and journalists can save time by using a platform like imusify and share authentically news about upcoming talents or music. Their interactions with artists on the platform or participation through actions on imusify is rewarded too — with imusify native cryptocurrency IMU. So for the purpose of engaging and scouting new artists, imusify truly help bloggers. Let's enter the blockchain age for music journalists.