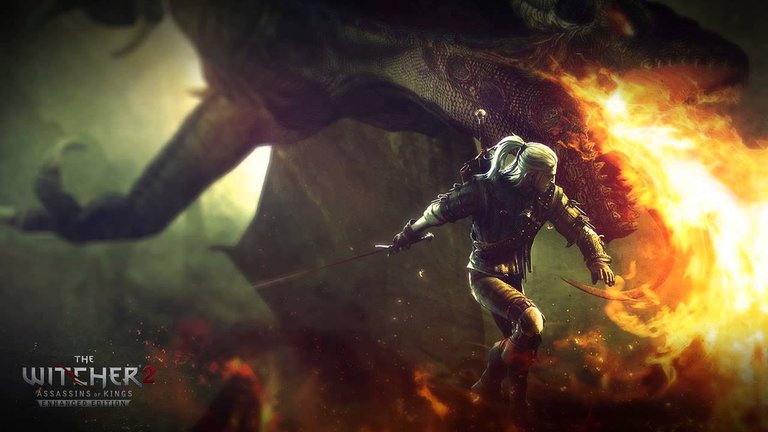 ---
The Witcher Series easily has the most amazing original soundtrack of any movie, TV show or game I've ever come across.
While Witcher 3 has won the most accolades , and deservingly so, the other two games have equally good (imo, even better ) music..
---
A bit about the composers :
Born in 1971, Paweł Błaszczak had been a fan of game music since the day he bought a Commodore 64 in 1982, which he used for his first compositions. Since 1997 he has been a professional composer, and his works include music for Call of Juarez, Dead Island, Dying Light, Mission: Humanity and many more. He is also known for creating the scores for EVE Online trailers and award-winning animations – The Ark by Grzegorz Jonkajtys and Cinematograph by Tomasz Bagiński.
Adam Skorupa was born in 1975. He started his musical journey with demoscene. His achievements as a music designer and sound director include games like Clash, Archangel, Painkiller, Wacuś the Detective, Infernal, Hatred and more. He has also created the music for advertisements (like Duracell) and trailers for EVE Online. He was the lone author of the complete sound framework and, together with Paweł Błaszczak, the co-author of the score for The Ark.
The task looming before those two gentlemen was huge – game devs were able to base their work on stories written by Andrzej Sapkowski. Błaszczak and Skorupa had to create the sounds from scratch, with no actual reference basis, and only a general idea of what the Witcher's lore was based on – predominantly Slavic and Nordic themes. This was something familiar to the saga's fanbase, but completely new for Western countries. They also had to define Geralt's musical identity. Did they succeed? The first track on the album, Dusk of a Northern Kingdom, confirms that they did indeed.
source : https://sapphirenation.net/music-witcher-series/
---
---
It's entirely a slavic (polish) creation, since I'm not from a slavic country or have the slightest clue about the musical styles that are popular there, the sounds feel unique and super fresh to me
What is even more amazing is how well the moods of each track fit into the context of the game, almost as if the game was built around the music and not the other way round. Well, if you haven't played the games, I urge you to do so ASAP, it is a once in a decade experience, and I'm not even exaggerating. While 1 and 2 pale in comparison to 3 in terms of the gameplay and overall entertainment value, they both are really good installments in their own right, with music even better than 3.
Listing the top songs was actually a tough and time taking process, because there are so many of them. I'm not complaining though, because I always love the anticipation and excitement of discovering new good music.
So let's get down to it ...
---
#9 Dusk Of A Northern Kingdom
The first 20 seconds nicely capture the essence of The Witcher. It is filled with sadness under the weight of the strings. Exotic, dark, yet beautiful. There is a break in the middle for tense battle sequences monsters, but the track ultimately resolves itself back into the main theme .
Mood : brooding / Haunting/ Combat
---
#8 Assassins Of Kings/ Sorceresses
Same melodies, two different tracks but blend into each other seamlessly
This one is heavy, raw and brutal
Mood : War/ Fight
This is mostly crooning and has an almost tragic quality to it
Mood : Haunting / Tragic
---
#7 Into The Fields
Hints of Game of Thrones vibes in this track. Amazing piece of music. When it plays at the end when you meet Letho, there couldn't be more fitting music.
Mood: Tranquil
---
#7 Believe
Ending credits music of TW1. It's a full song, it's great and fits the ending really well..
Mood : Energetic/ Victory
---
#6 The Fields of Ard Skellig
I wandered around Skellig aimlessly to listen to this a bit more. Captivating music, hauntingly beautiful vocals that will put you to sleep!
Mood : Grief/ Dark
---
#5 Aen Seidhe
Has a unique melodic progression, my favorite from TW3 (probably an unpopular opinion). A fantastic combat track with powerful vocals to back it, ends with a daunting tone.
Mood : Fight / Glory
---
#4 A Nearly Peaceful Place
Some kind of flutes (? I'm not sure) were used here, creates an incredibly soothing and emotional sound. The instrument plays lead through out the track and sounds brilliant, especially in tandem with the smooth female vocals. This will have you missing someone you never knew or some place you've never been to :)
Mood : Peaceful / Emotional
---
#3 Peaceful Moments
This is a much more vibrant tune amidst the brooding, melancholic tracks that are so characteristic of The Witcher OST. Nonetheless, it sounds literally perfect within context - when Geralt is in Triss's room , and you can expect some passionate sex. Has a "sweet" undertone.
Mood : vibrant/ cheerful
---
#2 River Of Life
Again , I can't even tell what sort of instruments were used to create these sounds, but it's insanely beautiful and relaxing. Walking through the dike watching the sunset and the river with this playing in the background creates an atmosphere so stunning that I'd sometimes forget about the story, roam around for a while and admire the scenes. 10/10 for immersion, not gonna forget this any time soon.
Mood: Mystical/ Soothing
---
#1 Dwarven Stone Upon Dwarven Stone
A musical catharsis of 7 mins, this track has everything. Lots of layers, several combined instruments, melancholic yet pleasing female vocals with a folkish/epic sound. Still get goosebumps sometimes when I listen to this ...
Mood : Folkish / Epic
---
It's rare to see so much passion and effort put into a single project, everything about the story, visuals, graphics, combat mechanics and music is top notch, which are required to craft a universe that is this gorgeous and immersive. Kudos to CD Projekt Red for this marvelous piece of art.
A shoutout to @adrianwastag , whose post inspired me to write this
@dwinblood , you might be interested