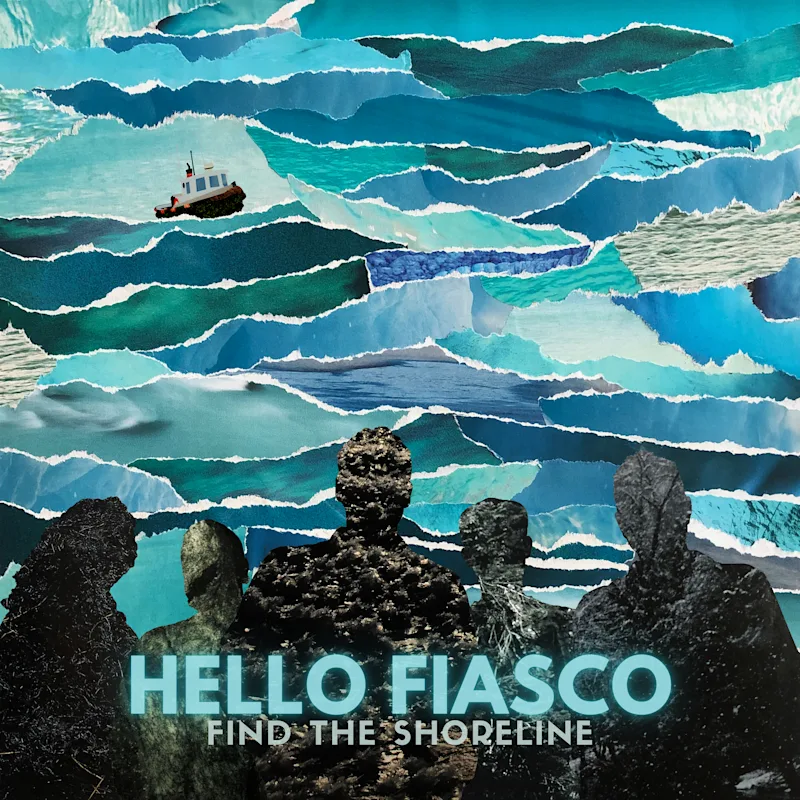 Cover Art by Ivan Arenas
If you're into Pop Rock music and if you're into bands like Panic! At the Disco, The Killers or Franz Ferdinand, then I invite you to check out the new album "Find the Shoreline" by Hello Fiasco. Listen to the album on Spotify here:
The album "Find the Shoreline" begins with the track "It Makes Sense". The first thing I hear is a smooth piano intro, followed by drums and vocals very quickly. The vocals by frontman Eric LaBossiere have a very nice warm tone to them. It's very easy to listen to and when he sings 'it makes sense', something feels right straight away. I expected the piano to continue after that, but it actually stops at about 37 seconds into the track. At that point, the drums and bass guitar take over, which is a very nice surprise and it gives the song a more versatile sound. The bass guitar sounds incredible, there seems to be a little distortion added to it, which really makes it shine. Bassist Joel Couture did a fantastic job here. It reminds me a little of one of my all-time favourite bands Muse. I also love how the bass line and the vocals interact with each other. At about 2 minutes the listener gets to hear a little electric guitar solo that actually continues until the end of the song. This is a very strong opening track and I am excited for the rest of the album already!
The title of the second song is "Hold Me Close" and the first thing I notice here is the incredible quality that was also noticeable in the first track, but for some reason I really notice it here. This entire album was co-produced by frontman Eric LaBossiere and award-winning Canadian producer John Paul Peters (Comeback Kid, Cancer Bats and more) and I can already tell they both did an outstanding job with the production.
The mastering is done by Grammy-winning engineer Randy Merrill of Sterling Sound (Imagine Dragons, Cage The Elephant, Muse and more). Everything sounds perfectly balanced to my ears, this album is a pleasure to listen to, whether you listen to it with headphones or speakers. I love the reverb effects in this song, all the guitars sound awesome. This also has the most plays on Spotify at the time of writing this and I'm not surprised about it, this is a great song! There is also an official music video (see above) and the entire band really shines here. Frontman Eric LaBossiere produced and directed the video, along with producer Alain Muller. At this stage, I'm starting to wonder if there's anything Eric LaBossiere cannot do! The visuals are beautifully done, I love the Les Paul Goldtop guitar, the Fender Jazzmaster (I don't know how guitarist Joel Perreault keeps that thing in tune with all the whammy bar action) and the bass guitar, the outfits look super-stylish as well and most importantly the music just flows with the visuals. The rooftop location where the band performs is stunning to look at and makes the entire video very easy to look at, even on repeat. There is even a little storyline in the video, featuring Sheena Rattai and bassist Joel Couture. Not only is the video on point, the thumbnail, title and description of the video are also perfect. I always check if a band includes the lyrics of a song in the description and I'm happy to say this is the case here. SEO (Search Engine Optimisation) is a key element for musicians these days and I'm glad Hello Fiasco understands that. Sadly there are many bands who don't.
Track number three is titled "Before Time Leaves You" and the first thing the listener gets to hear is a lovely intro played by strings. This is followed by an acoustic guitar and the melody sounds quite folky to me. The previous two songs were definitely more Indie-Rock sounding. This is a very mellow song, at times I'm almost getting country vibes from this, mixed with folk. The previous 2 tracks remind me of bands like Muse, The Killers, Kings of Leon etc, but this one reminds me more of artists like Noah and the Whale (another one of my personal favourites).
"You Don't Want Love" starts off with a strong vocal performance. The song almost gibes me ska vibes, because of the rhythm guitar. I also really like the lyrics here, because this is basically the opposite of a traditional love song. For some reason, this song also reminds me of the band OK GO, whom I grew up listening to. Drummer Ivan Burke also has to be mentioned here, as he did a fantastic job!
Having just complimented drummer Ivan Burke for his work on the previous track, he did an even better job on the fifth song called "Gorgeous Girl". This is a tune that you can definitely dance to and I can see this being played to audiences in venues across the globe. This is the second-most played track on Spotify and I can immediately hear why. It's super catchy and reminds me a little bit of the British Rock band Boy Kill Boy, whom I loved listening to. I love the line 'You, you can walk all over my self-esteem'.
"Listen to Me" slows it down a bit and I can hear more pop elements in this. While the tempo is a little slower (which means the time between chord changes is sometimes longer), the bass guitar is on fire once again. I normally wouldn't recommend to "pump up the bass" when listening to a mellow Pop-Rock song like this, but bassist Joel Couture certainly did some great bass lines in this. The entire section starting at one minute is incredible. It also features a little electric guitar solo and the fusion between bass and guitar sounds perfect to my ears.
Song number 7 is titled "Atlantis and Compatible (feat. Erin Propp)" and this is another slower track, this time an acoustic guitar is used. There is also a guest vocalist, which is a very nice surprise. At the beginning, the style of this reminded me almost of Jack Johnson. As soon as Erin Propp starts to sing I'm getting Joni Mitchell vibes! One thing that is also particularly well done is the super-smooth electric guitar. The reverb effect makes it sound very mellow and this is the perfect tune to listen to on a hot summer day.
"Chess" is the title of the following track and I'm happy to say there is another official music video available (see above). This time it's an Animated video and again the attention to detail here is amazing. It always pleases me to see just how far independent music has come. The only thing I'd perhaps like to see are the lyrics as part of the animations in the video, although the lyrics are in the description. For some reason I also really notice all the little synth effects in this song, keyboarder Guy Abraham sure did a superb job here! It actually reminds me a little bit of the band Motion City Soundtrack (another one of my favourite bands).
The album continues with the smooth acoustic tune called "Words Are Fast". The highlight for more here is definitely the electric guitar by Joel Perreault. It sounds like a mixture of John Mayer and BB King, I sure love all those bends and slides that are happening here.
"Worried Sick" is the title of track number ten and considering the rather dark title the melody of this is quite happy sounding, at least in the beginning. The melody played at around 45 seconds sounds cool. But once again, the bass guitar is just out of this world! I can't praise bassist Joel Couture enough on this album. There are so many bands out there with the most boring bass lines and I'm happy to say Hello Fiasco is not one of those!
Song number 11 is titled "One Phone Call" and it features a very catchy chorus. I really like the line 'one phone call doesn't fix it all'. The mini guitar solo at about 1:20 also sounds cool, in my opinion, it could have even been a little bit longer! Having said that, the solo is indeed longer at the end of this, so I guess that justifies the length of the first solo. The guitars are also quite distorted here, which makes it sound almost more like a Pop-Punk-Rock song. This sound reminds me of bands like Fall Out Boy.
The album ends with the song "Trust". The intro reminds me a little of the band Yellowcard, perhaps because of the strings used at the beginning. The concept here is very interesting to me, as Hello Fiasco tried to create what could be called a soundtrack, but not for a movie or show, but rather for trust itself. I have to think back to the title of the opener somehow, because it all just makes sense to me. There is also an official lyric video available to watch on YouTube (see above)
Final thoughts
This entire album is certainly a pleasure to listen to. I usually pick a favourite song at this stage, but this is very hard to do in this case. Overall, I'd probably choose "Hold Me Close", because it features a fantastic music video as well. However, I really love the distorted guitar sounds, the solos and the overall vibe of the song "One Phone Call". The lead guitar on this sounds incredible to me. The entire album will definitely take you on a journey that you didn't even know you desperately needed! There is one other thing that I want to mention at this stage. Hello Fiasco actually dedicated an entire website to this album: https://www.findtheshoreline.com/ this is the kind of attention to detail that I think will be critical in the future and it really puts this band way ahead of most other bands out there, including bands that have label deals. The band also chose a great artist/graphic designer to create the cover for this album. There is even an entire page dedicated to the story behind it: https://www.findtheshoreline.com/cover-art
For all those reasons I can only recommend you do yourself a favour and listen to the album "Find the Shoreline" by Hello Fiasco and make sure to follow them on social media! Here are the official links:
Website☞ https://www.hellofiasco.com/
Linktree☞ https://linktr.ee/hellofiasco
YouTube☞ https://www.youtube.com/channel/UC5XTkkTjLlcoJ7sk_5t-EUw
TikTok☞ https://www.tiktok.com/@hellofiasco?lang=en
IG☞ https://www.instagram.com/hellofiasco_official/?hl=en
Apple☞ https://music.apple.com/us/album/find-the-shoreline/1634114882

Disclaimer: This is a sponsored post, however, all opinions are my own. Content of the artist in this post is used with permission, no copyright is violated.