It's been nearly 10 years since I started my personal journey into music, from my modest beginnings as a GarageBand user on a MacBook mid 2010 in December, 2010 until the point I got certified as a proficient guitar player by accredited tutors on Yousician in 2018 and then, up to this latest point in my life, hired as a radio host in charge of 1 hour rock show at the student radio station of the university where I'm currently studying in my hometown.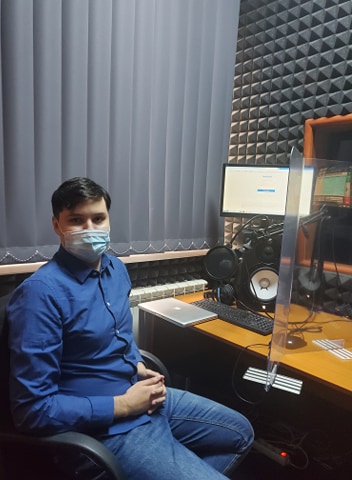 After years and years of rock 'n roll devotion, I finally get the chance to be a radio host with my very own rock show on the student radio station at the local university in my hometown; my show's called 'Let's Get Rocked!'
Today I decided to write this post from several reasons, one of which is also to see how far I managed to go in life on this particular trajectory and also look back to see what I did and whether things could have been done better (or simply different for that matter).
So, to recap, I started composing music digitally at the age of 13, in the winter of 2010/11, while I was still in secondary school in Bucharest, Romania. Prior to the month of December of 2010, I must confess I did not have any experience on how to record, produce, or release music by myself, although I always had musicians coming over my place while I was growing up (and even had close relatives who were still professional musicians or had played various musical instruments as a hobby).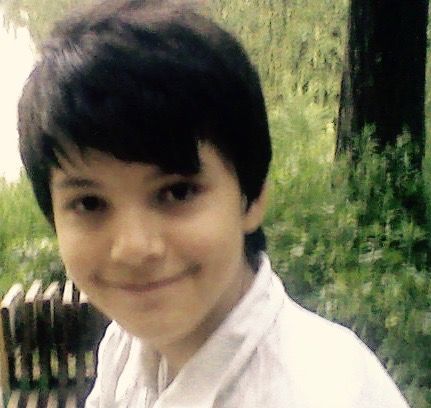 Summer of 2010, roughly half a year before starting my modest beginnings in music
At the same time, it was only in 2011 that I firstly took a Yamaha semi-acoustic guitar in my hands and started to learn the basic chords on it (such as E minor, E major, D major, A major, A minor, G major, C major, or D minor). A few months later, I went to my first jam session at a cabin where I learned to do a bit of drumming and held my first electric six string in my hand, namely a Floyd Rose.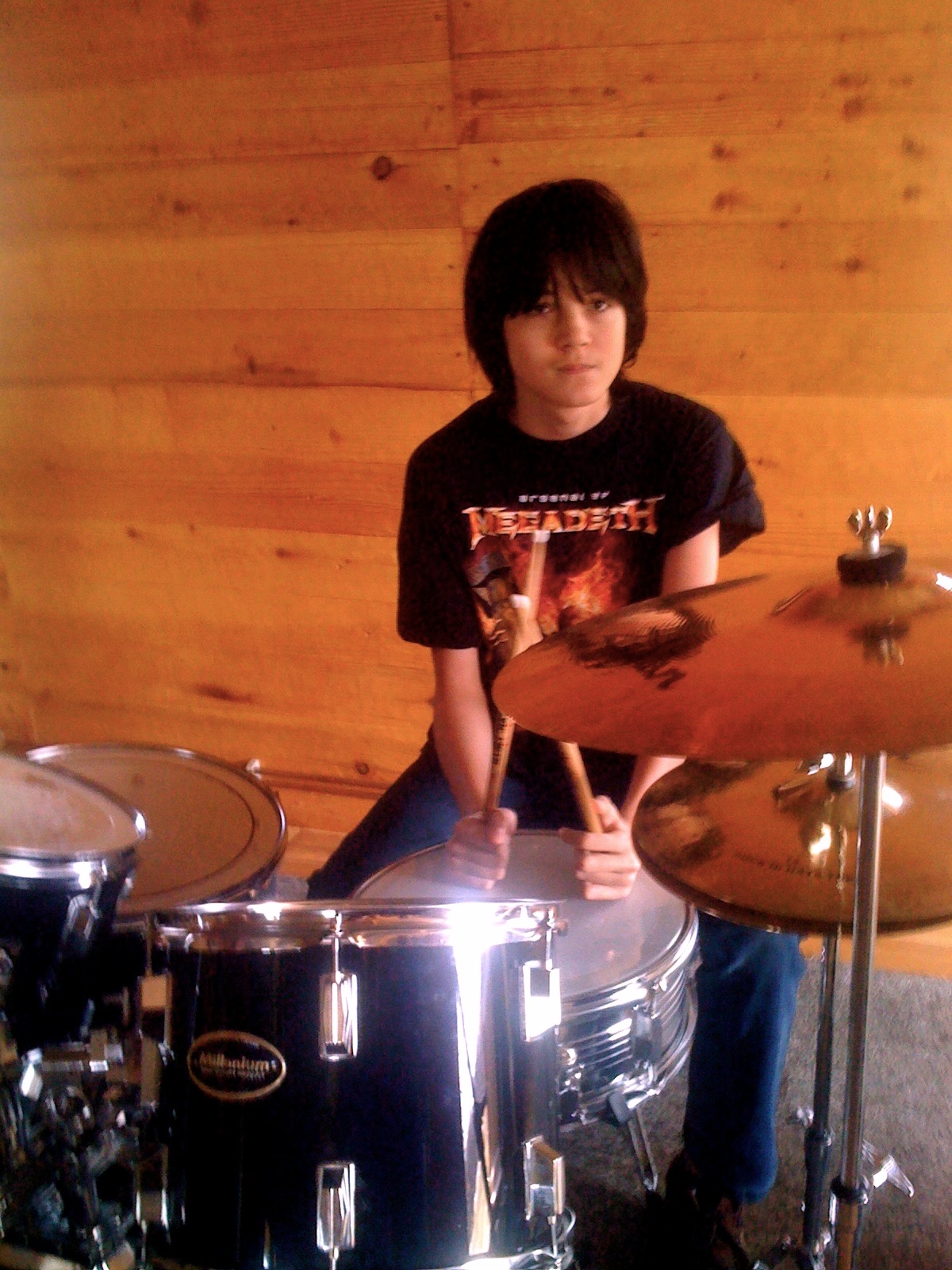 A little, 13-year-old monkey following the principle 'monkey see, monkey do' on drums. A huge Dave Mustaine fan since that age onwards, this speed metal specimen wears a Megadeth t-shirt with enormous pride (Spring, 2011)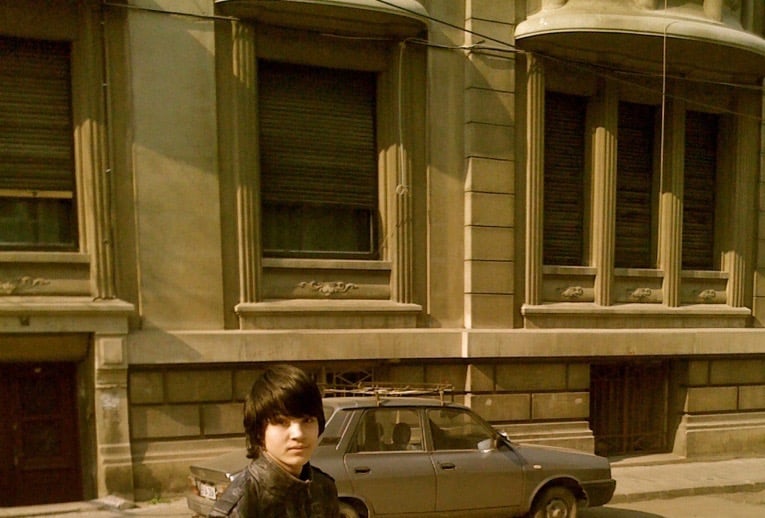 May, 2011 near Bucharest's old town with an old Dacia car model in the background and wearing a faux leather jacket akin to those Page wore in his early Zeppelin years
Just to draw a few comparisons here and there, it's important to highlight what I wanted back then for me when I would eventually grow up and what I managed to accomplish thus far in the following list (and also what stood the same or what changed over a period spanning 10 long years):
I was so obsessed with the music of Led Zeppelin, Jimi Hendrix, and Pink Floyd that one day I really wanted to have my own electric band! But back in the day I knew it took so much sacrifice and patience in order to obtain the results I wanted. So, along the passing of time, I had (and still have to) be very perseverant if I truly want to achieve my goals in this area. Besides, in the meantime, I've really grown tired of being a digital one-man band through the use GarageBand and LogicPro. I want other like-minded misfits with which I can play!
One day I really wanted to work at a radio station and, later on, even be in charge of one of my own radio. Now I'm currently working at a student radio station.
I wanted to sound like Page, and laugh it all if you want, but even be better than him at some point, surpassing his dedication and work. In the meantime, I only managed to record some Zeppelin acoustic covers that I later on uploaded on SoundCloud and played a little bit of bowed electric guitar on my Harley Benton Fender replica.
Since December, 2010 I managed to record, produce, and partly release 12 studio albums, 3 EPs, and a large compilation of demoes, all by myself. The main output website on which I decided to share my music was iCompositions (which, unfortunately, went defunct in the meantime).
What could have been done better?
---
More work and dedication on the first guitars that I layed my hands on during my early teenage years, so I wouldn't get fast forward to 2018 and start re-learning all the basic chords from a very slim basis.
Also, a mistake (or should I better put a hesitation on my behalf), was not properly approaching other people of my age (mostly close school friends) in order to be consistent about forming up a band.
There were other causes for which I and other buddies of mine couldn't form a band at that time, but still, a communication lesson learned is a lesson learned notwithstanding.
Last but not least, as I got into my early high school years, I should've really played more if I had the chance, time, and private venues in order to do so. But then again, after all, I think it wasn't only me who's to be blamed for that, as there were plenty of other socio-economic issues at hand which prevented me from being the Page-like maverick I could've become.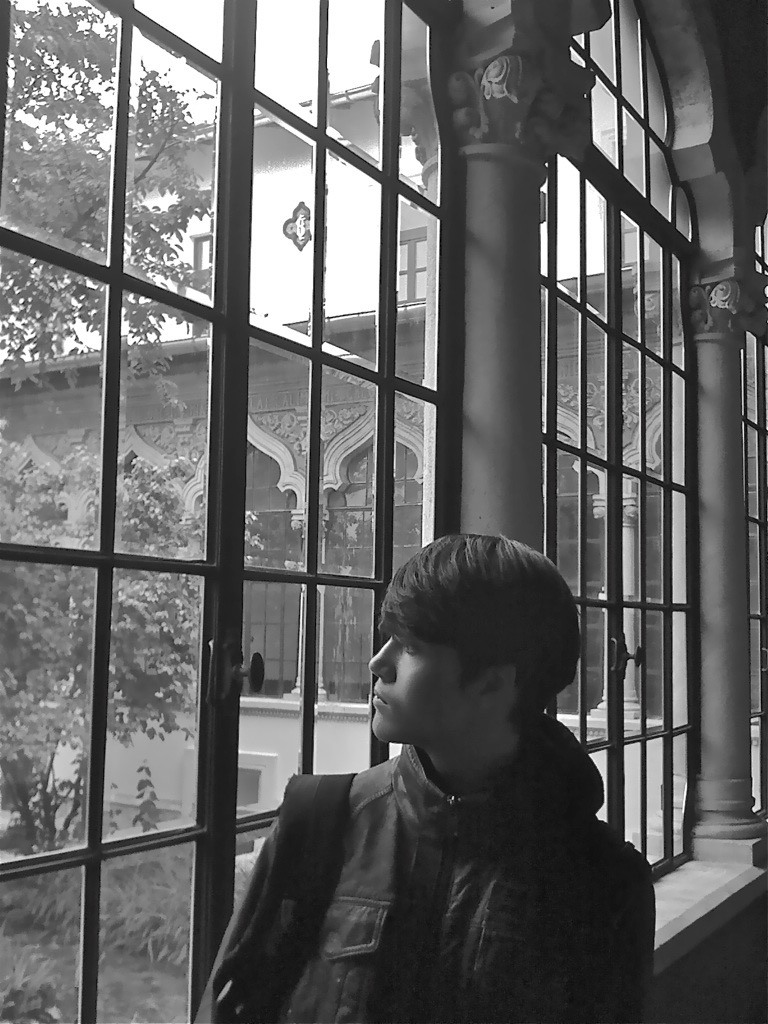 A flashback from my first visit at my then future high school, the Central School of Bucharest, in the Spring of 2012, on the occasion of a linguistic French test I needed to pass in order to be admitted there.

... and the coloured take of the same setting above (Spring, 2012)
What did 2020 had in stall for me and more optimistic scenarios
---
First off, it was good that I went back to the Hard Rock Cafe in Bucharest after a huge ten year gap in the beginning of the year. When I went there for the first time I really wanted to buy a The Who t-shirt but I only had to stick to a Hard Rock Cafe one because I couldn't afford two.
Ten years later, they did not have any Who t-shirts on sale anymore and I thought it was such a pity... Anyway, what I did instead was that I had to stick with a Hard Rock Cafe one this time as well. But the overall experience of spending time with one of my cousins was nice and, to my utmost pleasant surprise, not that many rock artefacts were replaced from there; many famous guitars, basses, and memorabilia are still in their place as I remember them from 2010, which is great!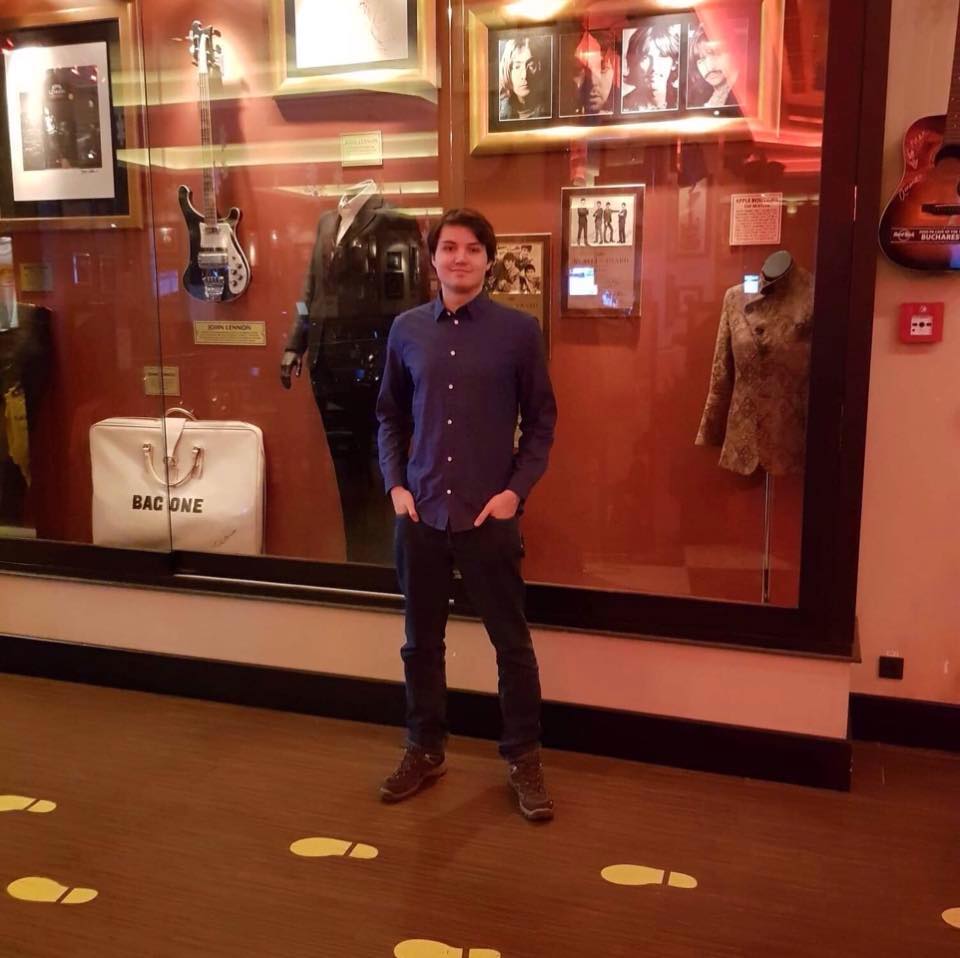 At Hard Rock Cafe in Bucharest (January, 2020)
Conclusions
---
In the near future, if my health will permit it, I will try as much as possible to get to play Bron-yr-Aur in drop C tuning on a better acoustic guitar, a Fender Hummingbird. That's a heck of a resolution for the next year for me.
As for the actual end of this post, I invite you to have a bittersweet audition with Led Zeppelin's 'Ten Years Gone', a nostalgic piece from 'Physical Graffiti' released in 1975. Enjoy, stay tuned, and let's get rocked!