I know the grammar of the title is wrong. It's called a meme, ok?
The reason I started this challenge of reintroducing ourselves to the community is very simple: We might be the same community we were on Steem - hopefully a bit bigger and with recently joined members - and most if not each and every one of us has already made an introduce yourself post back when we joined the first social media blockchain based. But that was before Hive. That happened in another Chain, we are now as a community the core of a new blockchain with all the positive aspects the last one had, with more than a handful of improvements and without several negative aspects that hurted, hindered and slowed the evolution of the community.
Just like I mention in @theycallmedan's initiative, Hive is our best chance for a new beginning and, like with every new beginning, there must be introductions, re-introductions and presentations.
Over the past few days I've been able to read around 300 introductions from all of you and I can only say thank you, it's been amazing getting to know those of you I didn't have the plaseure of meeting before and, it's been quite the breath of fresh air to read about those I've known for years, some of them even in person. So, you kick ass for joining this initiative and even more for sharing your posts on Twitter, the amount of interactions and mentiones #hive has had over the past week has grown exponentially!
Let's keep spreading the word about our brand new blockchain!
Thanks for reading all that above, now let me re-introduce myself to the community - or should I say, introduce myself to Hive?
For those who don't know me, my name is Eric and I joined the world of Blockchain based social media in late April 2017, So I'm pretty close of being 3 years old!
I'm not going to bore you with my life before April 2017, if you feel like reading my first introduction, you can do it here
| | |
| --- | --- |
| Mandatory selfie holding a sign with my proof of identity and to show you that I exist. | For a fair comparison, here's the very same pic in the very same shirt three years ago. |
The Nomad Life
In May 2017, I began my biggest adventure so far - but not yet to come. I began traveling the world with the lowest budget you can ever imagine.
I hitchhiked for four months in Central America, from Cancun, México to San José, Costa Rica. In between those, I visited Belize, Guatemala, Honduras, El Salvador and Nicaragua and created some of the best memories one could ever ask.
When I was in Belize...
I was able to swim with nurse sharks with only a swimsuit and my snorkeling equipment; I biked around an island only to find crocodiles in the wild side of an almost desolated far corner of that piece of land; I lived for a couple of weeks surrounded by 100+ cats in a pet shelter, handling the cleaning, managing the hostel next to it and feeding all the felines; I visited my very first caribbean island outside of Mexico as well as a couple of Mayan ruins outside my home country; I spent one week living and working in a vegetable farm in the middle of the jungle on top of a mountain by a river, with no one but a couple of people and a pair of dogs; I learned what love means when you're traveling and you don't share the same travel agenda with that person and especially, I got to experience what traveling on a budget really means outside the theory of it.
The I moved on to Guatemala because...
I was in a budget. Belize is expensive, not expensive as Europe or Costa Rica, but expensive in terms of my 10 USD per day budget. Besides, there was so much more to experience and to learn; after all, my odyssey was just beginning.
Guatemala was probably the biggest roller coaster I have ridden in my whole life and perhaps a top 3 of countries I hold dearest to my heart. Not just because of everything that happened to me, or the full 40 days I spent there, or because I was able to explore almost every inch of her, no. I think it is because that country allowed me to learn a lot about myself, about my personality when I'm only with myself, it helped me define a lot of what I wanted in life, at least during my world trip, which was planned for only one year - it ended being a 3 year intermitent adventure, go figure.
This country brought to the table a lot of experiences, among some of them I visited the biggest Mayan ruins of the whole Mayan civilization; I met that person I told you about in Belize and experienced what sincronicity means; I almost broke my back jumping from a ledge into a lake and then spent in the hospital quite some time; I lived in the middle of nowhere in a hostel inside the jungle recovering from my back injury and handling the front desk; I explored a bat cave with only a candle, climbed a volcano by myself against every advice, hiked a couple of mountains and rode quite a few rivers; I hitchhiked everywhere, except for when I decided to ride a chicken bus and got robbed at gunpoint; I spent some time with a local family - and their 4 girls, my age by the way - and learned how a normal Guatemalan family lives; I got robbed again but this time it was at machete point, thankfully not a gun.
But life goes on, and despite how much I loved it, Honduras was calling me...
And I was eager to answer, 40 days in Guatemala was a lot more than what I intended for to stay but between my back injury and everyting I wanted to see there, I overstayed my welcome. So I decided to pack it up and hitchhike again. Honduras was very different to both Belize and Guatemala in the sense that I didn't visit a lot of places, but I still was able to experience a lot there.
I could tell you that my time in Honduras was limited and that I would have liked to spend more time there but to be honest, Honduras was the place where I had some of the most amazing adventures in my life and each and every day I spent tere was worth it. Perhaps it's not about the time spent, but the memories made.
I lived with a Hondurian girl for a week where and met her friends and got to experience the real life of a non-Tegucigalpa (the capital) girl, I even got to attend some local dancing exhibitions; I explored by boat some of the most beautiful rivers I've seen in my life; I hitchhiked my first boat by trading the trip for some manual work; I camped in a deserted island in the Caribbean and then I got to swim between islands; I got to spend a lot of times with local kids who taught me a lot about life life and myself; I was blessed to spend a couple of nights with a woman and her kids who lived in a tiny little yurt by the ocean; I succesfully hunted the only pink boa in the world and lived to tell the tale; I visited some other Mayan ruins and in the end, I made a lot of friends along the way.
Life was good, I was fulfilling my dream of traveling, experiencing as much as I could, having adventures, writing my own story and prooving that money is not a problem when you have heart and drive.
And yet, it was time to keep writing the story, so I kept going South to Nicaragua and Costa Rica...
Where, despite not spending as much time as I would have wanted to, and after spending more than 3 months on the road and running out of money more than once, having to figure out what to do with zero cash and an empty stomach, I was beginning to get tired, both physically and mentally. But the journey was still on, I had to keep going and to make themost out of this enterprise or I would regret it for the rest of my life.
So I undusted my shoes, put on my anomadsoul shirt and kept hitchhiking.
I explored and swam in a Canyon and cliff jumped on what is probably my most dangerous jump so far; I enjoyed surfing and sunbathing in several beaches along the coast; I spent a few days in an island inside a lake, inside mainland Nicaragua and of course, I conquered the mountain on top of the island; I witnessed a turtle hatching, and also witnessed how 90% of the little ones were dead; I partied a lot, like, a lot in one of the best scenes in Nicaragua; I got to climb another active Volcano and lived to tell the tale and, perhaps one of the riskiest things I've done, I hiked barefoot some rocky cliffs by the ocean shore.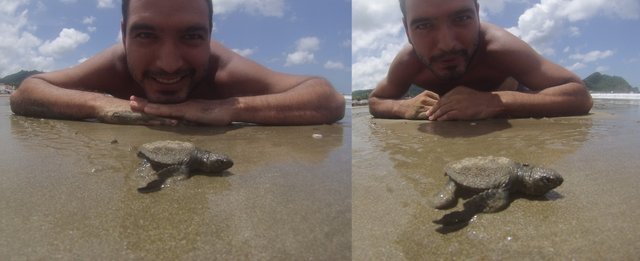 The journey was amazing, but it was coming to an end...
Not because I wanted to, but because my plans had changed. I was planning on keeping going South and reach Colombia, but I heard about this cryptocurrency event called Steem Fest and it was going to be celebrated in Lisbon. I was determined to attend this event, so I had to go back to Mexico in late August and save some money because in November, I had an appointment with my first European destination.
Those two months were uneventful in terms of traveling, I just wrote a lot, planned a lot more and then waited patiently until my one way flight from Cancun to Belgium date arrived.
I arrived in Belgium and then, hitchhiked through France, Spain and Portugal to reach Lisbon.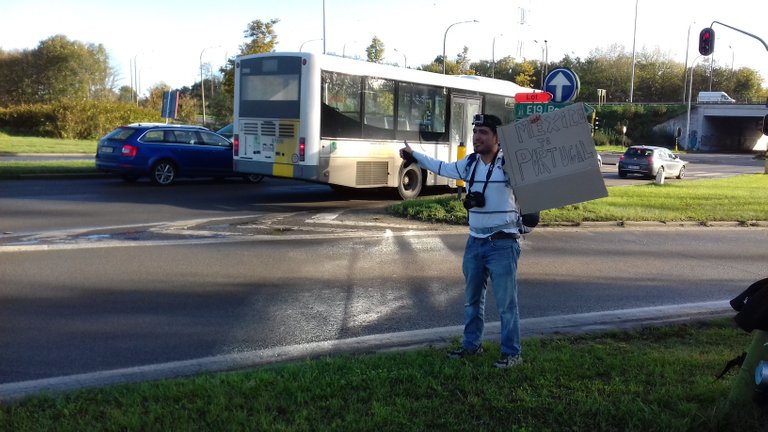 There are three videos about it, I'll just drop my favorite one.
And then, Steem Fest. There are a lot of posts and videos about it, so I won't bore you with my take on this cryptocurrency event, what I can and will do is share some of the pictures I took, perhaps you can even recognize some of the people in them! Most pics are blurry, drinks were involved :P
After Steem Fest, my Nomad adventures continued and I went ahead and explored Spain, specifically Barcelona, Malaga and Madrid, and then I took a plane to Dusseldorf, where I stayed around one month. After that I spent a couple of weeks in London.No pictures about those countries because I was doing mostly personal stuff and not so much exploring apart from the normal city walks and, coffee drinking and pub crawling, besides, as I said, they were mostly personal trips.
This post is getting too long and my laptop is lagging, I'm not sure if it's the internet connection or the size of the post, or perhaps it's my laptop, but I don't want to lose all what I've written, so I'm just going to click publish and I'll have to continue in another post...
For the time being, you already know a lot more about who am I, and my introduction post to the Hive community! Thanks for reading.