My idea was to collect (see and photograph) street art created by the famous Banksy. He has created them in November 2022 when he secretly visited Ukraine. A total of 7 graffiti - 2 in Kyiv and 5 in the region but actually it's Kyiv neighborhoods.
I captured the first one here in Kyiv in December and shared in my WednesdayWalk post.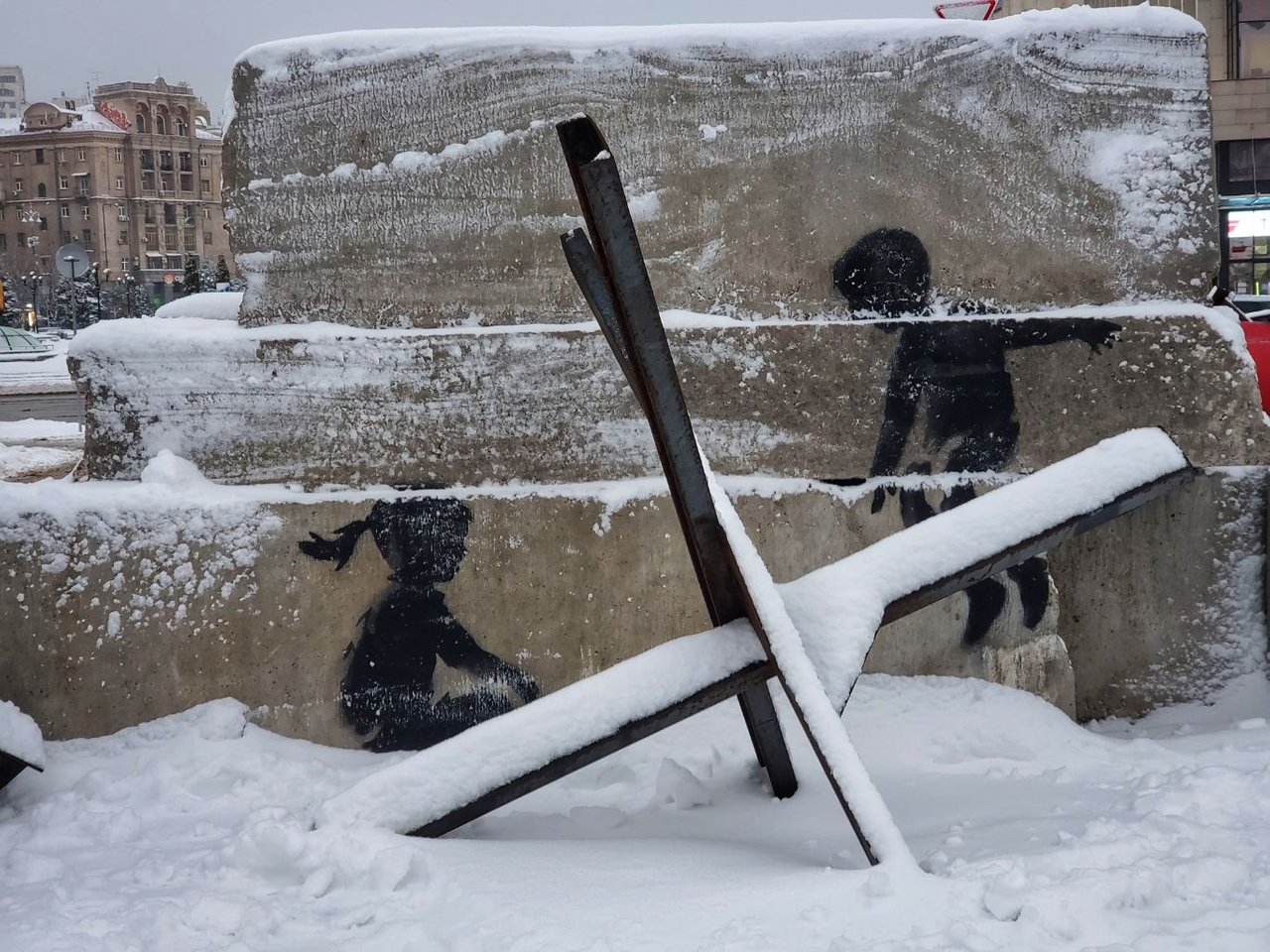 The rest 5 were located in Irpin, Hostomel, Borodyanka and Horenka. These are small cozy towns very close to Kyiv. In the last decade, cottage towns were actively built there and young families with good wealth settled there. Those who did not want their children to grow up in a big noisy city with polluted air, but close enough to comfortably go to Kyiv for work.
These cities took the blow of the Russian army on the very first day of the great war, a year ago.

I didn't know if I was ready for this. I didn't know how everything looks there now. A year is a long time, and this year (a year started on 24.02.22) seems endless. It's difficult, and complicated.
Even the day before, I felt anxious and nervous. I was going to go to an informal meeting with colleagues on Friday evening, but couldn't. I was not in a mood to go out. I hid from my memories for 9 years, but they did not disappear but remained as an unlived grief.
Oh, BTW, the Ukrainian name of the month of February is actually an adjective meaning fierce, severe, or angry. The shortest and coldest of the year.
It all started 9 years ago in December, but February was the harshest. The month when the authorities started killing the first protesters just in the streets, here near the place on first Banksy's street art.
When the security forces led a completely stripped (COMPLETELY!) protester down the street, in public, and the temperature was around -10. And when they watered people from water cannons, the temperature was -18. These criminals have not yet been punished. And that government, which was encouraged and supported by Kremlin, was also not punished. So far.
I remember it very well, because my office was right where it all was happening. We were then almost used to the constant acrid smell of smoke. What I didn't get used to back then was the sound of gunshots. I remember walking from the office door to the subway at the end of my working day. It's dark, cold and windy, and suddenly I hear gunshots. I understand that they are shooting down the street, maybe 500 m from me, although not in my direction. And there's no point in running because the bullet is faster anyway. So I just walk the last hundred meters to the subway ...
What I'm saying .... even though, I can't imagine the fear, horror, fright that people went through on the very first days of the Russian offense.
Finally, Russian troops were stopped by the Irpin river. Our militaries with the help of civilians blew up the dam and all the bridges through which they could enter Kyiv.
I mean, if you live in a town situated near the river, have you ever thought of this river not as a place to rest or walk or swim, but as a natural obstacle that can stop the advance of the enemy who wants to destroy you? I didn't either.
They did not expect this. They were very angry about it, and shocked by how well Ukrainians live. Much better than them, the liberators who came to save the oppressed people from imaginary Nazis. Is it possible to have such beautiful houses and such good roads? No way. Things should look no better than where they came from.
In 1917 they started the October coup or October Revolution which was the beginning of the Red occupation of the neighboring nations. They then fought not for the fact that there were no poor, but for that there were no rich. They still do.

Enough reflections. On Saturday Feb 25th Nick and I got in the car and drove to find Banksy's work. My first driving outside the city in ages! Over the past 13 months. For me who can't stay in Kyiv for more than 2 weeks it was a big deal!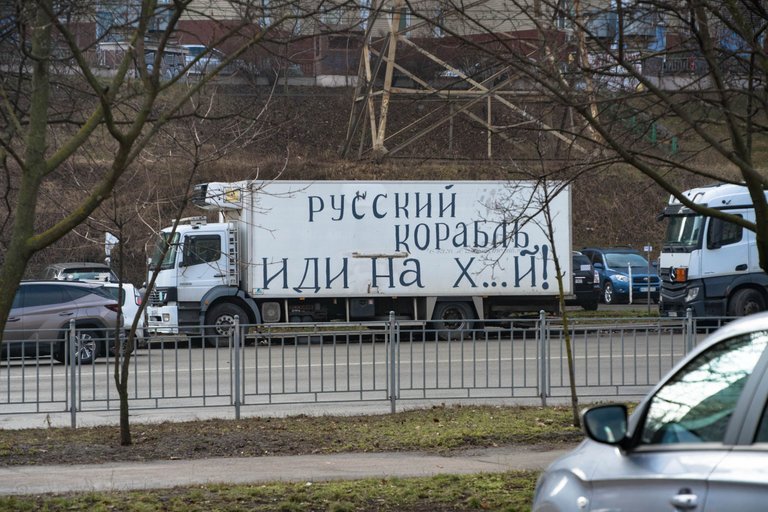 We drove north. From north the attack began. I haven't been to this part of the city for a long time. Nick showed me where their unit were in ambush, where they spent the nights, then where they dug trenches they slept in the open air in the freezing cold.
I needed the toilet, and we went to the Retroville shopping center. A Russian Kalibr missile hit here in the first weeks. I was smoking on the balcony and saw it fall. Now I did not see traces of fire and damage. Apparently, everything was fixed.
Hostomel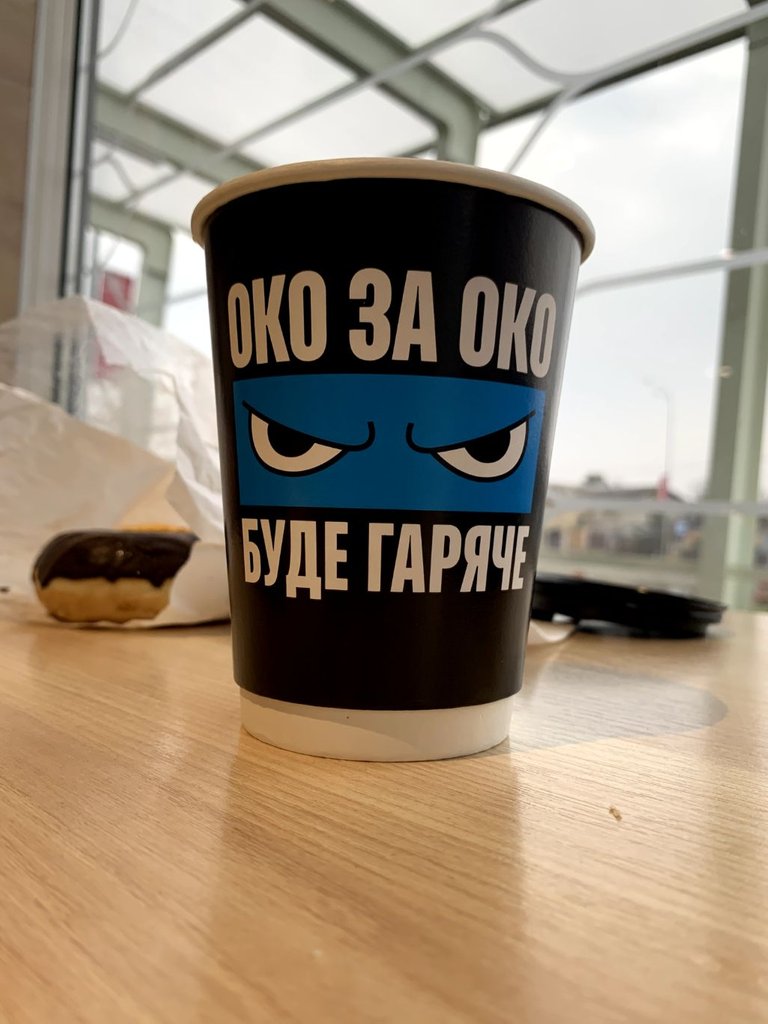 I bought some donuts on the way. This chain of Ukrainian supermarkets donates 4 UAH from each donut to the AF.
We stopped to buy coffee at a gas station. This chain of gas stations transfers 1 UAH from each liter of premium fuel to the fund, which helps the AF. They called this action consonant with the Biblical expression "an eye for an eye".
This is how we live.
---
It was rain for the whole day of forecast but the weather was nice and sunny. So sharp contrast with what I saw. Actually, everything was absolutely contrasting.
I didn't photograph everything. Although these streets and houses have already been shown many times by various media around the world, I always had a feeling of inadequacy of a person with a camera here. Yes, I'm not a professional photographer, that's probably why...
This was a block of townhouses built recently.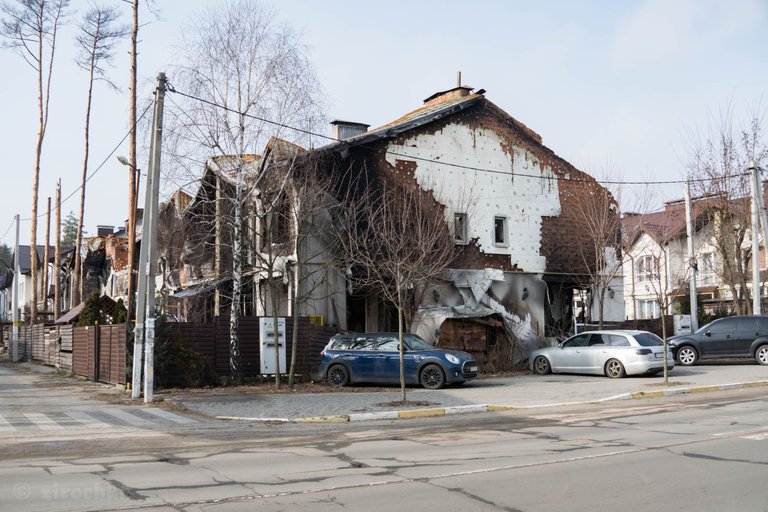 The first thing that struck me were the children. Many parents with children in baby strollers. They walk passing burnt and destroyed houses. Would these little kids remember what they saw in their early childhood? Hopefully not.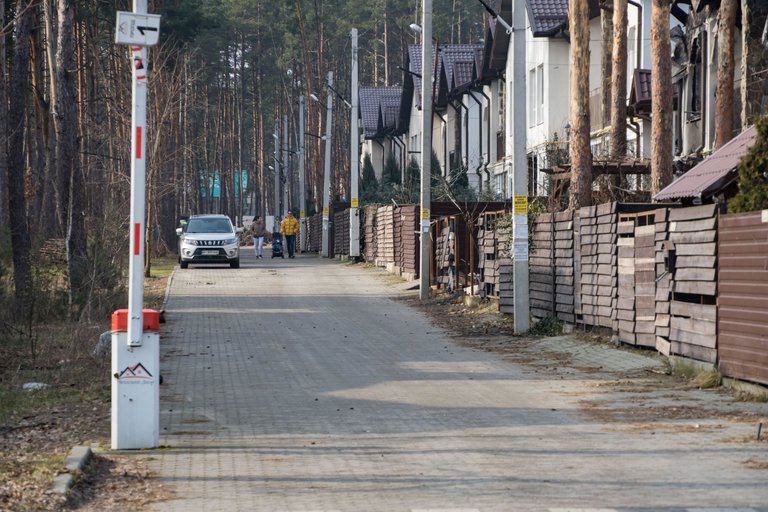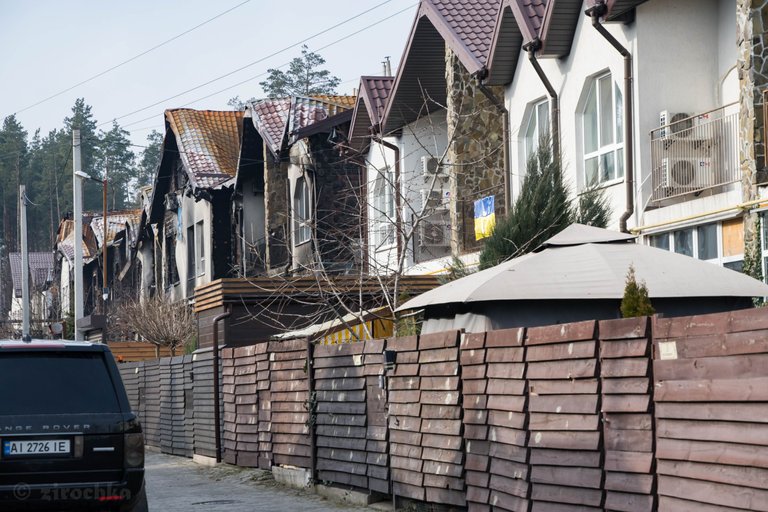 Many playgrounds all around. They are new and colorful, small castles or pirate's ships.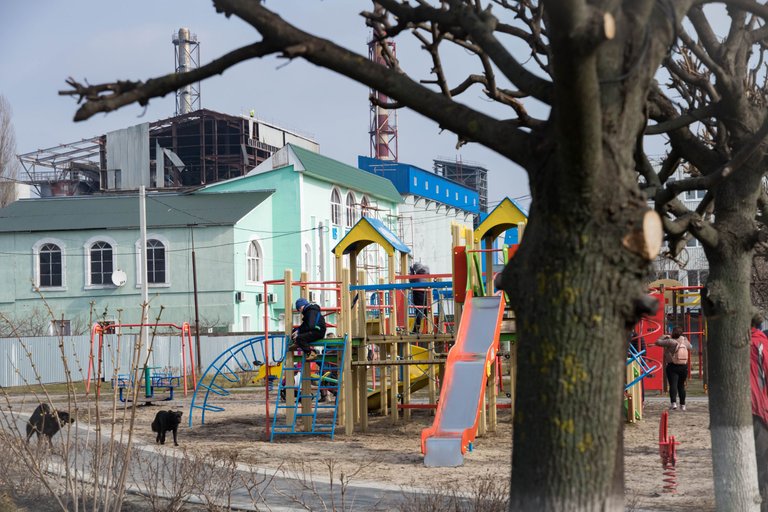 We dropped the car near a small street market. I didn't photograph it. People were selling veggies, fruits, home-made sausages.
Nearby stood a tent and a couple of people receiving humanitarian aid. It was a small package.
Description on the shield - Gostomel Glass Factory.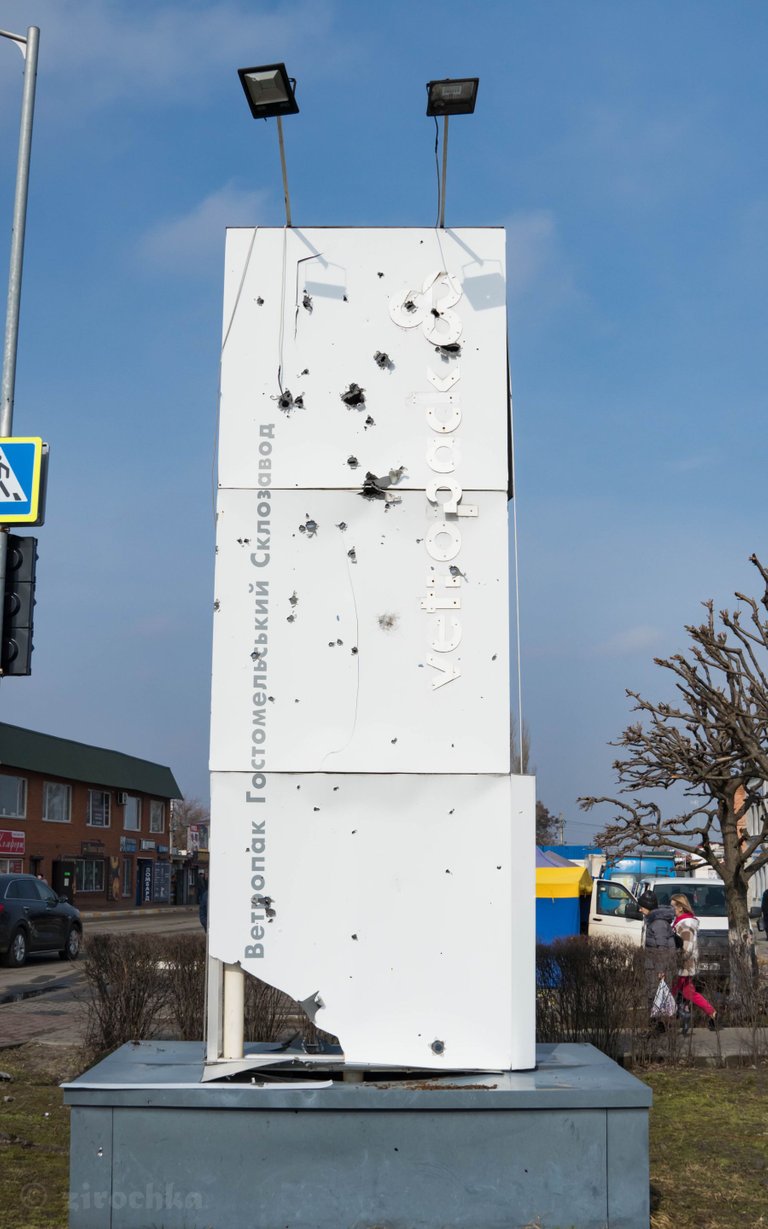 This is the first destroyed tank of AFU I saw with my own eyes. Its tower was torn off probably due to the explosion of ammo. It was simply installed back later.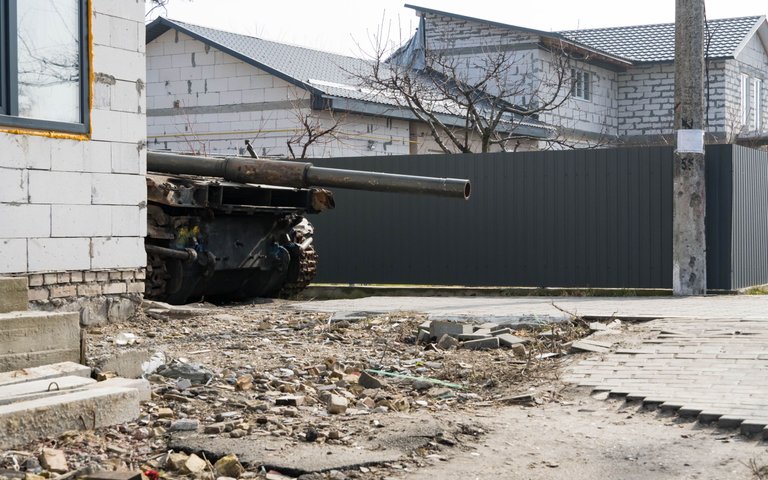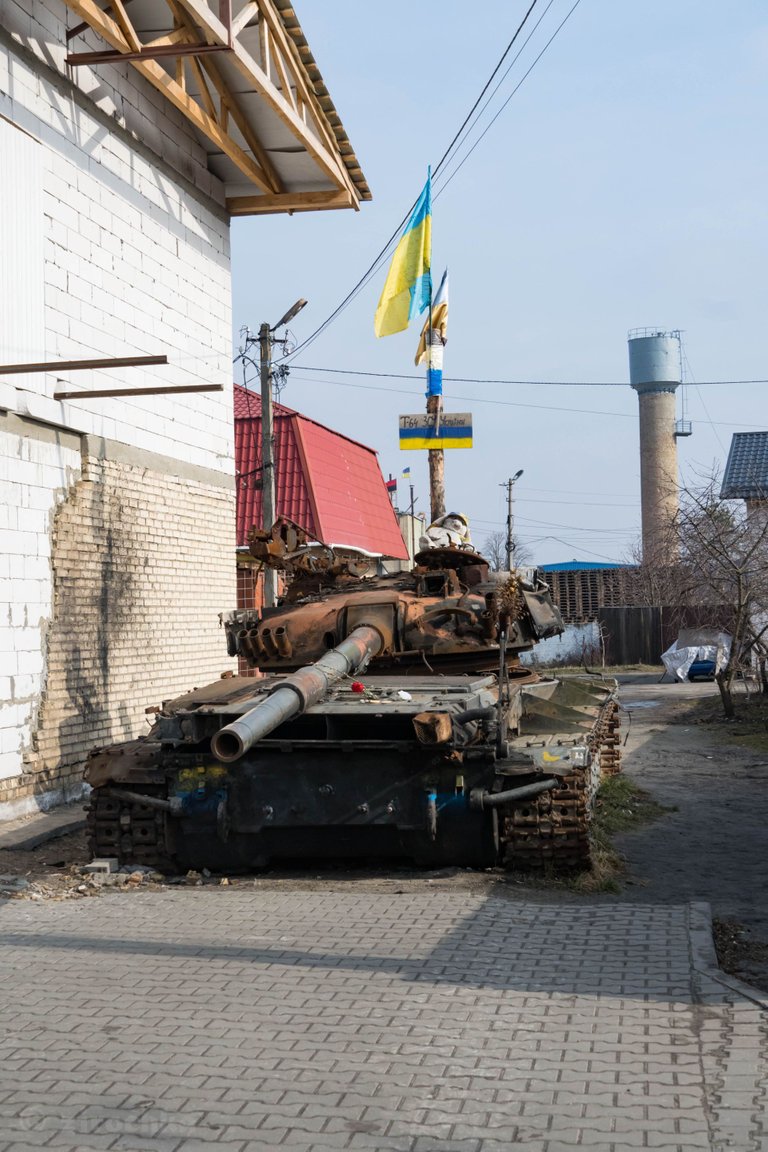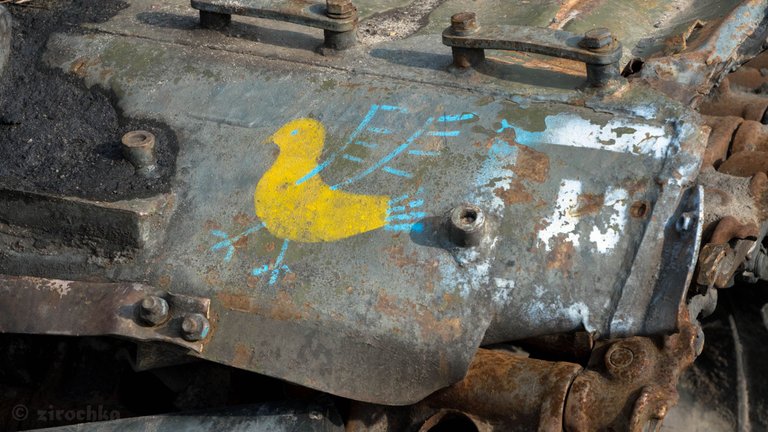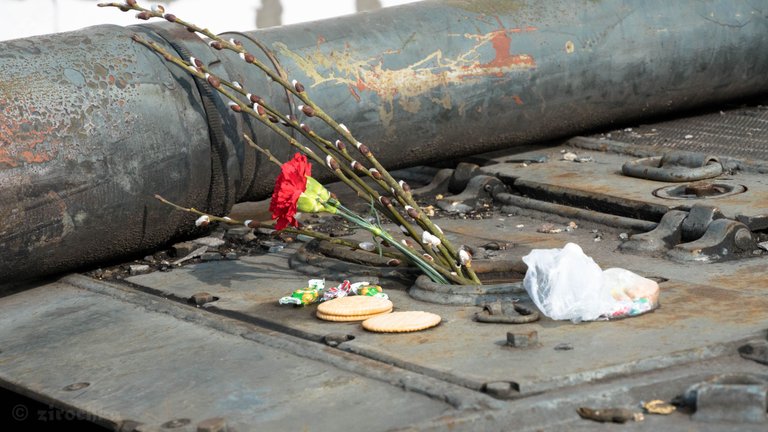 Look at the house on the right. Seems that a part of the wall is all that left after the explosion. Everything else is recent restauration.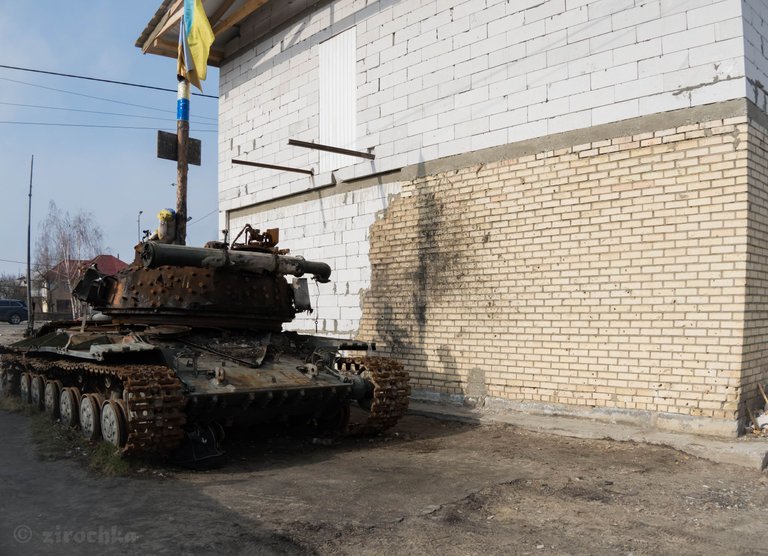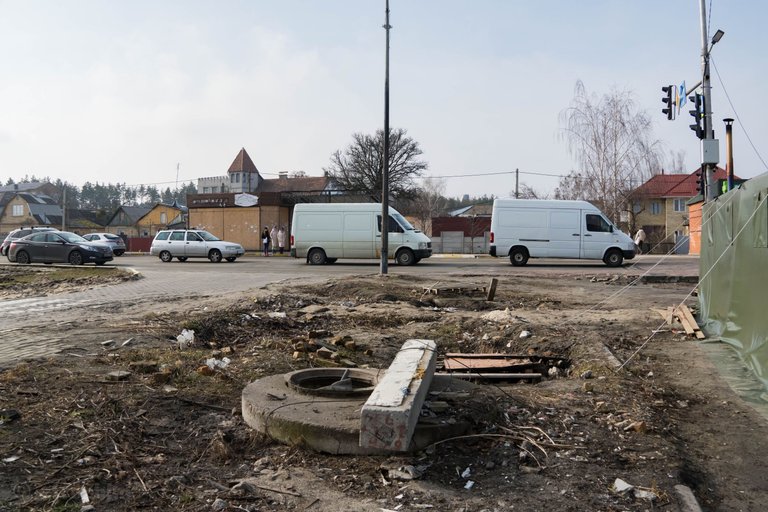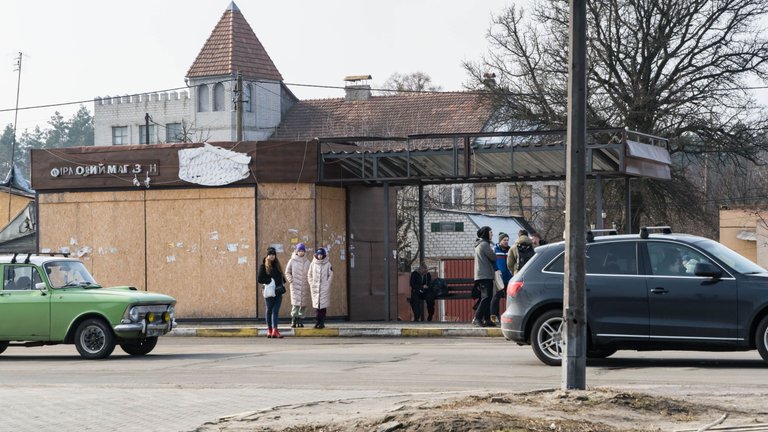 Banksy painted a woman in a bathrobe, with curlers in a gas mask and with a fire extinguisher on the wall of a ruined house.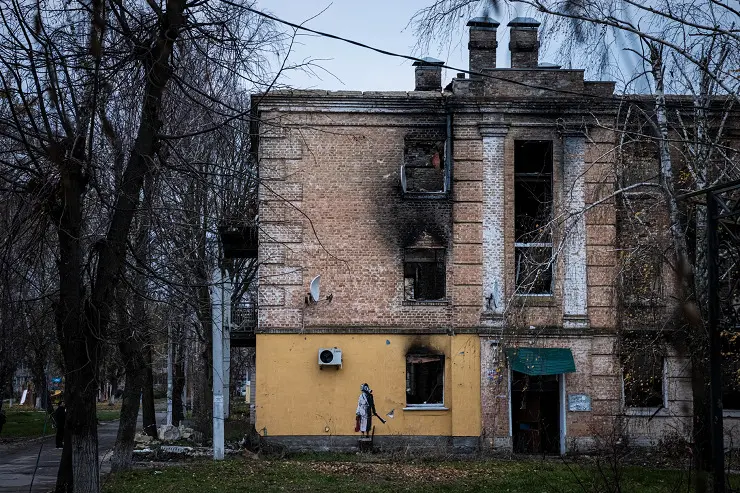 photo: Ed Ram, source - https://hmarochos.kiev.ua
This house is literally next to Gostomel Airport (Antonov Airport). On the day of the invasion, the landing begun from Russian helicopters.
Okay. Shortly after the news about Banksy's graffiti spread all over the media, an attempt was made to steal it. There were 8 thieves, they are young well-off people. The police detained them. But I was never able to find out what happened to the graffiti.
That's why I've posted a pre-hijacking photo here for you to see. It's cool.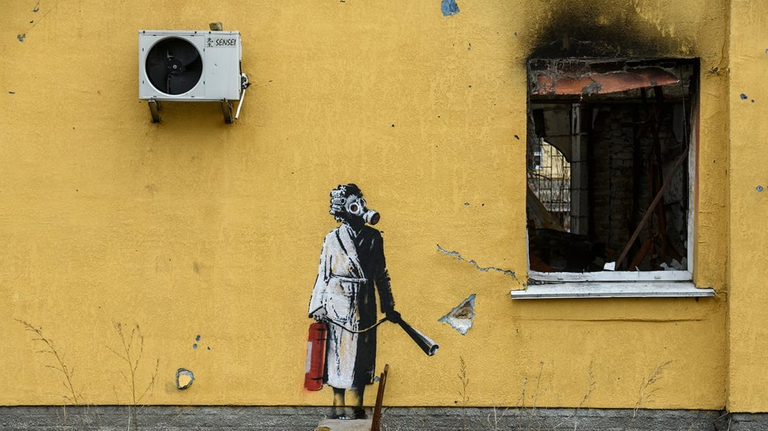 photo: The Art Newspaper, source https://suspilne.media/
And this is my photo of how the building looks now. During the pre-trial investigation, an art examination was conducted, according to the results of which the value of the painting by the British artist was determined - more than 9 million UAH (~ $245,000).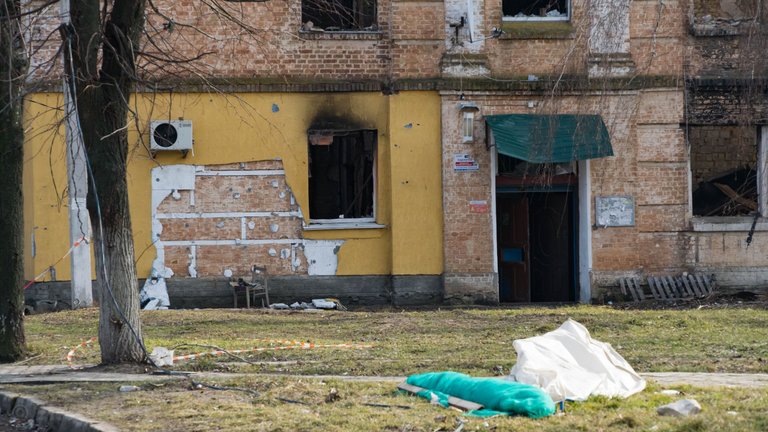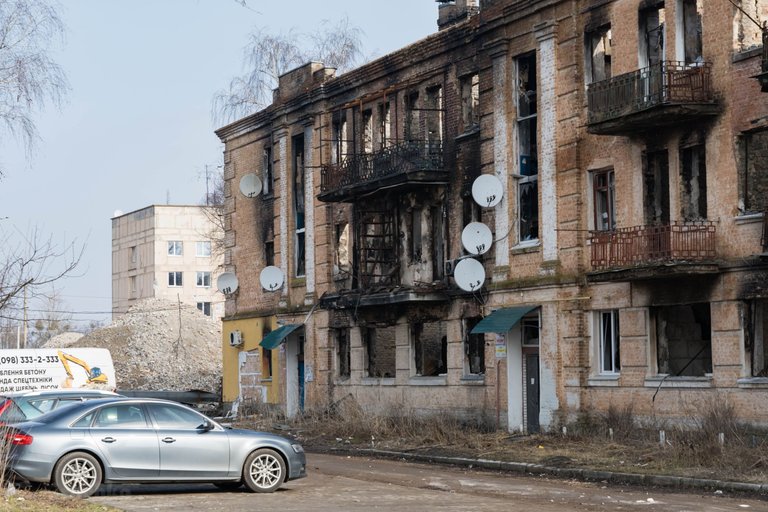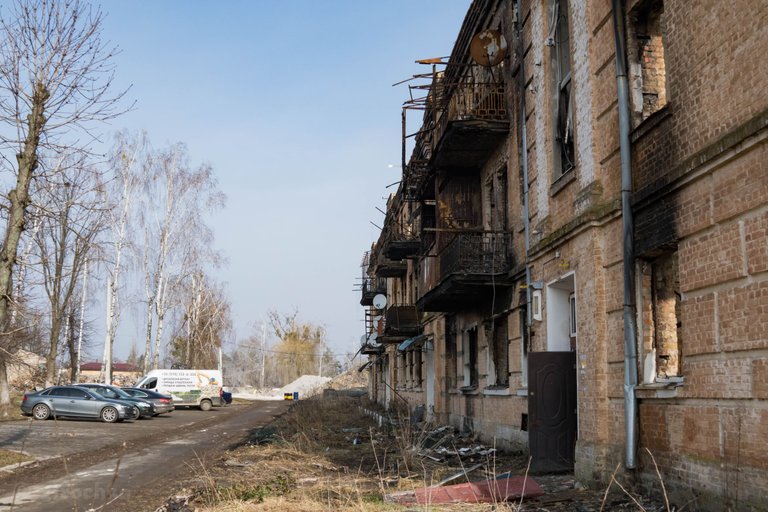 The building has no roof, the ceilings between the floors inside are also destroyed. I think it was left only because of Banksy, or maybe until the end of the investigation. On both sides of it are heaps of several meters of bricks and pieces of concrete. This is all that is left of someone's home.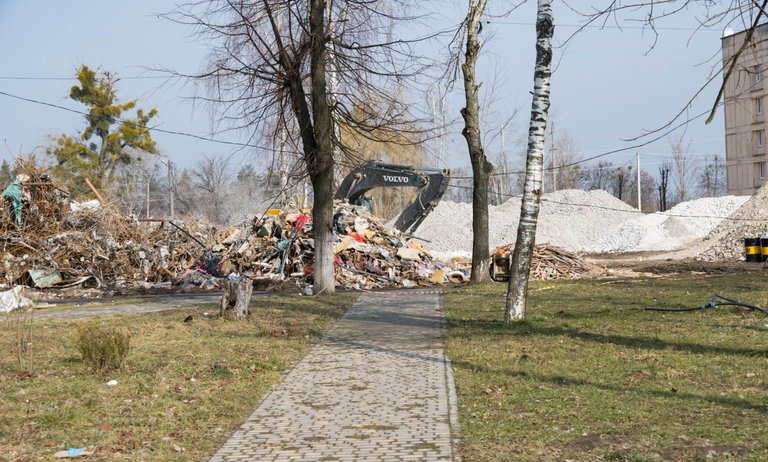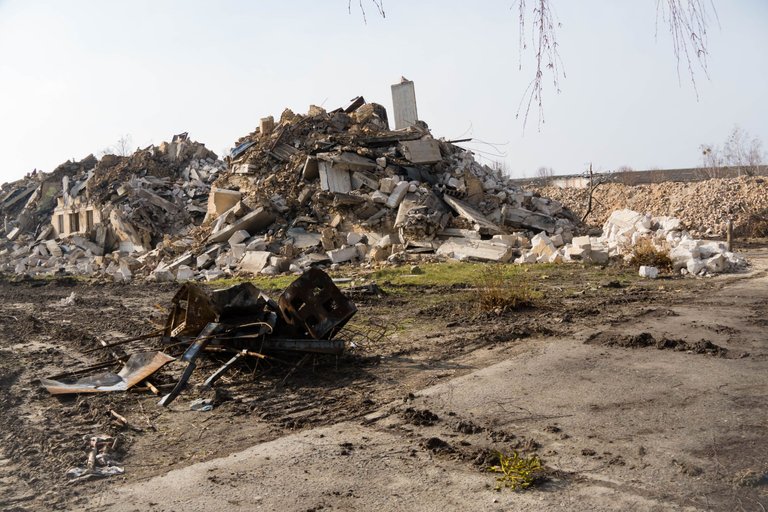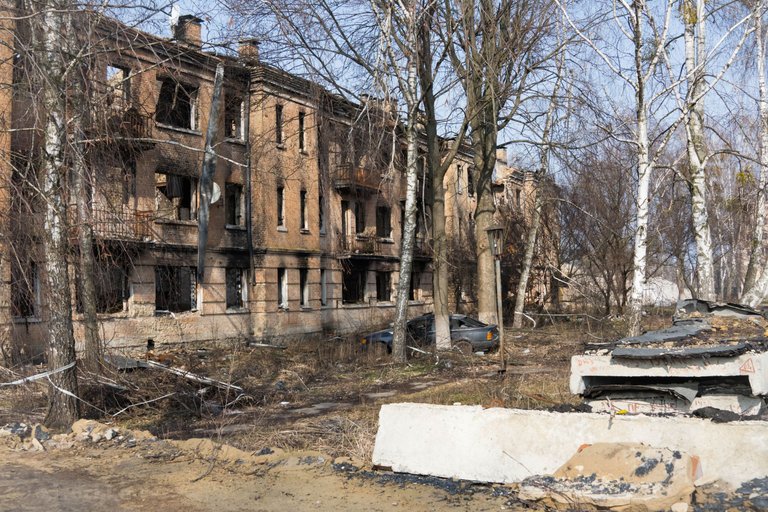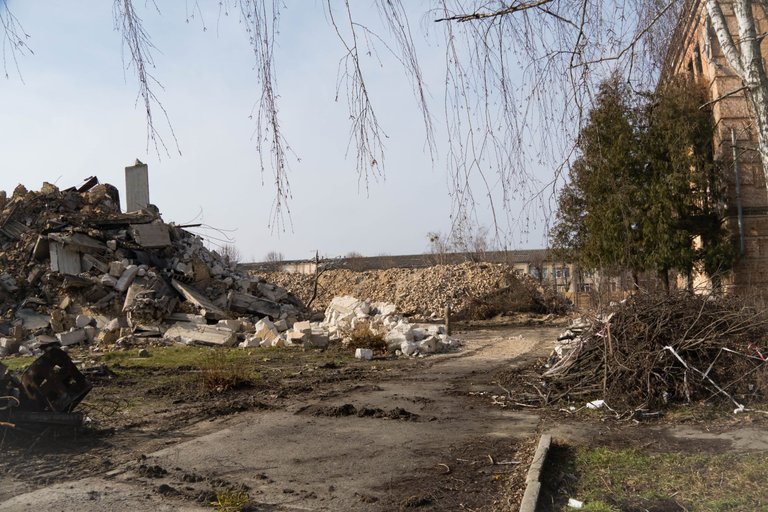 Where are the residents of these houses now? Will they ever return to their city? Or their country?..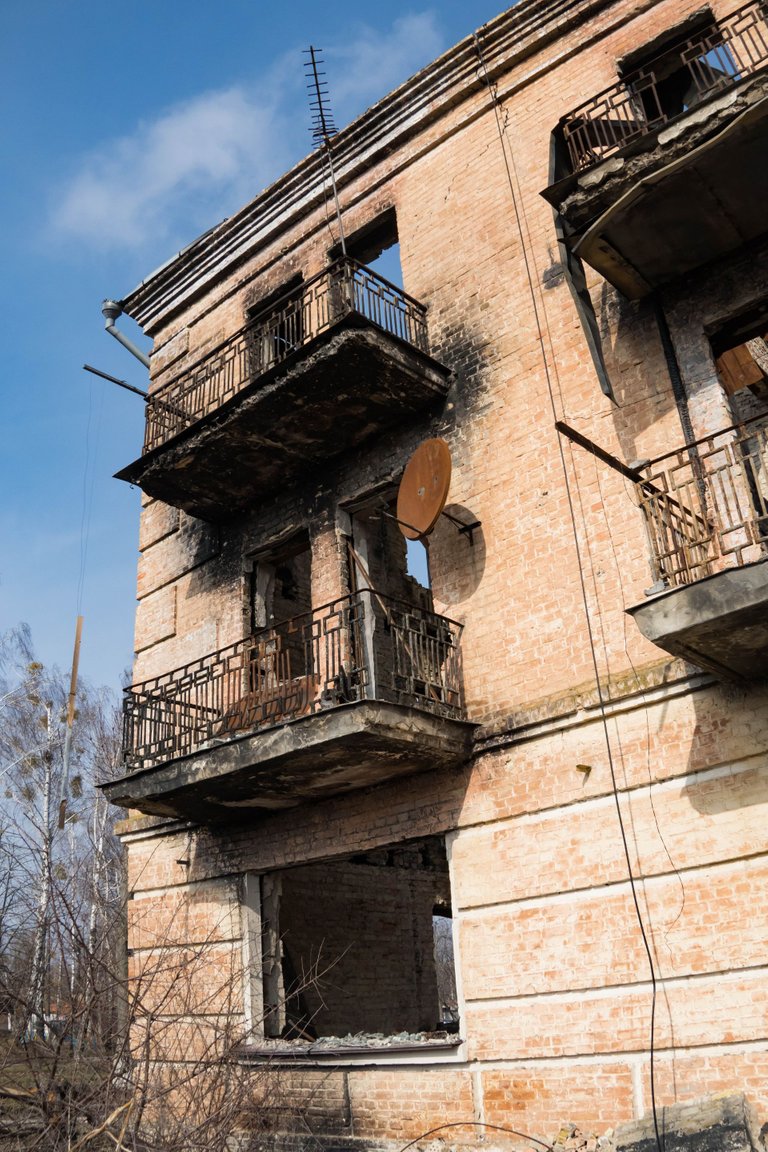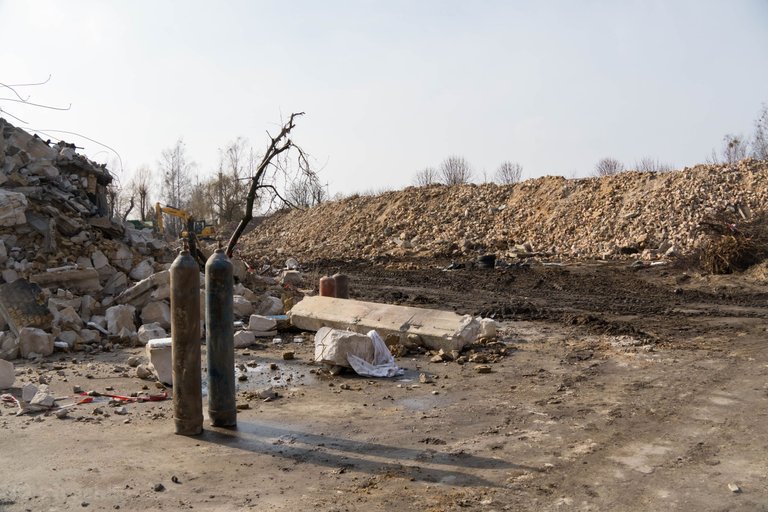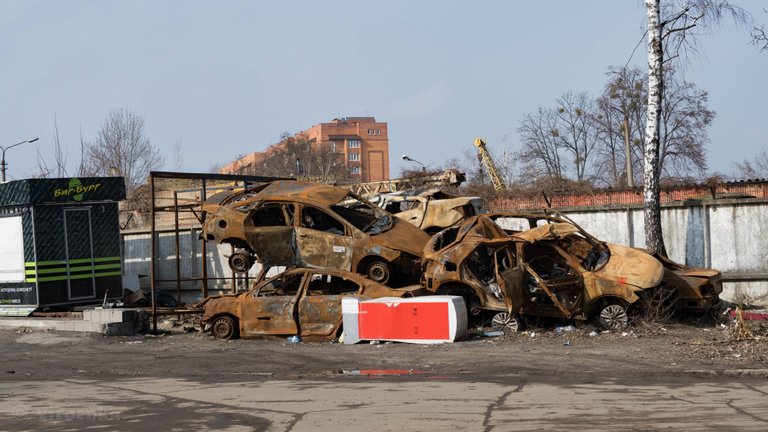 The territory of Antonov airport seems to be right behind this fence. We drove to the checkpoint and I tried my luck. I asked security if I can pass but they said I need a pass or permission. Well, no luck here.
Are other Banksy's graffiti still there?

The next destination is Borodyanka. The most striking of all towns I visited on that day. But about that in my next post.