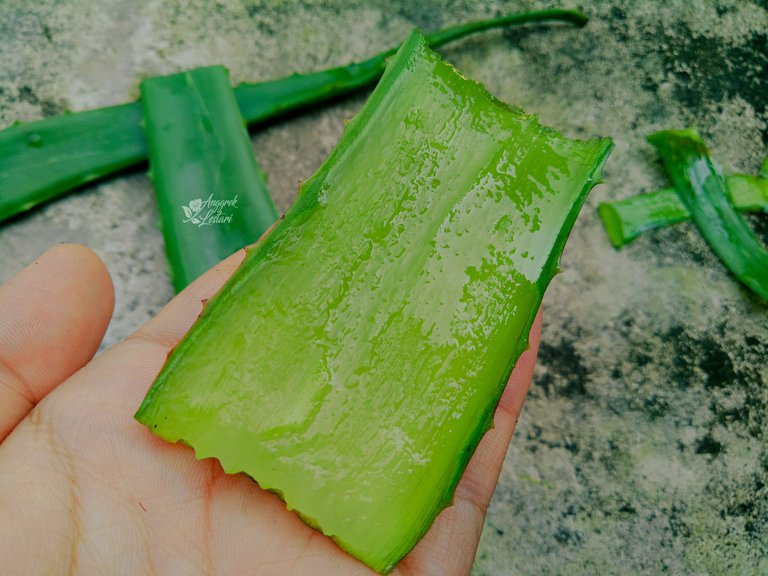 Composition of the content in Aloe Vera and the nature of the gel in the thick leaves that cool, it makes aloe vera is not only good for natural skincare but also good for hair care.
The popular and traditional use of Aloe Vera has a long history. In the Western Society, Aloe Vera is one of the commonly used herbal medicines and is also applied to the use of the cosmetics, pharmaceutical and food industries.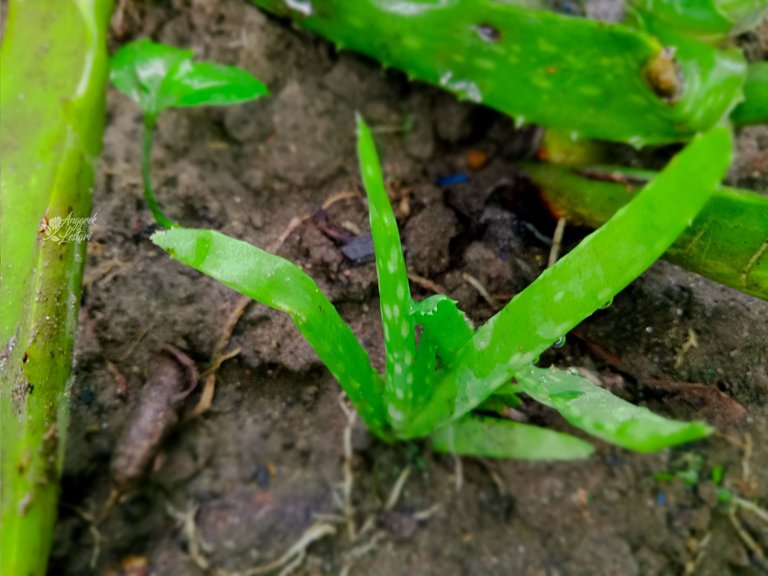 A Baby Aloe Vera
The Aloe Vera plant is promoted as a treatment for wounds, hair loss, genital ulcers, and hemorrhoids. In this post, I will only focus on Aloe Vera as a natural treatment for hair loss and for hair health.
Lifestyle patterns with high levels of work pressure, weather conditions at the residence and also the use of equipment for styling hair, it decreases the health of the scalp which eventually leads to dandruff and damage accompanied by hair loss.
Traditional treatments for scalp and hair beauty are now often forgotten by the community because they are considered to have lost practical function. In fact, traditional treatments with plants that can be planted in their own gardens can be a solution that saves money and is claimed to be a more effective treatment compared to modern factory-made products that are priced high.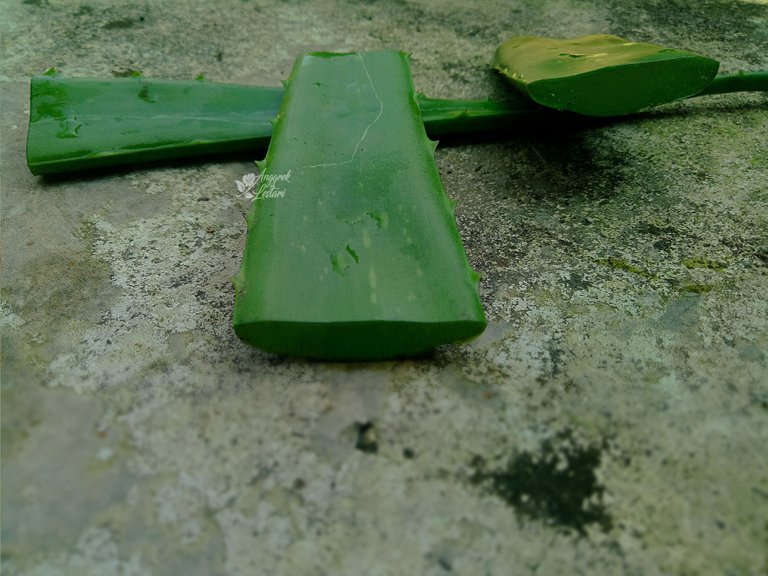 Aloe Vera As A Natural Treatment for Shinier, Softer, and Stronger Hair
Aloe Vera is believed to have originated in Sudan, which was later introduced in the Mediterranean region and most other warm regions.
Parts of thick leaves that have mucus have long been known to be used as a natural treatment to experience problems that occur in the scalp and hair area.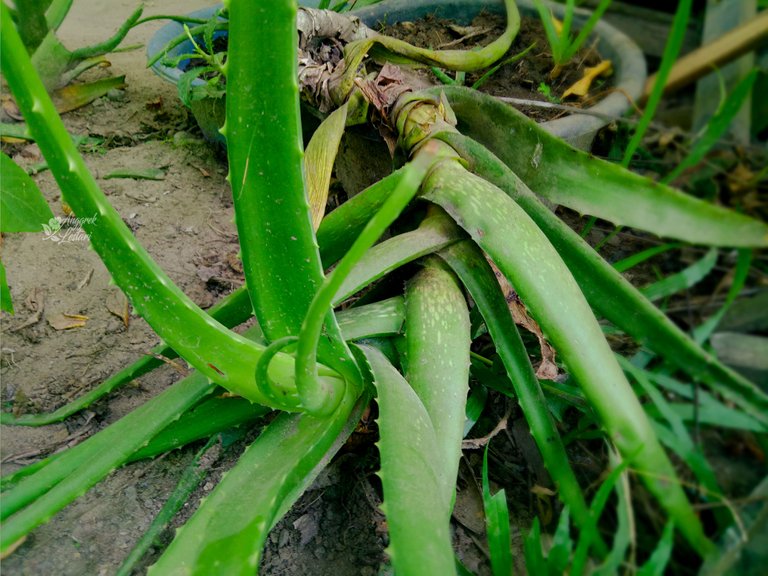 My family has traditionally used Aloe Vera to treat hair loss and accelerate hair growth. I have experienced the benefits myself as an active user who treats the hair with gel from Aloe Vera.
According to WHO in 1999, Aloe Vera is considered the most biologically active Aloe species.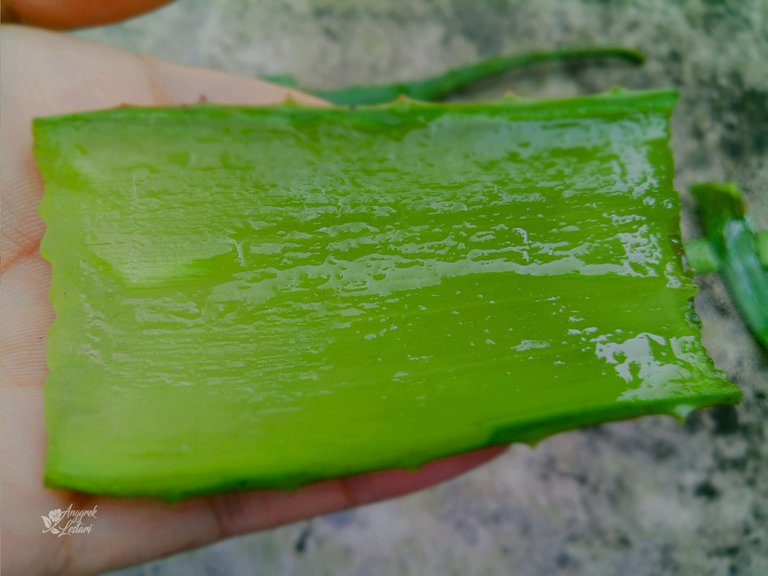 Aloe Vera is considered the most suitable for traditional hair care compared to other medicinal plants. That's because Aloe Vera contains many benefits at once for hair as follows:
The content of vitamins A, C and E on Aloe Vera has a contribution to cell turnover which promotes the growth of healthy hair cells so as to strengthen and repair damage to strands of hair and make hair shiny.
The content of vitamin B-12 and folic acid in the gel on aloe vera is a trusted source for preventing hair loss again.
Gel on aloe vera can soothe itchy scalp and cleanse oil on the hair without injuring strands of hair, so the hair is maintained its softness and health.
Aloe vera also has the benefit of increasing blood circulation to the scalp so that it can reduce or slow down hair damage and loss.
There are so many benefits to using Aloe Vera, that's why you can't just leave Aloe Vera plant without you using it.
How to use Aloe Vera on the hair is very practical without the addition of any material and without additional equipment.
If you have trouble finding aloe vera plants in your area, try to search in traditional and modern markets. I often find large size aloe vera leaves sold in the modern market for the needs of the food and cosmetics industry.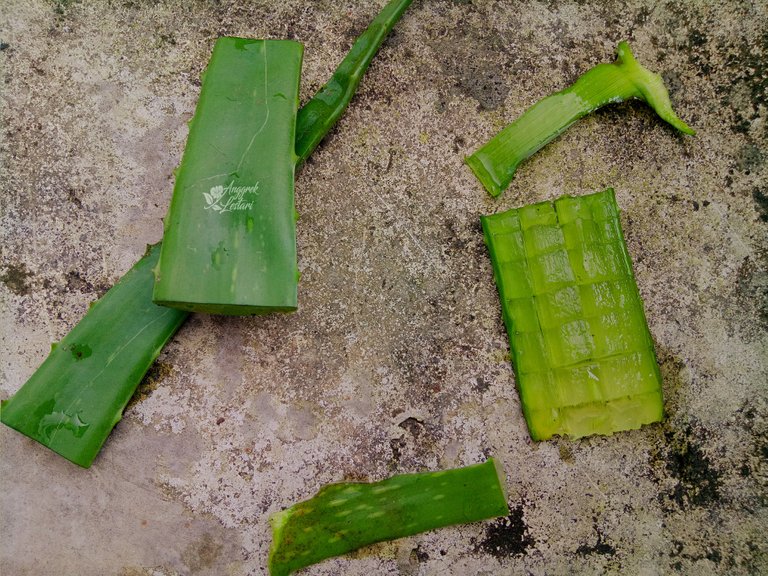 How to Use Aloe Vera as a Hair Treatment
Take aloe vera leaves according to your needs. Adjust how thick and long your hair is. Usually, I use one aloe vera leaf for my hair.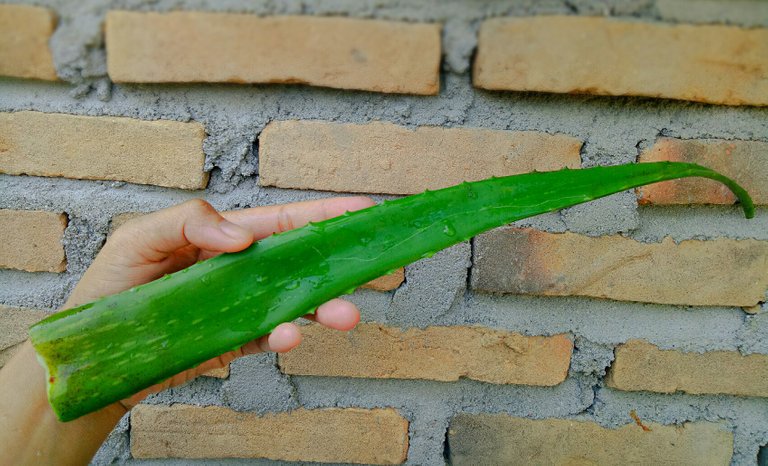 Peel the skin of the aloe vera only on one side. On the skin Aloe Vera contains mucus that can cause itching, that's why immediately wash your hands after peeling the skin, before doing further activities.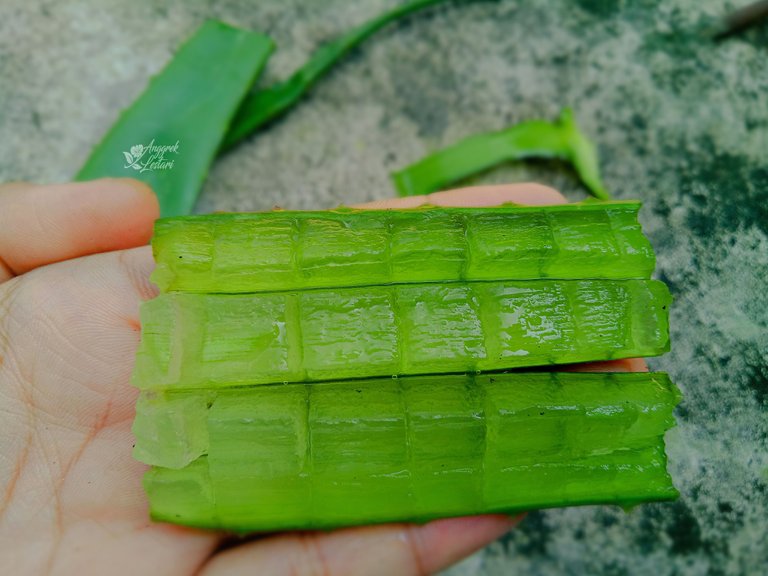 ---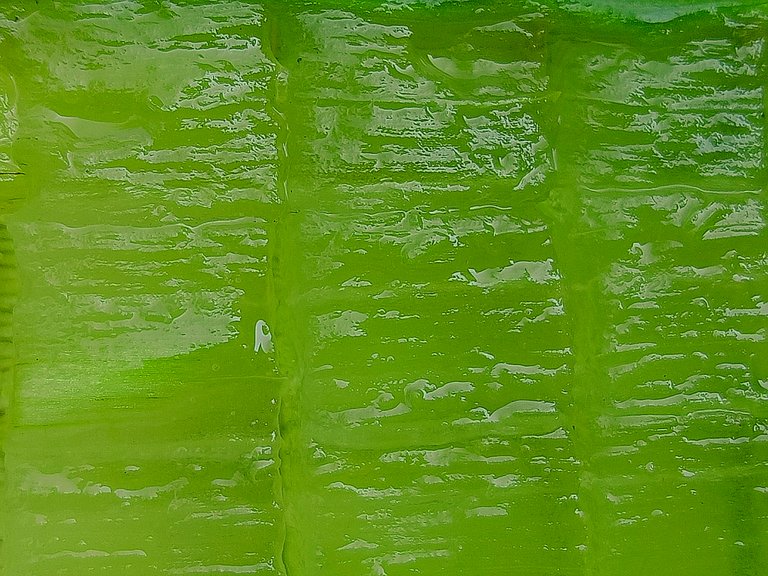 To make it easier to apply aloe vera gel on the scalp, sliced ​​aloe vera meat into small squares.
Then, rub the aloe vera meat into your scalp and hair area. Then, cover using a head towel for 30 minutes. Avoid areas of body mucus such as eyes and mouth because mucus on aloe vera has a bitter taste and in certain cases can cause allergies.
Wash your hands, the forehead, near the cheeks and ears affected by aloe vera mucus to avoid itching.
After 30 minutes, rinse hair like washing hair as usual. Perform small massages on the scalp when you rinse your hair.
For the record, it's a good idea to try dabbing on the wrist before applying aloe to your hair. That is to make sure you are free of aloe vera allergy.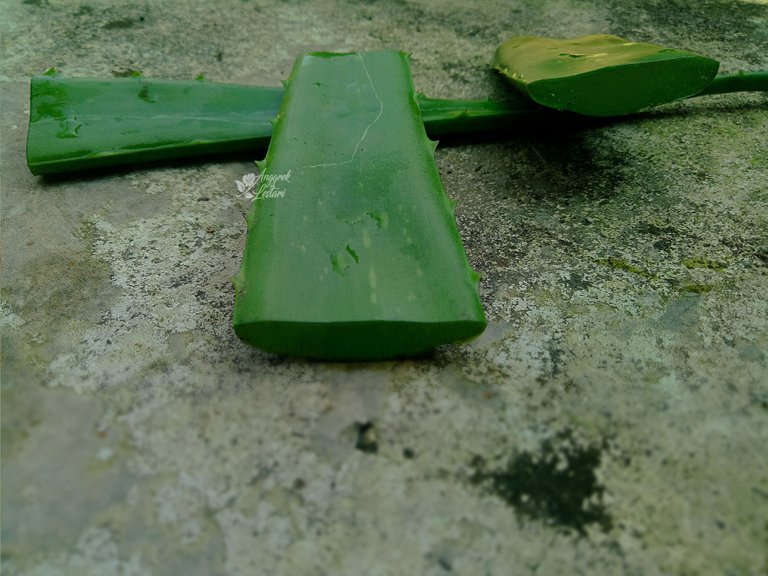 Use twice a week. Until now I still routinely use aloe vera for my hair care to make it brighter, softer, and most important is to maintain the strength of my hair and reduce hair loss.

How about you? Have you ever tried hair care with aloe vera? Or, do you have other plants for your natural hair care?
I will vote your feedback in the comments column using the NATRL tokens. And don't forget to use the frontend natural product method with tag #NaturalProducts for natural products content-related.
Thank you for visiting my blog! Keep looking at natural resources in the area where you live, and use them as best you can as part of caring for the habit of using natural materials and getting closer to nature.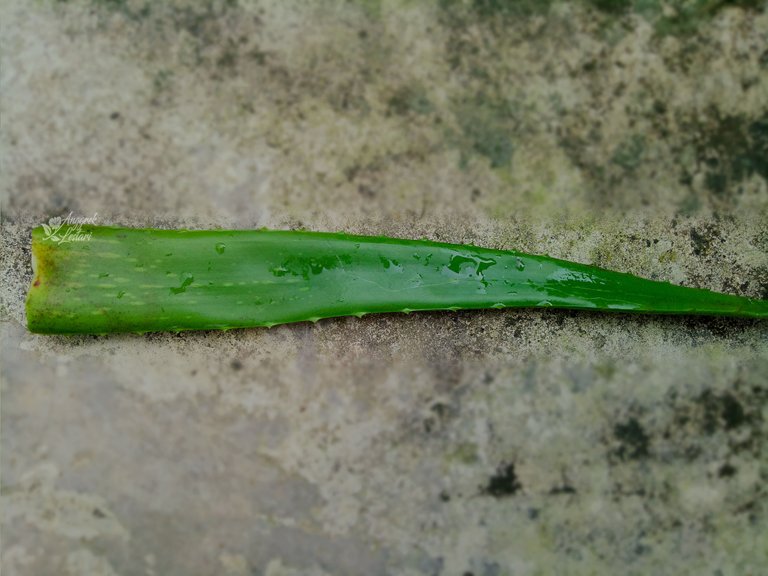 References:

Keep Steem On!
Regards,
A Content Writer and A Social Media Manager From Indonesia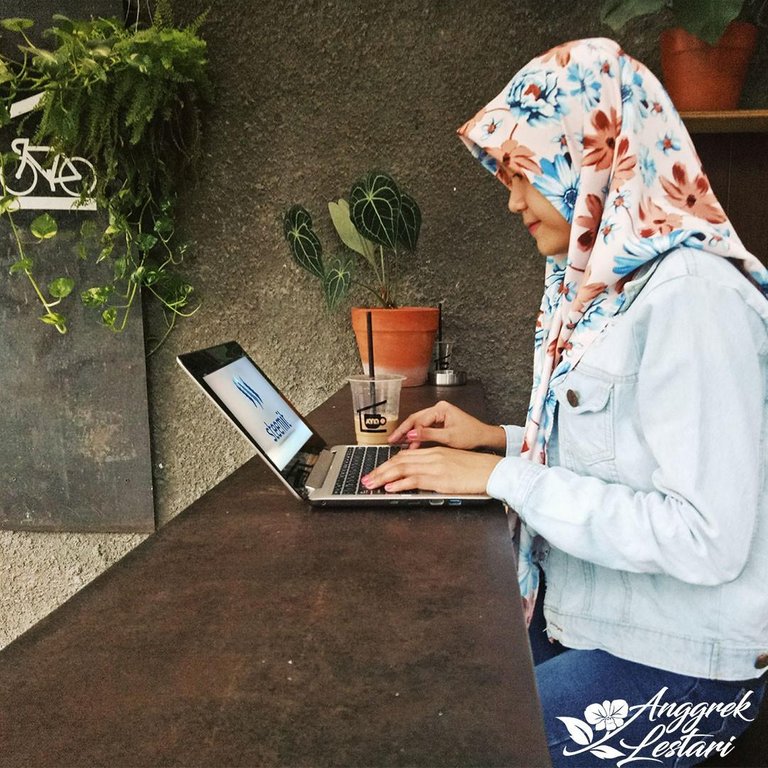 A Proud Member of @naturalmedicine Community


Creative Coin Crypto: Rewarding Creative User With @creativecoin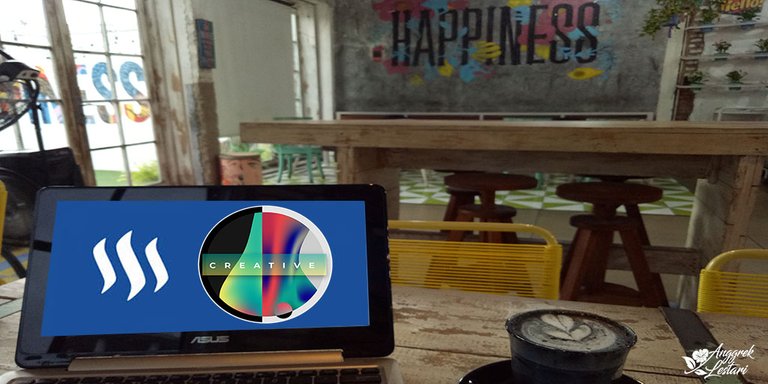 @NaturalProducts is a new community site focused on natural products and healthy lifestyle, and Rewarding Creative User With NATRL tokens