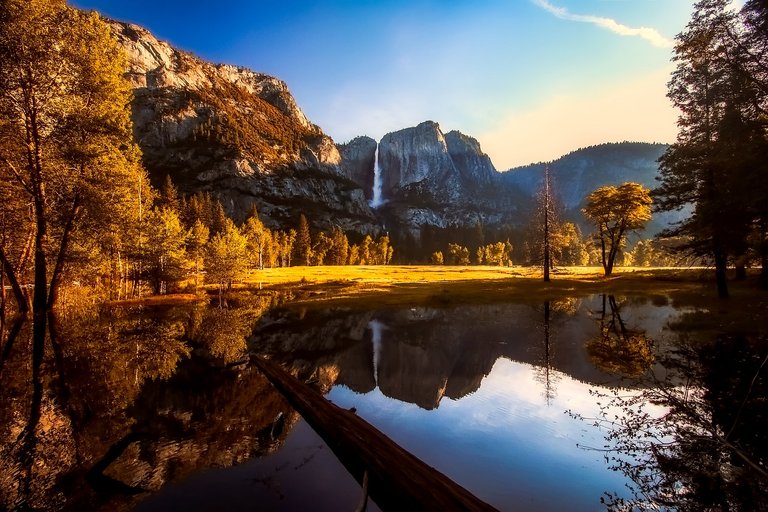 This is Part 2 of a 2-part post. Please read Part I first, which you will find in my blog.
John Muir was not just an outdoorsman; he was deeply religious. His father was a minister who made him memorize the Bible in his youth. In Yosemite and the Sierra Nevada Mountains, he believed that he was closest to the glory of God's creation. The theme of Muir wanting to know the rocks, trees, waters, and animals more intimately continued in his adventurous pursuits.
In the previous post, I mentioned The National Parks: America's Best Idea, the documentary film by Ken Burns. I have been watching it recently, and it was the first episode of that film which gave me more insight into Muir's additional legacy as an adventure sportsman. Part I of this post mentioned one of these pursuits, the time when Muir climbed out onto a ledge thousands of feet above the valley floor to wedge himself behind Yosemite Falls, so that he could feel the water and know how it felt when it plunged 2,425 feet over the edge.
Filmmaker Ken Burns references another wild instance in The National Parks film. On that occasion, as Muir hiked through the mountains, he came across a bear. He wanted to see how it ran, maybe even to feel how it felt in running, and so he charged it. He described the encounter like this:
I watched his gestures and tried to make the most of my opportunity to learn what I could about him, fearing that he would catch sight of me and run away. For I had been told that this sort of bear always ran away from his bad brother man, never showing fight unless wounded or in defense of young. He made a telling picture in the sunny forest garden. How well he played his part, harmonizing in bulk and color and shaggy hair with the trunks of trees and lush vegetation, as natural a feature as any other in the landscape.
After examining at leisure, noting the sharp muzzle thrust inquiringly forward, the long shaggy hair on his broad chest, the stiff erect ears nearly buried in hair, and the heavy way he moved his head, I thought I should like to see his gait in running, so I made a sudden rush at him, shouting and swinging my hat to frighten him, expecting him to make haste to get away. But to my dismay he did not run or show any sign of running. On the contrary, he stood his ground ready to defend himself, lowered his head, thrust it forward, and looked sharply and fiercely at me.
So that encounter led to a stare down in which neither of them were in a hurry to run away. I guess the situation could have been worse. It takes an adventurous spirit to run right at a bear in the wild.
---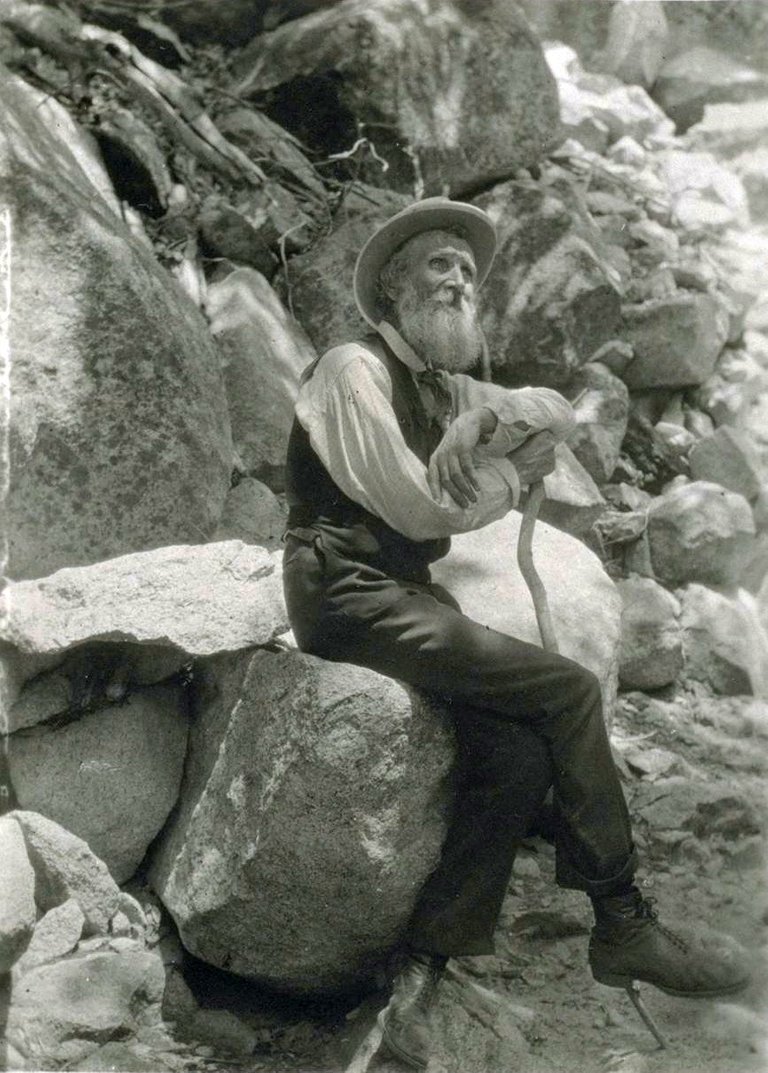 Perhaps Muir's most notable achievement in adventure sports was to seek out and ride an avalanche. Here is his own account, published in Atlantic Monthly in 1901:
Few mountaineers go far enough, during the snowy months, to see many avalanches, and fewer still know the thrilling exhilaration of riding on them. In all my wild mountaineering I have enjoyed only one avalanche ride; and the start was so sudden, and the end came so soon, I thought but little of the danger that goes with this sort of travel, though one thinks fast at such times. One calm, bright morning in Yosemite, after a hearty storm had given three or four feet of fresh snow to the mountains, being eager to see as many avalanches as possible, and gain wide views of the peaks and forests arrayed in their new robes, before the sunshine had time to change or rearrange them, I set out early to climb by a side cañon to the top of a commanding ridge a little over three thousand feet above the valley.
On account of the looseness of the snow that blocked the cañon I knew the climb would be trying, and estimated it might require three or four hours. But it proved far more difficult than I had foreseen. Most of the way I sank waist-deep, in some places almost out of sight; and after spending the day to within half an hour of sundown in this loose, baffling snow work, I was still several hundred feet below the summit. Then my hopes were reduced to getting up in time for the sunset, and a quick, sparkling home-going beneath the stars.
But I was not to get top views of any sort that day; for deep trampling near the cañon head; where the snow was strained, started an avalanche, and I was swished back down to the foot of the cañon as if by enchantment. The plodding, wallowing ascent of about a mile had taken all day, the undoing descent perhaps a minute. When the snow suddenly gave way, I instinctively threw myself on my back and spread my arms, to try to keep from sinking. Fortunately, though the grade of the cañon was steep, it was not interrupted by step levels or precipices big enough to cause outbounding or free plunging. On no part of the rush was I buried. I was only moderately imbedded on the surface or a little below it, and covered with a hissing back-streaming veil of dusty snow particles; and as the whole mass beneath or about me joined in the flight I felt no friction, though tossed here and there, and lurched from side to side. And when the torrent swedged and came to rest, I found myself on the top of the crumpled pile, without a single bruise or scar. Hawthorne says that stream has spiritualized travel, notwithstanding the smoke, friction, smells, and clatter of boat and rail riding. This flight in a milky way of snow flowers was the most spiritual of all my travels; and, after many years, the mere thought of it is still an exhilaration.
Incredible.
References:
https://www.outsideonline.com/2398205/youngest-person-to-climb-nose-yosemite-selah-schneiter
https://en.wikipedia.org/wiki/Free_Solo
https://en.wikipedia.org/wiki/The_National_Parks:_America%27s_Best_Idea
https://en.wikipedia.org/wiki/John_Muir
http://www2.oberlin.edu/physics/dstyer/Muir/SnowAvalancheRide.html
https://www.sfgate.com/entertainment/article/Yosemite-Falls-in-John-Muir-s-words-2352707.php
https://biodesignoutforawalk.com/2014/02/thank-god-for-yosemite-bears-john-muir/