Sock Madness (= Socken Wahnsinn)
Was ist denn jetzt schon wieder mit Socken, werdet ihr fragen. Letzte Woche wurde doch groß ein Cowl als MKAL angekündigt. Stimmt. Mit dem hab ich auch angefangen (mehr dazu weiter unten). Aber ich hatte (mal wieder) die Sock Madness vergessen. Jedenfalls beinahe: Anmeldung lief bis 28. Februar, ich wurde zwei Tage davor dran erinnert und habe mich am 27. angemeldet.
What's the matter with socks again, you'll ask. Last week she announced a cowl as a MKAL. That's right and I started with that one (more on that below). But I had almost forgotten about the Sock Madness (again). Anyway, I almost did: Registration ran until February 28th, I was reminded two days before and registered on February 27th.
Was das ist? Nun, Steemians in den USA und Basketball-Interessierte werden mit dem Begriff "March Madness" vertraut sein. Dies bezeichnet die Meisterschaft der Universitätsmannschaften im Basketball. Diese starten im März: Zuerst werden Begegnungen zwischen den Mannschaften ausgelost und dann im K.-o.-System gespielt. Daran angelehnt entwickelte sich die Sock Madness, die in diesem Jahr zum vierzehnten Mal stattfindet.
What this "sock madness" is? Well, Steemians in the US and basketball enthusiasts will be familiar with the term "March Madness". It refers to the championship of university teams in basketball. These start in March: First, matches between the teams are drawn and then played in a knockout system. The Sock Madness, which takes place for the fourteenth time this year, is based on this phenomenon and its system.
Wer sich angemeldet hat (im letzten Jahr waren es über 1500 Anmeldungen!), der bekommt am 1. März eine Anleitung zugeschickt (alle Anleitungen sind zuerst streng geheim, auf Fotos darf kein Teil der Anleitung zu sehen sein!). Dies ist die Qualifizierungsrunde: bis 14. März muss man ein Paar Socken nach dieser Anleitung fertig gestrickt haben. Dabei gibt es strenge Auflagen in Bezug auf Maschenzahl etc. - es sollen ja faire Wettbewerbsbedingungen herrschen! So kann es passieren (und wird es bei mir wohl auch), dass das gestrickte Paar niemandem passt an den man sonst so Socken verschenkt.
Those who have registered (last year there were more than 1500 registrations!) receive an instruction manual on March 1st (all instructions are initially top secret, no part of the instructions may be visible on photos!). This is the qualifying round: by March 14th you must have finished knitting a pair of socks according to these instructions. There are strict requirements regarding the number of stitches etc. - there should be fair competition conditions! So it can happen (and it probably will happen to me) that the knitted pair doesn't fit anybody you would normally give away socks to.
Wenn man die Quali übersteht, dann wird man in Gruppen eingeteilt und es kommt die nächste Anleitung. Wieder wird gestrickt, streng nach Vorgaben, und wer zuletzt fertig ist, der fliegt raus. So geht es im K.-O.-Verfahren über sieben Runden, wobei die Anleitungen immer kniffliger werden.
If you get through the qualifiers you will be divided into groups and the next pattern will follow. Again you knit, strictly according to the instructions, and whoever finishes last is eliminated. This is the knockout procedure over seven rounds, with the patterns becoming more and more tricky.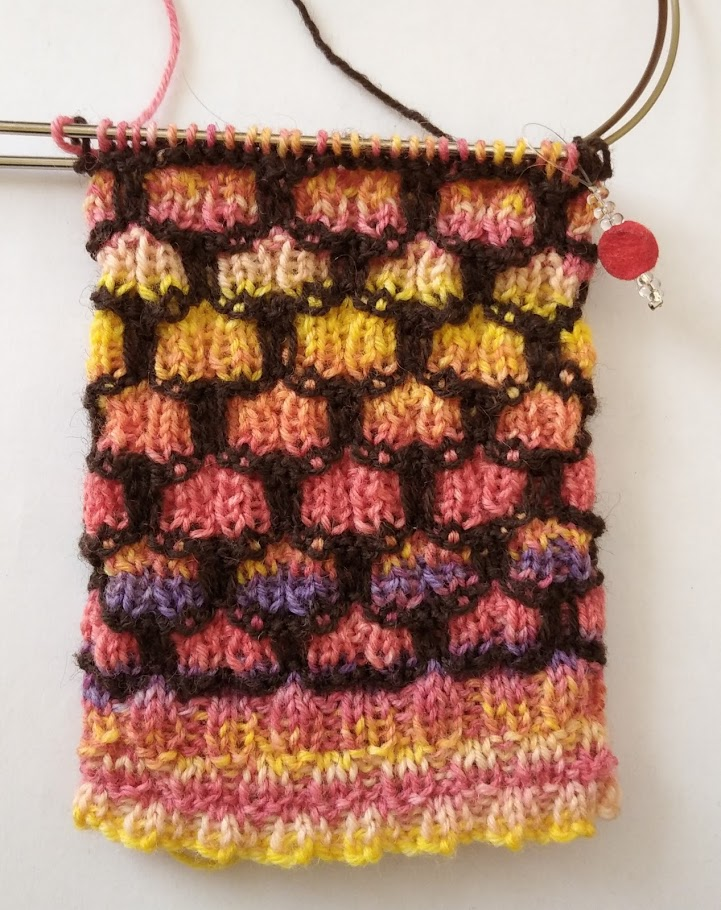 Genau, das ist der reine Wahnsinn. Also genau das richtige für mich! Und soweit bin ich mit dem ersten Socken (es sieht aus wie Hebemaschen, sind es auch irgendwie). Nicht so kompliziert wie es aussieht, aber etwas kniffelig. Wenn keine Hindernisse kommen, sollte ich das Paar in zwei Wochen schaffen. Die erste Teilnehmerin war übrigens gestern Abend schon fertig und heute trudeln nach und nach weitere ins Ziel. Einfach ignorieren, sag ich mir ;)
Exactly, it's pure madness. Just what I need! And the picture above shows how far I am with the first sock (it looks like a slip stitches, but it's a bit differently made). Not as complicated as it looks, but a bit tricky. If there are no obstacles, I should be able to do the pair in two weeks. By the way, the first competitor was already finished last night and today more finished pair of socks are coming in one by one. Just ignore it, I tell myself ;)
Climbing Mountains MKAL
Tja, vielleicht hätte ich das "Vorbereitungsstück" machen sollen. Pah, wer braucht das, hatte ich gesagt - sind ja nur Hebemaschen und Zöpfe in dem Muster angekündigt, das kann ich. Klar, so ist es auch. Was ich aber nicht beachtet hatte: Das Musterteil vorher war kraus gestrickt. Und so ist dann auch die Anleitung. Und wenn ich etwas nicht mag... genau: Kraus stricken. Wird nicht gleichmäßig bei mir und ich mag auch das daraus entstandene Gewebe nicht.
Well, maybe I should have done the prep piece. Pah, who needs that, I said - only slip stitches and cables will be in the pattern, I can do that. Sure, that's true. But what I hadn't noticed: The preparation swatch was done in garter stitch. And so is the slip stitch pattern for the cowl. And if I dislike something... exactly: garter stitch. I simply can't knit it evenly and I don't like the resulting fabric.
Ich hab trotzdem tapfer angefangen. Nach zehn Reihen war aber klar: Nö, sind blöd aus. Mag ich nicht. Also aufgeribbelt und neu angefangen mit links gestrickten Rückreihen. Da war mir aber nach einigen Reihen klar: Die Nadelstärke passt jetzt nicht mehr. Also geribbelt, zu einer Nadel Nr. 3 statt 3,5 gegriffen und erneut los. So richtig doll glücklich bin ich immer noch nicht, aber ich ziehe das jetzt zumindest bis zum Ende des ersten Teils durch. Das sind 70 Reihen zu je knapp 60 Maschen, Anleitung für den nächsten Teil kommt am Sonntagmittag. Die nächsten fünf Wochen werden eindeutig nach dem Motto "Wer braucht schon Schlaf" laufen...
I started knitting anyway. But after ten rows it was clear: No, it looks awful. I don't like it. So I unravelled it and started again with stockinette. But after a few rows it became obvious: The needle size doesn't fit anymore. So I unraveled again, took a 3 mm needle instead of 3.5 and started for the third time. I'm still not really happy, but I'm going to keep it up at least until the end of the first part. That's 70 rows of about 60 stitches each, instructions for the next part will be on Sunday noon. With the cowl and the Sock Madness, the next five weeks will clearly follow the motto "Who needs sleep anyway"...
---
---
5% der Einnahmen dieses Posts gehen automatisch an @needleworkmonday, unseren Gemeinschaftsaccount.
5% of this post's rewards automatically go to @needleworkmonday, our community account.