---
Heya splinter fella's wassup?
Hope everyone is stacking up their vouchers for the ongoing chaos legion pre-sale. I am doing the same and enjoying the whole process of pre-sale. Pre-sale has never been like that. It is a first-time splinterlands that gave a chance to an ordinary player to make more money. Yea if you think you can't buy enough packs then you can sell your vouchers and currently one voucher is being traded at 18$.
Anyways today I am going to talk about the new reward card Venari Seedsmith Venari Seedsmith is earth rare reward. The best ability of this card is it has scavenger ability. Venari Seedsmith is the first-ever ranged attack card with such ability. It makes it different from other ranged attackers. Also, it has poison ability. This card is too good to be useful in common and rare rules only.
Venari Seedsmith
Stats
---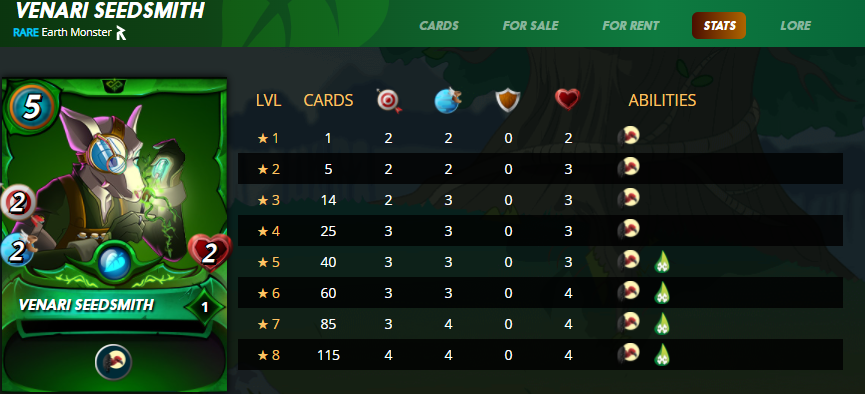 ---
---
Venari Seedsmith is currently being traded at 0.85$/BCX which is quite affordable if we look at the dec price. Well lately dec price has been falling but it is still beneficial to purchase cards with decs. I have stopped purchasing cards because my only concern at the moment is staking sps and for more sps, I need to hold my decs. Venari Seedsmith requires 115 BCX to max it up. At the first level, you get Scavenger ability and at level 5 it gives poison. I must say I guess earth splinter is the only element that has the most card with poison ability :P XD
Usecase
Venari Seedsmith is best in the ruleset where you are only allowed to use common and rare cards. It has max 4 health and speed is pretty good as well. Health doesn't matter too much since it has scavenger ability which ultimately leads its health to a good position. It has a pretty strong ranged attack. I mean 4 ranged attack at max level is very good in my opinion. Well if you ask me which card you should buy then I'd say go for Venari Seedsmith it would be a great addition to your Earth team.
All the best stay tuned for more cool info regarding cards and splinterlands. Happy splinterlanding see ya take care.

---

If you want to play splinterlands then SignUp Here
---