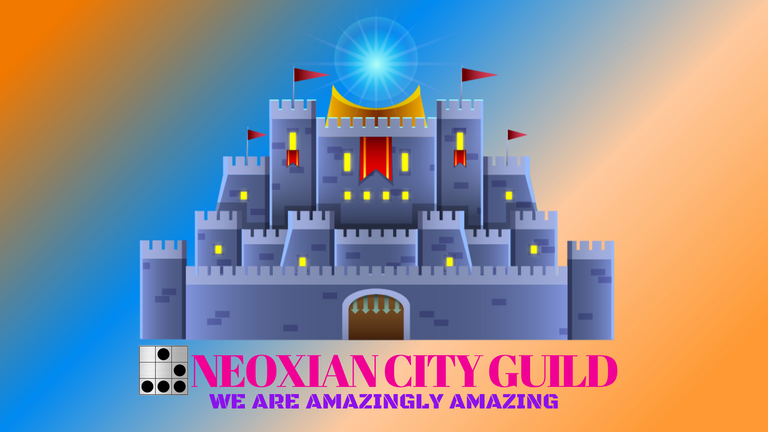 Hi fellow Splintertalkers ,
Everything going well on our Neoxian guild . We are moving towards to top 10 guild . We got some great and active player on our guild . Those players are well known splinterlands player and doing good on tournaments . But , some are less active due to busy on other stuff . Some of you already know that we have tribe named Neoxian City Tribe owned by @neoxian . We have very active Discord City Discord Channel , We do give special role to those who are active and contribute to Guild regularly . We access the guild contribution by their DEC contribution to guild hall . We don't have any strict rules or policy on our guild , if you contribute to guild we will appreciate your contribution by giving honor on city more details on this post . But, one thing we always take care is Quest Lodge , you need to contribute regularly on quest lodge . If you are inactive from long time period , you will be booted from the guild . But , yeah if you explain the reason of your inactivity we may consider to let you in . So how we check that who contributed how much and how we rewarded the top contributors ? Thanks to @reazuliqbal who helped me to collect those data from blockchain . We are rewarding our top 10 guild contributors and those who contributed at least 5000 DEC or more with in a season he/she will get Splinterlands Warrior role on city & Citizen Sharp role . if you are one top 10 contribution list then you are full filled the requirement , but there is 2 tier of reward .
Reward :
Tier 1 : All Splinterlands Warriors will get Citizen Plus Plus role .
Tier 2 : Splinterlands Warriors who contributed atleast 5000 DEC and game rating 2500+ before season reset , they will get CITIZEN SHARP role for next season .

Now let's check out our top Contributors list of last season
This is our last season DEC contributor's list . From position 2 to position 11 will be rewarded with Splinterlands warrior role and from position 2 to position 10 will be rewarded with Splinterlands warrior and Citizen Sharp role (because of 5000 or more DEC contribution ). Benefit of those roles ? Read this post >> NEOXIAN CITY ROLES & JOB DESCRIPTIONS . Congrats to ( @zaku , @bitcoinflood , @xawi , @planosdeunacasa , @aamirijaz , @road2nowhere , @ifeoluwa88 , @mango-juice , @akomoajong ) you guys got tier 2 reward . Also we want to welcome our 2 new guild member we got middle of the season @anouk.nox and @shoemanchu , we are happy to get you on our guild .

Guild Update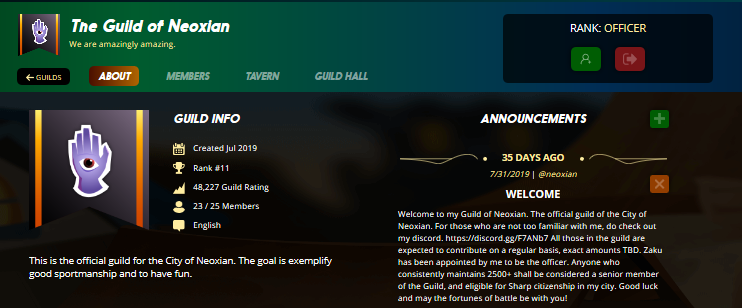 Let's talk about our guild update , So as you can see we are now at #11 position and our Guild Hall Building level up to #8 . Yeah that's recently we leveled up , so right now we have 25 seat on our guild . From those 25 seat 23 was take and we have 2 seat left on our guild . So we can accept 2 more player's into our guild. For now we are accepting active and 2500+ Rating player's into our guild , if you are active and have 2500+ rating then hit the Request to Join button. Also you can join our Discord channel.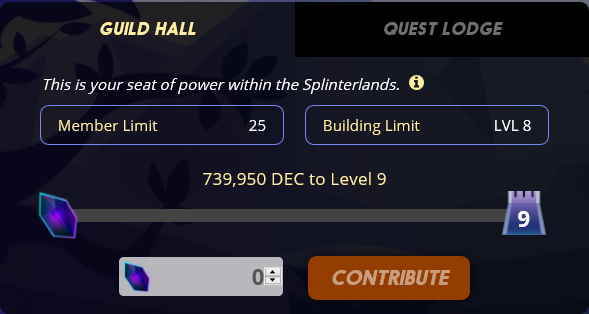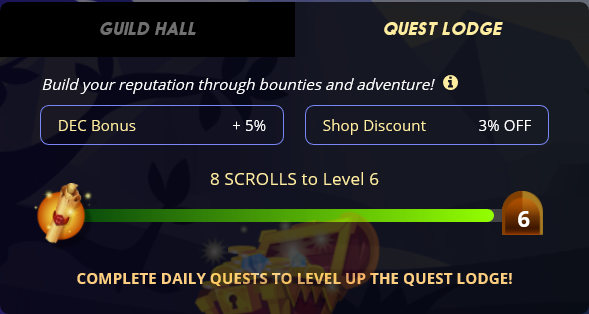 Our Quest Lodge almost close to level up into next level , LEVEL 6 . So don't you want to be part of this amazingly amazing active guild ?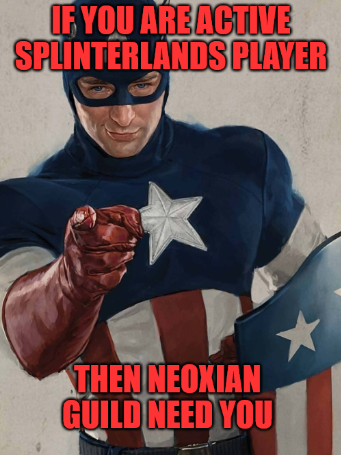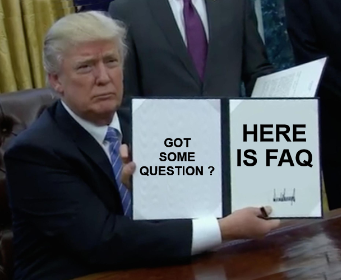 FAQ :
1. Who is the owner of guild ?
The owner of guild well know witness @neoxian . He is running bank on steem blockchain from long time . Also he owned Neoxian City Tribe . He supporting @steemmonsters from their start and holding lot's of valuable cards . He holding 1090 ALPHA packs which is top on richlist .
2. What is the requirement of join The Neoxian Guild ?
First of all you need to be active player , second you need to contribute on guild regularly . For new comers you need at least 2500+ Rating to join the guild . When we start the guild we did open our gate for all and that time there was no requirement , but now we have limited seat and soon guild war will be introduced . So we need to be prepare for that .
3. What is the benefit for being Neoxian Guild Member ?
There is many benefit to be as a neoxian guild member . Anyone who consistently maintains 2500+ shall be considered a senior member of the Guild . Also top 10 guild contributor will get splinterlands warrior role on discord and those who will contribute 5000 or more DEC will get citizen sharp role . By having those roles you will get access on #post-promotion channel , from where you have chance to get upvote from @neoxian . Also there many Giveaway run on our Discord channel daily , so you better be there to get whale votes .
4. How the contribution is counted for rewarding Guild Members ?
By the help of @reazuliqbal (developer) we collect guild contribution data from blockchain , so it's accurate .
---
Got some more question ?? Comment on this post you will get answer and those question will be added on FAQ .

That's all for today , I am inviting you to visit our city : Click on this icon to enter 👉 Though some used to call it Discord channel , but we(citizens) call it our city .