Jacob Zuma has been running on borrowed time ever since Cyril Ramaphosa took hold of the leadership of the ANC in December. The past few weeks have kept the new leadership very busy as discussions on the Zuma Exit were being discussed. Support for the ex-president has evaporated as the Rand has been strengthening.
Jacob Zuma has been left with three choices...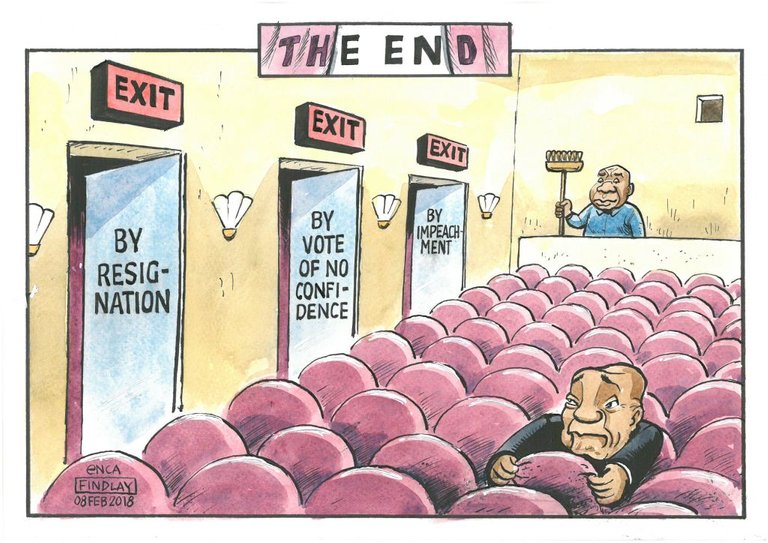 Resign!
After calls from the opposition, the public and his own party, a dignified way for Jacob Zuma would have been to resign. As the constitution allows, an ex-leader of state gains a lot of benefits including healthcare and security as well as a stipend from the state...
But true to form dignity is not something to be expected from the man who crippled the South-African economy over his reign. He has firmly refused a call for resignation.
Recall
This method is somewhat questionable as it is not specified by the constitution whether this is allowed. There is, however, precedent as this is exactly how Zuma claimed power in the first place.
Last night, 12 February, a letter of recall has officially been served to Zuma. A press briefing today, however, shed light on the non-existent timeframe.
Impeachment
The last option is for parliament to vote on the impeachment of the president. The EFF has already made a call to parliament and a response from the speaker is pending. For the first time ever, ALL of the parties in parliament want the head of state to depart...

No longer my president.
Since the official recall has been issued from the ANC, I refuse to acknowledge Zuma as President of South-Africa.
I would love to hear your comments on this, Thank you for reading...