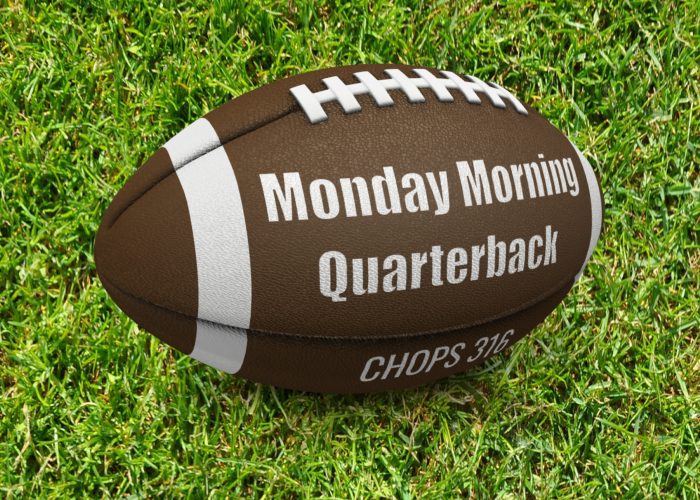 The fifth Sunday of the 2021 NFL season is in the books so here are the different thoughts and opinions I have on various things I witnessed this past weekend. What a great time to be a sports fan with the NASCAR playoffs, the MLB playoffs, college football and NFL action all going on a the same time. My poor remote control, its taking a beating.
Just remember I am a Dallas Cowboys fan and I'm extremely biased. Feel free to agree or disagree about anything mentioned here. All comments are welcome.
A GIANT Beating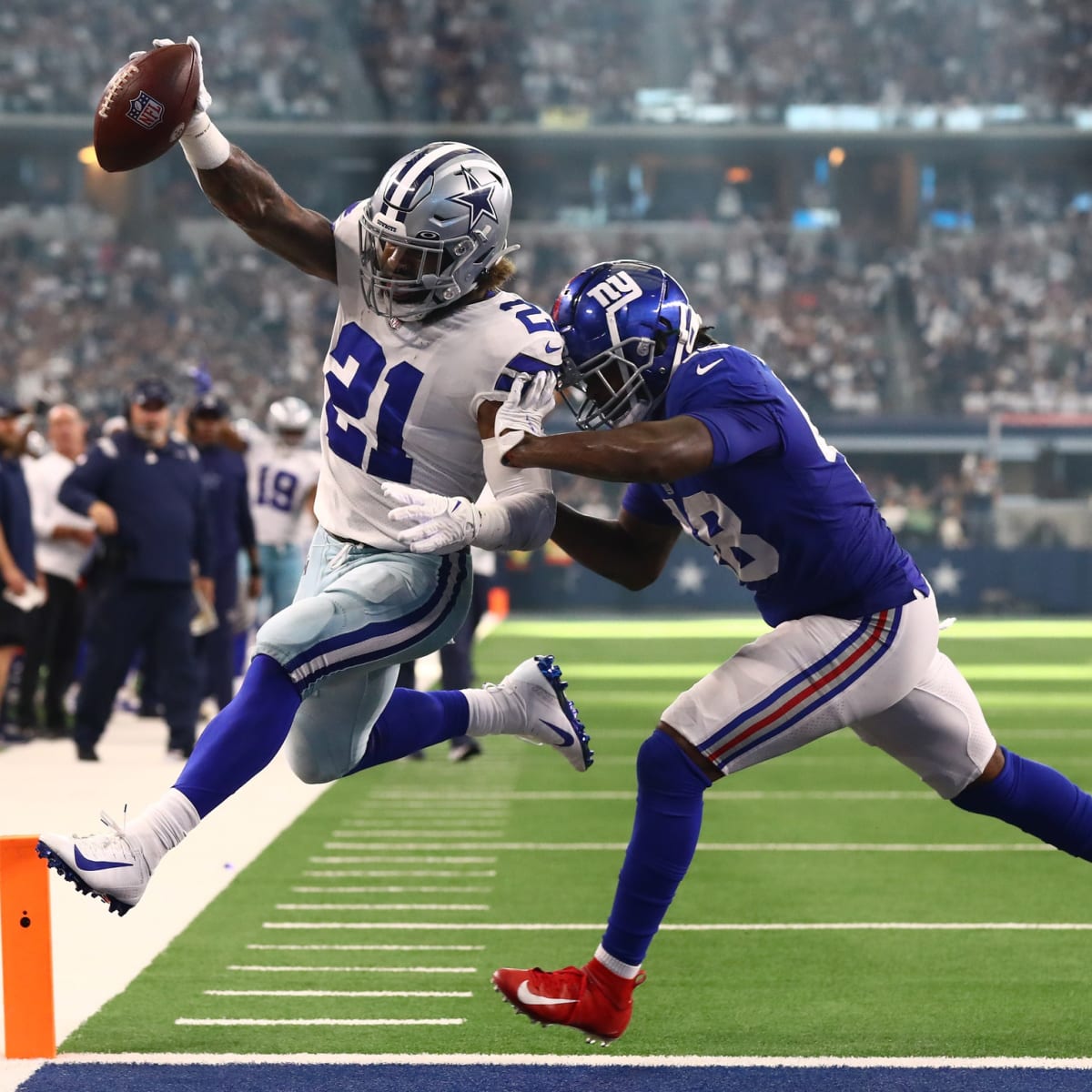 Zeke Elliott brought back some good memories when he high-stepped it into the endzone ala "Primetime" Deion Sanders
Source
The Cowboys were a little sloppy on offense this week. A couple of turnovers, including one in the red zone, dropped passes and bad snaps were all on display. Despite all those mistakes Dallas racked up 515 yards and 44 points. The Giants were actually a little lucky, the Cowboys should have put 60 points on the board. Oh well, how much should I really complain in a 44-20 victory for the good guys?
The Giants were losing guys on offense all afternoon, but their defense was healthy. They just weren't very good. When the Cowboys weren't shooting themselves in the foot they moved the ball up and down the field with ease. Dak Prescott (22/32, 302 yards, 3 TDs, 1 INT) was not particularly sharp with some of his throws and still topped 300 yards with multiple TD passes. It had to feel good for Dak since it was in Week Five last season, against the Giants no less, that he suffered his horrible ankle injury. A year later and Dak is playing his best football. The miracles of modern medicine.
Once again Dallas came out of the gate and firmly established the running game as the two-headed monster of Zeke Elliott (21 rushes, 110 yards, 1 TD, 1 receiving TD) and Tony Pollard (14 rushes, 75 yards) ran around, over, and through the Giants. I love the direction the offense has taken with an emphasis on the run. Too many of these modern analytic geniuses will tell you running the ball is bad. That is why they talk about football instead of coaching it. Running the ball wears down defenses, opens up all the passing plays, lets a team control the clock and helps keep their own defense off the field.
On defense cornerback Trevon Diggs picked off another pass, giving him 6 interceptions on the season. He has at least one pick in all five games, which is amazing for a guy that only picked off 4 passes in his entire college career. Overall the defense was good, but they gave up a few big passing plays that let the Giants set up scores.
There was plenty of mistakes to be corrected and Dallas still ran away with ease. I'm excited to see what this team can do if they fire on all cylinders. The Cowboys are now 4-1 and sit atop the NFC East. They face the Patriots in New England next week.
It was a brutal week for the Giants. Not just because they were blown out, but for all the injuries to big name players. Saquon Barkley blew out his ankle, Daniel Jones suffered a nasty concussion and Kenny Golladay re-injured his knee. Ouch. I have to give New York credit, they kept fighting, sometimes literally, till the end. Backup quarterback Mike Glennon (16/25, 196 yards, 1 TD, 2 INTs) played better than Jones. Wide receiver Kadarius Toney (10 receptions, 189 yards) had a monster game and his big plays lead to most of the Giants scoring.
Nothing good can be said about New York's defense. They were dominated and couldn't figure how to stop Dallas on the ground or in the air. The Giants fell to 1-4, last place in the NFC East, and will host the Rams next week.

Meet the New Boss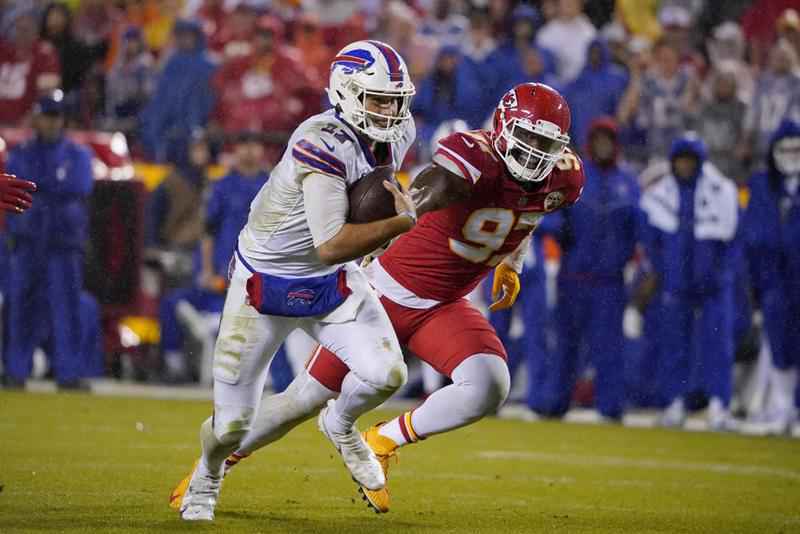 Josh Allen couldn't be stopped in Kansas City
Source
Mother Nature couldn't stop the Buffalo Bills on Sunday night and neither could the Kansas City Chiefs. Move over KC, there is a new top contender in the AFC as the Bills trampled the Chiefs 38-20 in Arrowhead stadium.
Buffalo took a big step forward last season to become a contender. After a Week One mishap against the Steelers, the Bills are taking another big step to become the team to beat in the AFC. They thoroughly outplayed the Chiefs on both sides of the ball. Josh Allen (15/26, 315 yards, 3 TDs, 1 rushing TD) imposed his will on the KC defense, accumulating 374 combined yards throwing and rushing with 4 total TDs. It was a major improvement over his performance against the Chiefs in last season's AFC championship game. Allen hooked up with both Dawson Knox (3 receptions, 117 yards, 1 TD) and Stefon Diggs (2 receptions, 69 yards) for huge passing plays.
The running back committee wasn't impressive with 62 yards on 17 carries, but Allen added 59 yards on the ground to give Buffalo 121 for the game. Defensively the Bills held Patrick Mahomes to under 300 passing yards and forced 4 turnovers. Buffalo kicked the Chiefs ass in their own home, they are now the top dogs in the AFC. The Bills lead the AFC East with a 4-1 record and will head to Tennessee next week for a Monday night game against the Titans.
Last year the Chiefs played a lot of sloppy games yet still managed to win because their offense was so powerful. This year they are playing sloppy again and are losing because the offense is struggling to overcome all of their mistakes. Patrick Mahomes (33/54, 272 yards, 2 TDs, 2 INTs, 1 fumble) is becoming a turnover machine. He was out of sync all night and fell well short of 300 passing yards despite throwing 54 passes. He had better results on the ground (8 rushes, 61 yards), but the rest of the Chiefs ball carriers couldn't match his rushing total with nearly double the carries.
The Kansas City defense has been poor all season. The Bills averaged 8.1 yards per play as they steadily gained yards in huge chunks. The Chiefs had zero sacks and created zero turnovers. They aren't even slowing anyone down, let alone stopping them. Who would've guessed five weeks into the season the Chiefs would be 2-3 and in last place in the AFC West? They'll try to turn things around next week in the nation's capital as the team with no defense will face the team with no name.

R.I.P Defense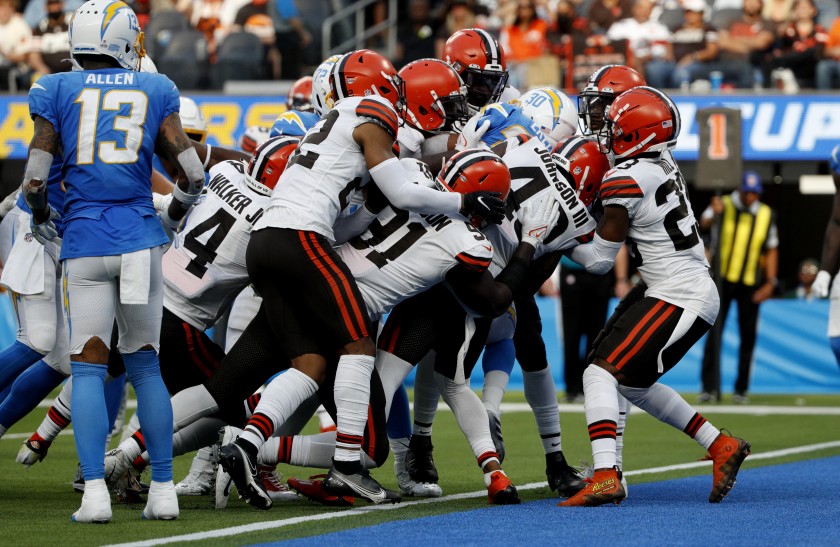 The Browns defense ganged up on Austin Ekeler and carried him into the endzone
Source
Last week the Cleveland Browns gave me hope that defense isn't dead in today's NFL as they won a 14-7 dogfight against the Vikings. This week the Browns shattered that dream in a 47-42 loss to the Los Angeles Chargers. It got so bad the Browns defense scored a TD for the Chargers! I kid you not. The Browns looked good early on as they held a 20-13 lead at halftime. They kept on scoring in the second half, but the Chargers offense exploded in the 4th quarter for four TDs.
The crazy play where Cleveland scored a TD for the Chargers came late in the game. The Browns held a slim 42-41 lead with less than two minutes remaining, but the Chargers were knocking on the endzone's door again. Austin Ekeler broke free for an apparent go-ahead TD run, but he slid down at the three-yard line. Why? L.A. only needed a FG to go ahead and the Chargers were trying to bleed the clock so Cleveland wouldn't get another chance to score.
With roughly 1:30 left on the clock, the Chargers decided to forgo taking a knee. They handed the ball to Ekeler again. And he stood there staring at the Browns, trying to waste as much clock as possible. The Browns defense were no dummies. They knew the Chargers odds of scoring was 99.999999% at this point, so they grabbed Ekeler and shoved him into the endzone to save time for a comeback. Watch the clip, it's pretty funny.
It was a smart play by the Browns defense, but in the end it was all for naught. The Browns comeback died when a Hail Mary hit the ground and no flags were thrown, even though it sure looked like the Chargers were guilty of pass interference. Los Angeles held on for the 47-42 win.
The Chargers offense was slow to start, but boy did they finish strong with 4 TDs in the 4th quarter. Justin Herbert (26/43, 398 yards, 4 TDs) played awesome in the second half, connecting with Mike Williams (8 receptions, 165 yards, 2 TDs) for most of his top plays. Austin Ekeler was capable on the ground (17 rushes, 66 yards, 2 TDs) and in the air (5 receptions, 53 yards, 1 TD). Wild win for the Chargers who improved to 4-1 and hold 1st place in the AFC West. They'll head to Baltimore next week.
Incredibly tough loss for the Browns, whose normally very good defense failed at the end. Baker Mayfield (23/32, 305 yards, 2 TDs) did most of his damage with tight end David Njoku (7 receptions, 149 yards, 1 TD). The Browns rushing attack was mighty once again as Nick Chubb (21 rushes, 161 yards, 1 TD) and Kareem Hunt (12 rushes, 61 yards, 2 TDs) battered the Chargers. The Browns gained 531 yards of total offense, committed zero turnovers, scored 42 points and still lost. That is a new NFL record. And not the good kind. The Browns can play with the big boys in the AFC, but have yet figured out how to win.
Cleveland fell to 3-2, tied for 2nd place in the AFC North. Things won't get any easier next week as they host the undefeated Arizona Cardinals.

Did Anyone Want To Win This Game?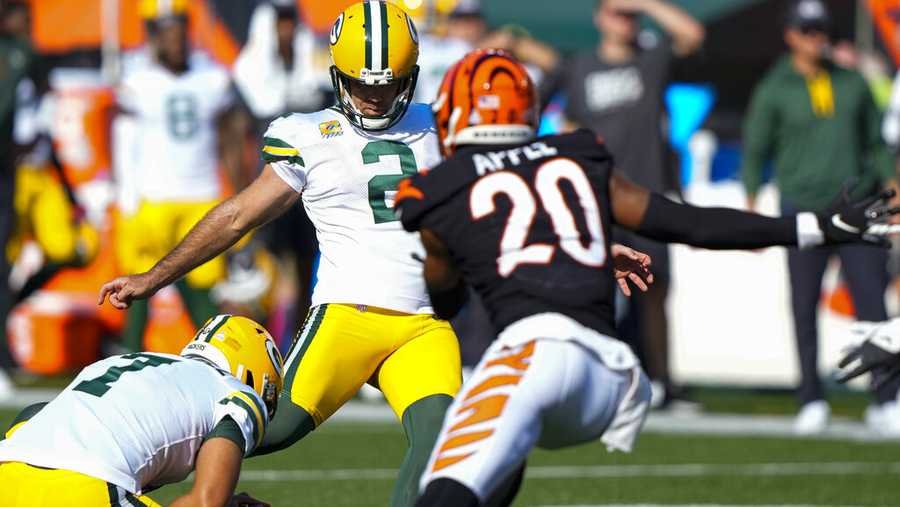 Extremely rare photo of a kicker actually making a successful FG attempt in Cincinnati
Source
If you're a big fan of NFL kickers skip this segment of the post because it was a horror show for kicking at Cincinnati in Week Five. A new NFL record was set as the Bengals and Packers combined for five missed FGs before Mason Crosby failed nailed a game-winner in overtime, letting Green Bay escape town with a 25-22 win over the Bengals.
This was a tight, fairly well-played game until late in the 4th quarter when the kicking went to hell. With three and a half minutes left on the clock, Joe Mixon scored a TD and the Bengals successfully made a two-point conversion to tie the game at 22-22. The problem for Cincy was they left plenty of time for Aaron Rodgers to make another one of his signature comebacks.
A long run by Aaron Jones moved the Packers to the Bengals 18-yard line, but the offense stalled there. The normally reliable Mason Crosby lined up for a go-ahead 36-yard FG, but he missed. Now the Bengals had two minutes left to take the game. They barely made it into Green Bay territory and had to settle for a 57-yard FG attempt. Evan McPherson's attempt hit the goalpost and the Packers had another chance with 30 seconds to go.
Rodgers hit a twenty yard pass to give Crosby another shot at the game-winner at 51 yards, but he missed again as time expired. The game headed into overtime. The Bengals won the toss, but Joe Burrow threw an interception with his first pass and the Packers got the ball on the Bengals 17-yard line. After two rushes, both for a loss, Green Bay sent out Crosby for his third chance at a game-winner. And for the third time he missed! This time at 41 yards. This game was getting ridiculous.
Having barely escaped defeat for a 3rd time, the Bengals were given another chance to win. They drove down to the Green Bay 32-yard line and summoned McPherson for another shot at glory. He failed as his 49-yard attempt went wide left. Did anyone want to win this game?
Aaron Rodgers hit a few passes before the Packers offense stalled again at the Bengals 32-yard line as time wound down in overtime. Finally, with his fourth chance, Mason Crosby put one through the uprights to give the Packers a 25-22 win.
The Packers gained a lot of yard on offense, but struggled to find the endzone. Aaron Rodgers (27/39, 344 yards, 2 TDs, 1 INT) used Davante Adams (11 receptions, 206 yards, 1 TD) to torch the Bengals secondary. Aaron Jones (14 rushes, 103 yards) provided the ground support. It was ugly, but a win is a win. The Packers hold 1st place in the NFC North at 4-1 and travel to Chicago next week.
Green Bay uncharacteristically gave the Bengals multiple chances to win this game, but they couldn't find the plays to do it. Joe Borrow (26/38, 281 yards, 2 TDs, 2 INTs) was solid as his rookie wide receiver Ja'Marr Chase (6 recections, 159 yards, 1 TD) was spectacular. The Bengals are getting there yet they still need to learn how to close games out. Cincy fell to 3-2, tied for second place in the AFC North. They head to Detroit next week to face a desperate Lions squad.

Around the League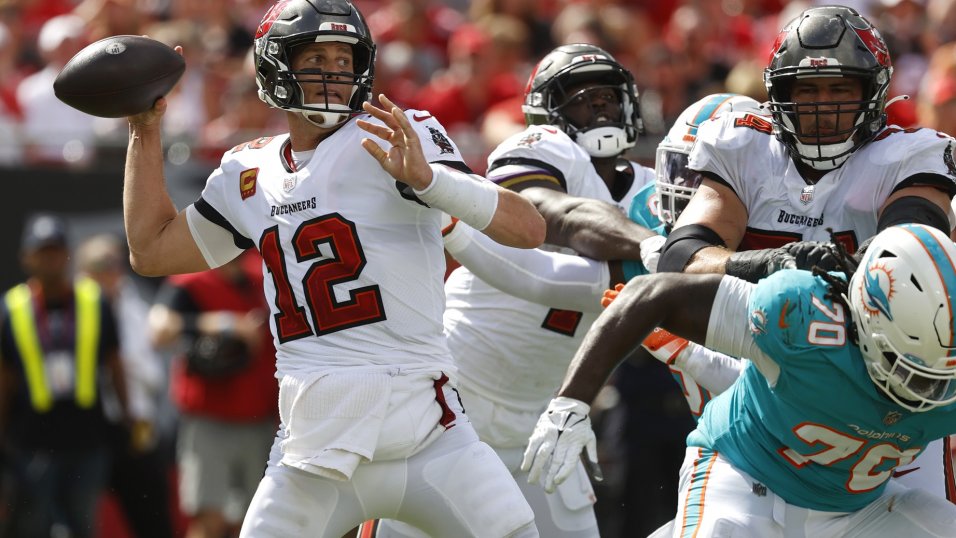 Brady continues to kick Father Time's (and the Dolphins) ass
Source
Buccaneers 45 Dolphins 17
The Dolphins actually got off to a good start, holding a 10-7 lead after the 1st quarter. That ended in a hurry. Tom Brady (30/41, 411 yards, 5 TDs) decimated the Miami defense. Everybody was able to get open as ten (10!) different receivers made at least one catch. Antonio Brown (7 receptions, 124 yards, 2 TDs) and Mike Evans (6 receptions, 113 yards, 2 TDs) each topped 100 yards.
Even with all that passing the Bucs running back committee still got 21 carries that were turned into 109 yards and a TD. The Dolphins defense should have stayed in bed, it couldn't have been worse if they did. The Bucs improved to 4-1 and sit atop the NFC South. They have a quick turnaround with a game in Philly on Thursday. The Eagles should send Miami a thank you card, the Bucs will still probably be tired from all that scoring.
Jacoby Brissett (27/39, 275 yards, 2 TDs, 1 INT) tried to make this game respectable, but he didn't get any help. The Dolphins are a worse team today than they were two seasons ago when they tried to tank for Tua. Think about that, unless you are a Miami fan because it will make you puke. The Dolphins fell to 1-4 and are tied for last place in the AFC East with the Jets. They head to Jacksonville next week to find out who is the worst team in Florida.


Falcons 27 Jets 20
What the hell did London do the NFL that the league felt necessary to send this shit show over the pond? I thought they were trying to grow the game overseas, not sending fans flocking out of the stadium.
In a typical Atlanta game, the Falcons build up a nice lead by the half and then blow the game in hilarious fashion before the final whistle. The first half followed the script as the Falcons lead 20-3. The problem was the Jets are so bad they couldn't even make a comeback against the Falcons. That's a true statement of how poor this team is.
Matt Ryan (33/45, 342 yards, 2 TDs) had no trouble passing the ball, even though Atlanta was playing without Calvin Ridley. Rookie tight end Kyle Pitts (9 receptions, 119 yards, 1 TD) filled his shoes without a problem. The Falcons improved to 2-3 and sit in last place in the NFC South. They get an extra week to bask in this win since they have a bye next week.
The Jets stink at offense. Of course they stink at defense too. Otherwise they're fine. Zach Wilson (19/32, 192 yards, 1 INT) has no playmakers to work with. The Jets only gained 230 total yards of offense, the lowest total for an entire game in the last seven years. They gave 450 yards to a banged up Atlanta offense. I guess they have nowhere to go but up, yet I imagine they'll hang around the bottom for now. The Jets fell to 1-4, last place in the AFC East. They are also on a bye next week.


Vikings 19 Lions 17
The Vikings figured they just needed to show up to win and that was basically what happened in Minnesota. Until Alexander Mattison fumbled the ball with 2 minutes left on his own twenty yard line. The Lions cashed in the gift for a late go-ahead TD. But the Lions are the Lions and Minnesota was able to drive 46 yards in 37 seconds to kick a game-winning last second FG. Detroit is the first team in NFL history to lose two games in a season with 50+ yard FGs kicked as time expired. Records falling down all over the place in Week Five.
The Vikings should have run away with this one, but they were lazy. They did the bare minimum to win. Saving energy I guess. It almost bit them in the ass when Mattison (25 rushes, 113 yards, 1 fumble) coughed up the ball. He was lucky Kirk Cousins (25/34, 275 yards, 1 TD, 1 INT) bailed him out. Nobody needs the stigma of being responsible for losing to Detroit. Minnesota improved to 2-3, third place in the NFC North. Sad thing for them is they were in a good position to win all five of their games. They'll need to be better when they go to North Carolina next week. Then again I watched a lot of the Carolina game this week so maybe they won't.
Lions head coach Dan Campbell cried at the press conference after this game. I don't blame him, I'd cry too if my job was to coach the Lions. This team lacks talent from top to bottom and even if Campbell did the greatest coaching job ever this team is going nowhere. He deserves better, he is a former Cowboy you know.
Jared Goff (21/35, 203 yards, 1 INT) struggled when he was surrounded by talent in Los Angeles. What did they think he could do in Detroit? The Lions remain winless at 0-5, holding up the bottom of the NFC North. They will host the Bengals next week.


Saints 33 No-Names 22
New Orleans has been a Jekyll & Hyde team so far this year, but in Week 5 quarterback Jameis Winston had a Jekyll & Hyde game. When he was bad, he was bad. But when he was good, he was great as the Saints outlasted the team with no name.
Winston (15/30, 279 yards, 4 TDs, 1 INT, 1 fumble) overcame two 1st quarter turnovers to connect on a number of long TD passing plays. Including a 49-yard Hail Mary bomb right before halftime. Consistency has always been the biggest issue for Winston. Luckily for the Saints he made the most of the 15 passes he completed. Alvin Kamara was a duel threat on the ground (16 rushes, 71 yards, 1 TD) and in the air (5 receptions, 51 yards, 1 TD).
The Saints have a bye next week so they'll have a little time to try fix their inconsistency. The win improved their record to 3-2, tied for second place in the NFC South.
The No-Names defense that was supposed to carry the squad is nowhere to be found. Washington hasn't been able to stop anyone. The offense is not good enough to score 30+ points each week Taylor Heinicke (20/41, 248 yards, 2 INTs) was as inconsistent as Winston, but was unable to make the same amount of impact plays. Antonio Gibson (20 rushes, 60 yards, 2 TDs) was successful at the goal line, not so much on the rest of the field. The No-Names dropped to 2-3 and are tied for second place in the NFC East. The defense will face an even bigger test when the Chiefs come to town next week.


Titans 37 Jaguars 19
Gee, it sure was nice of Jacksonville head coach Urban Meyer to go out drinking and grabbing ass in public so he could take the heat off his team for their 0-4 start. And how did his team repay him? By getting their butts kicked and falling to 0-5. Ingrates!
One week after an embarrassing loss to the Jets the Titans had some up and downs, but made enough plays to steamroll the Jags. Derrick Henry (29 rushes, 130 yards, 3 TDs) put the offense on his back and refused to be stopped. Tennessee really needs that because they are struggling to protect Ryan Tannehill (14/22, 197 yards, 1 TD). Defense has been the biggest issue and Jacksonville did gain 454 yards. The Titans need to tighten that up fast with the Bills coming to town for a Monday night showdown. Tennessee improved to 3-2, comfortably leading a weak AFC South.
All the talk pre-game was how Jacksonville would react to the Urban Meyer situation. Well they have stunk all year, did anyone really think they would get worse? The defense was still bad, but the offense showed life. Trevor Lawrence (23/33, 273 yards, 1 TD, 1 INT) had a good game and running back James Robinson (18 rushes, 149 yards, 1 TD) had a great game. No matter what Urban does off the field this team is bad. The Jaguars dropped to 0-5, last place in the sorry AFC South. They'll host the Dolphins next week to determine once and for all who is the worst team in Florida.


Patriots 25 Texans 22
If the Texans would have been able to kick the ball successfully they would have won this game. Kicker Ka'imi Fairbairn missed two extra-points and a FG. Punter Cameron Johnston had a zero yard punt when he hit one of his own blockers. Outside of special teams the Texans played a good game.
Bill Belichick is normally death to rookie quarterbacks, but David Mills (21/29, 312 yards, 3 TDs) lit up the Patriots. Belichick has been in the league forever and Mills is only the second rookie to throw 3 TD passes against his defense, Russell Wilson is the other. Great game considering the running back committee only chipped in 67 yards on 24 carries. The Texans fell to 1-4, tied for second place in the terrible AFC South. They travel to Indianapolis next week.
The Patriots were outplayed for three quarters before becoming alive to take the victory in the fourth. Mac Jones (23/30, 231 yards, 1 TD, 1 INT) was alright, New England is still limiting the playbook for him. He got support on the ground as the committee gained 126 yards and a TD on 30 carries. The defense was a big letdown, letting a rookie take them to the woodshed. The defense has to better because the Pats aren't going to win any shootouts. New England improved to 2-3, good enough for second place in the AFC East. Get your shit together Patriots because my Cowboys are coming to town next week.


Eagles 21 Panthers 18
Man this was an ugly game. It was more about bad offense than good defense. Both teams bumbled around the field, but a huge special teams play let the Eagles escape town with the win.
The Eagles offense was poor, but the defense and special teams set them up for some short field scores. Jalen Hurts (22/37, 198 yards, 1 INT) wasn't effective throwing the ball yet the Eagles dialed up a ton of passes anyway. Hurts made his impact on the ground: 9 rushes, 30 yards, 2 TDs. Miles Sanders (11 rushes, 45 yards) still doesn't get many touches, which is truly stupid since he is the best player on the offense. This team never learns. At least the defense finally showed up for a game. Philly improved to 2-3, tied for second place in the NFC East. Quick turnaround for the birds as the Bucs come to town on Thursday night.
I guess the Cowboys really knocked the hell out of the Panthers last week because they did not look ready to play. Sam Darnold (21/37, 177 yards, 1 TD, 3 INTs) was awful, he looked he should still be playing for the Jets. Still no Christian McCaffrey, but his backup Chuba Hubbard (24 rushes, 101 yards) was fine. The defense wasn't bad, they were put into tough positions by turnovers. Overall a lousy showing for Carolina. The Panthers fell to 3-2, tied for second place in the NFC South. They will host the Vikings next week.


Cardinals 17 49ers 10
The high-powered Arizona offense was M.I.A. this week, but the defense picked up the slack. Kyler Murray (22/31, 239 yards, 1 TD) was banged up and played like it. DeAndre Hopkins 6 receptions, 87 yards, 1 TD) did his best to bail him out. The running game however didn't as they only gained 94 yards. Divisional games tend to be slugfests and this one sure was. Yet good teams still manage to win even when they are not at their best. Arizona is still looking like a good team. The Cardinals remain the last undefeated team at 5-0 and obviously lead the NFC West. They'll have another tough test next week as they travel to Cleveland.
Jimmy Garoppolo was unable to play so the 49ers had to start rookie quarterback Trey Lance. The results were mixed. Lance (15/29, 192 yards, 1 INT) wasn't very successful passing the ball, but he made a lot of plays with his legs (16 rushes, 89 yards). Lance does not have a ton of experience as a starting QB and there is going to be growing pains. He needs other guys on the offense to pick him up and it didn't happen this week. San Francisco's defense kept them in this game by containing Kyler Murray and holding Arizona to only 17 points. The 49ers fell to 2-3, last place in the tough NFC West. San Fran has a bye next week, which they desperately need to try and get healthy.

Steelers 27 Broncos 19
Pittsburgh finally showed some life on offense as they handily defeated the Broncos at home. Ben Roethlisberger (15/25, 253 yards, 2 TDs) had been dinkin' and dunkin' all season, but this week he finally aired out the ball for some big passing plays. Chase Claypool (5 receptions, 130 yards, 1 TD) and Diontae Johnson (2 receptions, 72 yards, 1 TD) were the recipients of those long throws. Even more importantly for the Steelers was the running game finally showing up. Rookie Najee Harris (23 rushes, 122 yards, 1 TD) had by far his best game on the ground. With their stellar defense, Pittsburgh will be tougher to beat if they continue to have a balanced offense. The Steelers improved to 2-3, yet still in last place in the AFC North. Pittsburgh will host the Seahawks next week.
The Broncos who started out 3-0 against soft competition is now looking much worse against more competitive teams. Teddy Bridgewater (24/38, 288 yards, 2 TDs, 1 INT) put up most of his stats in the 4th quarter when the game was lost. Courtland Sutton (7 receptions, 120 yards, 1 TD) was his top target. I think we are getting a clearer look at how good Denver really is now and there is a lot of work to do. Denver fell to 3-2, tied for second place in the AFC West. They'll host the Raiders next week, who have enough of problems of their own.


Bears 20 Raiders 9
This was a classic win by the Chicago Bears, who utilized defense and the running game to overpower the Raiders. Justin Fields (12/20, 111 yards, 1 TD) wasn't asked to carry the offense, just to make a few plays and not to turn the ball over. He did both and that is a good game plan for a rookie still trying to find his way in the NFL. Of course that only works if the running game is strong and it was this week. Running backs Khalil Herbert (18 rushes, 75 yards) and Damien Williams (16 rushes, 64 yards, 1 TD) were both solid. They took pressure off of Fields and controlled the clock. Maybe the Bears coaching staff is finally learning. We'll see moving forward. The Bears improved to 3-2, good for second place in the NFC North. They have big matchup next week with Green Bay coming to Chicago.
The Raiders have massive problems, the first being the resignation of head coach Jon Gruden after old emails turned up with him using non-pc language. The horror! Gruden didn't have to leave, he could have just made a lame apology to cover his ass until the woke crowd found somebody else to bitch about. But I think he found this a good excuse to jump off a sinking ship because the Raiders are looking like frauds once again.
Derek Carr (22/35, 206 yards, 1 TD) was bullied by the Bears defense. The running back committee never got going, only gaining 71 yards on 22 carries. The defense has been suspect all season, the last several seasons really. Things are about to get ugly in Las Vegas. The Raiders fell to 3-2, tied for second place in the AFC West. I don't see them staying there very long and it might begin to change next week in Denver.


Ravens 31 Colts 25 OT
In a surprising Monday night thriller, the Ravens overcame a 16-point 4th quarter deficit to force overtime and then drove right down the field to win the game with a TD on their first OT possession.
Baltimore is normally a run-first team, but the Colts clamped down on that. The Ravens only gained 86 yards on 25 carries, way below their usual production. That wasn't an issue for Lamar Jackson (37/43, 442 yards, 4 TDs), who lit up the Baltimore sky. He was phenomenal. Mark Andrews (11 receptions, 147 yards, 2 TDs) and Marquise Brown (9 receptions, 125 yards, 2 TDs) were his main targets. Big win for the Ravens, who were taken out of their comfort zone and showed they can win by throwing the ball too. The Ravens improved to 4-1, good for first place in the AFC North. They'll host the Chargers next week in a huge AFC matchup.
The Colts needed this win badly and they blew it. The defense fell apart after three quarters of strong play and two missed FG attempts in the fourth quarter doomed them. After losing the toss to begin OT they never saw the ball again. A great performance by Carson Wentz (25/35, 402 yards, 2 TDs) was wasted. So was the showing by the running game that gained 123 yards and a TD on 26 carries. Whenever you gain over 500 yards on offense and still lose it is a punch right to the gut. The Colts fell to 1-4, tied for second place in the despicable AFC South. The division is so bad right now the Colts can still right the ship, but they better start next week as they host the Texans.


That's a wrap for Week Five. What a crazy week. As always thanks for reading and feel free to leave a comment below.