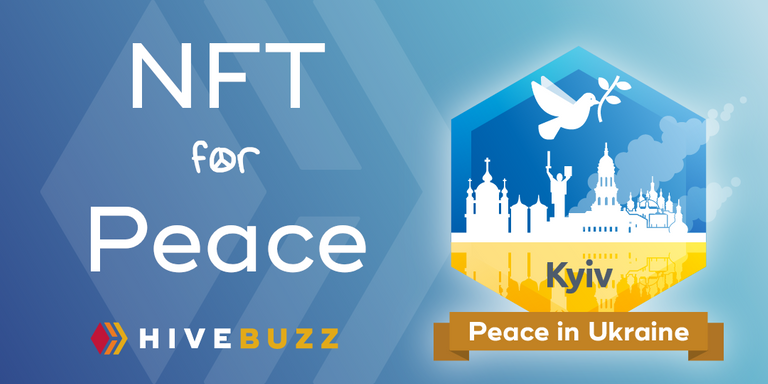 It will soon be 6 months since the war has been raging in Ukraine and Russia does not seem ready to want to stop the hostilities. Meanwhile, part of the population continues to be the target of the horrors of war.
Since the beginning of the invasion of Ukraine, the Hivebuzz team has remained mobilized with the NFT for Peace project to come to the aid of the civilian victims of this war.
Since its launch, it has been no less than 3680 HIVE and 4476 HBD collected and used to help people in need. This has been achieved thanks to the purchase of NFTs by members of our community and we are extremely grateful to you!
Level up your NFT
Many of the people who have purchased an NFT for Peace badge have contacted us to ask if it was possible to "upgrade" their NFT.
Indeed, during the initial purchase, you can define the level of your NFT and a corresponding star number is displayed below it.

For obvious reasons, some were not able to acquire the NFT at the highest level. However, they did not want to wait to participate in the project and support this noble cause. So they bought a lower level NFT.
In the meantime, they now have the opportunity to do so and wish to continue supporting the project, but find themselves stuck because they have already acquired all the NFTs available.
It is now possible to level up!
If you don't have the highest level NFT, a "Level Up" button now appears below it and you have the option to increase its level.
Let's say for example you have the Kyiv NFT with no star (level 0)
You can click on the "Lebel Up" button and upgrade its level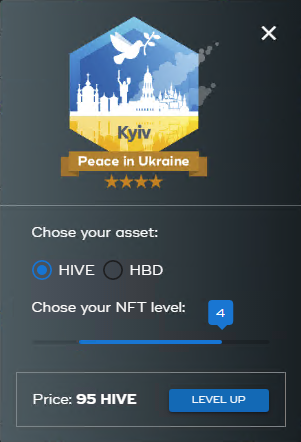 You simply have to pay the difference from your last purchase, there is no additional cost for this operation.
Your donations have been well used
As mentioned in the announcement post, the Hivebuzz team has not used any of the funds received for its own benefit or that of its members.
And here are the links to the reports on their use.
Your participation is still welcome
The war is not over. Many people are still suffering and need our help. If you haven't done so yet, it is still possible to acquire the NFTs for Peace on your Hivebuzz board.
There is no supply limit and it will be possible to acquire the NFTs as long as the war officially lasts.
Thanks for helping us to make this step towards peace together!
---
HiveBuzz is a project created by @arcange