❝ Only the insecure crave safety ❞
---
¡Greetings, steemianos!
Education in our society tends to train us from an early age so that we are cautious stimulating prudence and caution at the expense of curiosity; security at the expense of adventure.
❝ Avoid the doubtful, stay in the areas you know; never venture into the unknown ❞
These early messages can become psychological barriers that hinder in a thousand different ways your personal fulfillment and your happiness in the present moments.
Today, I share with you a very simple drawing but really special for me, because it not only represents the improvement and confidence that I have acquired during all this time with respect to art, but also it is a kind of "homage" to one of the artists that I admire most. Many have commented to me that my drawings are usually static, without perspective or that I do not work in different angles. The truth is that I felt a little fear and insecurity when I drew in different angles or perspective, because I thought that I would get very bad and therefore, I stayed in what I considered "safe" and that could turn out well. Although each drawing I make is a challenge for me, I can not grow and develop as an artist if I keep myself in what is easiest and safest to do.
So, finally I have decided to draw something simple but different for me and for this, I have taken as reference a work by Qing Han or better known as "qinniart" in Instagram. (•́⌄•́๑)૭✧
Qinni is a Chinese artist, who calls herself "Professional doodler". His work goes from the traditional to the digital and even to the animation, appearing on several social platforms such as: Instagram, Facebook, YouTube, Deviantart, etc.
This artist is really talented and a great fighter. His works are usually very colorful and in different angles, that is why today is my inspiration to make this drawing.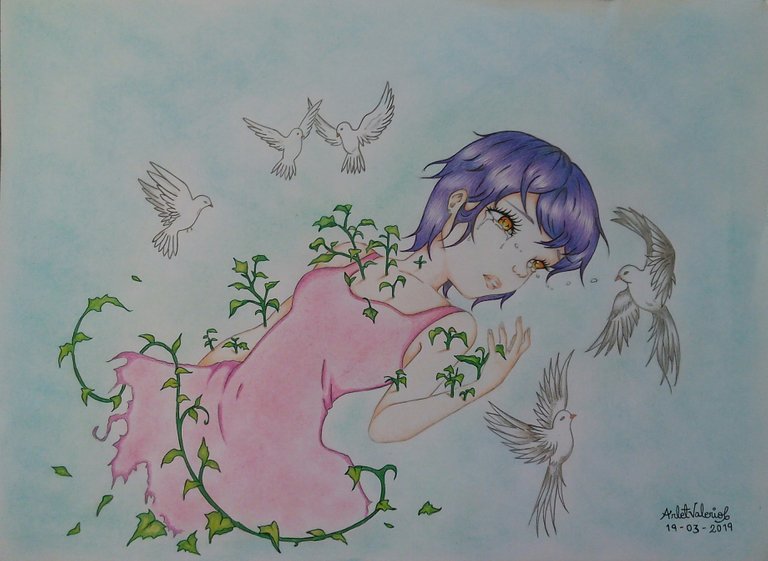 ---
Sketch

As in all my drawings, I first made a pencil sketch of the elements that would make up the drawing in general. In this case, draw a crying girl, from which small plants grow and who is surrounded by birds. For the sketch of the girl, I was guided by one of the works of "quinniart", because it is the first time that I do not draw a person totally in front and since I admire this artist very much, I decided to take her as a guide or example. For Qinni, his drawing represented a kind of premonition, as doctors discovered that he actually has an unknown and abnormal tissue that grows without stopping in his heart. However, I have changed several aspects that comprise his work and therefore, I wanted to give another interpretation or meaning to my drawing. (๑•͈ᴗ•͈)◞✏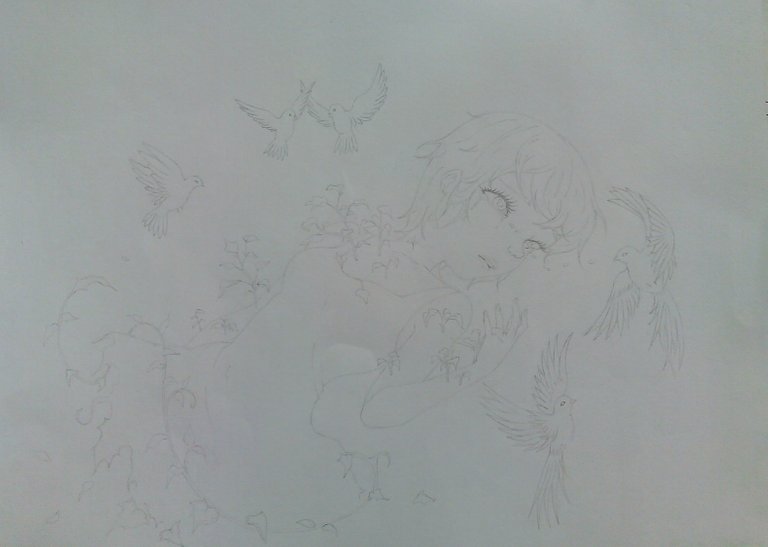 ---
Colored

For me, this drawing represents no more than insecurity rooted in a girl. That has been stagnant or taking root in what is familiar and customary for her (From there the plants that grow through her body and surround her). Birds represent what she craves most; freedom, security and recklessness to fly and enter the unknown. The desire to open up to new experiences, totally abandoning the notion that it is better to tolerate what is familiar to him than to work to change it because change is fraught with insecurities.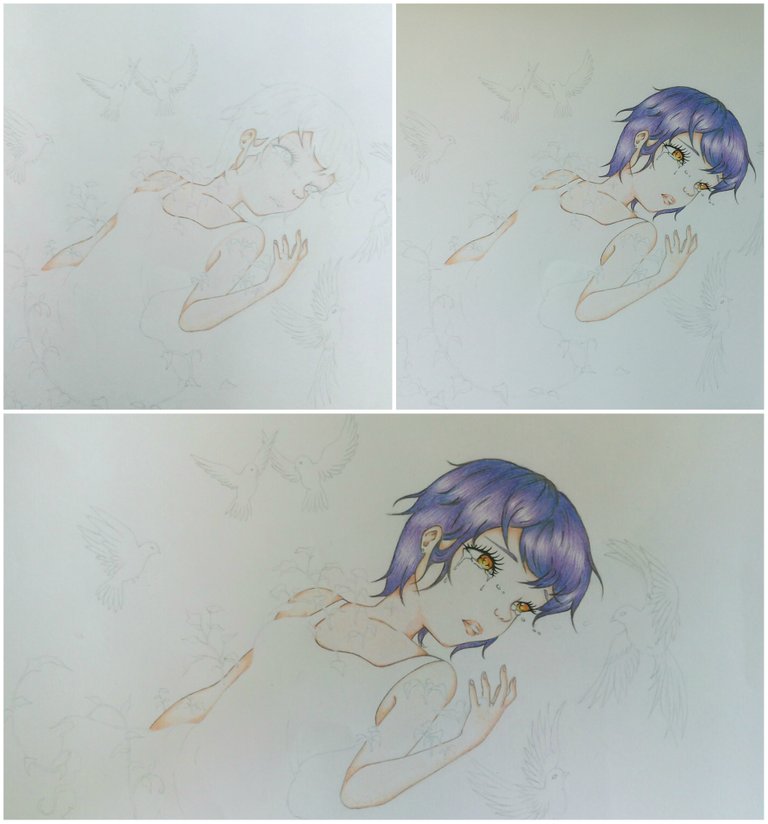 ---
Just as our society encourages and gives wings to the myth of "Security", it also fosters concern. Personally, I am a little insecure person who usually worries about many, many useless things. That feeling of worry, makes me immobilize in the present for things that may happen in the future. I have missed an incredible amount of present moments worrying about the future. And the truth is that all this is useless. Not a single moment of worry and insecurity will make things better. Worse yet, it is very possible that insecurity and worry will nullify your effectiveness in the present.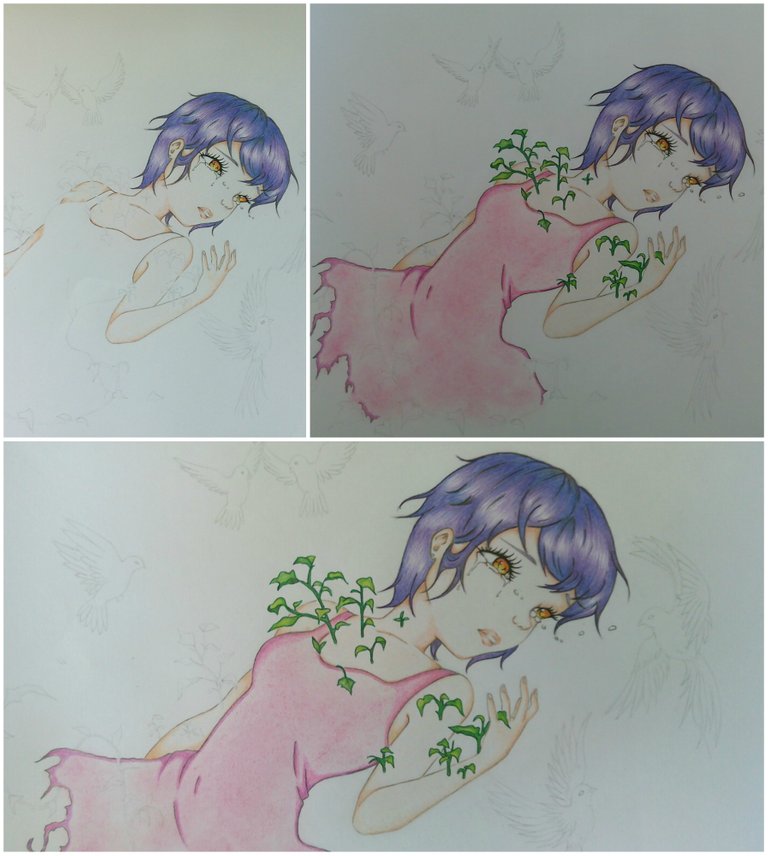 ---
Of all the above, I can only say that they believe in themselves, there will be nothing that is beyond their means. The whole range of human experience is yours and you can enjoy it if you decide to venture into territories that do not offer you guarantees. All up to you. You do not have to know what is the safest or where you are going, the important thing is to be on the road.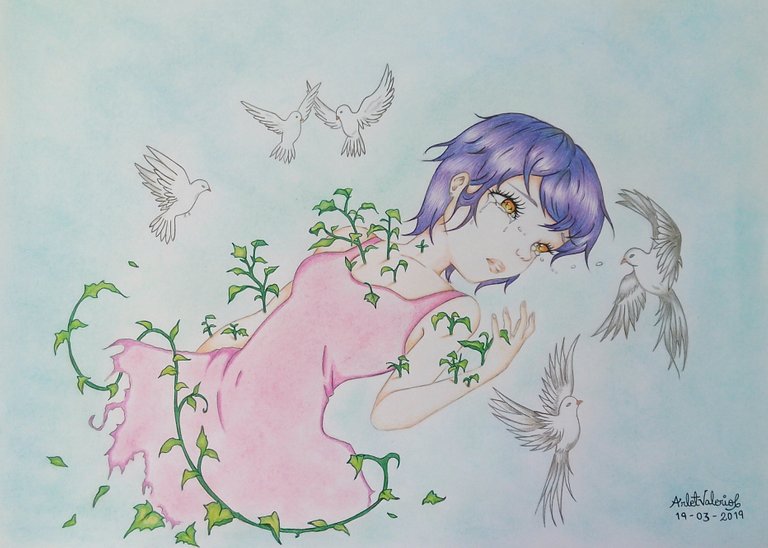 ❝ The most beautiful experience is that of the mysterious. That is the true source of all art and all science❞
• • •
References
Dyer W, (1976). Your Erroneous zones. Cork, Irlanda, Editorial Random House Mondadori.
---
Thank you very much for reading my post. If you liked it, I hope you can support me with a comment, suggestion, retest or your valuable vote. It would help me a lot. Without further ado, I say goodbye and wish you a good day.

---
If you want to use my ArtWork, don't forget credit me



This work is licensed under a Creative Commons Attribution 4.0
International Licens


Previous Post
Spanish Version