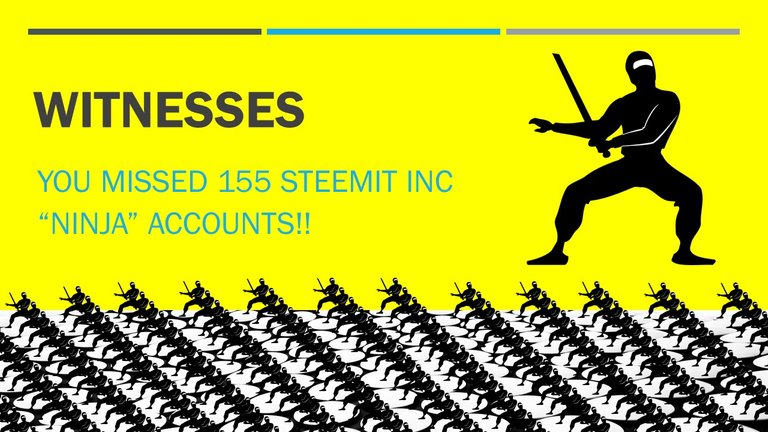 STEEMIT INC "NINJA" ACCOUNTS
Are you 100% convinced by the hyperbola of the so-called "Ninja Stake" controlled by Steemit Inc? Yes Steemit Inc have a huge stake, yes they had an advantage at the start of the blockchain, but how long was that advantage, was it 1 day, 2 days, 3 days, a week, a month? Who is in a position to form the grounds for a definition? Perhaps a definition needs further consideration, perhaps it needs forensic investigation? Whatever the answers we find the blockchain in the position where 5 accounts that hold a value of circa 65 million Steem are frozen in state, as a result of "softfork222".
The Witnesses "froze" 5 accounts but there are many more accounts that Steemit Inc will own the keys for……in fact below you will see 155 more accounts and with combined effect they are a pretty big whale (and they are unfrozen!).
NINJA MINING IN FLOURESCENT YELLOW!
How long was the "ninja mining advantage" if Steemit started on 24 March 2016 and others were mining two days later? SteemD the open blockchain database has some answers, and this article draws no conclusion, but you can be sure that other accounts were also mining Steem in the very early days. Look at SteemD to see that @ Freedom was mining on 31 March 2016 and BernieSanders on 26 March 2016. Where do you draw the line on "ninja mining" and what is fair game once the knowledge of how to mine Steem was out.
As per the Witness softfork announcement there were multiple reasons for the Witnesses implementing softfork222 and it may be fair to assume that @ned's "brand promise" to not use the Steemit Inc stake for voting on content or witnesses was the fundamental reason. There was a fear that the "promise" had less substance at the present time under Steemit Inc's new ownership and the "ninja-stake" is just a part of the back story. Looking forward now to resolutions at the Tron/Steemit Town Hall Meeting with @justinsunsteemit on 6 March.
If you draw the line on ninja mining at 26 March 2016, a time when others became aware of how to mine, then if that is the case how much Steem had been "ninja -mined" was it really just 90,000 STEEM**** (alluded to on the second bitcointalk image below) and was it that initial stake that brought about even more significant advantage in the first weeks/ and months by controlling over 75% of the stake. Would it be a good idea for the Steem Proposal System to fund a detailed investigation? Does SteemD have all the answers? Or would that be futile if the stake has even more mystery?
The truth is; it was a very different software code in 2016 and earning Steem seems ridiculously easy compared to the environment today. For further reading on how accumulating Steem was very different in 2016 @tarazkp paints the picture well here.
The line in the sand for ninja mining is not really the subject of this post, you're reading on to find out how many more accounts Steemit Inc might control.
GENESIS DAYS
Looking into SteemD in March 2016 you can see many "mining accounts" sending STEEM to Steemit. Here is the first example: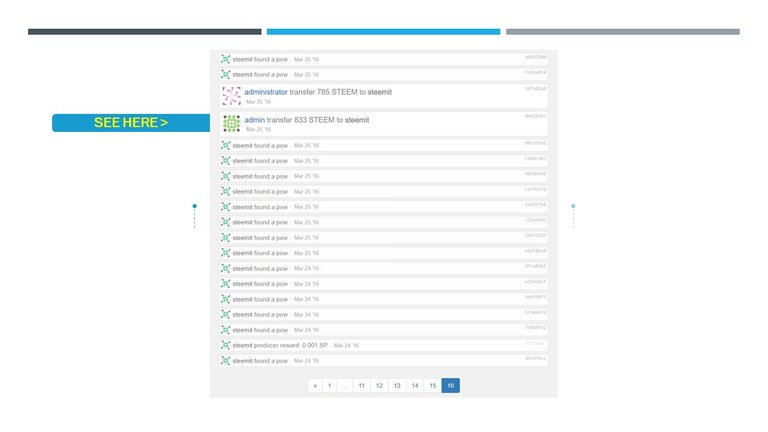 There are many accounts sending STEEM to @Steemit in the first few days. And so it is fairly safe to assume these accounts are miner accounts owned by Steemit Inc. In fact there are circa 155 accounts that send mined balances to @Steemit in the first few days and this is broadly verified by this post from an author seemingly writing from a Steemit Inc perspective on https://bitcointalk.org/index.php?topic=1410943.80: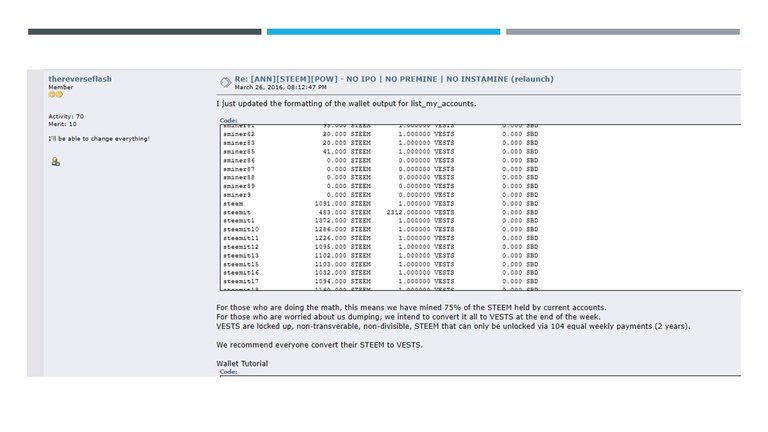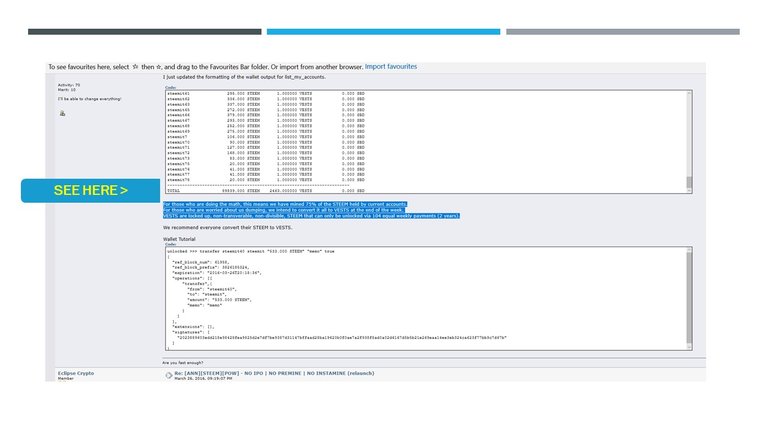 If you follow the link (https://bitcointalk.org/index.php?topic=1410943.80) you will see the extent of the accounts mining in the early hours of the Steem Blockchain. And you can see the quote on bitcointalk:
For those who are doing the math, this means we have mined 75% of the STEEM held by current accounts. For those who are worried about us dumping, we intend to convert it all to VESTS at the end of the week. VESTS are locked up, non-transverable, non-divisible, STEEM that can only be unlocked via 104 equal weekly payments (2 years).
The current position with Softfork 222 is the suspension of account operations on these 5 accounts: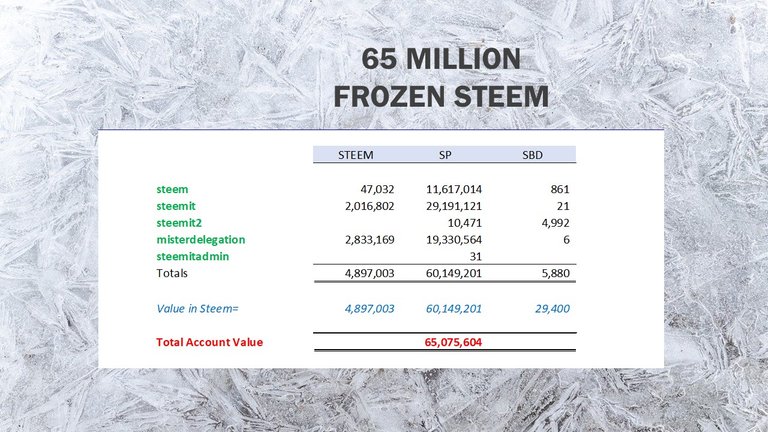 In terms of the account balances on the additional 155 accounts identified in the research above; the combined balance yesterday: was circa 300,000 of Steem Value. Please see the list below with particular attention to @steemit60 @moderator @administrator. It makes you wonder why the Witnesses froze @steemitadmin which has a whopping 31 Steem Power.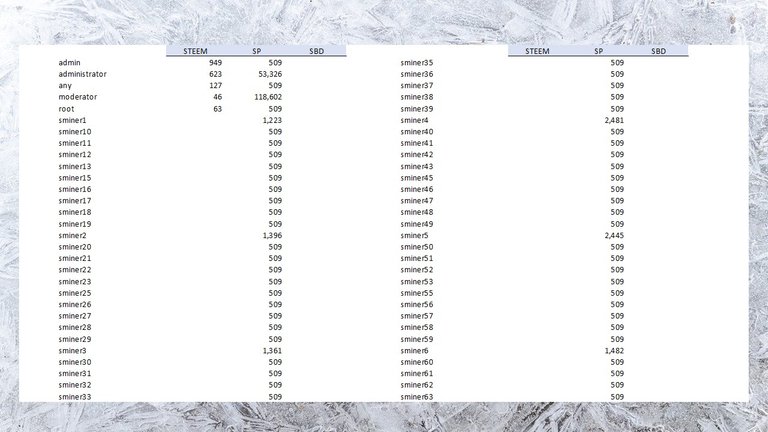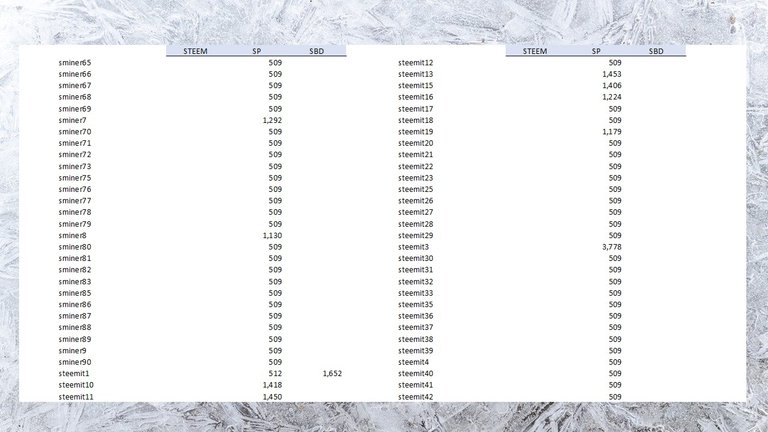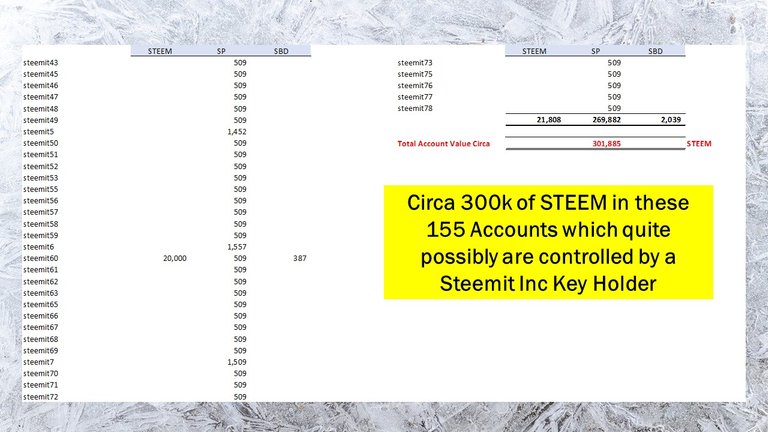 It feels a shames these balances have been abandoned over the years - could have been put to better use!
This post is unqualified thinking on an interesting topic; it is difficult to determine the fundamentally truth without a team of experts and more transparency. But there could be truth in the statements that:
There are more Steemit Inc controlled accounts.
Steemit Inc "ninja mining" in the early days has perhaps been exaggerated in nature.
Other Accounts "ninja mining" in the early days has perhaps been downplayed.
Voting for Witnesses
For more information on Witness Voting - please see this post. Exercise your right and get voting for witnesses: https://steemit.com/witness/@cryptocurator/witness-voting-as-important-as-ever
The current Top 20 Witnesses have all implemented softfork222:
@blocktrades ;@roelandp ; @yabapmatt ; @themarkymark ; @gtg ; @someguy123 ; @good-karma ; @therealwolf ; @ausbitbank ; @anyx ; @aggroed ; @thecryptodrive ; @cervantes ; @drakos ; @ocd-witness ; @steempress ; @followbtcnews ; @curie ; @emrebeyler ; @abit
The witnesses who have not implemented softfork222:
Not all of witnesses have implemented the software code (0.22.2) to enact the soft fork; some examples; brilliant witness @timcliff here, Dutch team @blockbrothers here and @quochuy here have explained why they have not implemented the temporary softfork code.
See the live position on Top 20 witnesses here: https://steemitwallet.com/~witnesses
Further Reading:
If you missed @aggroed's opinion on ninja mining it is here. It is an interesting topic.
Open Questions
The "softfork" is a hugely topical issue and has raised so many questions:
How valid is a "brand promise" from Ned?
What is the definition of ninja-mined?
How do you identify the list of accounts created in chronological order? Can it help identify when ninja-mining was started by others and therefore in theory when the sole bias towards Steemit Inc ceased?
Could the SPS fund a "Ninja Mining" Investigation?
Please let me know your opinions or if you can shed light on these topics.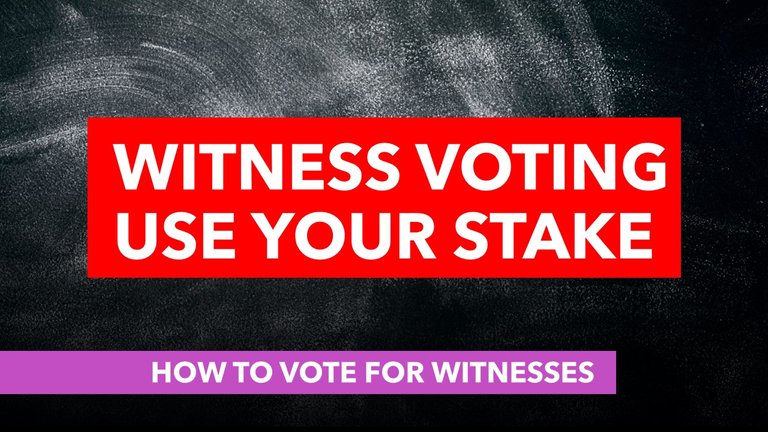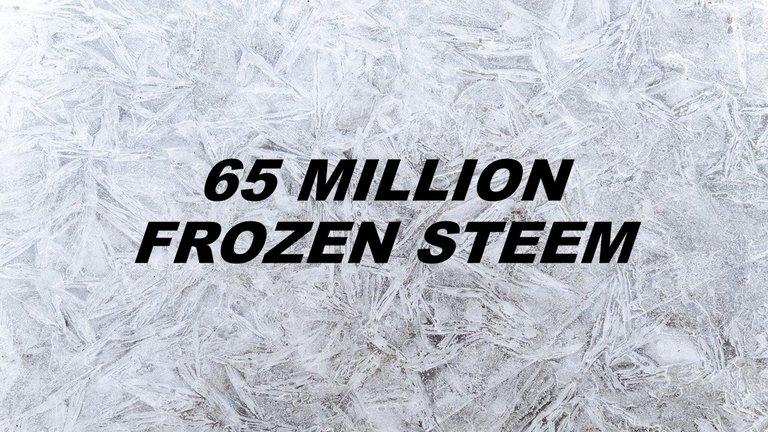 Footnote:
**** If you continue to read the bitcointalk thread through to 6 April 2016 it might blow your mind (like it did me) but there is an interesting "vesting rich list" on 6 April 2016. Showing the majority vesting share for Steemit with 216k SP.