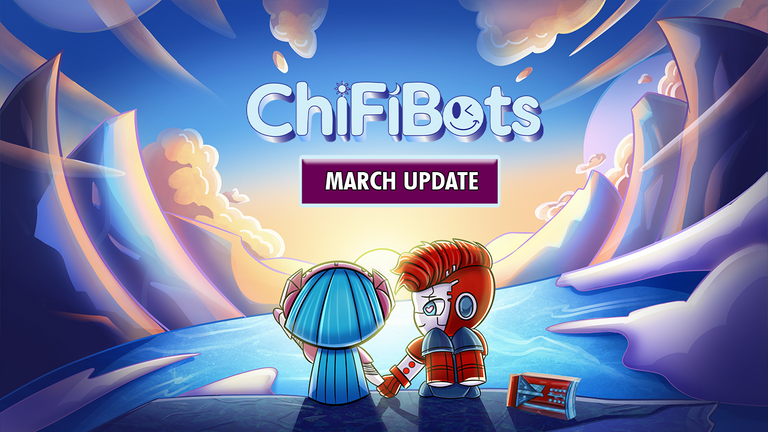 Hello fellow Hivians,
NFT Studios is back again with a monthly update. Below you will find some of the highlights of our journey and some spicy lore to help you understand the story behind the universe.
Rewarding Our Early Adopters
We would also like to mention that the decision has been made that if you bought tier 3 or up in the hive pre-sale or indiegogo, you will now get the equivalent in base set packs (priced at $2).
Example: Tier 

3

 = $

100

 USD
Old = 

10

 x 

base

 

set

 packs
UPDATED = 

50

 x 

base

 

set

 packs

Tier 

5

 = $

1000

 USD
Old =  

100

 x 

base

 

set

 packs
UPDATED = 

500

 x 

base

 

set

 packs

Second Pre-sale Extended to End of April
Our 2nd pre-sale happening over at Indiegogo features the exclusive Beta Bot. The 2nd ChiFiBot created.
Click link for pre-sale: https://www.indiegogo.com/projects/chifibots-digital-trading-card-game/x/28374004#/
NFT Studios Will Be Featured in a Blockchain Book
We're getting buzz even before ChiFiBots is launched! Here is a preview.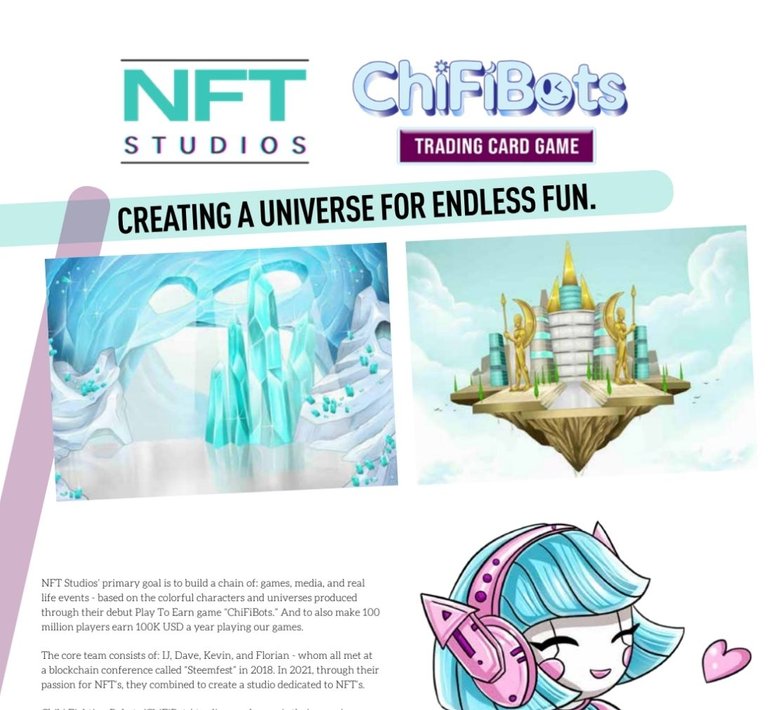 Enjoy the newsletter and lore below
~ NFT Studios 🤖🚀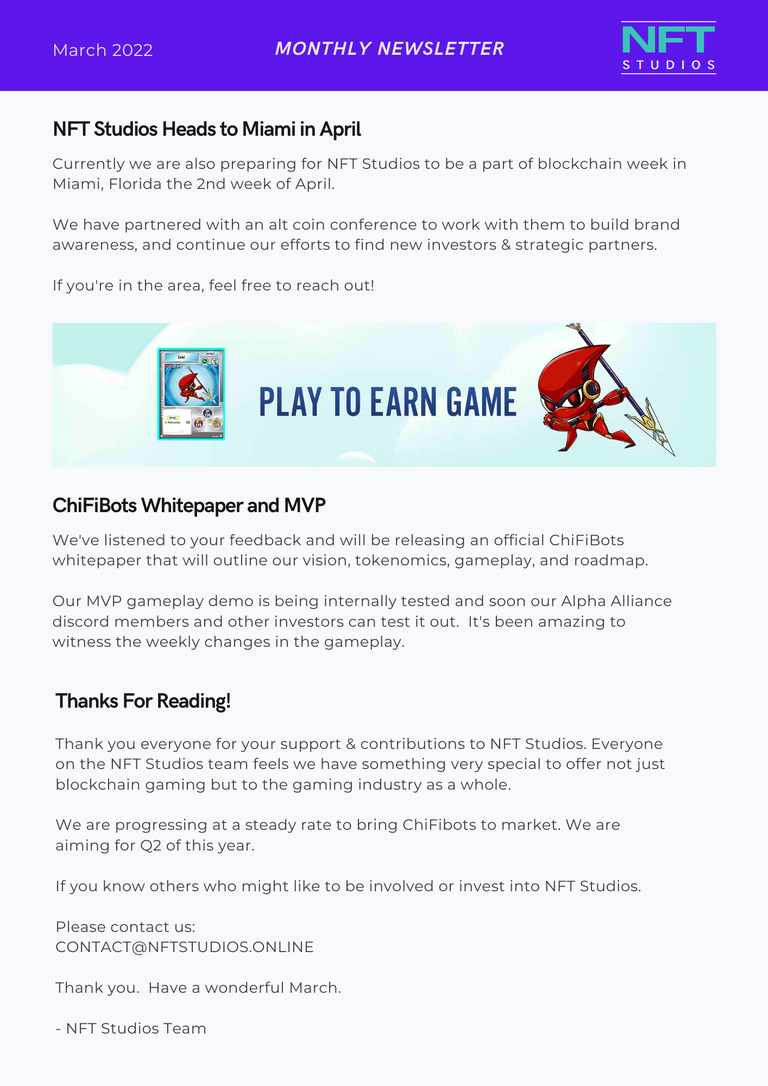 ChiFiBots Lore
🌌 WELCOME TO THE COSMOS 🌌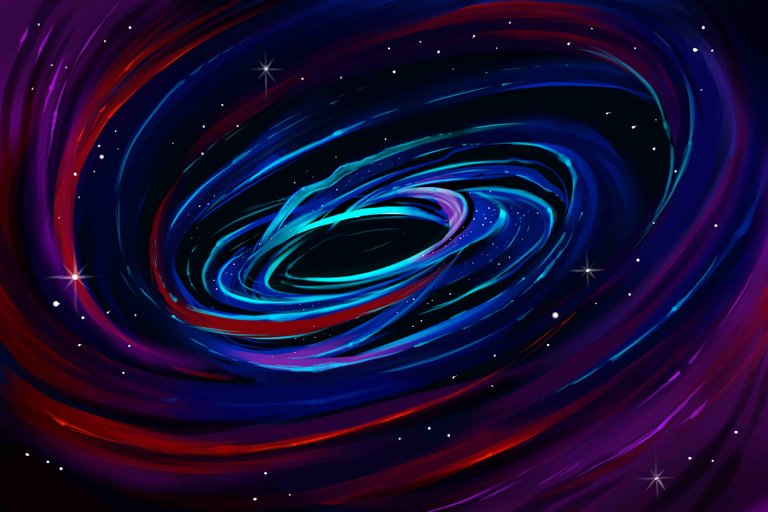 The universe where ChiFiBots and various creatures reside. This vast and transcendent space features many unique planets, asterisms of stars, war-torn space debris, dark holes known as "dead zones", and the most feared dead zone of all known as "Oblivion" where no ChiFiBot has ever returned.
Here ChiFiBots can traverse the wonderful and not so wonderful planets the cosmos provides. Whether it's for entertainment or survival, the harsh environments and battles the Chif's endure stay with them forever.
Be careful… a friendly explorer could mutate into a scavenger who's desperate to purge everything.

💡 THE ALPHA ALLIANCE 💡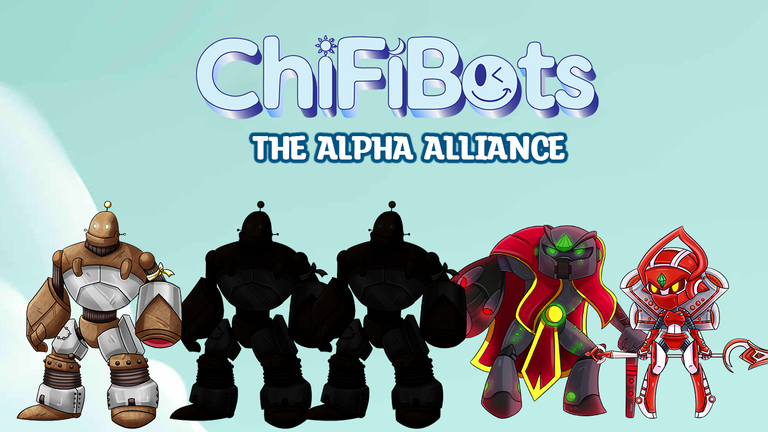 After the successful creation of the first technician "Epsilon Bot" (later to be known as Queen Athena) who was capable of creating ChiFiBots all by herself, the first five ChiFiBots : Alpha Bot, Beta Bot, Gamma Bot. Delta Bot, and Epsilon Bot; collectively formed the "Alpha Alliance." An union run by ChiFiBots for ChiFiBots to discuss ideas and conflicts away from humans.
The ChiFiBots were fast evolving, with Epsilon Bot, they had the capability of creating ChiFiBots without human input. And with that, sprung a new revolution known as the "ChiFi Boom."
The world was singing praise for Epsilon Bot as she was the first technician, but also the first female ChiFiBot. Quickly garnering attention not seen since the launch of Alpha Bot, jealousy began to curdle inside some of the other ChiFiBots of the Alpha Alliance.
"Why does everyone love her? I'm way stronger!" boasted Beta Bot.
"And I'm faster," blurted Gamma Bot.
" And I'm -" (Delta Bot)
" - Perhaps it's because she doesn't complain" - interrupted Alpha Bot.
Alpha Bot protected Epsilon Bot many times and a wonderful friendship would bloom between them. Epsilon Bot often calling Alpha Bot "Happy" instead for his friendly smile.
As new ChiFiBots continued to be constructed, the Alpha Alliance stayed strong. Many new ChiFiBots embarked on a galactic voyage across the universe. Scouring for new life on new planets.

🌅 Planet Atlas - Year 2080 🌅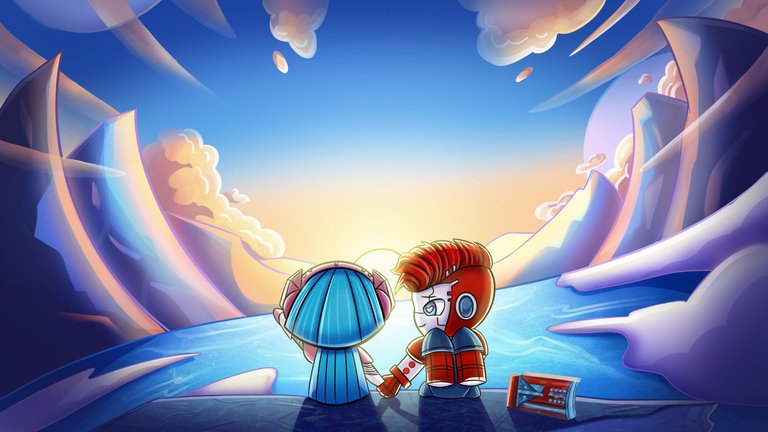 The battle for Planet Atlas rages on inside the ice caves. Morale is down. Many have accepted the impossible task. Orbit's pessimistic mindset unfortunately influences even the most positive psyche of Twinkle Dust.
Astro catches sight of this and whisks Twinkle Dust away from the chaotic war to a gorgeous scenic view that will melt any Chif's heart. As they perch themselves on the edge of a cliff, the sunlight gently beams down their bodies.
Twinkle Dust sits in pure awe.
"Wahhhhhh, so beautiful," utters Twinkle Dust.
"Very beautiful," as Astro holds Twinkle Dust's hand and stares directly at her.
A moment in time that Astro wishes could last an eternity.
A bump develops in his mouth. Is that a smile? From the very serious, Astro?!?
"This is what we're fighting for, Twink," voices Astro.
"The sun?" replies Twinkle Dust.
"A chance. A chance that every Chif on Planet Atlas can experience this. I won't stop until we free them all," declares Astro.
"Me too, Imma bash all the baddies up!" shouts Twinkle Dust.
"Soon. Let's enjoy this moment," answers Astro.
The clouds swirl in the sky, as the sun makes its way down the horizon.
For once, everything feels normal.