It was @fararizky who introduce me to @rumoeh.agam and tries very hard to bring @rumoeh.agam into Steem Blockchain. [Rumoeh Agam] (https://steemit.com/introduceyourself/@rumoeh.agam/introducing-rumoh-agam-bergabung-di-steemit-1639e25d2567aest) is one of the SOS Children's Village that built especially for boys who already become teenagers She explained to me that she is willing to help the children who stay at @rumoeh.agam and all SOS Children's Village to be independent and have a better future (https://steemit.com/promo-steem/@fararizky/what-will-happen-when-the-humanitarian-program-meets-steem-blockchain). I told her to create a program and she tried it, but she need help to make sure that her program could run smoothly.
I met Pak Aris, one of the "father" at @rumoeh.agam, in Bandung about a month ago. I explained to him that actually there are a lot of programs we can do with Steem blockchain. I told @starkerz and @anarcotech from @oracle-d about this, and they are very excited. It is their vision as well to bring humanitarian programs to steem blockchain technology, and I am happy they would like to visit SOS Children's Village during their visit to Banda Aceh. I do really appreciate it.

Source: http://www.sos.or.id/bandaaceh
SOS Children's Village in Banda Aceh is located at Lamreung, about 7 km from the city. It was built after tsunami that made a lot of children become orphan and abandoned. There are 15 houses in that village surrounding by rice field and natural environment, with a lot of facilities for children to study everything they want, such as art, music, and religion. This organization is trying to provide all the best for the children, to make sure they are ready to face the world when they grown up. Of course it is not that easy, the way we treat this children should be more careful compare to the children who stay with their own family. They do really need support in everything, especially to build their confidence to be ready to be independent in the future. The problem is that this house really want to be independent as well, they can't depend too much from donations though there are a lot of organizations and individuals who are willing to help. They concern about long term education support for this children, as well as to support this children if they want to start their own business.
I think this is good, though all of us willing to help them, but we need to think further about their future. They really need to be able to survive and stand up with confidence and dignity, they can't always ask for help and depend on someone else. It will not help them to grow and develop, it is not good as well for their self confidence. No matter what, it always feels much better to give instead of asking for help . This is something that we all must aware and I am glad @starkerz and @anarcotech also have the same way of thinking. Even more, they know exactly that @oracle-d could help them to find solutions about these problems with Steem Blockchain. Not only for the children, but also for the foster parents who take care of these children in that villages with cares and dedication. They also need to be more independent and have a better life. I think this is something that all of us should aware.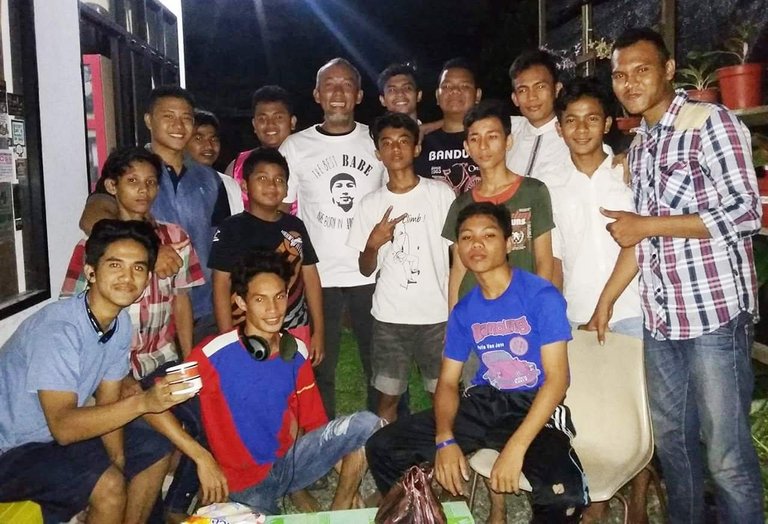 https://steemit.com/sndbox/@mariska.lubis/we-can-do-a-lot-on-steem-blockhain-we-can-help-those-children-to-have-a-better-future
@oracle-d is scheduled to visit SOS Children's village in Banda Aceh on October 22nd, 2018 in the morning till noon. They will meet the childrens, parents, and management to discuss what we all can do with humanitarian program on Steem blockchain. It might not be the best, but at least they know that there is another options they could choose to achieve their vision and missions. Steem blockchain is offering us a lot of opportunity to develop ourselves as well as to help others to grow and develop together.
Anyway, I have to thank @fararizky who is helping a lot to organize the event that @oracle-d will have in Aceh, especially in Banda Aceh. I asked her personally because I need someone to help me, I can't do everything by myself, especially Banda Aceh is too far from Bandung. So, she arranged some details that I and @oracle-d needs, such as transportations, hotels, and she also help to arrange some meetings, just like with SOS Children's Village and RTIK which I will post later on. She also the one who asked @akbarrafs to become our videografer and photographer to capture all @oracle-d moments in Aceh. I am glad that Steemian can work together and willing to help each other, that is the good thing about being Steemian, isn't it?
Source: http://saripurnawan.blogspot.com/2009/08/sos-childrens-village-in-banda-aceh.html
I hope that what @oracle-d doing with humanitarian program at SOS Children's Village could be implemented on Steem Blockchain and become example for all other SOS Children's Villages in Indonesia and the world. Blockchain technology is meant to create a better world and future, and it is our job to learn about this technology and use it properly. Freedom and free will also need to be balanced by ethic, norms, and positive attitudes if we want to have it, and steem blockchain, I think is trying to teach all of us to achieve that stage.
Bandung, October 14th 2018
Warm Regards,
Mariska Lubis