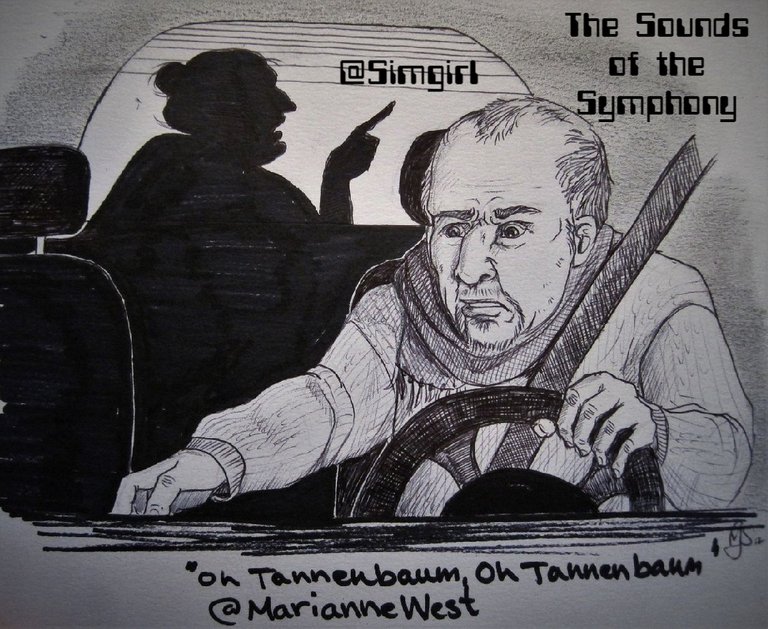 photo by @Slhomestead
---

---
I saw this contest pop up on my discord today so I thought I would give it a try. The challenge is to look at the picture, describe what you see, describe what you feel, and then write a story or poem about what you think is going on.
Freewrite A Picture is Worth a Thousand Words
When I first looked at this picture I saw a man driving, and his wife in the back seat telling him how to drive. The back seat driver.
But as I looked closer I saw that it was not his wife, but a much older woman that I decided was his mother. She wasn't present with him in the car, but she was the constant voice inside his mind.
From the look on his face and from the way she is pointing, I decided she was very critical of him, and the only way he could drown out her voice was to turn up the music.
The music I decided he was listening to was classical. And so I titled my story, "The Sounds of the Symphony".
I feel bad for the man. He looks like he has gone through a lot of tough times, and he may have a drinking problem.
I could relate to having a critical voice inside my head, and using music to drown out negative thoughts.
I feel cold looking at the photo. He is wearing winter clothes which means he is not only fighting mentally, but also battling the forces of nature.
I hope he is ok.
---

---
The Sounds of the Symphony
He turned the music up and then settled into his seat to relax. Her voice; the voice that haunted him all the day, was silenced by the orchestra's coordinated symphony.
As the car's motor warmed the interior, he relaxed his shoulders and then closed his eyes.
It was finished.
There was nothing more for him to do. The flowers were delivered and placed by her coffin.
Every strain of her hair was in place.
There was nothing more he could do for her now.
He couldn't save her any longer.
The music always worked to drown out her voice, but she wasn't alive, and her voice still echoed with his every thought.
"Make sure you call the family, make sure they put me in the family plot..."
She had decided every detail of her death, the same as she did her life.
His life.
As the symphony built with passion, he released his mother to the other side. It would do him no good to play her voice in his head like a broken record.
He was free from her constant criticism, and wanted peace more than anything now.
As he drove home the music made him feel lighter, and somehow suddenly, unburdened. The grief had not set in yet; all he felt was a flood of relief.
He would cry later.
He would be sad for a long time and he would miss her every day.
But for now he felt great comfort knowing it was no longer his fault.
He parked his car in the driveway, looked up at the empty house, and then closed his eyes again; becoming lost in the sounds of the symphony.
The End
---

---
I hope you enjoyed reading my story. I really liked this photo and the story that developed from seeing it. I can't believe this is the 1000th photo for this contest. I missed so many! Please upvote and follow to see more from @simgirl!