Just a small update to my previous post, except this time posted via Steem-Engine / minnowsupport's new front-end www.palnet.io. It's also great to finally see we can use Steem Keychain to login as well, on both STEEMIT and PalNet! Great work on finally having that pushed through, as it's a terrific upgrade in and of itself.
Since I officially introduced ShareBits a few weeks back, I've been asked multiple times if ShareBits also supports Steem-Engine, or more specifically...
Can ShareBits be used for gifting tokens created on SteemEngine?!
Well, the answer is a resounding... YES!
ShareBits does indeed support Steem-Engine's "Steem Smart Contract" tokens...
And that includes Steem-Engine's new EOS-based tokens, as well as the new PalNet PAL tokens!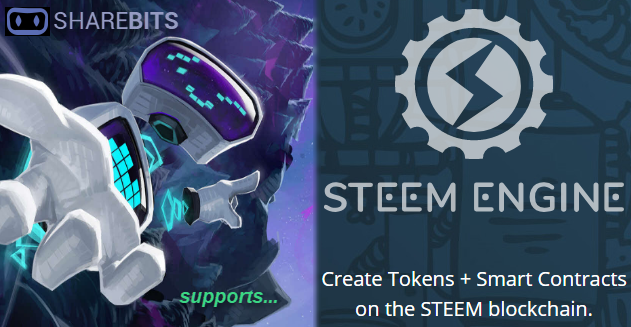 For those not yet familiar with ShareBits, you may want to read up on it here first. You still have a chance to claim a complimentary UPVOTE...
If the STEEM post being rewarded includes the palnet tag, UPVOTES via ShareBits are also eligible to receive PalNet Rewards!
SHAREBITS, in conjunction with WhaleVault, is the first cross-chain, graphene-centric Social Gifting and Micro-Tasking Platform that empowers you to safely, securely, and seamlessly send tokenized gifts to users over more than TWO DOZEN Social Media Platforms, including nearly a dozen graphene-based blockchains!
Link: https://steemit.com/steem/@alexpmorris/introducing-sharebits-cross-chain-social-gifting-and-micro-tasking-platform
I expect most STEEM users are already familiar with Steem-Engine Tokens. For those who are not, you can learn more about them here...
@yabapmatt and I [@aggroed], in partnership with @harpagon, are launching a platform and accompanying website called Steem Engine (https://steem-engine.com) with an initial focus of allowing the creation of custom tokens on the Steem Blockchain.
Link: https://steemit.com/steemengine/@aggroed/introducing-steem-engine-com
How does it work?!
Steem-Engine tokens use the Steem Smart Contracts software built by @harpagon, which is a smart contract enabled sidechain platform built on top of the Steem blockchain. As such, it works a bit differently than you might expect when dealing directly with most other graphene chains.
After this demonstration, I believe you should have both a better understanding of how Steem Smart Contracts (SSCs) work, as well as how ShareBits can facilitate your ability to seamlessly gift them to others not only on STEEM, but over dozens of other social platforms as well!
Once you've successfully logged into ShareBits with your STEEM account (or another chain linked to your STEEM account) via WhaleVault, head on over to the "SHARE GIFT" panel.
After that, it should be as simple as selecting "Steem" as the primary gifting chain, and within a few moments you should automagically see all of your STEEM and Steem-Engine token balances appear!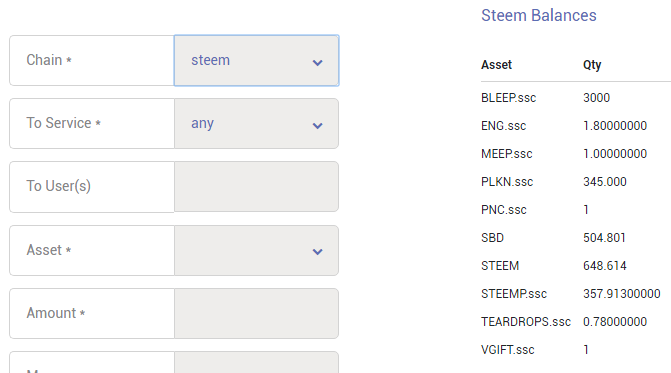 Note that all Steem-Engine tokens in ShareBits end with .ssc, indicating they are "Steem Smart Contract" tokens.
Next, if you would like to explicitly set the recipient(s) of this gift to 3 STEEM users, you can set "To Service" to "Steem" as well, and fill in the "To User(s)" field as well. If you're directing this gift to a specific person privately, or simply offering a gift on a first-come first-serve basis, simply leave these fields blank.
In the following example, I would be gifting up to 3 STEEM users 25 BTCMYK.ssc (the .ssc indicating it is a Steem-Engine token). The gift would expire in 3 days, or 72 hours from the time the giftlink is generated upon clicking CREATE GIFT LINK!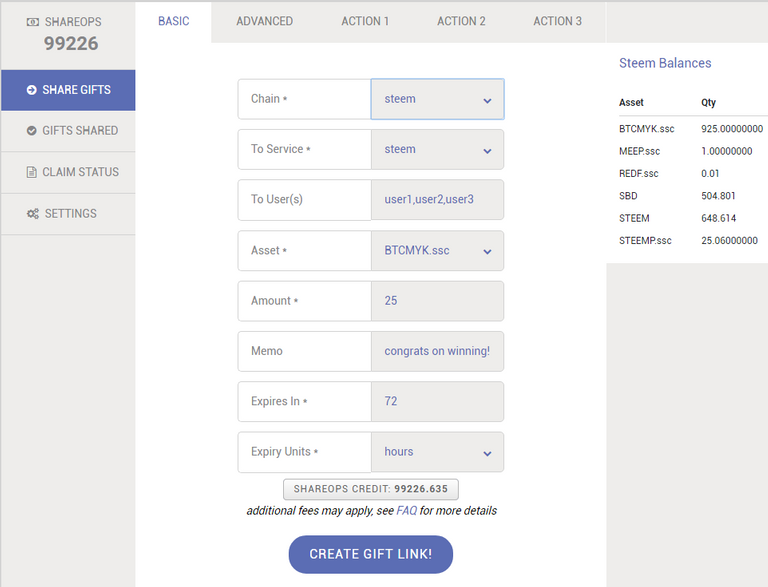 Gifting via Discord
Here's a quick example of how I gifted some Steem-Engine tokens to @erodedthoughts via Discord. Note that any Discord Server that has invited WhaleBoT can also gift Steem-Engine tokens directly from Discord the same way!

A few moments later, WhaleBoT PM'd both me and @erodedthoughts with the details...

SHOUT OUT to @erodedthoughts, who kindly helped make this demonstration possible by gifting me these Steem-Engine tokens in the first place! 😄
My gifts were claimed, now what?!
Once your gifts have been claimed, you can payout claims from the "CLAIM STATUS" panel via actions -> Payout. While the ShareBits payout process is effectively the same, because SSCs are a Side-Chain of STEEM, the validation flow is slightly different. That's because while transactions are signed to the STEEM blockchain by means of a custom_json operation, STEEM is unable to verify that the transaction is actually valid for the Steem-Engine / ssc-mainnet1 sidechain.
As such, the initial confirmation you receive will be for the STEEM transaction. Within a minute or so, ShareBits will verify that the transaction is irreversible on both chains, and mark the claim as DONE. If the transaction fails for some reason, you will also be provided feedback to that effect, and the claim will be marked as rejected. If the rejection is a temporary issue (ie. insufficient balances before payout), you can always update the status back to pending via actions -> UpdateTx and "reset" the claim, at which point you can simply try repeating the payout process.
The following is an example of a failed transaction, with not only an invalid recipient, but also insufficient funds to complete the Steem-Engine token transfer...

Next, let's take a look at an SSC-based claim that was successfully "paid out"...

Once the claim status is updated to done, you can be assured the blocks, and thus the transfer(s), are now irreversible. The initial STEEM transaction TxID and TxBlock is shown, while status_data holds additional metadata regarding the Steem-Engine sidechain part of the transaction. In this case, the ssc block would be 204048. If multiple claims were paid out simultaneously, there may be an additional TxID offset involved (ie. TxID-0 or TxID-1). If applicable, that offset will also appear under status_data.
Now, with all the data provided, let's see if we can directly view the transaction ourselves through the Steem-Engine block explorer:
https://bloks.xyz/tx/0ab9eee3ed51ab44c56c586a0406f0a47eb59f04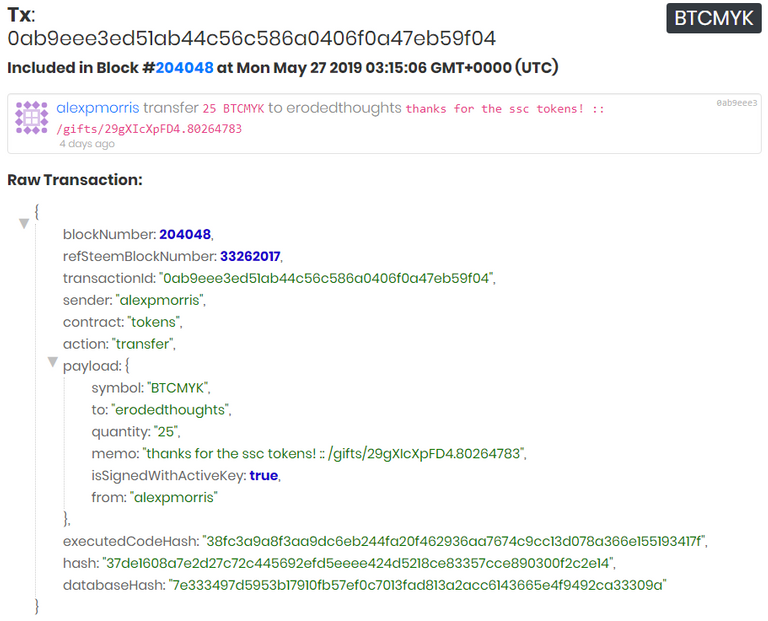 And there ya go, that's pretty much all there is to it! 😃
BONUS ROUND!
If you made it this far, and have yet to try out ShareBits, you still have a few more days to claim your complimentary UPVOTE on STEEM, and UPSHARE on WhaleShares, so don't miss out!
I just gifted up to 100 STEEM users a 100% STEEM UpVote via ShareBits! It expires in 14 days, so please claim it at https://sharebits.io/gifts/RVZNk4PxBtw before that time!
I just gifted up to 100 WhaleShares users a 100% WhaleShares UpShare via ShareBits! It expires in 14 days, so please claim it at https://sharebits.io/gifts/t3cWXwb49Ko before that time!
We also want to help you "spread the token love" as far and wide as possible. So, for each new ShareBits user you attract by issuing gifts, you'll receive even more bonus SHAREOPS!
Be Excellent to Each Other, and GIFT ON Dudes!
As always, I appreciate your UpVote, your follow and all your comments!